And the Winner is ... for Best Sustainable Food and Farming Documentary
Mar. 04, 2014 12:38PM EST
Food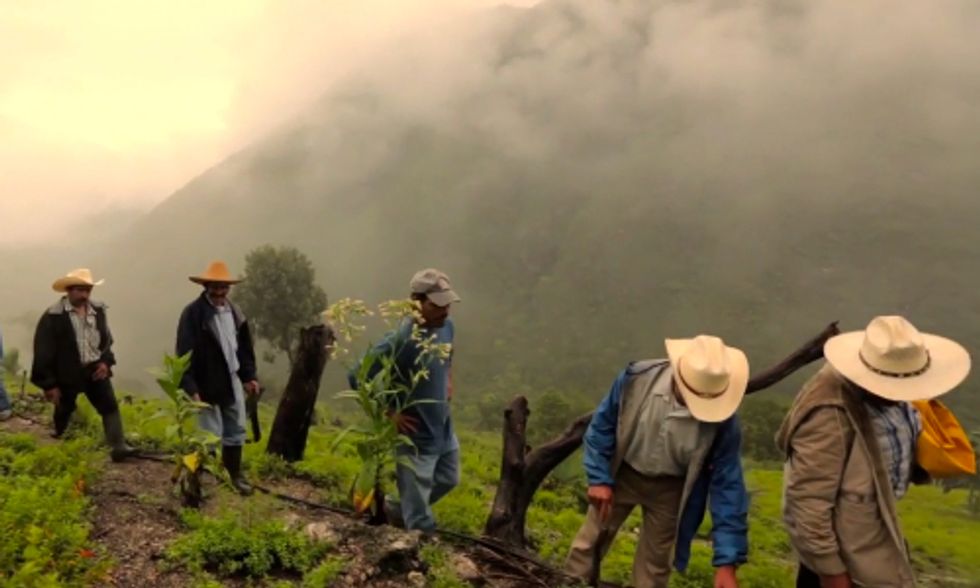 An impressive selection of food and farming stories from across North America took top honors in the first annual Real Food Media Contest, which announced its final five winners on Tuesday.
Cash prizes totaling $10,000 were awarded to the top five short films, chosen from more than 150 submissions.
 
"The winning films, though diverse in style, perspective and place, share common themes: revival of pride in farming as a way of life, resilience of rural communities and cities growing food sustainably, and renewal of respect for the labor and natural resources at the heart of food production," according to a Real Food Media Contest press release.
The winning films are: 
Grand prize: Homeward, by Daniel Klein and Mirra Fine of The Perennial Plate in Minneapolis, MN.
Tired of seeing friends and family leaving their community in Mexico for the U.S. entrepreneurial farmers in Hidalgo created a thriving cooperative, keeping their families together with organic oregano.
As the grand prize winner, Homeward will be screened at the Food & Farm Film Fest in San Francisco, CA next month.
First runner-up and "People's Choice" winner: Green Bronx Machine* by Brendan Van Meter of Suffern, NY.
Green Bronx Machine feeds the minds, hearts and stomachs of students in the poorest congressional district in America. Stephen Ritz and his community plant school gardens and harvest organic citizens.
*Green Bronx Machine was also selected as the 'People's Choice' winner, earning nearly 2,000 online votes from the film's supporters.
Second runner-up: A Greene Generation, by Tim Grant of Charlotte, NC.
In rural western North Carolina the Greene family runs a small, organic family farm. Fourteen-year old Nathaniel Greene and his siblings are passionate about caring for their pigs, their land and about producing good food.
Third runner-up, tied: Who Keeps the Beekeepers, by Timothy Powers of St. Petersburg, FL.
We've heard about the bees, but what about the beekeepers? The voices of the last remaining beekeepers talk about the future of our food supply.
Third runner-up, tied: The Gift, by Jean-Marc Abela of Montréal, Québec.
On a small speck of land off the island of Vancouver, Dan Jason farms seeds. In this poetically-shot short film, Jason shares his vision of the bounty of nature.
A well-known panel of judges representing diverse perspectives on the food system made the selections.
Contest judges included:
Padma Lakshmi, cookbook author, actress, model and television host 
Michael Pollan, journalist and author, Omnivore's Dilemma 
Robert Kenner, Academy Award-nominated director, Food Inc.
Eric Schlosser, journalist and author, Fast Food Nation 
Johanna Blakley, managing director, Norman Lear Center, USC
Byron Hurt, director and producer, Soul Food Junkies
Alice Waters, Chez Panisse and Chez Panisse Foundation 
Keri Putnam, executive director of the Sundance Institute 
The Jamie Oliver Food Foundation (USA)
Emily Zweber, organic farmer
Click here and check out all 10 short films that made it to the first annual Real Food Media Contest finals. 
Visit EcoWatch's FOOD page for more related news on this topic.

EcoWatch Daily Newsletter