This website uses cookies to ensure you get the best experience while browsing it. By clicking 'Got It' you're accepting these terms.
Analysis of California's Fracking Wastewater Reveals a Slew of Toxic Chemicals Linked to Cancer and Other Illnesses
Mar. 10, 2015 11:51AM EST
Energy
California is currently the only state that requires chemical testing of fracking wastewater and public disclosure of the findings. That's good. What's not so good is what the testing and disclosure reveal.
The Environmental Working Group (EWG) has completed an analysis of data released by the state during the first year of new reporting requirements. It found that the high levels of the carcinogen benzene in California's fracking wastewater isn't the only thing Californians have to worry about from the state's extensive oil and gas fracking operations and the injection of chemical-laced wastewater back into the ground once drilling is completed.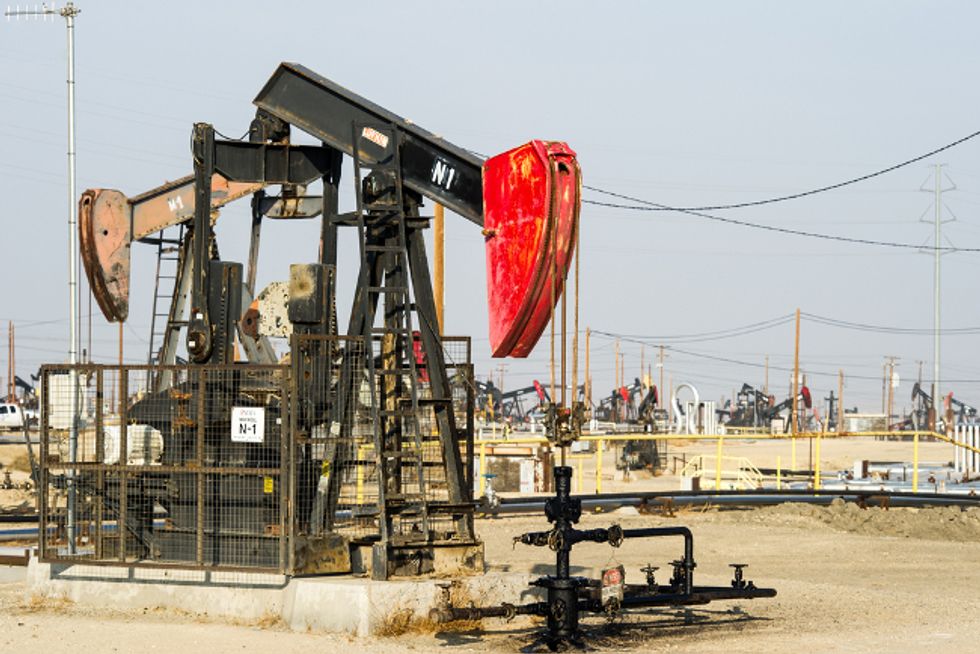 Photo credit: Shutterstock
The study, Toxic Stew: What's in Fracking Wasterwater, revealed the presence of hundreds of chemicals, including many linked to cancer, nervous system damage and reproductive disorders. Among the chemicals found in up to 50 percent of the samples were chromium-6, lead and arsenic, all linked to cancer and/or reproductive damage. The samples also contained thousands of times more radioactive radium than the goals set by the state, along with high levels of nitrate and chloride ions. And an another analysis last month by the Center for Biological Diversity found that 98 percent of the fracking wastewater samples tested exceeded federal and state water safety levels for benzene.
"We have long suspected that California's fracking wastewater was full of harmful chemicals, and the first publicly available data not only confirms our suspicions but reveals just how toxic this wastewater is," said EWG senior scientist Tasha Stoiber, the report's co-author.
The study comes on heels of revelations that almost three billion gallons of fracking wastewater was illegally dumped last year into central California aquifers that supply drinking and farm irrigation water, leading to the shutdown of 11 wells in the state's fracking capitol of Kern County. It also comes on the same day that the California legislature was scheduled to hold a hearing on the topic "Ensuring Groundwater Protection: Is the Underground Injection Control Program Working?"
In September 2013, California Gov. Jerry Brown signed Senate Bill 4, mandating that oil and gas extraction companies test and disclose of the chemical content of their wastewater. And while that law provided the unprecedented amount of information that EWG analyzed, it still fell short. For instance, Center for Biological Diversity found that 150 of the 479 tests performed reported no results for benzene. The EWG report drew a similar conclusion.
"EWG's report concludes that California's reporting system is plagued by major flaws," it said. "Many drilling companies failed to report full details of the chemicals their testing found, and records for some wells are missing altogether."
"As we reviewed California's fracking wastewater data, it became clear that the first year of this reporting system is not fulfilling its promise of providing full and transparent information," said Renee Sharp, EWG's director of research. "There was too little oversight by the state and not enough communication with drilling companies, which led to massive gaps with missing or incomplete information."
Because such a high chemical content is being found in fracking wastewater in the single state where reporting is required, it opens the door to questions about the safety of wastewater being injected into wells in states where it's not required, allowing extraction companies to exercise less concern for what might be leaking into local water supplies.
"Our findings should be a wake-up call for other states where drilling operations may be inadequately regulated," said Stoiber.
The EWG analysis recommends that reporting requirements be strengthened to offer the public more complete information about how wastewater is disposed and what it contains, and that testing be done at every site where illegal injection has taken place. EWG is also asking that the state stop any wastewater injection that puts drinking and agricultural water at risk, even if it means shutting down oil and gas extraction operations at those locations.
Center for Biological Diversity joined in that demand.
"Cancer-causing chemicals are surfacing in fracking flowback fluid just as we learn that the California oil industry is disposing of wastewater in hundreds of illegal disposal wells and open pits," said Center for Biological Diversity lawyer Hollin Kretzmann, who conducted that group's analysis. "Governor Brown needs to shut down all the illegal wells immediately and ban fracking to fight this devastating threat to California's water supply."
YOU MIGHT ALSO LIKE
Fracking California Videos Show Huge Impact of Drilling on Communities
Groundbreaking Study Finds Six Chemicals in Fracking Wastewater at Levels Unsafe to Drink
Poll Shows Californians Oppose Dumping Fracking Chemicals Into Ocean
EcoWatch Daily Newsletter
Pexels
By Tim Lydon
Climate-related disasters are on the rise, and carbon emissions are soaring. Parents today face the unprecedented challenge of raising children somehow prepared for a planetary emergency that may last their lifetimes. Few guidebooks are on the shelves for this one, yet, but experts do have advice. And in a bit of happy news, it includes strategies already widely recognized as good for kids.
Pexels
Be it Nina Simone and James Brown for civil rights, Joni Mitchell and Marvin Gaye for the environment, or Jackson Browne and Buffalo Springfield for nuclear disarmament, musicians have long helped push social movements into the limelight.
Yulia Lisitsa / iStock / Getty Images Plus
Collagen is the most abundant protein in your body.
It is the major component of connective tissues that make up several body parts, including tendons, ligaments, skin, and muscles.
Greenpeace activists unfurl banners after building a wood and card 'oil pipeline' outside the Canadian High Commission, Canada House, to protest against the Trudeau government's plans to build an oil pipeline in British Colombia on April 18, 2018 in London. Chris J Ratcliffe / Getty Images
By Jessica Corbett
In an open letter to Canadian Prime Minister Justin Trudeau and Deputy Prime Minister Chrystia Freeland, 42 Nobel laureates implored the federal government to "act with the moral clarity required" to tackle the global climate crisis and stop Teck Resources' proposed Frontier tar sands mine.
Mapping Urban Heat through Portland State University /
video
Concrete and asphalt absorb the sun's energy. So when a heat wave strikes, city neighborhoods with few trees and lots of black pavement can get hotter than other areas — a lot hotter.