This website uses cookies to ensure you get the best experience while browsing it. By clicking 'Got It' you're accepting these terms.
An Urgent Message From the Kogi and the 'Living Relic'
Sep. 09, 2014 08:40AM EST
Insights + Opinion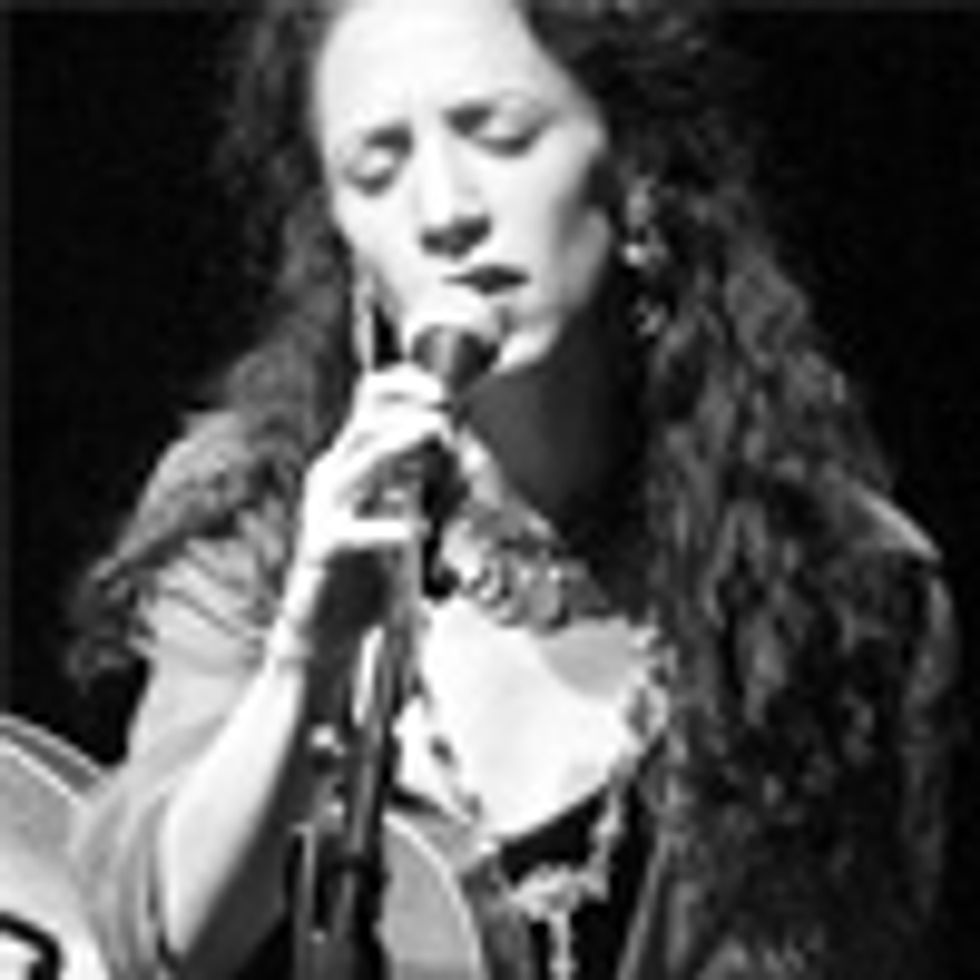 I am actually on a plane back to New York right now, returning from an extraordinary meeting in Ecuador. I was at Finca Sagrada, a biodynamic farming community an hour outside the town of Vilcamamba—down a long winding mountain pass into a bright green valley along the Inca trail, circled by a ring of sacred fire sites on the ridges all around.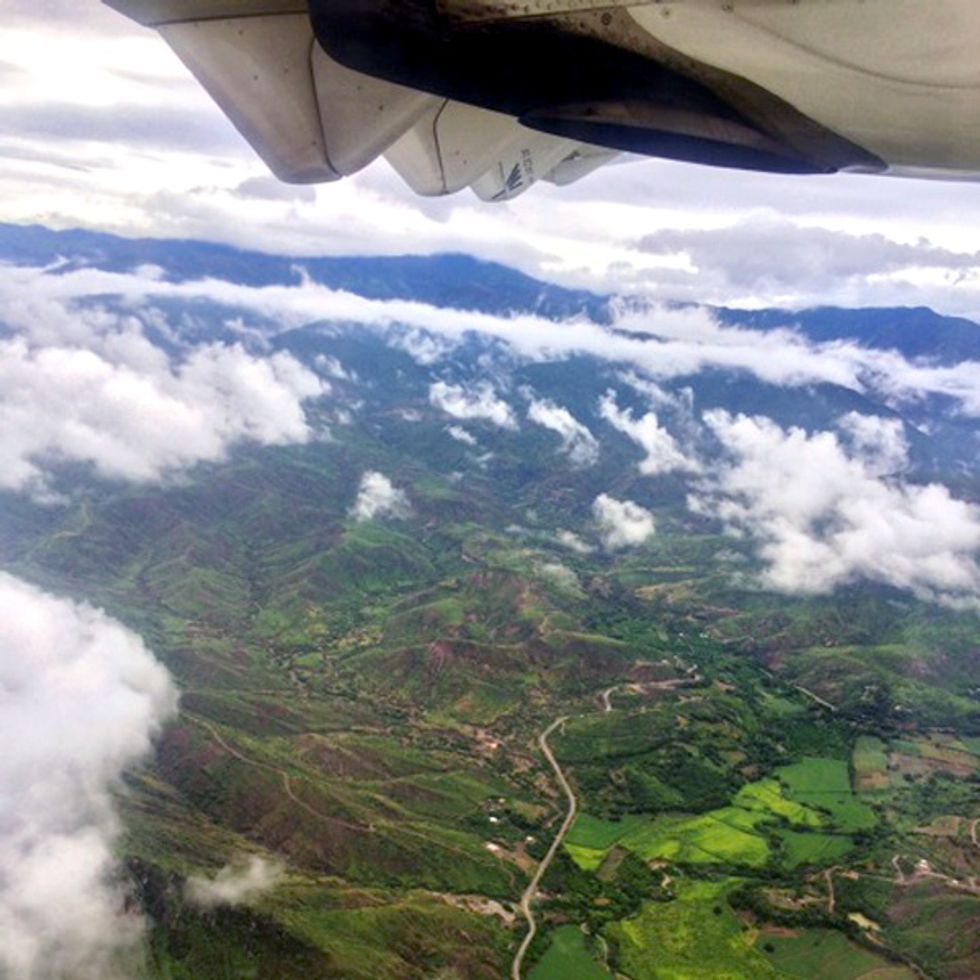 There we met with indigenous elders from the Four Tribes of Sierras of Colombia (known by many outsiders as the Kogi People), whose high priests, called Mamos, live in caves for up to 18 years, never seeing the light of day until they complete their training as seers. Through ceremonial consultation, they learn to speak directly to the Mother, who has instructed them to come down from the mountains and deliver the message that we are killing the Earth ... and we must all unite to stop the destruction that will end our existence.
Just before the People of La Sierra came to meet us, they took a "living relic" out into the light of day for the first time since the beginning of time. When they took her out, the Earth shook ... and then she delivered her urgent message that we are running out of time, and it is urgent that  they spread her message to the entire world. Then the Earth shook again as they put the living relic away, confirming her message. All of this was as it has been told in their prophecies and consultations with the Mother.
The message is this: The sacred sites of the indigenous peoples of the world form a network of spiritual communication around the globe. As these sacred sites are destroyed, and as the people who have cared for these sites are removed and assimilated, this communication network has been broken. The spiritual fabric of the Earth has been torn to shreds and the people who hold the ceremonies that keep the Earth in balance cannot correct things anymore. The non-native nations, who the Four Tribes of La Sierra call "little brother," are out of control and have gone too far. It is too late for us, as humans, to correct this on our own. If we do not re-activate the sacred sites and re-activate the higher beings who can help us restore order to the world, we will not be able to re-weave the spiritual fabric of the Earth. The mother is crying. She is weeping for her children. She is in pain, and will speak with her voice of wind, water and fire ... louder and louder ... unless we begin to speak for her and do what she is asking.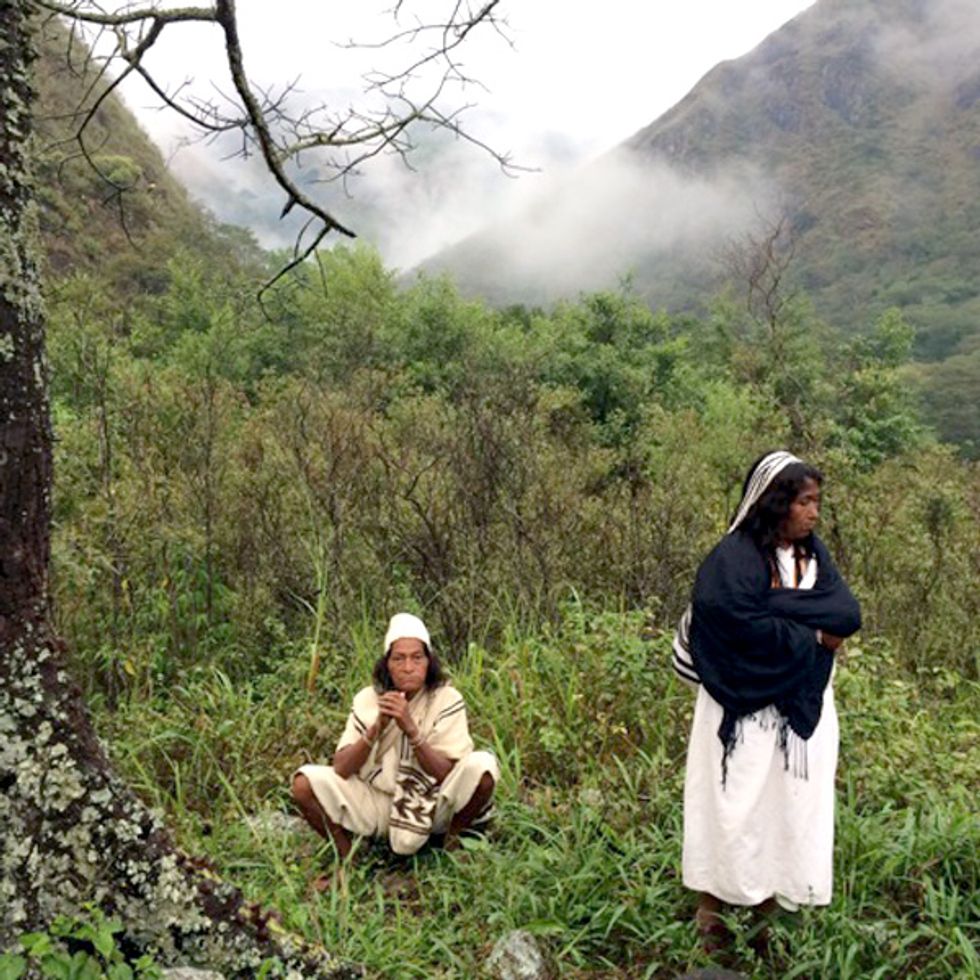 The mountains of Vilcabamba, Ecuador. Saga Carmen (right) and Mamo Miguel (left), who is one of the caretakers of the living relic. This was the Mamo's first trip outside of La Sierras. He was specifically sent by the Mother to activate a ring of sacred fire circles.
The Tribes of the Sierra have begun a unification process for the awareness of the life originating principles, called IKWASHENDWNA, which in two words is the urgent call to internal order the Mother makes to humanity. It is a call for all peoples to UNITE in the efforts to stop "little brother" in his plunder. We must also unite in our efforts to return the sacred sites to their original guardians, so that the proper ceremonies can be carried out and the activations can be completed. We must continue to march, to speak, to be active ourselves ... but without the help of the higher beings we are tilting at the windmills of destruction that we ourselves have created.
Luntana Nacoggí, one of the younger Mamos travelling internationally to deliver this message, wrote to me recently and said, "This process of Unification will generate a consciousness in regard to our Mother Earth. Our current level of awareness is deficient, and it is precipitating the end of life for both humans and the Earth. The clock is ticking on the stopwatch the Mother herself has activated, and we know that we only have a short time left to act. We must take advantage of this Unification process so that we can begin to cooperate following the principles of our "pre-ancient" rights for the protection of all life."
This is a message that the Kogi began to speak about 30 years ago, but the living relic conveyed an urgency that has reached fever pitch, and they have begun a mission to find those who still hold the original ceremonies and ritual knowledge to help re-activate sacred sites all over the globe.
So .... with all this being said we have begun a series of meetings with them and others to help in this mission for our existence ... On Sept. 13-14, we are planning a UNITY CONCERT in the Black Hills of South Dakota, which is known as the "Heart of Everything That Is" by the Lakota Nation. The concert/gathering will begin with a traditional sacred rite to clear away the pain of the past so that we can stand together—the black, red, white and yellow nations—for our Mother Earth. We are asking that the Black Hills be returned to the Great Sioux Nation, to their guardianship, so that the heart of our OWN nation, of America, can be re-activated. The feeling is that when the Black Hills are returned  that this will have a catalytic effect on the return of sacred sites all over the world. (Our contacts in DC and Obama himself has signaled that he is willing to meet with the Great Sioux Nation about the Black Hills, the first U.S. president willing to do so).
In their consultations, the tribes of La Sierra have been told that this time, beginning in September of this year, will be a watershed moment across the planet. The BLACK HILLS UNITY CONCERT is a crucial step of spiritually grounding this next wave of the climate movement and this MISSION FOR OUR EXISTENCE.
There is a lot to do in a very short amount of time, but it is wrapped in the prayers of our ancestors for the next seven generations.
YOU MIGHT ALSO LIKE
Unity Concert: Return Black Hills to the Great Sioux Nation
Native Americans Launch 'Love Water Not Oil' Ride To Protest Fracking Pipeline
EcoWatch Daily Newsletter
A view of a washed out road near Utuado, Puerto Rico, after a Coast Guard Air Station Borinquen MH-65 Dolphin helicopter crew dropped relief supplies to residents Tuesday, Oct. 3, 2017. The locals were stranded after Hurricane Maria by washed out roads and mudslides. U.S. Coast Guard photo by Petty Officer 3rd Class Eric D. Woodall /
CC BY-NC-ND 2.0
By Coral Natalie Negrón Almodóvar
The Earth began to shake as Tamar Hernández drove to visit her mother in Yauco, Puerto Rico, on Dec. 28, 2019. She did not feel that first tremor — she felt only the ensuing aftershocks — but she worried because her mother had an ankle injury and could not walk. Then Hernández thought, "What if something worse is coming our way?"
Flooded battery park tunnel is seen after Hurricane Sandy in 2012.
CC BY 2.0
President Trump has long touted the efficacy of walls, funneling billions of Defense Department dollars to build a wall on the southern border. However, when the U.S. Army Corps of Engineers (USACE) released a study that included plans for a sea wall to protect New Yorkers from sea-level rise and catastrophic storms like Hurricane Sandy, Trump mocked it as ineffective and unsightly.
A general view of fire damaged country in the The Greater Blue Mountains World Heritage Area near the town of Blackheath on Feb. 21, 2020 in Blackheath, Australia. Brook Mitchell / Getty Images
In a post-mortem of the Australian bushfires, which raged for five months, scientists have concluded that their intensity and duration far surpassed what climate models had predicted, according to a study published yesterday in Nature Climate Change.
Sea level rise causes water to spill over from the Lafayette River onto Llewellyn Ave in Norfolk, Virginia just after high tide on Aug. 5, 2017. This road floods often, even when there is no rain.
Skyler Ballard / Chesapeake Bay Program
By Tim Radford
The Texan city of Houston is about to grow in unexpected ways, thanks to the rising tides. So will Dallas. Real estate agents in Atlanta, Georgia; Denver, Colorado; and Las Vegas, Nevada could expect to do roaring business.
Malala Yousafzai (left) and Greta Thunberg (right) met in Oxford University Tuesday. Wikimedia Commons /
CC BY 2.0
What happens when a famous school striker meets a renowned campaigner for education rights?