An Inside Look at the Fight to Stop Fracking in Michigan
Jun. 10, 2013 05:02PM EST
Energy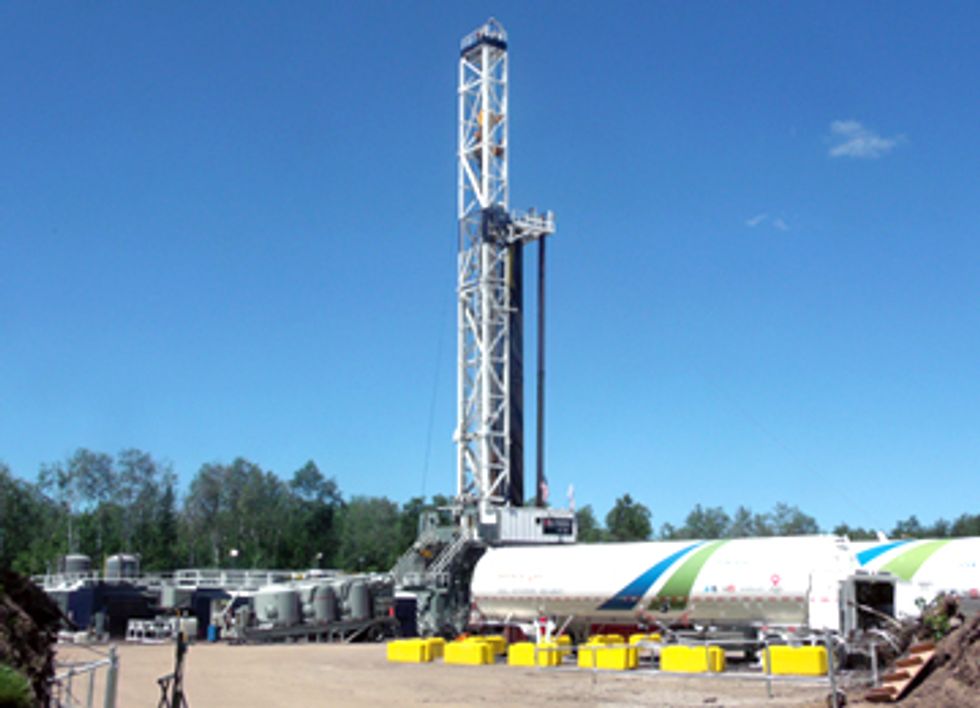 Maryann Lesert
With nothing short of a cultural shift at stake, Michigan's second Common Ground retreat, held June 1-2, was bittersweet—and everyone knew it. Sixty-some activists representing 40-some groups working to end fracking in Michigan—or, if not calling for an outright ban, then calling to take pause and scrutinize the process using the precautionary principle—took part.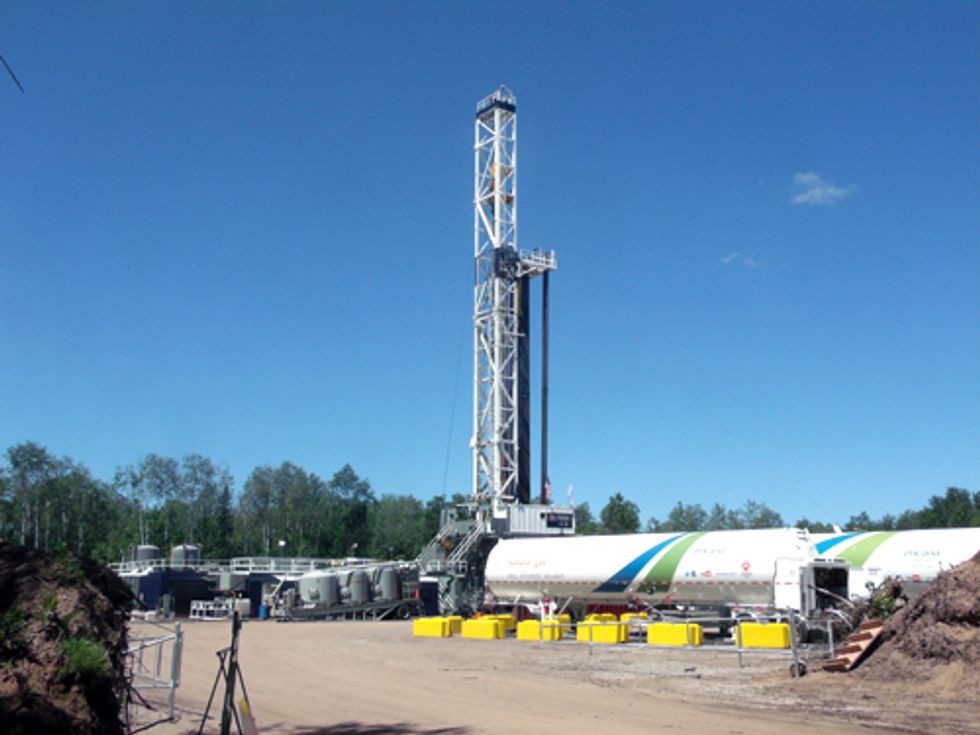 How can a group of chemical engineers, social workers, active and retired teachers, artists, carpenters and lawyers impact an industry that has been expanding its power and writing its own rules since J.D. Rockefeller had his men park abandoned railroad cars on the tracks of his competitors during the first oil boom of the 1800s? After all, Ida Tarbell's landmark 1904 History of Standard Oil didn't stop the building of an oil and gas empire. What can a loosely tied but committed group of activists, over a hundred years later, do to stop an industry bent on unconventional and perhaps even more destructive methods?
It may sound overly simplistic, but first and foremost, they can support each other with their commitment and their presence.
It's no surprise in a state defined by water—Michigan has over 12,000 lakes and an oft quoted saying, "You're never more than six miles from a lake"—that water was a repeated theme as new grassroots groups, such as Don't Frack West Michigan and Citizens for Responsible Resource Management, introduced themselves alongside 30-year veterans such as the Kalamazoo River Protection Association and Muskegon's Save Our Shoreline.
"Because we have the Great Lakes all around and under us, we should be the first ones out there protecting water," said Misty Shehan of Michigan Citizens for Water Conservation (MCWC). MCWC have made themselves known since they won a case widely known as the "Nestle case," challenging and eventually limiting water withdrawals made by Nestle's (formerly Ice Mountain) bottled water operation. Then along came fracking.
Frack wells in Michigan are using eight to 21 million gallons of fresh water per horizontal run, water that frackers are allowed to draw at no cost other than the cost of drilling a water well on the frack well pad. Michigan's Department of Environmental Quality (DEQ) assures the public that water withdrawals are monitored by a software tool called the Water Withdrawal Assessment Tool (WWAT), but the WWAT is not a legally binding regulation.
The problem, according to Common Ground's most experienced water researchers, might be phrased this way: The WWAT doesn't do squat. Which brings Common Ground to a task their predecessors in Pennsylvania, New York and Ohio have learned well: They have some myth busting to do.
"The DNR [Department of Natural Resources] and the DEQ are not the watchdogs the public thinks they are. They facilitate the industry and powerful lobbyists, whether that's timber or oil and gas," said Joanne Crowley, co-founder of Don't Frack Michigan. "And they're making a lot of money off Michigan's water and resources."
"We're not going to let the DEQ keep us trapped in their 'There's never been any contamination due to hydraulic fracturing in Michigan' argument," added JoAnne Beemon, co-founder of Don't Frack Michigan. "Every time a well is fracked, millions of gallons of water are contaminated and then removed from the Great Lakes hydrological cycle—forever."
Neither is Common Ground going to be divided by the industry's or the Michigan Chamber of Commerce's messages that environmental groups working to ban fracking in Michigan are "irresponsible" extremists. The group discussed the Committee to Ban Fracking in Michigan's ban effort in depth and affirmed the need to support all strategies—since securing a moratorium or putting restrictions on local truck traffic or providing all-important images and stories from communities affected by fracking are each important steps toward getting the public to support a turn away from fracking and other fossil fuel extraction methods.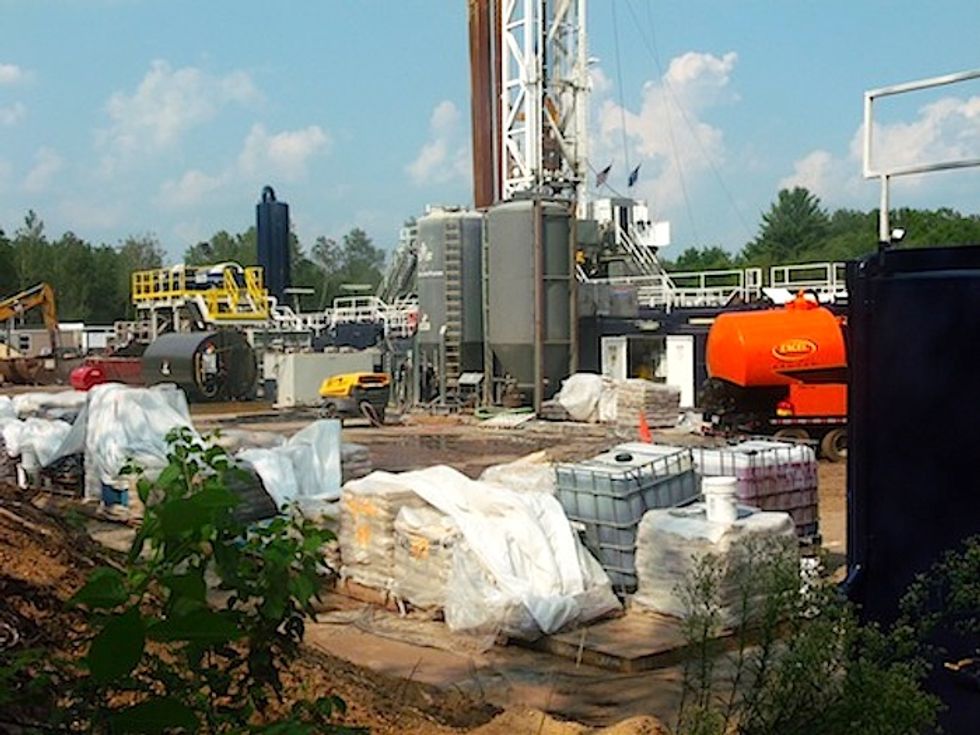 In short, Michigan is heeding the warnings they've heard about divisiveness.
They heard it from Cal Tillman, the former mayor of Dish, TX, featured in Gasland, when he visited northern Michigan in August 2012 with pictures, maps and confirmation of the industry's typical density once the shale operations prove productive. "Only the industry benefits if you're divided," Tillman told attendees.
They heard it from Kevin Heatley, a Pennsylvania restoration ecologist who lives above the Marcellus shale. "The industry's right about one thing," he said in Lansing. "Fracking is going to fundamentally change everything you know and value about your communities, and you'd better be ready."
Paul Brady, who along with Matt Wandel developed the website respectmyplanet.org, demonstrated the site's capability. At the February meeting, the site was in the design stages. Now the site functions as a one-stop source for photographs, video clips, oil and gas leasing maps and MDEQ permits for frack well sites around the state.
Aaron Wissner, a middle school computer applications teacher and founder of Local Future, put the work of the second retreat in perspective. "I'm trying to share the things I can do, right here, right now, to make state-wide sharing and communication easier." By the end of day two, Wissner had helped each of five newly formed work groups organize a web space to do just that: Share research and resources with ease.
As hugs marked the close of another long but mostly productive weekend, Beemon joked, "I wish our signs could say, 'Save our water.' 'Save our air.' 'Save our democracy.'"
But, thanks to the support building in the larger group, no single group needs to do or say it all.
Visit EcoWatch's FRACKING page for more related news on this topic.
——–
Sign the petition today, telling President Obama to enact an immediate fracking moratorium:

EcoWatch Daily Newsletter
Recent Stories from EcoWatch