This website uses cookies to ensure you get the best experience while browsing it. By clicking 'Got It' you're accepting these terms.
An Honest Look at Honest Tea Labels
Dec. 14, 2012 12:58PM EST
GMO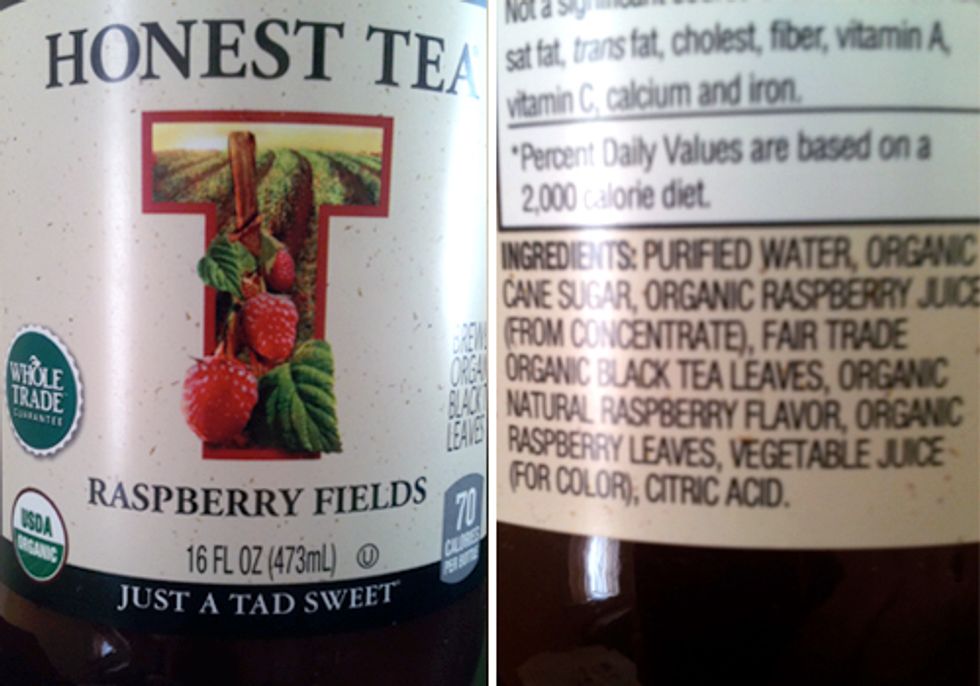 Some of you may already be boycotting companies like Honest Tea whose parent companies donated money to defeat Proposition 37, the GMO—genetically modified organism—labeling initiative in California. In the case of Honest Tea, Coca-Cola, which fully owns Honest Tea, donated $1.7 million dollars while Honest Tea stood mutely by.  Critics point to this as evidence that Coke has bought up Honest Tea as a form of "greenwashing" and a way to gain market share among more ethical consumers without facilitating real change in the marketplace.
But what about Honest Tea itself, it supports fair trade right? If a subsidiary company is truly a transparent and ethical player in the marketplace, we might be able to forgive a few sins of the parent company. But in this, the second in a series on unpacking labels, we reveal a few "fairwashing" problems specific to Honest Tea.
The first, raspberry fields tea, shows a prominent Whole Trade label. Whole trade is the in-house seal Whole Foods uses to denote products that meet their own quality, environmental and social criteria, one element of which is certification by a third-party social certifier. In the case of Honest Tea raspberry fields, a product exclusively produced for Whole Foods, that third party certifier is Fair Trade USA.
But take a close look at the ingredients. The only ingredient certified as fair trade is the tea leaves. Sugar, the first ingredient excluding water, is listed as organic but not fair trade. This is a similar problem to the chocolate bars we wrote about last month. Unlike the chocolate case, however, the certifier's own seal is not displayed, presumably because the tea does not meet Fair Trade USA's guidelines for use of seal, requiring more than 20 percent of the product to be fair trade certified and all commonly certified ingredients (such as sugar) to be so. Yet, the Whole Trade Guarantee label is displayed prominently on the front, so that if you did not stop to look at the ingredients and review the labeling formula, you might grab that tea and assume you are drinking a purely fair trade product. Whole Foods guaranteed it after all.
So is this just a Whole Foods Whole Trade loophole? It may be that, too, but in the second case, pomegranate red tea with goji berry, the problem is similar, except this example is not from Whole Foods and so not a candidate for the Whole Trade seal, and instead has a Fair Trade USA fair trade seal on the front panel, even though the rooibos is the only fair trade certified ingredient, and others, including again sugar, the first ingredient after water, is not.
What can you do about all this? First, now that you are learning how to critically read labels, you can raise questions or report violations when you see something that does not look right. Fair Trade USA has a form on their website for just this purpose. Honest Tea, on their website, encourages your "honest feedback."
Second, you can look for alternatives (and since we couldn't find any in the iced tea category that use fair trade ingredients and proper labeling, let us know if you do). If all else fails, buy some fair trade tea and fair trade sugar or honey and make your own. You don't need ingredients like "natural pomegranate flavor" or "vegetable juice for color" to make a delicious iced tea at home. And know that here at Fair World Project we are looking at labels, too. We'll keep you posted on the good ones, the bad ones, and the actions we're taking to ensure integrity and transparency in the marketplace.
Visit EcoWatch's GENETICALLY MODIFIED ORGANISM page for more related news on this topic.
EcoWatch Daily Newsletter
Pexels
By Tim Lydon
Climate-related disasters are on the rise, and carbon emissions are soaring. Parents today face the unprecedented challenge of raising children somehow prepared for a planetary emergency that may last their lifetimes. Few guidebooks are on the shelves for this one, yet, but experts do have advice. And in a bit of happy news, it includes strategies already widely recognized as good for kids.
Pexels
Be it Nina Simone and James Brown for civil rights, Joni Mitchell and Marvin Gaye for the environment, or Jackson Browne and Buffalo Springfield for nuclear disarmament, musicians have long helped push social movements into the limelight.
Yulia Lisitsa / iStock / Getty Images Plus
Collagen is the most abundant protein in your body.
It is the major component of connective tissues that make up several body parts, including tendons, ligaments, skin, and muscles.
Greenpeace activists unfurl banners after building a wood and card 'oil pipeline' outside the Canadian High Commission, Canada House, to protest against the Trudeau government's plans to build an oil pipeline in British Colombia on April 18, 2018 in London. Chris J Ratcliffe / Getty Images
By Jessica Corbett
In an open letter to Canadian Prime Minister Justin Trudeau and Deputy Prime Minister Chrystia Freeland, 42 Nobel laureates implored the federal government to "act with the moral clarity required" to tackle the global climate crisis and stop Teck Resources' proposed Frontier tar sands mine.
Mapping Urban Heat through Portland State University /
video
Concrete and asphalt absorb the sun's energy. So when a heat wave strikes, city neighborhoods with few trees and lots of black pavement can get hotter than other areas — a lot hotter.