This website uses cookies to ensure you get the best experience while browsing it. By clicking 'Got It' you're accepting these terms.
An Eye-Opening Look at Added Sugar in Kids' Cereals
May. 15, 2014 12:18PM EST
From a 10-day sugar-free challenge proposed in the new documentary Fed Up to a recent report on marketing tricks to obscure the health consequences of added sugar in food, this sweetener has been making headlines (again).
The latest comes from Environmental Working Group (EWG), which analyzed 1,556 breakfast cereals, including 181 that are marketed to children. Nearly all cold cereals contained added sugar, but kids' cereals were especially heavily sweetened, containing on average 40 percent more sugar per "serving" than cereals marketed to adults.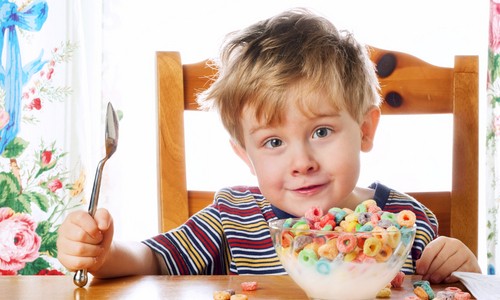 Photo courtesy of Shutterstock
Additionally, the average serving size recommended for the products were found to be unrealistically small and not reflective of what Americans actually consume. Still, an average "serving" had almost as much sugar as three Chips Ahoy! cookies or two Keebler Fudge Stripe cookies. EWG calls on the Food and Drug Administration to update its cereal serving size regulations to more realistically reflect current consumption.
Sugary kids' cereals also make health claims or tout their nutritional value, such as emphasizing fiber or vitamin and mineral content, to persuade parents that these foods should be bought.
"Parents read nutrition claims on the side of the cereal box and think they are feeding nutritious food to their kids," said Renee Sharp, EWG's research director. "That's why the federal government and food manufacturers need to hear from us. We hope the report will empower Americans to use their voices and buying dollars to demand better choices and a limit on how much sugar is added to food products that are marketed as 'healthy'."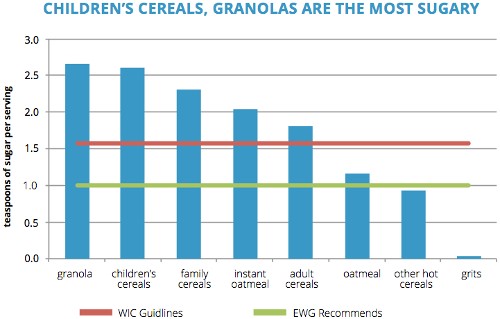 Chart 1 from EWG's "Children's Cereals: Sugar by the Pound"
The analysis found that 92 percent of cold cereals in the U.S. are preloaded with added sugars. In fact, eating one bowl of children's cereal each day would mean consuming 10 pounds of additional sugar yearly. But, EWG found that there are few low-sugar options, particularly among cereals marketed for kids.
EWG's "Hall of Shame" was compiled to highlight the 12 cereals that are more than 50 percent sugar by weight. They are as follows:
Kellogg's Honey Smacks

Malt-O-Meal Golden Puffs

Mom's Best Cereals Honey-Ful Wheat

Malt-O-Meal Berry Colossal Crunch with Marshmallows

Post Golden Crisp

Grace Instant Green Banana Porridge

Blanchard & Blanchard Granola

Lieber's Cocoa Frosted Flakes

Lieber's Honey Ringee Os

Food Lion Sugar Frosted Wheat Puffs

Krasdale Fruity Circles

Safeway Kitchens Silly Circles
"When you exclude obviously sugar-heavy foods like candy, cookies, ice cream, soft and fruit drinks, breakfast cereals are the single greatest source of added sugars in the diets of children under the age of eight," nutritionist and EWG consultant Dawn Undurraga, co-author of the report, Children's Cereals: Sugar by the Pound, said.  "Cereals that pack in as much sugar as junk food should not be considered part of a healthy breakfast or diet. Kids already eat two to three times the amount of sugar experts recommend."
Of the 181 kids' cereals tested, only 10 met EWG's criteria for low sugar, as follows:
Kellogg's Rice Krispies, Gluten-Free

General Mills Cheerios

Post 123 Sesame Street (C is for Cereal)

Kellogg's Corn Flakes.

Kellogg's Rice Krispies

Kellogg's Crispix Cereal

Springfield Corn Flakes Cereal

Valu Time Crisp Rice Cereal

Roundy's Crispy Rice

Shop Rite Scrunchy Crispy Rice
EWG recommends the following tips for parents looking to feed their children a healthy breakfast:
Reduce sugar consumption from all sources and seek out foods without added sugars.

Read the Nutrition Facts labels carefully and choose cereals with the lowest sugar content. Look for cereals that are low-sugar—no more than a teaspoon (4 grams) per serving—or moderately sweetened—less than 1½ teaspoons (6 grams) per serving.

Prepare breakfast from scratch as often as possible; add fruit for fiber, potassium and other essential vitamins and minerals.

Check out EWG's Healthy Breakfast Tips for great ideas on making healthy and sustaining breakfasts.

Speak out. Use your buying dollars and your words to tell cereal manufacturers you want more low-sugar choices for you and your family.
——–
YOU MIGHT ALSO LIKE
How to Limit Added Sugar in Your Diet
Sugar-Coated Science: Food Industry Uses Deceptive Marketing to Hide Added Sugar
Big Food Freaking Out About 'Fed Up'
——–
Prince William and British naturalist David Attenborough attend converse during the World Economic Forum annual meeting, on January 22 in Davos, Switzerland. Fabrice Cofferini /AFP / Getty Images
Britain's Prince William interviewed famed broadcaster David Attenborough on Tuesday at the World Economic Forum's annual meeting in Switzerland.
During the sit-down, the 92-year-old naturalist advised the world leaders and business elite gathered in Davos this week that we must respect and protect the natural world, adding that the future of its survival—as well as humanity's survival—is in our hands.
Electric vehicle sales took off in 2018, with a record two million units sold around the world, according to a new Deloitte analysis.
What's more, the accounting firm predicts that another 21 million electric cars will be on the road globally over the next decade due to growing market demand for clean transportation, government subsidies, as well as bans on fossil fuel cars.
Teenager Alex Weber and friends collected nearly 40,000 golf balls hit into the ocean from a handful of California golf courses.
Alex Weber /
CC BY-ND
Southwest Greenland had the most consistent ice loss from 2003 to 2012. Eqalugaarsuit, Ostgronland, Greenland on Aug. 1, 2018.
Rob Oo / CC BY 2.0
Greenland is melting about four times faster than it was in 2003, a new study published Monday in the Proceedings of the National Academy of Sciences found, a discovery with frightening implications for the pace and extent of future sea level rise.
"We're going to see faster and faster sea level rise for the foreseeable future," study lead author and Ohio State University geodynamics professor Dr. Michael Bevis said in a press release. "Once you hit that tipping point, the only question is: How severe does it get?"
Finally, some good news about the otherwise terrible partial government shutdown. A federal judge ruled that the Trump administration cannot issue permits to conduct seismic testing during the government impasse.
The Justice Department sought to delay—or stay—a motion filed by a range of coastal cities, businesses and conservation organizations that are suing the Trump administration over offshore oil drilling, Reuters reported. The department argued that it did not have the resources it needed to work on the case due to the shutdown.
Most people have heard of the Amazon, South America's famed rainforest and hub of biological diversity. Less well known, though no less critical, is the Pantanal, the world's largest tropical wetland.
Like the Amazon, the Pantanal is ecologically important and imperiled. Located primarily in Brazil, it also stretches into neighboring Bolivia and Paraguay. Covering an area larger than England at more than 70,000 square miles, the massive wetland provides irreplaceable ecosystem services that include the regulation of floodwaters, nutrient renewal, river flow for navigability, groundwater recharge and carbon sequestration. The wetland also supports the economies of the four South American states it covers.
Demonstrators participate in a protest march over agricultural policy on Jan. 19 in Berlin, Germany. Carsten Koall / Getty Images Europe
By Andrea Germanos
Organizers said 35,000 people marched through the streets of the German capital on Saturday to say they're "fed up" with industrial agriculture and call for a transformation to a system that instead supports the welfare of the environment, animals and rural farmers.

The fire that erupted after a pipeline explosion in Mexico Friday. FRANCISCO VILLEDA / AFP / Getty Images
By Patrick Rogers
If you have ever considered making the switch to an environmentally friendly electric vehicle, don't drag your feet. Though EV prices are falling, and states are unveiling more and more public charging stations and plug-in-ready parking spots, the federal government is doing everything it can to slam the brakes on our progress away from gas-burning internal combustion engines. President Trump, likely pressured by his allies in the fossil fuel industry, has threatened to end the federal tax credits that have already helped put hundreds of thousands of EVs on the road—a move bound to harm not only our environment but our economy, too. After all, the manufacturing and sale of EVs, hybrids, and plug-in hybrids supported 197,000 jobs in 2017, according to the most recent U.S. Energy and Employment Report.