This website uses cookies to ensure you get the best experience while browsing it. By clicking 'Got It' you're accepting these terms.
America's Zero Emissions Imperative
Jun. 30, 2015 10:16AM EST
Climate
Last fall, we wrote an article explaining why zero has become the most important number for humanity. Since that time, zero emissions has been embraced as an idea that's time has come by nearly 120 countries, leading European companies, high-profile CEOs, two Pontifical Academies, climate visionaries like Al Gore, mainstream media outlets and, if you can believe it, even the leaders of the G7. We now address the critical issue of timelines.
Currently, the two target dates most commonly cited for achieving zero greenhouse gas emissions are 2050 and 2100. Given the extreme weather weirding we are witnessing at current levels of pollution, we shudder to think what 35 years—let alone 85 years—of continued emissions will bring. Everyone can see that the climate is already on steroids and wreaking havoc.
The urgency of our planetary emergency requires that we transition from fossil fuels to renewables not in decades, but in years. We must move beyond what conventional wisdom views as politically feasible to what this existential crisis truly demands: an all hands on deck societal mobilization at wartime speed.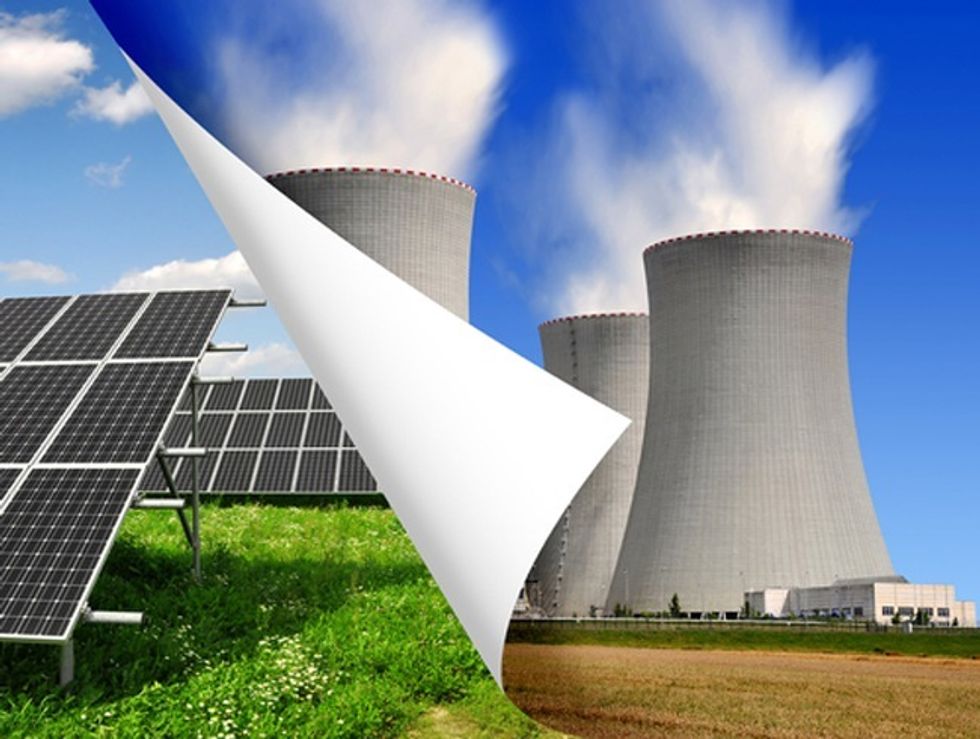 The time for timid visions and baby steps is over. The time for our generational mission is at hand. Zero emissions: because the first step to making things better is to stop making things worse. Photo credit: Shutterstock
To be clear, we are not suggesting ending the use of fossil fuels tomorrow. Decarbonizing our industries, homes, transportation, power generation and food production will take time, probably longer than 2020. Let's hope it doesn't take us until 2030. But we must make this transition as quickly as humanly possible.
In 2011, an unprecedented coalition of planetary protection leaders called on the presidents of the U.S. and China to declare a global climate emergency by launching a wartime-like mobilization to cut carbon emissions 80 percent by 2020. Because that urgent call was not heeded, we have lost precious time in the race to save civilization, and must now set our sights even higher.
To this end, we join with our allies at The Climate Mobilization in calling on Congress and the White House to revitalize our economy and put America back to work by declaring a U.S. goal of net zero greenhouse gas emissions by 2025.
Some will no doubt call this bold national goal unrealistic, but they would underestimate the innovative genius and social conscience of the American people. America has a long and proud history of overcoming seemingly insurmountable odds (consider World War II, Apollo program and Abolitionist movement). What is unrealistic is thinking we can put off for decades action that is desperately needed now to ensure our survival as a species.
We will be reminded of the fragility of our existence this summer when the victims of Hurricane Katrina are honored on the 10th anniversary of that savage storm. We will be reminded again this fall when the victims of Hurricane Sandy are commemorated on the third anniversary of that superstorm's lethal landfall.
Five months from today, delegates from more than 190 nations will gather in Paris for the 21st UN Convention on Climate Change (COP21) to negotiate a global climate accord—this after decades of failed international talks have only watched fossil fuel emissions continue to soar. For the sake of all that we love, we cannot allow COP21 to become yet another climate cop-out.
Intergenerational justice demands that the centerpiece of the Paris agreement be zero emissions, a goal UN Secretary-General Ban Ki-moon calls "ambitious but achievable." Five months is ample time for the nations of the world to draft their legally binding zero emissions commitments for Paris.
In his widely anticipated encyclical, timed to influence the Paris talks, Pope Francis writes, "Reducing greenhouse gases requires honesty, courage and responsibility, above all on the part of those countries which are more powerful and pollute the most." As the nation that historically contributed the most to global climate pollution, and that is in the strongest position to respond, the U.S. has a moral imperative to lead the zero emissions charge at COP21.
The current weak U.S. target of 26-28 percent emissions cuts by 2025 cannot be described as honest, courageous or responsible when what is needed is what the pontiff calls a "cultural revolution" to free ourselves from fossil fuels.
The time for timid visions and baby steps is over. The time for our generational mission is at hand.
Zero emissions: because the first step to making things better is to stop making things worse.
YOU MIGHT ALSO LIKE
10 Iconic Places That May Disappear Due to Climate Change
Dalai Lama Endorses Pope Francis's Encyclical on Climate Change
Satellite Data Shows Underground Aquifers Are Running Out of Water
EcoWatch Daily Newsletter
Yellowstone National Park closed to visitors on March 24, 2020 because of the Covid-19 virus threat. William Campbell-Corbis via Getty Images
When the novel coronavirus started to sweep across the country, the National Park Service started to waive entrance fees. The idea was that as we started to practice social distancing, Americans should have unfettered access to the outdoors. Then the parking lots and the visitor centers started to fill up, worrying park employees.
Mike Pence and Donald Trump hold a press conference about the coronavirus outbreak in the press briefing room at the White House on March 23, 2020 in Washington, DC. Drew Angerer / Getty Images
By John R. Platt
Both eyes open. Look for potential threats coming from all sides. Be prepared to change course at a moment's notice.
Traffic moves across the Brooklyn Bridge on Aug. 2, 2018 in New York City. Drew Angerer / Getty Images
The Trump administration is expected to unveil its final replacement of Obama-era fuel-efficiency standards for cars and light trucks Tuesday in a move likely to pump nearly a billion more tons of carbon dioxide into the atmosphere over the lifetime of those less-efficient vehicles.
U.S. President Donald Trump listens as Anthony Fauci, Director of the National Institute of Allergy and Infectious Diseases speaks in the Rose Garden for the daily coronavirus briefing at the White House on March 29 in Washington, DC. Tasos Katopodis / Getty Images
By Jake Johnson
Just over a month after proclaiming that the number of coronavirus cases in the U.S. would soon "be down to close to zero," President Donald Trump said during a press briefing on the White House lawn Sunday that limiting U.S. deaths from the pandemic to between 100,000 and 200,000 people would mean his administration and the country as a whole did "a very good job."