This website uses cookies to ensure you get the best experience while browsing it. By clicking 'Got It' you're accepting these terms.


The best of EcoWatch, right in your inbox. Sign up for our email newsletter!
America's Zero Emissions Imperative
Jun. 30, 2015 09:16AM EST
Climate
Last fall, we wrote an article explaining why zero has become the most important number for humanity. Since that time, zero emissions has been embraced as an idea that's time has come by nearly 120 countries, leading European companies, high-profile CEOs, two Pontifical Academies, climate visionaries like Al Gore, mainstream media outlets and, if you can believe it, even the leaders of the G7. We now address the critical issue of timelines.
Currently, the two target dates most commonly cited for achieving zero greenhouse gas emissions are 2050 and 2100. Given the extreme weather weirding we are witnessing at current levels of pollution, we shudder to think what 35 years—let alone 85 years—of continued emissions will bring. Everyone can see that the climate is already on steroids and wreaking havoc.
The urgency of our planetary emergency requires that we transition from fossil fuels to renewables not in decades, but in years. We must move beyond what conventional wisdom views as politically feasible to what this existential crisis truly demands: an all hands on deck societal mobilization at wartime speed.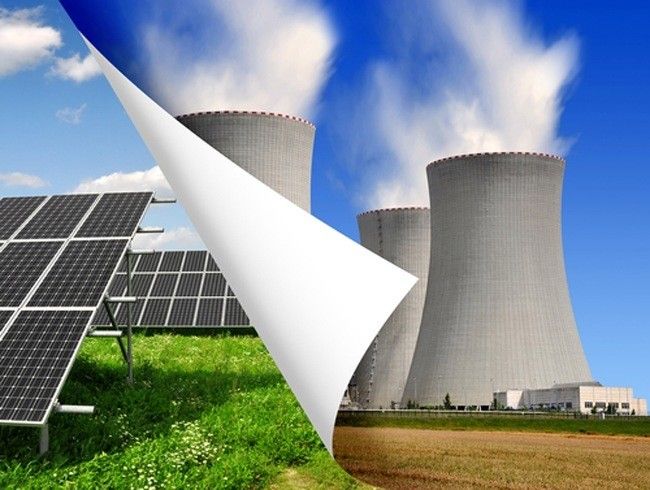 The time for timid visions and baby steps is over. The time for our generational mission is at hand. Zero emissions: because the first step to making things better is to stop making things worse. Photo credit: Shutterstock
To be clear, we are not suggesting ending the use of fossil fuels tomorrow. Decarbonizing our industries, homes, transportation, power generation and food production will take time, probably longer than 2020. Let's hope it doesn't take us until 2030. But we must make this transition as quickly as humanly possible.
In 2011, an unprecedented coalition of planetary protection leaders called on the presidents of the U.S. and China to declare a global climate emergency by launching a wartime-like mobilization to cut carbon emissions 80 percent by 2020. Because that urgent call was not heeded, we have lost precious time in the race to save civilization, and must now set our sights even higher.
To this end, we join with our allies at The Climate Mobilization in calling on Congress and the White House to revitalize our economy and put America back to work by declaring a U.S. goal of net zero greenhouse gas emissions by 2025.
Some will no doubt call this bold national goal unrealistic, but they would underestimate the innovative genius and social conscience of the American people. America has a long and proud history of overcoming seemingly insurmountable odds (consider World War II, Apollo program and Abolitionist movement). What is unrealistic is thinking we can put off for decades action that is desperately needed now to ensure our survival as a species.
We will be reminded of the fragility of our existence this summer when the victims of Hurricane Katrina are honored on the 10th anniversary of that savage storm. We will be reminded again this fall when the victims of Hurricane Sandy are commemorated on the third anniversary of that superstorm's lethal landfall.
Five months from today, delegates from more than 190 nations will gather in Paris for the 21st UN Convention on Climate Change (COP21) to negotiate a global climate accord—this after decades of failed international talks have only watched fossil fuel emissions continue to soar. For the sake of all that we love, we cannot allow COP21 to become yet another climate cop-out.
Intergenerational justice demands that the centerpiece of the Paris agreement be zero emissions, a goal UN Secretary-General Ban Ki-moon calls "ambitious but achievable." Five months is ample time for the nations of the world to draft their legally binding zero emissions commitments for Paris.
In his widely anticipated encyclical, timed to influence the Paris talks, Pope Francis writes, "Reducing greenhouse gases requires honesty, courage and responsibility, above all on the part of those countries which are more powerful and pollute the most." As the nation that historically contributed the most to global climate pollution, and that is in the strongest position to respond, the U.S. has a moral imperative to lead the zero emissions charge at COP21.
The current weak U.S. target of 26-28 percent emissions cuts by 2025 cannot be described as honest, courageous or responsible when what is needed is what the pontiff calls a "cultural revolution" to free ourselves from fossil fuels.
The time for timid visions and baby steps is over. The time for our generational mission is at hand.
Zero emissions: because the first step to making things better is to stop making things worse.
YOU MIGHT ALSO LIKE
10 Iconic Places That May Disappear Due to Climate Change
Dalai Lama Endorses Pope Francis's Encyclical on Climate Change
Satellite Data Shows Underground Aquifers Are Running Out of Water
EcoWatch Daily Newsletter
Mark Wilson / Getty Images News
Ethics investigations have been opened into the conduct of senior Trump appointees at the nation's top environmental agencies.
The two investigations focus on Environmental Protection Agency (EPA) Administrator Andrew Wheeler and six high-ranking officials in the Department of Interior (DOI), The Hill reported Tuesday. Both of them involve the officials' former clients or employers.
"This is demonstrative of the failures at the very top of this administration to set an ethical tone," Campaign Legal Center Ethics Counsel Delaney Marsco told The Washington Post of the DOI investigation. "When people come to work for government, they're supposed to work on behalf of the public. It's a betrayal of the public trust when senior political appointees seem to give privileged access to their former employers or former clients."
Cigarette butt litter. Tavallai / CC BY-ND 2.0
By Dipika Kadaba
We've known for more than 50 years that smoking cigarettes comes with health hazards, but it turns out those discarded butts are harmful for the environment, too. Filtered cigarette butts, although small, contain dozens of chemicals, including arsenic and benzene. These toxins can leach into the ground or water, creating a potentially deadly situation for nearby birds, fish and other wildlife.
Thanasis Zovoilis / DigitalVision / Getty Images
Infants less than a year old should not be exposed to electronic screens, the World Health Organization (WHO) said on Wednesday.
Bill Pugliano / Getty Images
By Wenonah Hauter
Five years ago this week, an emergency manager appointed by then-Michigan Gov. Rick Snyder made the devastating decision to save money by switching Flint's water supply over from Detroit's water system to the Flint River. Seen as a temporary fix, the new water supply was not properly treated. High levels of lead leached from the old pipes, poisoning a generation of Flint's children, and bacteria responsible for an outbreak of Legionnaires' Disease killed more than a dozen residents.
Los Angeles-Long Beach, California is listed as the nation's smoggiest city. Pixabay
Kissing bug. Pavel Kirillov / Flickr / CC BY-SA 2.0
The Centers for Disease Control and Prevention (CDC) confirmed that the kissing bug, which can transmit a potentially deadly parasite, has spread to Delaware, ABC News reported Wednesday.
Did you know that more than a third of food is wasted or thrown away every year? And that only 25 percent of it would be enough to feed the 795 million undernourished people in the world? That's why today is Stop Food Waste Day, a chance to reflect on what you can do to waste less of the food you buy.
Stop Food Waste Day is an initiative of food service company Compass Group. It was launched first in the U.S, in 2017 and went global the year after, making today it's second worldwide celebration.