This website uses cookies to ensure you get the best experience while browsing it. By clicking 'Got It' you're accepting these terms.
America's Waterways 'A Polluter's Paradise'
Mar. 22, 2012 08:00AM EST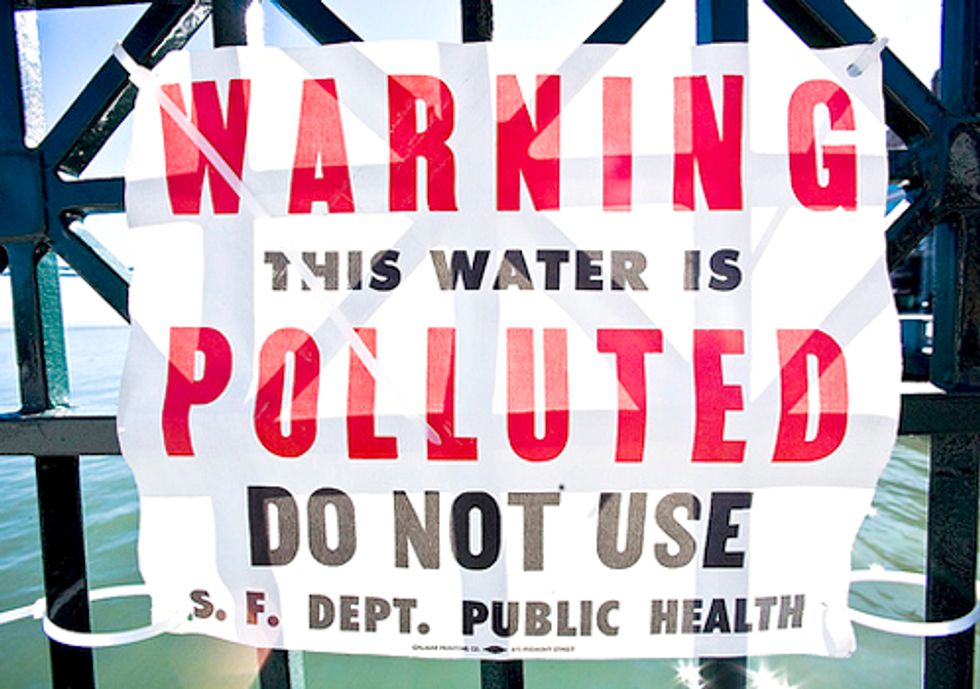 Five states—Indiana, Virginia, Nebraska, Texas and Georgia—account for 40 percent of the total amount of toxic discharges to U.S. waterways in 2010, according to a new report released today by Environment America. Wasting Our Waterways: Industrial Toxic Pollution and the Unfulfilled Promise of the Clean Water Act also reports that 226 million pounds of toxic chemicals were discharged into 1,400 waterways across the country.
"America's waterways are a polluter's paradise right now. Polluters dumped 226 million pounds of toxic chemicals into our lakes, rivers and streams in 2010," said Shelley Vinyard, clean water advocate with Environment America. "We must turn the tide of toxic pollution by restoring Clean Water Act protections to our waterways."
The Environment America report documents and analyzes the dangerous levels of pollutants discharged to America's waters by compiling toxic chemical releases reported to the U.S. Environmental Protection Agency's (EPA) Toxics Release Inventory for 2010, the most recent data available.
Major findings of the report include:
Pollution from just five states—Indiana, Virginia, Nebraska, Texas and Georgia—accounted for nearly 40 percent of the total amount of pollution dumped into our waterways in 2010.
Food and beverage manufacturing (slaughterhouses, rendering plants, etc.), primary metals manufactur­ing, chemical plants and petroleum re­fineries were some of the largest polluters. AK Steel dumped the most toxic pollution—nearly 30 million pounds—into our waterways in 2010.
In 2010, industries discharged approximately 1.5 million pounds of cancer-causing chemicals, like arsenic, chromium and benzene, into America's waterways. Nevada's Burns Creek received the largest volume of carcinogens in 2010, while neighboring Mill Creek placed third.
Nitrates accounted for nearly 90 percent of the total volume of discharges to waterways reported in 2010. Nitrates are toxic, particularly to infants consuming formula made with nitrate-laden drinking water, who may be susceptible to methemoglobinemia, or "blue baby" syndrome, a disease that reduces the ability of blood to carry oxygen throughout the body.
Environment America's report summarizes discharges of cancer-causing chemicals, chemicals that persist in the environment, and chemicals with the potential to cause reproductive problems ranging from birth defects to reduced fertility. Among the toxic chemicals discharged by facilities are arsenic, mercury and benzene. Exposure to these chemicals is linked to cancer, developmental disorders and reproductive disorders.
"The Clean Water Act's original objective was to clean up all of America's waterways by 1985—27 years ago," said Rob Kerth, analyst for Frontier Group and co-author of the report. "Many people born in 1985 have kids of their own now, yet still millions of pounds of toxic chemicals are being dumped into our waterways."
In order to curb the toxic pollution threatening waterways like the Chesapeake Bay, the Colorado River and Puget Sound, Environment America recommends the following:
Pollution Prevention: Industrial facilities should reduce their toxic discharges to waterways by switching from hazardous chemicals to safer alternatives.
Protect all waters: The Obama administration should finalize guidelines and conduct a rulemaking to clarify that the Clean Water Act applies to all of our waterways - including the 2.5 million miles of streams in and 117 million Americans' drinking water for which jurisdiction under the Clean Water Act has been called into question as a result of two polluter-driven Supreme Court decisions in the last decade.
Tough permitting and enforcement: EPA and state agencies should issue permits with tough, numeric limits for each type of toxic pollution discharged, ratchet down those limits over time, and enforce those limits with credible penalties, not just warning letters.
"The bottom line is that America's waterways shouldn't be a polluter's paradise, they should just be paradise. We need clean water now, and we are counting on the federal government to act to protect our health and our environment," concluded Vinyard.
For more information, click here.
EcoWatch Daily Newsletter
Coca-Cola says it will not phase out its plastic bottles. Roberto Machado Noa / LightRocket / Getty Images
Myakka River State Park outside of Sarasota, Florida on Dec. 30, 2016. The park is a small preserve of rare protected habitat along Florida's Gulf Coast, a region that has seen intense development and population growth. Andrew Lichtenstein / Corbis via Getty Images
Today, the Trump administration will finalize its replacement for the Obama-era Waters of the United States (WOTUS) rule in a move that will strip protections from more than half of the nation's wetlands and allow landowners to dump pesticides into waterways, or build over wetlands, for the first time in decades.
"It would be great to see all the candidates join Elizabeth Warren in taking the No Big Ag Money Pledge," said Citizens Regeneration Lobby's Alexis Baden-Mayer.
Peter Blanchard
/ Flickr / ric (CC BY 2.0)
Food system justice and environmental advocates on Wednesday urged all Democratic presidential hopefuls to follow in the footsteps of Sen. Elizabeth Warren in signing a pledge rejecting campaign cash from food and agribusiness corporations.
A new study shows the impact Native Americans had on landscapes was "small" compared to what followed by Europeans. The findings provide important takeaway for
conservation
in New England today, seen above in a view of areas surrounding Rangeley Lakes in Maine. Cappi Thompson / Moment / Getty Images
There's a theory going around that Native Americans actively managed the land the lived on, using controlled burns to clear forests. It turns out that theory is wrong. New research shows that Native Americans barely altered the landscape at all. It was the Europeans who did that, as ZME Science reported.