This website uses cookies to ensure you get the best experience while browsing it. By clicking 'Got It' you're accepting these terms.


The best of EcoWatch, right in your inbox. Sign up for our email newsletter!
America's Fracking Boom Looks More Like a Blip According to European Study
Mar. 04, 2014 01:45PM EST
Energy
By Sharon Kelly
The fracking boom has progressed at breakneck speed across the U.S., with roughly one in 20 Americans now living within a mile of a well drilled since 2000.
So, how much has the economy benefitted from this drilling surge?
Not much, according to a report presented to the European Union Parliament last month, which found "no evidence that shale gas is driving an overall manufacturing renaissance in the U.S."
The shale boom's economic contributions are very narrow, inflating local economies in places where drilling is intense but generating little impact on the country's overall economic growth, the Institute for Sustainable Development and International Relations, a French think tank, concluded.
Although natural gas prices have fallen from their highs in 2008, benefitting consumers, those low levels are unlikely to be sustained and the U.S. is still expected to remain heavily reliant on importing crude oil, the researchers found.
Even using very optimistic assumptions, the report said, the industry's cumulative long term effect on America's Gross Domestic Product (GDP) will be less than one percent. "Despite very low and ultimately unsustainable short-term prices of natural gas, the unconventional oil and gas revolution has had a minimal impact on the U.S. macro-economy,"
That's not the amount that shale gas will add to the economy each year, the researchers said. Instead, the industry will make up no more than 0.84 percent of total GDP between 2012 and 2035—the years when the shale boom is projected to be at its height. To put that in context, the personal care products industry (hair styling, cosmetics and the like) contributed 1.4 percent of GDP in 2010—nearly double the impact that the EU report found the shale gas rush could have.
Although shale gas promoters have promised a rebirth of American manufacturing thanks to the drilling frenzy, the European analysts found that the benefits have mostly been felt by a small slice of the chemical industry, the petrochemicals industry.
The analysis also threw cold water on the idea that natural gas will help decrease America's carbon dioxide emissions or help combat climate change. "Absent further policies, the U.S. shale revolution will not lead to a significant, sustained decarbonization of the U.S. energy mix nor will it assure U.S. energy security," the researchers wrote.
Although projections showed that policy change could potentially drive a shift from coal to natural gas, such a plan also "locks the U.S. in" to a carbon-intensive infrastructure. And if current policies remain in place, emissions will be "stagnant at current levels out to 2040, clearly insufficient for a reasonable U.S. contribution to global climate change mitigation."
The costs of the drilling boom have been well documented. State regulators have struggled to keep pace with the oil and gas industry, and the country is now dotted with sites where land or water were contaminated by spills and other accidents, where gas wells, trains or pipelines have exploded, or where locals say air and water pollution has left them with a range of health problems.
Even the CEO of ExxonMobil, Rex Tillerson, has objected to the industry's arrival in his own neighborhood, citing traffic jams and harm to property values.
But the new and woefully under-reported European study undermines the two major upshots that proponents of drilling have put forward—economic gains and a lower carbon footprint.
The European report only focuses on one greenhouse gas, carbon dioxide, and does not touch on the impacts of a second, more potent greenhouse gas: methane.
Although natural gas produces carbon dioxide when it burns (about 50 to 60 percent as much as coal), scientists have warned that the harm to the climate done when unburned natural gas, which is primarily methane, leaks out into the atmosphere could decimate climate benefits from switching away from other fossil fuels and burning natural gas instead—especially when the effects that will be felt within our lifetimes are concerned, since methane's global warming effects are at their strongest during the first few decades after it leaks to the atmosphere.
The shale boom's marginal economic benefits come as little surprise to some analysts. "[D]ue to the size of the U.S. economy, it has always been unrealistic to expect shale gas to move the needle much," said Bill Powers, energy investor, analyst, and author of the book, Cold, Hungry and in the Dark. "Since so much of our economy is service-related, tech, finance, healthcare and education, I have always been very skeptical of the claims of large economic impact."
There are profound policy implications if the shale gas rush can generate only small economic benefits. The hope that the fuel could help bring back factory jobs to the U.S. has fed the Obama administration's support for the shale gas rush. "Businesses plan to invest almost a hundred billion dollars in new factories that use natural gas," President Obama said in his State of the Union address as he praised shale's contributions to the economy.
But researchers from the International Monetary Fund say that chemical company investment plans have less to do with the shale gas rush, and more to do with a bounce-back from the 2008 market crash, dropping currency exchange rates and the downwards pressure on American wages. "You had so much slack in the labor market in the recession," Prakash Loungoni, head of commodities research at the IMF told National Geographic. "Work wage demands are pretty moderate in the [United States.]"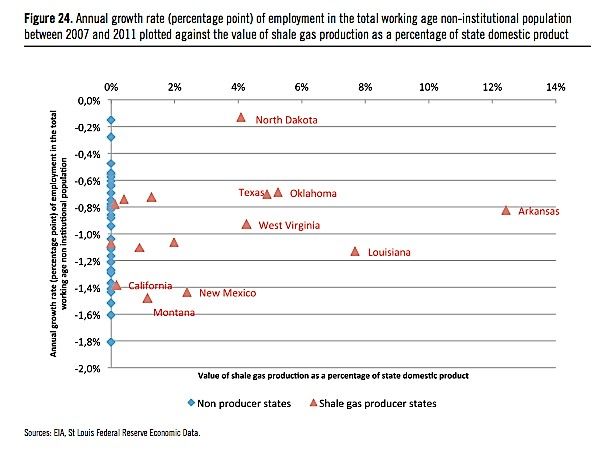 In other words, even if shale gas does help bring back some manufacturing jobs, don't expect those jobs to be high-paying.
Shale industry supporters often cite the sheer number of jobs created by the boom. But the estimates that politicians cite often turn out to be overblown. Gov. Corbett (R-PA) recently found himself in hot water for his claim that drilling has created 200,000 jobs in his state. A recent analysis found that only 30,000 jobs could be directly linked to his state's Marcellus shale rush, and that despite Gov. Corbett's drill-baby-drill policies, job growth from Marcellus development has fallen roughly a third between 2010 and 2013.
"The amount of jobs created by the gas boom has been grossly overstated," explained Powers.
The impacts are even less striking when the ripple effects from drilling are taken into account. "[E]very gas-related job that was created in Texas, Louisiana and Pennsylvania and other states has probably resulted in a coal-related job that has been lost," Powers added. "More importantly, the shale gas boom has greatly hampered job growth in the renewable sector."
Prospects for shale gas in the European Union look even bleaker, the European researchers concluded.
The researchers honed in on the uncertainty surrounding exactly how much shale gas lays beneath European countries, noting that the continent has seen little drilling compared to North America, and so oil and gas companies know relatively little about Europe's shale formations.
Using middle-of-the-road assumptions, the researchers concluded that shale gas could potentially supply between three and 10 percent of Europe's natural gas, meaning that the continent would still be heavily dependent on imports.
This means that shale gas will be no panacea for Europe. "To solve its energy, climate and manufacturing competitiveness challenges, the EU thus needs a broad strategy of energy efficiency, innovation, low carbon energy sources and a stronger internal market."
That may prove to be a much more reliable plan than staking the future on shale gas, whose promised benefits increasingly seem like mostly smoke and mirrors.
Visit EcoWatch's FRACKING page for more related news on this topic.

EcoWatch Daily Newsletter
jenifoto / iStock / Getty Images
Many people consider granola bars a convenient and healthy snack and enjoy their flavor and versatility.
A common green darners (Anax junius). Judy Gallagher / Flickr
By Jason Bittel
It's that time of year again: Right now, monarch butterflies are taking wing in the mountains of northwestern Mexico and starting to flap their way across the United States.
fstop123 / iStock / Getty Images Plus
At EcoWatch, our team knows that changing personal habits and taking actions that contribute to a better planet is an ongoing journey. Earth Day, happening on April 22, is a great reminder for all of us to learn more about the environmental costs of our behaviors like food waste or fast fashion.
To offer readers some inspiration this Earth Day, our team rounded up their top picks for films to watch. So, sit back and take in one of these documentary films this Earth Day. Maybe it will spark a small change you can make in your own life.
Denali national park. Domen Jakus / Flickr / CC BY-NC 2.0
By Stephanie Gagnon
Happy National Parks Week! This year, between April 20 and 28, escape to the beautiful national parks — either in person or in your imagination — and celebrate the amazing wildlife that calls these spaces home.
Sesame, three months old, at Seal Rescue Irleand.
Screenshot / Seal Rescue Ireland Instagram
On Friday, Seal Rescue Ireland released Sesame the seal into the ocean after five months of rehabilitation at the Seal Rescue Ireland facility. Watch the release on EcoWatch's Facebook.

Beer packs of Guinness will now come in a cardboard box. Diageo

By Jordan Davidson
Guinness is joining the fight against single use plastic. The brewer has seen enough hapless turtles and marine life suffering from the scourge of plastic.
Maskot / Getty Images
People of all ages are spending more of their day looking at their phones, computers and television screens, but parents now have another reason for limiting how much screen time their children get — it could lead to behavioral problems.