America's First Offshore Wind Farm Breaks Ground
America's smallest state claimed a big spot in the country's renewable energy development history. Monday Deepwater Wind broke ground on the country's first offshore wind project, which will be built at Block Island, Rhode Island. The five turbines will produce 30 megawatts of power, enough to provide electricity to all the homes and businesses on the island as well as send power to the mainland through an undersea cable. The project, which will be operative next year, is expected to create 300 construction jobs.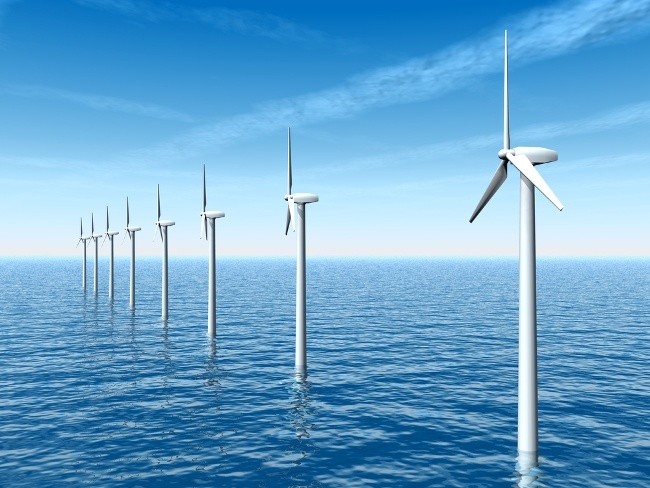 Photo credit: Shutterstock
"The importance of this day cannot be overstated," said Emily Norton, director of the Massachusetts chapter of the Sierra Club. "The Block Island Wind Farm is our Apollo 11 moment. I am going to remember this day, and tell my kids and grandkids that I was there when the first U.S. offshore wind farm was built—that when we had a choice between bequeathing them a future powered by polluting fossil fuels that lead to extreme storms, heat waves and drought, we chose to power their future from the wind and the sun and smart technologies."
The Sierra Club was one of a number of groups that lobbied for the project, including the National Audubon Society, National Wildlife Federation and labor unions, when it was first proposed in 2009. They helped mitigate concerns that construction could disrupt whales and other marine life and that the turbines could be a threat to seabirds.
Numerous officials and supporters were on hand for the Monday groundbreaking. They included Rhode Island Gov. Gina Raimondo and Sen. Sheldon Whitehouse, a passionate advocate for clean energy who has made a weekly floor speech in the Senate on the climate under the banner "Time to Wake Up" for two and a half years.
"The Block Island Wind Farm will bring cleaner and more affordable energy to Block Island's residents while helping Rhode Island access the tremendous economic and environmental potential of our offshore wind," said Sen. Whitehouse when the project was cleared to begin. "It's a milestone in our nation's transition to a clean energy economy, and I'm proud that Rhode Island is leading the way."
.@DeepwaterWind Excited to kick off #RI's first-in-the-nation offshore #wind project this morning! Big news for RI workers & US #cleanenergy

— Sheldon Whitehouse (@SenWhitehouse) April 27, 2015
"Not only are we going to create jobs, but we're going to rebrand ourselves as being more innovative and over time make Rhode Island a place that has lower energy costs, more diversified energy supply and greener energy," said Gov. Raimondo at the groundbreaking.
The project is small compared to the offshore wind farms that are abundant in northern Europe, but clean energy advocates hope the construction of the Rhode Island farm will create some momentum. The Bureau of Ocean Energy Management has opened nearly 750,000 acres of ocean to offshore wind development, designating it as a wind management area, with the potential to create up to 9,000 megawatts of electricity enough to power 700,000 homes by 2030.
Yet until now, that development has been stalled. The Cape Wind Project in Massachusetts has been embattled for more than a decade. Among those fighting it is billionaire Bill Koch, who lives on Massachusetts' Nantucket Sound and is co-chair of the Alliance to Protect Nantucket Sound. His brothers are fossil fuel barons and major political funders of climate denier politicians and initiatives Charles & David Koch. While the project was ultimately given the go-ahead, despite court challenges, the two utilities that had power purchase agreements with the project withdrew them in January. That project was expected to the first in the country, but now Rhode Island has beaten it to the punch.
"We are proud to celebrate breaking ground on the nation's first offshore wind farm in Rhode Island as it brings local, clean power to all Block Island residents and 300 new jobs to the community," said Bruce Nilles, senior campaign director of the Sierra Club's Beyond Coal Campaign.
"However, this celebration is about something bigger: it highlights the nation's transition beyond dirty, outdated fossil fuels to affordable clean energy. This is a shining example of how American ingenuity can take us forward and position us as leaders in the global clean energy economy. Today on Block Island, we again prove that America can be a leader in creating a clean energy reality that ensures every person can breathe clean air, enjoy clean water and live in a world free from the threat of climate disruption."
YOU MIGHT ALSO LIKE
Offshore Wind Trumps Offshore Drilling in Job Growth and Energy Generation
UK Wind Power Smashes Records As Scotland Eyes Fossil-Free Future
Wind Could Be Leading Source of Electricity by 2050, Says U.S. Dept. of Energy Report
Oil in the Niger Delta. Amnesty International Canada
By Andy Rowell
The decades-long struggle for social and environmental justice in the Niger Delta continues, largely unseen by the wider world.
On Aug. 11, hundreds of people from the Niger Delta stormed the Belema flow station gas plant owned by Shell in the Rivers State region of the Delta. The plant transports crude oil to the Bonny Light export terminal, from where it is shipped overseas.
Keep reading...
Show less
Rainforest Action Network / Flickr

The National Academy of Sciences, Engineering and Medicine said in a statement the Interior Department has directed it to cease its study on the potential health risks for people living near surface coal mines in Central Appalachia.
The Interior Department, which committed more than $1 million to the study last year, has begun an agency-wide review of grants over $100,000 because of the "Department's changing budget situation."
Keep reading...
Show less
California Energy Commission
California and North Carolina's electricity grids faced no disruptions during Monday's solar eclipse, which many saw as a test for the future when solar power will command a greater share of the energy mix.
"It bodes well for renewable energy on the grid during an event like this," said Eric Schmitt, a vice-president at California Independent System Operator that delivers most of the state's electricity.
Keep reading...
Show less
Bob Wick / Bureau of Land Management
Keep reading...
Show less
www.youtube.com
Are you ready to watch the Great American Eclipse of 2017? Will you be in the path of totality? Do you have your safety glasses ready?
Well, however you decide to watch the solar eclipse today, NASA TV will be showing the "Eclipse Across America" with live video of the celestial event. The feed is already live with lots of handy information about today's unprecedented eclipse. So be sure to watch above.
Enjoy!
Energy
Aug. 21, 2017 08:43AM EST
www.youtube.com
"One out of three Americans lives within 50 miles of high-level nuclear waste, some of which, like Plutonium, is lethally dangerous and will be around for an incredible longtime," John Oliver explained last night on Last Week Tonight.
According to the Nuclear Energy Institute, there is more than 71,000 tons of nuclear waste stranded at 104 reactors. "It was a problem we should have solved in the 1980s," Oliver said, "much like a Rubik's Cube."
Despite years of using nuclear energy, the country still doesn't have a permanent facility for its storage, the comedian said. Oliver proposed what the U.S. really needs is some kind of "nuclear toilet."
Watch above.
Popular
Aug. 21, 2017 10:55AM EST
C: Gage Skidmore
By Andy Rowell
As Trump's presidency spirals like a toxic vortex from one crisis to another, and with the global news media reacting to one venomous tweet after another, it is easy to miss the slow assault against science and the environment that continues below the radar.
The crisis for Trump could get a whole lot worse, with his ex-Chief of Staff, Steve Bannon, who was sacked last week, promising that he was "prepared to go to war with his adversaries in the White House."
Keep reading...
Show less
Coal power is getting buried in China—both literally and figuratively.
Earlier this week, a new floating solar farm went live in the Chinese city of Huainan above a retired coal mine, China Daily reported.
Keep reading...
Show less