This website uses cookies to ensure you get the best experience while browsing it. By clicking 'Got It' you're accepting these terms.
America's Conservation Compact Is Eroding Despite Farmers' Support
Feb. 27, 2012 10:00AM EST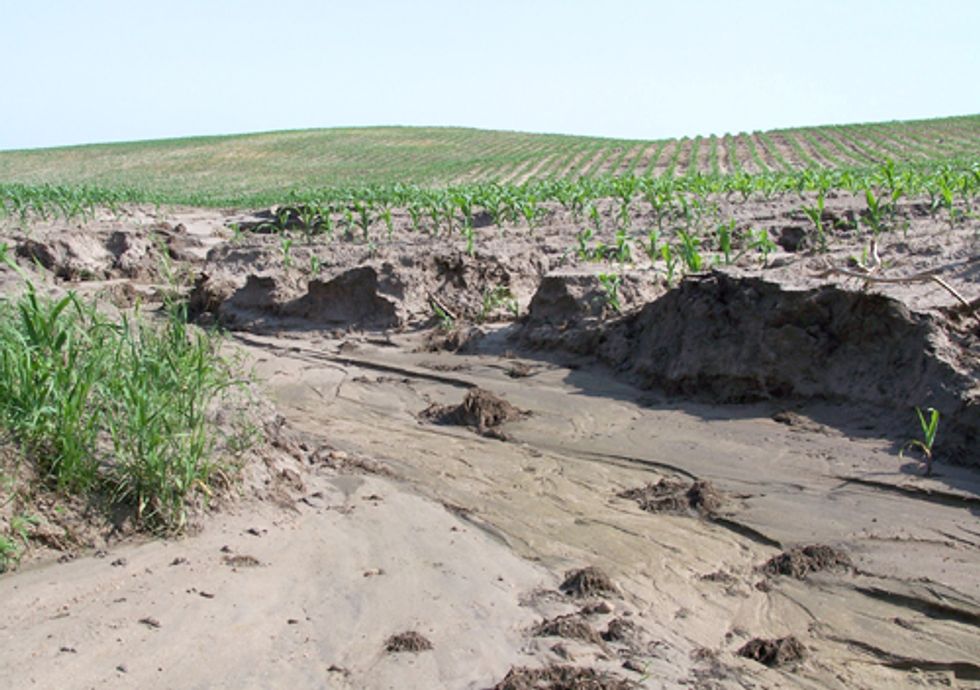 A new research paper finds that most farmers support the long-standing conservation compact that has helped protect the rich soil and clean water that sustain food, farming and public health.
Conservation Compliance: A Retrospective…and Look Ahead by conservationist Max Schnepf concludes through a comprehensive review of public opinion polls that the farming community has consistently supported the historic deal between taxpayers and farmers that was struck in the 1985 farm bill. Under it, growers agreed to keep soil from washing away and chemicals out of waterways in return for generous taxpayer support.
Seven polls taken in the last 30 years show that a solid majority of farmers believe that bargain is a fair one.
"The conservation compact was a godsend for agricultural and conservation groups and farmers," Schnepf writes. "In the 10 years following the 1985 farm bill, farmers did more to curb soil erosion than at any time since the infamous Dust Bowl years of the 1930s."
Schnepf notes that Environmental Working Group's (EWG) 2011 report, Losing Ground, found that high prices, intense competition for farmland leases and ethanol mandates have put unprecedented pressure on land and water. As a result, the historic gains in soil conservation the compact achieved are being lost.
"Conservation is once again being pushed to the back seat—the very situation that led to the compact in the first place," said EWG Senior Vice President Craig Cox. "We need to reinvigorate the compact just to keep things from getting worse, let alone make long-overdue progress on pollution problems that have gone unchecked for decades."
In the negotiations over a 2012 farm bill, agribusiness lobbyists are pushing their allies in Congress to gut the conservation compact entirely, with dire consequences for the environment and public health.
To raise awareness of the disastrous situation, EWG released a series of web-based ads and Schnepf's paper ahead of the Feb. 28 scheduled hearing of the Senate Agriculture, Nutrition and Forestry, which will focus on "Strengthening Conservation Through the 2012 Farm Bill."
Funding for agricultural conservation programs has been cut every year since 2002 and is currently $4 billion below the amount authorized in previous farm bills. Meanwhile, the taxpayers' tab for guaranteeing farm business income through so-called risk management programs has increased almost five-fold—from $1.5 billion in 2002 to $7.4 billion in 2011. There are no conservation strings attached because Congress ended those requirements in 1996.
"Congress must not break the 25-year old conservation compact between farmers and taxpayers under the guise of farm policy reform," said Cox. "Farmers need a safety net, but so do fertile soil and clean water."
EWG recommends that Congress reconfirm and reinvigorate the conservation compact by:
Bringing risk management programs back under the conservation compact umbrella.
Updating decades-old conservation plans to reflect modern technology and current weather patterns.
Requiring landowners to control highly damaging gully erosion on all annually tilled cropland.
Dedicating funding for conservation planning and enforcement.
For more information, click here.
EcoWatch Daily Newsletter
A new study shows that half of all Arctic warming and corresponding sea-loss during the late 20th century was caused by ozone-depleting substances. Here, icebergs discharged from Greenland's Jakobshavn Glacier. Kevin Krajick / Earth Institute /
EurekAlert!
The world awakened to the hole in the ozone layer in 1985, which scientists attributed it to ozone depleting substances. Two years later, in Montreal, the world agreed to ban the halogen compounds causing the massive hole over Antarctica. Research now shows that those chemicals didn't just cut a hole in the ozone layer, they also warmed up the Arctic.
Diane Wilson holds up a bag full of nurdles she collected from one of Formosa's outfall areas on Jan. 15. Julie Dermansky / DeSmogBlog
On the afternoon of Jan. 15, activist Diane Wilson kicked off a San Antonio Estuary Waterkeeper meeting on the side of the road across from a Formosa plastics manufacturing plant in Point Comfort, Texas.
After Wilson and the waterkeeper successfully sued Formosa in 2017, the company agreed to no longer release even one of the tiny plastic pellets known as nurdles into the region's waterways. The group of volunteers had assembled that day to check whether the plant was still discharging these raw materials of plastics manufacturing.
Malaysian Environment Minister Yeo Bee Yin (front 2nd L) and officials inspect a container containing plastic waste shipment on Jan. 20, 2020 before sending back to the countries of origin. AFP via Getty Images
The Southeast Asian country Malaysia has sent 150 shipping containers packed with plastic waste back to 13 wealthy countries, putting the world on notice that it will not be the world's garbage dump, as CNN reported. The countries receiving their trash back include the United States, the United Kingdom, France and Canada.
Trump leaves after delivering a speech at the Congress Centre during the World Economic Forum annual meeting in Davos on Jan. 21, 2020. JIM WATSON / AFP via Getty Images