This website uses cookies to ensure you get the best experience while browsing it. By clicking 'Got It' you're accepting these terms.
America's Conservation Compact Is Eroding Despite Farmers' Support
Feb. 27, 2012 10:00AM EST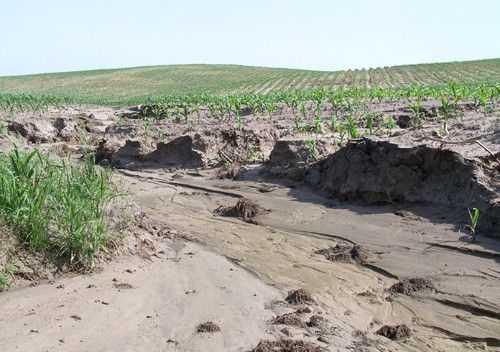 A new research paper finds that most farmers support the long-standing conservation compact that has helped protect the rich soil and clean water that sustain food, farming and public health.
Conservation Compliance: A Retrospective…and Look Ahead by conservationist Max Schnepf concludes through a comprehensive review of public opinion polls that the farming community has consistently supported the historic deal between taxpayers and farmers that was struck in the 1985 farm bill. Under it, growers agreed to keep soil from washing away and chemicals out of waterways in return for generous taxpayer support.
Seven polls taken in the last 30 years show that a solid majority of farmers believe that bargain is a fair one.
"The conservation compact was a godsend for agricultural and conservation groups and farmers," Schnepf writes. "In the 10 years following the 1985 farm bill, farmers did more to curb soil erosion than at any time since the infamous Dust Bowl years of the 1930s."
Schnepf notes that Environmental Working Group's (EWG) 2011 report, Losing Ground, found that high prices, intense competition for farmland leases and ethanol mandates have put unprecedented pressure on land and water. As a result, the historic gains in soil conservation the compact achieved are being lost.
"Conservation is once again being pushed to the back seat—the very situation that led to the compact in the first place," said EWG Senior Vice President Craig Cox. "We need to reinvigorate the compact just to keep things from getting worse, let alone make long-overdue progress on pollution problems that have gone unchecked for decades."
In the negotiations over a 2012 farm bill, agribusiness lobbyists are pushing their allies in Congress to gut the conservation compact entirely, with dire consequences for the environment and public health.
To raise awareness of the disastrous situation, EWG released a series of web-based ads and Schnepf's paper ahead of the Feb. 28 scheduled hearing of the Senate Agriculture, Nutrition and Forestry, which will focus on "Strengthening Conservation Through the 2012 Farm Bill."
Funding for agricultural conservation programs has been cut every year since 2002 and is currently $4 billion below the amount authorized in previous farm bills. Meanwhile, the taxpayers' tab for guaranteeing farm business income through so-called risk management programs has increased almost five-fold—from $1.5 billion in 2002 to $7.4 billion in 2011. There are no conservation strings attached because Congress ended those requirements in 1996.
"Congress must not break the 25-year old conservation compact between farmers and taxpayers under the guise of farm policy reform," said Cox. "Farmers need a safety net, but so do fertile soil and clean water."
EWG recommends that Congress reconfirm and reinvigorate the conservation compact by:
Bringing risk management programs back under the conservation compact umbrella.
Updating decades-old conservation plans to reflect modern technology and current weather patterns.
Requiring landowners to control highly damaging gully erosion on all annually tilled cropland.
Dedicating funding for conservation planning and enforcement.
For more information, click here.
EcoWatch Daily Newsletter
Large food companies are following in the footsteps of fast-food restaurants such as Burger King and KFC by offering meat alternatives. Getty Images
By Elizabeth Pratt
Hormel, Kellogg's, and Kroger are among the large companies now planning to offer "fake meat" products at grocery stores.
Experts say the trend toward plant-based meats coincides with consumers' desires to eat less meat.
However, experts urge consumers to closely check package labels as a product isn't necessarily healthy just because it's described as plant-based.
In grocery stores and fast-food outlets around the U.S., a revolution is taking place.
Colombia rainforest. Marcel Oosterwijk / CC BY-SA 2.0
Many of us think of the Amazon as an untouched wilderness, but people have been thriving in these diverse environments for millennia. Due to this long history, the knowledge that Indigenous and forest communities pass between generations about plants, animals and forest ecology is incredibly rich and detailed and easily dwarfs that of any expert.
picture-alliance / Newscom / R. Ben Ari
By Wesley Rahn
Plastic byproducts were found in 97 percent of blood and urine samples from 2,500 children tested between 2014 and 2017, according to a study by the German Environment Ministry and the Robert Koch Institute.

Pexels
Medically reviewed by Daniel Bubnis, MS, NASM-CPT, NASE Level II-CSS
Hot yoga has become a popular exercise in recent years. It offers many of the same benefits as traditional yoga, such as stress reduction, improved strength, and flexibility.
Lara Hata / iStock / Getty Images
By SaVanna Shoemaker, MS, RDN, LD
Rice is a staple in many people's diets. It's filling, inexpensive, and a great mild-tasting addition to flavorful dishes.
An image of the trans-alaskan oil pipeline that carries oil from the northern part of Alaska all the way to valdez. This shot is right near the arctic national wildlife refuge. kyletperry / iStock / Getty Images Plus
The Trump administration has initialized the final steps to open up nearly 1.6 million acres of the protected Alaskan National Wildlife Refuge to allow oil and gas drilling.