This website uses cookies to ensure you get the best experience while browsing it. By clicking 'Got It' you're accepting these terms.
America Recycles Day Puts Spotlight on Reduce, Reuse, Recycle
Oct. 18, 2013 11:39AM EST
What happens to the stuff we throw away?
About 53 percent of it goes into landfills, according to the U.S. EPA. About 12 percent is combusted for energy. About 35 percent is recycled.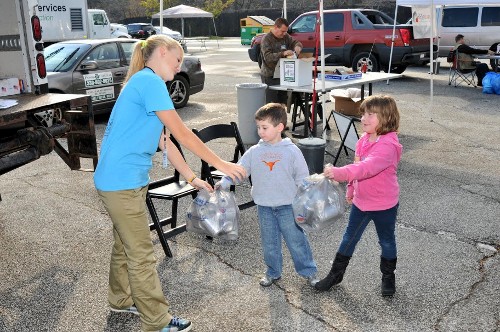 Keep America Beautiful wants to make that percentage of recycled waste higher. So it launched America Recycles Day, a day dedicated to promoting and celebrating recycling through thousands of grassroots events held across the nation.
Want to hold an event? America Recycles Day provides toolkits and guides for would-be organizers. Want to participate in an event? Find one near you.
One such event is in Cleveland, where the Cleveland Metroparks Zoo will give visitors who bring in select recyclables a free admission with the purchase of a regular admission from 10 a.m. to 4 p.m. on Saturday, Nov. 9.
Eligible materials include aluminum cans, cell phones and rechargeable phone batteries, newspaper, catalogs, junk mail, magazines, ink jet and toner print cartridges, cooking and dining supplies and utensils, and pairs of shoes (no single shoes, rubber flip flops, ice skates, roller skates, slippers, ski boots or completely ruined or broken footwear will be accepted).
The Cleveland Metroparks Zoo will offer free document shredding from 10 a.m. to 1 p.m. (limit three bags or boxes), an area of exhibitors who promote different aspects of "reduce, reuse, recycle," conservation games and crafts.
Proceeds from the aluminum cans collected will benefit The Little Fireface Project, an international conservation organization focused on the slow loris.
The video below is part of The Recycling Campaign, sponsored by Keep America Beautiful and the Ad Council. 

Visitors to the Grand Canyon may have been exposed to unsafe radiation levels, for almost two decades. George Rose / Getty Images
Grand Canyon visitors and employees who passed through the national park's museum collection building were exposed to radiation for nearly two decades, AZCentral reported Monday.
That's because, until last year, three five-gallon paint buckets filled with uranium ore were stored in the building, according to a Feb. 4 email sent out to all National Park Service employees by Grand Canyon safety, health and wellness manager Elston "Swede" Stephenson.
The Grand Canyon celebrates its 100th birthday as a national park this month, but it just earned itself a protector who is even older!
Portland alley advocates estimate there are 76 miles of alleys in their city—all potential green public spaces. This northeast Portland neighborhood is one of many projects reclaiming forgotten concrete pathways for nature and people. Derek Dauphin
By Lynn Freehill-Maye
Rachel Schutz hated watching the kids play outside, and not because she was a curmudgeon. As director of an after-school program in a Latino neighborhood near ­Portland, Oregon, she likes the outdoors, the piney tang that hangs in the damp air.
RiverNorthPhotography / E+ / Getty Images
Today, the U.S. celebrates Presidents' Day, a day to commemorate the leadership and legacy of the so-far only men who have governed the country since its founding.
Bogdan Kurylo / iStock / Getty Images
By Jeff Turrentine
If you think this is going to be yet another column admonishing you for not doing enough to curb the amount of single-use plastic in our waste stream, you can relax. You don't need a lecture at this point.