This website uses cookies to ensure you get the best experience while browsing it. By clicking 'Got It' you're accepting these terms.
America Isn't Buying Its Food at Farmers's Markets, It's Doing it at Walmart
Feb. 21, 2014 05:02PM EST
Food
By Anna Brones
You may think all the talk of eating local and shopping at farmer's markets is making a shift in the grocery buying arena, but if you do, you may want to take a step back and look at the big picture. While your friends, family and local community may be making a bigger effort to shop at smaller scale markets or specialty stores, the reality is most people aren't getting their groceries at the same place. In fact, they're not even going to grocery stores. They're going to Walmart, Target and beyond.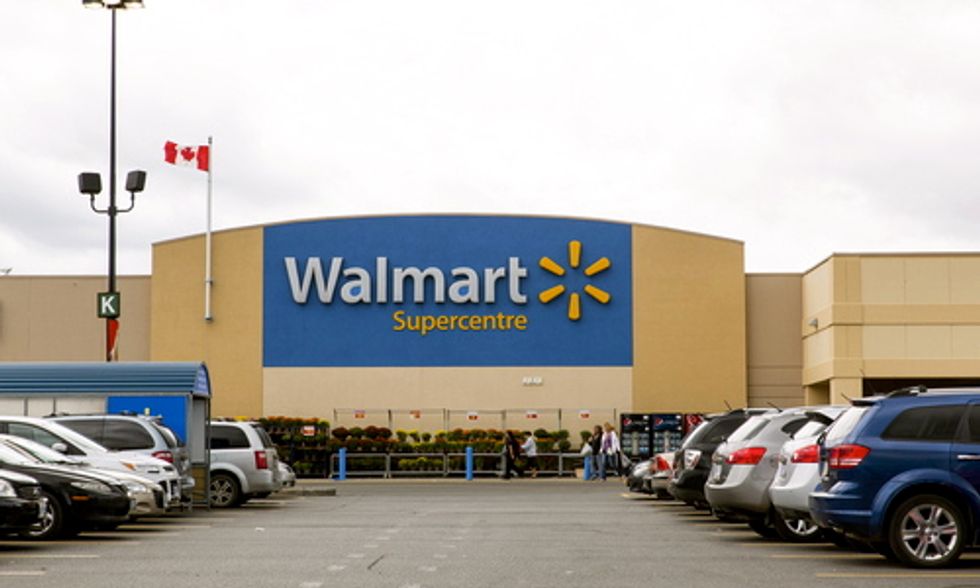 Photo courtesy of Shutterstock
A new study shows that it's not the places selling organic quinoa and Swiss chard that are getting the grocery business, it's big box stores, convenience stores and even pharmacies. King Retail Solutions partnered up with University of Arizona's Terry J. Lundgren Center for Retailing and surveyed 1,200 shoppers, from millennials to baby boomers, and found 70% of them bought groceries from non-grocers in 2013.
Target and Walmart topped the list, but then came Walgreens and CVS. Farmer's markets and food stalls came in seventh place, with a very small percentage in comparison to the big names at the top of the list.
Think about these types of stores and the first thing that comes to mind isn't normally fresh produce; these are places that are known for processed and packaged foods. Certainly, places like Walmart do sell produce—in fact, it has committed to doubling its sale of locally grown produce by 2015—but its popularity only adds to the industrialization of our food system.
Some may argue that because of prices, these types of stores attract people with a smaller food budget. Not so. As it turns out, "the wealthier the shopper, the more likely he or she is to procure groceries from Target, Walmart or another of these non-grocers," according to Forbes.
What are the effects of such shopping behaviors?
For one, it affects farmers. As Grist reported in 2011, "Between 1990 and 2009, the farmers' share of each dollar consumers spent on pork fell from 45 to 25 cents, according to the USDA Economic Research Service. Pork processors picked up some of the difference, but the bulk of the gains went to Walmart and other supermarket chains, which are now pocketing 61 cents of each pork dollar, up from 45 cents in 1990."
Then there's the question of health. While these stores may offer produce options, they are also right next to all of the processed, package options that we as a society need to avoid. It's hard to avoid temptation, and temptation gets us eating food products instead of real food.
Are grocery stores and markets doomed? Maybe. Once again, it comes down to voting with our forks.
Visit EcoWatch's FOOD and HEALTH pages for more related news on this topic.

EcoWatch Daily Newsletter
On the Solomon Islands, rats and poachers are the two major threats to critically endangered sea turtles. A group of local women have joined forces to help save the animals from extinction.
By Joe Roman
One of the most important global conservation events of the past year was something that didn't happen. For the first time since 2002, Iceland — one of just three countries that still allow commercial whaling — didn't hunt any whales, even though its government had approved whaling permits in early 2019.
People participate in a national mile-long march to highlight the push for clean water in Flint Feb. 19, 2016 in Flint, Michigan.
Bill Pugliano
/ Stringer / Getty Images
The Supreme Court made a decision Tuesday that means Flint residents can sue state and local officials over the water crisis that leached lead into their water and resulted in at least 12 deaths.
One species of walking shark. Mark Erdmann, California Academy of Sciences
Scientists have identified four new species of walking shark in the waters off Australia and New Guinea.
A new study shows that half of all Arctic warming and corresponding sea-loss during the late 20th century was caused by ozone-depleting substances. Here, icebergs discharged from Greenland's Jakobshavn Glacier. Kevin Krajick / Earth Institute /
EurekAlert!
The world awakened to the hole in the ozone layer in 1985, which scientists attributed it to ozone-depleting substances. Two years later, in Montreal, the world agreed to ban the halogen compounds causing the massive hole over Antarctica. Research now shows that those chemicals didn't just cut a hole in the ozone layer, they also warmed up the Arctic.