This website uses cookies to ensure you get the best experience while browsing it. By clicking 'Got It' you're accepting these terms.
ALEC Official Calls Solar Users 'Freeriders' at December Summit
Dec. 05, 2013 10:25AM EST
Business
The American Legislative Exchange Council's (ALEC) December summit began this week, and the organization's anti-renewable energy resolution has been a major focus.
Backed by fossil fuel titans like Koch Industries and Exxon Mobil, ALEC has been trying all year to roll back renewable portfolio standards (RPS) in states across the country with little success. At most, bills were introduced in states where the primary sponsor has ties to ALEC, such as Ohio, where Sen. Bill Seitz (R-Cincinnati) has been pushing a bill that originally sought to rescind standards established five years ago, including powering 25 percent of the state with renewables by 2025.
In addition to figuring out how to win back corporate sponsors following the controversial backing of Stand Your Ground gun laws, ALEC's December agenda includes further discussion on its resolution, which could possibly kill net metering and/or impose a fee on solar users like Arizona did last month.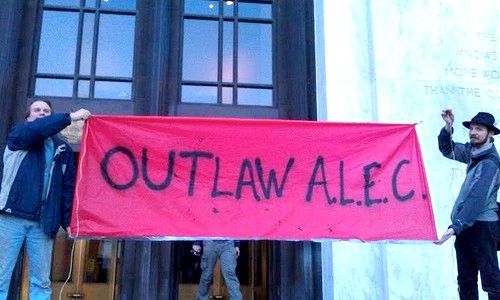 As both a report from The Guardian and a blog post from Greenpeace researcher Connor Gibson write, part of ALEC's discussion included Energy, Environment and Agriculture task force leader John Eick labeling some solar users "freeriders." Here's more from Gibson:
The Guardian opens with a bit on ALEC's work for its utility member companies to make it prohibitively costly for homeowners to put solar panels on their rooftops and feed extra electricity then generate back into the grid—a process spurred by "net metering" laws, which exist in most states. ALEC's new resolution could be used to lower or outright kill those net metering payments, or to add fixed charges to solar customers.

John Eick, who is temporarily running ALEC's Energy, Environment and Agriculture task force now that Todd Wynn jumped ship for Edison Electric Institute, accuses homeowners that feed solar energy back into the grid of being "freeriders," despite making their own capital investments in rooftop solar and producing a surplus of electricity that then supplies the entire grid:

"As it stands now, those direct generation customers are essentially freeriders on the system. They are not paying for the infrastructure they are using. In effect, all the other non direct generation customers are being penalized," he said.

Eick dismissed the suggestion that individuals who buy and install home-based solar panels had made such investments. "How are they going to get that electricity from their solar panel to somebody else's house?" he said. "They should be paying to distribute the surplus electricity."

In November, Arizona became the first state to charge customers for installing solar panels. The fee, which works out to about $5 a month for the average homeowner, was far lower than that sought by the main electricity company, which was seeking to add up to $100 a month to customers' bills.

ALEC's utility members fear the revolution that is distributed solar generation. The effort to make rooftop solar energy more costly in Arizona has been led by ALEC member utility Arizona Public Service, which lied to the public in attempts to hide its funding of groups affiliated with the Koch brothers that have run ads against incentives for rooftop solar production. APS recently rejoined ALEC after a short year where it had distanced itself.

Ultimately, ALEC's battle against clean energy, and the jobs that come with it, fits into their decades-long role in the climate change denial movement. ALEC has consistently fought to deny the science of climate change, force teachers to misrepresent climate science to their students, and churned out copycat state bills to block regulations of greenhouse gases.

[Check out this leaked 1998 memo from an American Petroleum Institute meeting that identified ALEC and other industry front groups to coordinate against the Kyoto Protocol and U.S. legislation to prevent runaway global warming.]

Visit EcoWatch's RENEWABLES page for more related news on this topic.
EcoWatch Daily Newsletter
A. Battenburg / Technical University of Munich
By Sarah Kennedy
Algae in a pond may look flimsy. But scientists are using algae to develop industrial-strength material that's as hard as steel but only a fraction of the weight.
Variety of fermented food korean traditional kimchi cabbage and radish salad. white and red sauerkraut in ceramic plates over grey spotted background. Natasha Breen / REDA&CO / Universal Images Group / Getty Image
Even if you've never taken probiotics, you've probably heard of them.
These supplements provide numerous benefits because they contain live microorganisms, such as bacteria or yeast, which support the healthy bacteria in your gut (1, 2, 3, 4).
Pexels
Singapore will become the first country in the world to place a ban on advertisements for carbonated drinks and juices with high sugar contents, its health ministry announced last week. The law is intended to curb sugar consumption since the country has some of the world's highest diabetes rates per capita, as Reuters reported.
A typical adult takes around 20,000 breaths per day. If you live in a megacity like Beijing, with many of those lungfuls you're likely to inhale a noxious mixture of chemicals and pollutants.
Fred Stone holds his brown swiss cow Lida Rose at his Arundel dairy farm on March 18 after a press conference where he spoke about PFAS chemical contamination in his fields. Gregory Rec / Portland Portland Press Herald via Getty Images
By Susan Cosier
First there was Fred Stone, the third-generation dairy farmer in Maine who discovered that the milk from his cows contained harmful chemicals. Then came Art Schaap, a second-generation dairy farmer in New Mexico, who had to dump 15,000 gallons of contaminated milk a day.
Protesters attend the 32nd annual Fur-Free Friday demonstration on Nov. 23, 2018 in Beverly Hills, California. Ella DeGea / Getty Images
California Governor Gavin Newsom signed into law a bill that that bans the sale and manufacture of fur products in the state. The fur ban, which he signed into law on Saturday, prohibits Californians from selling or making clothing, shoes or handbags with fur starting in 2023, according to the AP.
By Simon Evans
During the three months of July, August and September, renewables generated an estimated total of 29.5 terawatt hours (TWh), compared with just 29.1TWh from fossil fuels, the analysis shows.
A demonstrator waves an Ecuadorian flag during protests against the end of subsidies to gasoline and diesel on Oct. 9 in Quito, Ecuador. Jorge Ivan Castaneira Jaramillo / Getty Images