This website uses cookies to ensure you get the best experience while browsing it. By clicking 'Got It' you're accepting these terms.


The best of EcoWatch, right in your inbox. Sign up for our email newsletter!
ALEC Gives Congressional Climate Deniers Their 2015 Marching Orders
Dec. 03, 2014 02:59PM EST
If secretive rightwing lobbying group the American Legislative Exchange Council (ALEC) has its way, the U.S. will become a cesspool of pollution, helping to hasten global climate change rather than address it. With complete Republican control of Congress and the party's tighter grip on state legislatures nationwide, the fossil fuel-dominated group can expect its member legislators—overwhelmingly Republican and in some cases a majority of the state legislature—to dutifully introduce and rubber-stamp its prepared legislation.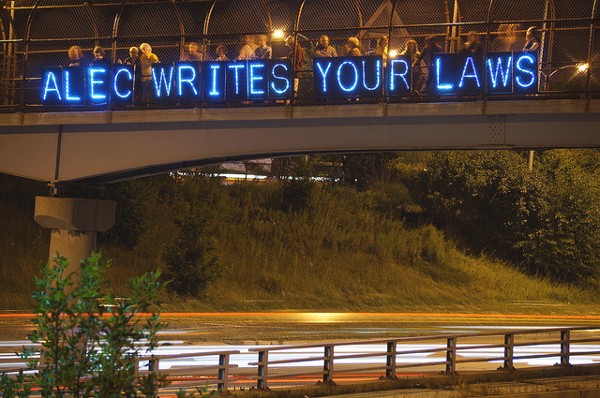 Today it opened its three-day 2015 States and National Policy Summit in Washington D.C. unveiling an agenda that would set U.S. environmental progress back decades while lining the pockets of its major funders such as Charles and David Koch of the fossil fuel-based Koch Industries, the world's largest private-sector coal company Peabody Energy and oil companies like Chevron and Exxon. While becoming something of a hot potato for modern technology and Internet companies like Microsoft, Facebook, Yahoo, Yelp! and Google, which have all dropped their memberships, and a lightning rod for progressive activism, ALEC's new majority in Congress gives it the power to potentially ride roughshod over public opinion and the general welfare.
In DC this week, it's telling its member legislators how to do that, although given its penchant for secrecy, we don't know the full range of what it's proposing, according to environmental advocates who joined a tele-press conference this afternoon to talk about what they are doing to monitor and expose ALEC's activities.
They revealed that among the so-called "model bills" ALEC has in the pipeline are proposals to completely eliminate the U.S. Environmental Protection Agency (EPA) and turn its duties and powers over to state agencies, block President Obama's proposed rules to limit carbon pollution from power plants, expand offshore oil drilling, weaken protections from smog and other air pollutants, and roll back protections for endangered specials.
"The goal is to clearly block any action whatsoever on climate change," said David Goldston, head of government affairs for participating group Natural Resources Defense Council (NRDC). "It's not to shape action on climate change."
Aliya Haq from the NRDC said on the call, "Based on the conference agenda, ALEC's new motto should be 'limited government, unlimited pollution.' Over the past several years, ALEC has promoted the work of extreme climate denial organizations and individuals such as the Heartland Institute and passed model legislation to mandate the teaching of climate denial in classrooms. At this week's conference, ALEC's Energy Task Force will discuss model bills to abolish the EPA and limit the EPA's authority to establish nationwide carbon pollution standards. The EPA is directly in ALEC's crosshairs."
Encouragingly, she said that proposal has no chance of success. But she added that it shows ALEC's trend toward ever more extreme environmental proposals and that its attempts to block EPA carbon rules have more legs. She pointed out that in 2014, nearly 20 states adopted ALEC-promoted resolutions to oppose the EPA standards before they were even proposed. She also mentioned two pieces of legislation the group will unveil this week to "politicize pollution reduction," creating so many new regulations and procedures that implementing carbon reduction would be close to impossible.
"ALEC's ultimate goal here in to block an action on climate change," said Haq. "We're all watching ALEC's every move."
Kert Davies from the Climate Investigations Center said his group has been doing just that for decades.
"Most corporate groups have evolved, but ALEC has not evolved," he said. "They're using exact same language they were in 1998. ALEC has doubled down. This meeting shows a top-heavy fossil fuel agenda—everything good for Peabody, Exxon, Chevron, Koch Industries, nothing good for climate."
Gabe Elsner from the Energy and Policy Institute said to expect to see a ramping-up of anti-environmental policies on the state as well as the federal level through ALEC's State Policy Network.
"These s0-called free market organizations influencing state-level policies, many are funded by fossil fuel interests that are part of ALEC," he said. "On the anti-renewable energy bills introduced in 15 states, these groups were behind them."
At its meeting this week in DC where it will issue its marching orders to its Congressional members, it will offer a briefing from Rick Berman, a rightwing strategist who specializes in sabotaging initiatives such as anti-smoking laws and healthy food regulations using "astroturf" groups—industry-created groups posing as grassroots groups—and personal attacks on opponents. In October, the New York Times exposed a meeting Berman had with representatives of oil and gas companies to attack environmental groups like Sierra Club, Food & Water Watch and the Natural Resources Defense Council through the "Big Green Radicals" campaign of personal smears.
Nick Surgey of the Center for Media and Democracy emphasized ALEC's longstanding penchant for secrecy and the work of groups like his and the others to expose ALEC's activities to public scrutiny.
"There's limited information about their agenda [for this week's meetings] on their website. We read between the lines." He pointed callers to his group's website, alecexposed.org, warning "It's not complete because ALEC keeps information about its funders and members secret."
As The Guardian of London noted in its story about the DC meetings this week, "Alec does not generally welcome media coverage of its activities. The group rejected The Guardian's request to attend this week's meeting."
YOU MIGHT ALSO LIKE
Secret Tape Exposes Fracking Industry Playing Dirty
ALEC Continues Attack on Renewable Energy Policies to Keep America Addicted to Fossil Fuels
EcoWatch Daily Newsletter
A metal fence marked with the U.S. Border Patrol sign prevents people to get close to the barbed/concertina wire covering the U.S./Mexico border fence, in Nogales, Arizona, on Feb. 9. ARIANA DREHSLER / AFP / Getty Images
D'Bone Collector Museum head Darrell Blatchley shows plastic found inside the stomach of a Cuvier's beaked whale in the Philippines this weekend. - / AFP / Getty Images
Yet another whale has died after ingesting plastic bags. A young male Cuvier's beaked whale was found washed up in Mabini, Compostela Valley in the Philippines Friday, CNN reported. When scientists from the D' Bone Collector Museum in Davao investigated the dead whale, they found it had died of "dehydration and starvation" after swallowing plastic bags―40 kilograms (approximately 88 pounds) worth of them!
Pexels
By Jeff Turrentine
"Be careful what you wish for; you just might get it." This is something that everybody has to learn at some point. Lately, the lesson has hit home for a group of American automakers.
Art direction: Georgie Johnson. Illustrations: Freya Morgan
By Joe Sandler Clarke
"Don't expect us to continue buying European products," Malaysia's former plantations minister Mah Siew Keong told reporters in January last year. His comments came just after he had accused the EU of "practising a form of crop apartheid."

A few months later Luhut Pandjaitan, an Indonesian government minister close to President Joko 'Jokowi' Widodo, warned his country would retaliate if it was "cornered" by the EU.
Torres and his parents walk along the Rio Grande. Luis Torres / Earthjustice
By Luis Torres
For some people who live along the U.S.-Mexico border, President Trump's attempt to declare a national emergency and extend the border wall is worse than a wasteful, unconstitutional stunt. It's an attack on their way of life that threatens to desecrate their loved ones' graves.
Flooding caused by last week's bomb cyclone storm has broken records in 17 places across the state of Nebraska, CNN reported Sunday. Around nine million people in 14 states along the Mississippi and Missouri Rivers were under a flood watch, CNN meteorologist Karen Maginnis said.
A car destroyed by Cyclone Idai in Beira, Mozambique. ADRIEN BARBIER / AFP / Getty Images
At least 150 people have died in a cyclone that devastated parts of Mozambique, Zimbabwe and Malawi over the weekend, The Associated Press reported Sunday. Cyclone Idai has affected more than 1.5 million people since it hit Mozambique's port city of Beira late Thursday, then traveled west to Zimbabwe and Malawi. Hundreds are still missing and tens of thousands are without access to roads or telephones.
"I think this is the biggest natural disaster Mozambique has ever faced. Everything is destroyed. Our priority now is to save human lives," Mozambique's Environment Minister Celso Correia said, as AFP reported.