This website uses cookies to ensure you get the best experience while browsing it. By clicking 'Got It' you're accepting these terms.
ALEC Attacks Ohio Renewable Energy Standard, Local Newspapers Fail to Show Fossil Fuel Connection
Apr. 08, 2014 11:16AM EST
Business
[Editor's note: I was part of a large group of people, businesses, organizations and policymakers that worked to pass Ohio's renewable energy standard, SB 221. For years we've been working to protect this standard as it's under attack by ALEC and members of the Ohio General Assembly. Frustration is at an all-time high as Ohio is at risk of losing the many benefits of SB 221 including job growth, utility cost savings, a cleaner environment and healthier people. Now is the time to strengthen Ohio's investment in renewable energy and energy efficiency, not diminish all the hard work and progress of the last decade. Help stop Ohio's renewable energy law from being dismantled by signing this Ohio Environmental Council petition.]
Ohio Energy Standards Require Utilities Increase Renewable Energy, Energy Efficiency. In 2008, Ohio passed an Alternative Energy Portfolio Standard (AEPS) which includes both renewable energy and energy efficiency requirements. The standards mandate for the state's utilities to source 12.5 percent their electricity from renewable sources by 2025, and to utilize energy efficiency projects to achieve 22 percent in energy savings by the end of 2025.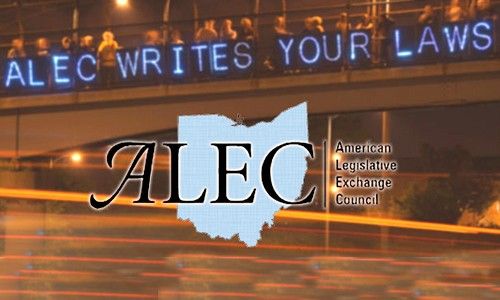 Senate Bill 310 Would Freeze Energy Standards Indefinitely. On March 28, Sen. Troy Balderson (R-Zanesville) introduced a bill to the Senate Public Utilities Committee that would freeze the energy efficiency and renewable standards to their current standing at one fifth of the 2025 goal. Senate Bill 310 (SB 310) would halt the standards and create an "Energy Mandates Study Committee."
Senator Bill Seitz Introduced Similar Legislation Last Year To Gut The "Enviro-Socialist" Mandates. In 2013, Sen. Bill Seitz, who is President of the Senate Public Utilities Committee, introduced a bill that would "effectively gut" the clean energy standards, according to the Union of Concerned Scientists. Seitz put the bill on hold when he realized that it didn't have enough support to pass, but he promised to continue his fight on the standards, which he has called "enviro-socialist" and compared to "Joseph Stalin's five-year plan."
Clean Energy Attack Part Of Coordinated Nationwide, Fossil Fuel-Funded Effort
American Legislative Exchange Council Connects Fossil Fuel Interests to Legislators. The American Legislative Exchange Council, or ALEC, connects corporations to legislators that work together to draft model legislation promoting "limited government, free markets and federalism at the state level." Their "Private Enterprise Advisory Council" includes fossil energy powerhouses such as Koch Industries, Energy Future Holdings, Peabody Energy and ExxonMobil.
ALEC Coordinated a Nationwide Attack On Renewable Standards in 2013. In 2013, ALEC attempted to push through at least 37 bills attempting to dismantle or weaken state-wide renewable energy standards across the country. As reported in the Huffington Post:
Perhaps the most influential opponent is the American Legislative Exchange Council, the conservative nonprofit that brings together lawmakers and corporate interests to develop model legislation. In October 2012, ALEC's board of directors adopted a model bill that the Heartland Institute wrote, called the Electricity Freedom Act. The bill describes RPS as "essentially a tax on consumers of electricity that forces the use of renewable energy sources beyond what would be called for by real market forces" and calls for their repeal. ALEC's list of advisers includes representatives of a number of energy companies that stand to lose money as renewables gain a bigger share of the market, including Peabody Energy, Koch Industries and Exxon Mobil.
Current Bill Resembles Watered-Down Version of ALEC Model Legislation. ALEC's Energy, Environment and Agriculture task force promotes "free-market environmentalism," and has published a list of model policy, including the "Electricity Freedom Act" which "repeals a state's requirement that electric distribution utilities and electric services companies provide a certain percent of their electricity supplies from renewable energy sources by a certain year." The current legislation (SB 310) would freeze the renewable energy and efficiency standards to 2014 levels—approximately one fifth of their 2025 goals—essentially repealing the next 11 years' worth of increases.
Advocates of SB 310 are Directly Connected to ALEC. The Ohio legislators most prominently pushing this bill and other anti-clean energy efforts are directly connected to ALEC:
Ohio Papers Overlook Connection to ALEC
Of 44 Articles in Ohio Newspapers on Clean Energy Battle, Zero Mentioned ALEC. Since Oct. 1, 2013, when fall hearings on the Alternative Energy Portfolio Standard (AEPS) were starting to pick up, top Ohio newspapers—including Columbus Dispatch, Cincinnati Enquirer, Cleveland Plain Dealer, Akron Beacon Journal and Dayton Daily News—have reported on the topic 44 times. They did not mention ALEC's influence once, even though Sen. Seitz, an ALEC Board Member, was quoted or mentioned in 32 of those articles: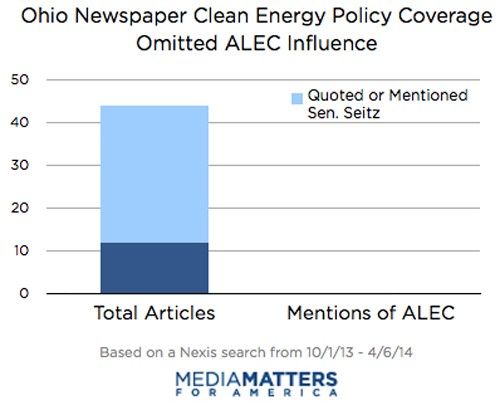 Columbus Dispatch did publish one editorial on May 5, 2013 (outside the period of our study) that mentioned the connection between ALEC and the attacks on renewable energy in Ohio:
Opponents of an Ohio rollback have tried to tie the effort to a national push by the American Legislative Exchange Council, a conservative group that brings elected officials and businesses together to write legislation. Seitz is a member of the group's board of directors.
Ohio's Energy Standards are Widely Supported, a Boon to the Economy
Report: Thanks to Standards, Consumers Pay 1.4 Percent Less on Their Utility Bill. A report commissioned by Advanced Energy Economy Ohio Institute (AEEO) and carried out by Ohio State University's The Center for Resilience modeled what Ohio's energy demand, costs, and emissions would have been if the AEPS were not enacted in 2008. They found that the benefits of Senate Bill 221 (SB 221) have more than offset the costs, as efficiency tactics have reduced overall energy demand. Consequently, the standards have reduced electricity bills and stimulated investment:
If SB 221 had not been implemented, we estimate that Ohio's statewide energy demand, electricity costs and carbon dioxide (CO2) emissions would all have been about 2% higher by 2012. Despite a slight increase in generation costs, SB 221 resulted in a 1.4% reduction in Ohio electricity bills. In addition, increased investments in the energy sector stimulated GDP by $160 million in 2012, and created over 3,200 Ohio jobs in the period from 2008 to 2012.  
The report found further that dismantling the laws, as last fall's Senate Bill 58 (SB 59) would have done, would have drastic negative economic consequences:
Projecting to 2025, we estimate that continuation of current SB 221 provisions will result in lower electricity demand, more jobs created, and less CO2 emissions compared to the modifications proposed under SB 58. The net effect of these differences is an electricity bill 3.7% higher under SB 58 than projected under maintaining the current SB 221 Actual Scenario (AS). This translates into increases of up to $3.94 billion between 2014 and 2025, with average annual increases of $302.8 million. Further maintaining the current provisions in SB 221 will lead to increased investment within Ohio for renewable energy and energy efficiency projects, leading to higher employment and lower CO2 emissions.
Energy Policies Have Driven Economic Growth. The Natural Resources Defense Council reported that the AEPS has helped drive the clean energy industry in Ohio, which increased by 8.5 percent from 2007 to 2010, outstripping the rest of the state's economic growth, including adding over 125 thousand jobs in the clean economy.
Yale Study: Majority of Ohioans Support Climate Action and Renewable Portfolio. The clean energy standards were passed almost unanimously in 2008. The Yale Project on Climate Change Communication released a study on how Ohio citizens view climate change and policies taken to address it, and found that a large majority support action on climate change, with over half specifically supporting a renewable energy portfolio.
A large majority of Ohioans (83%) say that global warming should be a very high, high, or medium priority for the president and Congress.

At least half of Ohioans want their representatives at all levels of government to do more to address global warming, including Congress (59%), Ohio state legislators (56%), President Obama (54%), Governor Kasich (54%), and local government officials (53%).

[...]

A majority (59%) supports requiring electric utilities to produce at least 20% of their electricity from wind, solar, or other renewable energy sources--even if it costs the average household an extra $100 a year. Comparatively few (35%) would oppose this policy.
METHODOLOGY: We performed a Nexis search for "renewable energy" or "energy efficiency" or "energy w/3 standards" from Oct. 1, 2013, to April 6, 2014, for the Columbus Dispatch, Cincinnati Enquirer, Akron Beacon Journal, Cleveland Plain Dealer and Dayton Daily News, and included only articles that devoted at least one paragraph to Ohio's clean energy policies, omitting letters to the editor. The Toledo Blade, which has the fourth-highest circulation in Ohio, was not included in this study because it is not currently archived in Nexis.
Gabriel Marcus contributed to this report. 
——–
YOU ALSO MIGHT LIKE
Pew Report Reveals Which Country is Winning the Clean Energy Race
How 76 State Representatives Crushed an ALEC-Funded Attack on Renewables
10 Incentives Congress Must Renew to Ensure a Clean Energy Future
——– 
EcoWatch Daily Newsletter
Kokia drynarioides, commonly known as Hawaiian tree cotton, is a critically endangered species of flowering plant that is endemic to the Big Island of Hawaii.
David Eickhoff
/
Wikipedia
By Lorraine Chow
Kokia drynarioides is a small but significant flowering tree endemic to Hawaii's dry forests. Native Hawaiians used its large, scarlet flowers to make lei. Its sap was used as dye for ropes and nets. Its bark was used medicinally to treat thrush.
Frederick Bass / Getty Images
States that invest heavily in renewable energy will generate billions of dollars in health benefits in the next decade instead of spending billions to take care of people getting sick from air pollution caused by burning fossil fuels, according to a new study from MIT and reported on by The Verge.
Aerial view of lava flows from the eruption of volcano Kilauea on Hawaii, May 2018. Frizi / iStock / Getty Images
Hawaii's Kilauea volcano could be gearing up for an eruption after a pond of water was discovered inside its summit crater for the first time in recorded history, according to the AP.
A couple works in their organic garden. kupicoo / E+ / Getty Images
By Kristin Ohlson
From where I stand inside the South Dakota cornfield I was visiting with entomologist and former USDA scientist Jonathan Lundgren, all the human-inflicted traumas to Earth seem far away. It isn't just that the corn is as high as an elephant's eye — are people singing that song again? — but that the field burgeons and buzzes and chirps with all sorts of other life, too.
A competitor in action during the Drambuie World Ice Golf Championships in Uummannaq, Greenland on April 9, 2001. Michael Steele / Allsport / Getty Images
AFP / Getty Images / S. Platt
Newly established oil palm plantation in Central Kalimantan, Indonesia. Rhett A. Butler / Mongabay
By Hans Nicholas Jong
Indonesia's president has made permanent a temporary moratorium on forest-clearing permits for plantations and logging.
It's a policy the government says has proven effective in curtailing deforestation, but whose apparent gains have been criticized by environmental activists as mere "propaganda."