ALEC Attacks EPA's Carbon Pollution Standards at December Summit
By Aliya Haq
This week, the polluter-funded American Legislative Exchange Council (ALEC) is holding its annual meeting in D.C., and the obstruction of the U.S. Environmental Protection Agency (EPA) progress to reduce carbon pollution is front and center on its Environment Task Force agenda.
ALEC conferences create a space for corporations and conservative lawmakers to create model legislation that any state legislator can introduce. American Electric Power is the current chair of ALEC's environment task force.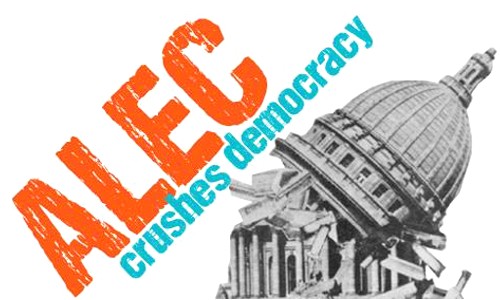 After the killing of Trayvon Martin in Feb. 2012, ALEC became notorious for its promotion of Stand Your Ground gun laws in states, losing financial and political support. A Guardian article published yesterday reveals that ALEC has lost nearly 60 corporate members and hundreds of state legislators from its network in the last two years.
While ALEC addresses a wide range of issues, including health care and anti-union bills, the agenda for this week's ALEC conference has a big focus on EPA power plant rules. Hindering state action to reduce carbon pollution will likely be an ALEC priority in state legislatures next year.
According to the agenda, today is the "EPA working group session" to develop "tools and strategies legislators and private sector members can employ to respond to EPA's proposed New Source Performance Standards (NSPS) and forthcoming rule for existing sources." 
On Friday, the ALEC Energy, Environment and Agriculture Task Force will convene to discuss three pieces of model legislation. Two of these three ALEC resolutions focus on EPA's plans to limit carbon pollution. Resolutions are toothless with no real force of law, but they make fodder for polluters and their allies who use them as a political maneuver to decry EPA's work.
The first draft model bill, the "Resolution in Response to EPA's Plan to Regulate Greenhouse Gases under the Clean Air Act," (p. 7), attempts to bolster opposition to carbon standards by floating the tired canard that protecting public health from dangerous power plant pollution isn't compatible with "providing affordable, reliable, and safe electric power."
The second draft bill, the "Resolution Concerning EPA Proposed Greenhouse Gas Emission Standards for New and Existing Fossil-Fuel Power Plants," (p. 8-10), reads somewhat like a back-up plan, grudgingly accepting carbon standards but urging states to ask EPA to create separate standards for coal plants and encourage use of "domestic energy sources" that are "affordable and reliable."
Past ALEC model resolutions have directly opposed many federal and state efforts to reduce carbon pollution. The New York Times reported that past ALEC internal task force documents have noted which corporate members wrote and supported certain model bills, citing an example that ExxonMobil sponsored an ALEC bill containing loopholes regarding fracking fluid disclosure. Unfortunately, recent ALEC documents do not list the corporate sponsors of ALEC bills, nor does the conference agenda list the current corporate members of the ALEC Environment Task Force.
Documents obtained by Common Cause show that members of ALEC (p 52) attending a 2011 Environment Task Force meeting included a number of private sector members with an interest in slowing down carbon pollution standards, including: Alliant Energy, American Coalition for Clean Coal Electricity, American Electric Power Company, American Gas Association, American Petroleum Institute, BP, Duke Energy Corporation, Edison Electric Institute, Exxon Mobil Corporation, National Rural Electric Cooperative Association and Peabody Energy.
As EPA continues to implement its part of the President's Climate Action Plan, we can expect to see more activity from ALEC attempting to stymie EPA efforts. Let's hope state legislators aren't fooled and are able to identify ALEC's fingerprints on bad model bills.
Visit EcoWatch's ENERGY page for more related news on this topic.

A coalition of conservation groups and others announced Thursday that a historic number of comments and petitions of support have been submitted to the U.S. Department of the Interior in support of Bears Ears National Monument. Despite the entirely inadequate 15-day comment period ending on May 26, more than 685,000 comments in support of Bears Ears National Monument have been collected.
Keep reading...
Show less
Rink Glacier in western Greenland, with a meltwater lake visible center. NASA/OIB
Scientists have had their eyes on Greenland as its iconic glaciers have begun disappearing due to a warming climate. But, what they didn't expect to see was a whole new type of melting.
Keep reading...
Show less
Mountain View Fire
By Lena Moffitt
An oil tanker in Mead, Colorado exploded, killing one and injuring three on Thursday. Authorities are continuing to investigate the cause of the explosion.
Keep reading...
Show less
Banner created by Alliance for Climate Education
Keep reading...
Show less
Twenty-two GOP senators sent a letter Thursday urging Donald Trump to pull out of the Paris agreement. They argued remaining in the deal could "upend" the administration's ability "to fulfill its goal of rescinding the Clean Power Plan."
Keep reading...
Show less
By Cheryl Johncox
The Federal Energy Regulatory Commission (FERC) rejected on Thursday Energy Transfer Partners' request to resume horizontal directional drilling at two sites for its Rover fracked gas pipeline. This rejection comes after numerous leaks into Ohio's wetlands, and Clean Air and Clean Water act violations. FERC has halted the process at only eight locations of the 32 where drilling is taking place under Ohio's wetlands and streams.
Keep reading...
Show less
By Nadia Prupis
A majority of people in eight countries say they are ready to change their lifestyles if it would prevent climate catastrophe, a survey on global threats released Wednesday found.
Keep reading...
Show less
May. 25, 2017 01:55PM EST
Bill Maher is sick of billionaires' obsession with Mars, more like "Mars-a-Lago," he said.
In a new animation produced by ATTN:, the popular talk show host of Real Time, discusses the perils of our planet, including how "climate change is killing us."
Keep reading...
Show less