Albany Common Council Reintroduces Fracking Ban Bill with Veto-Proof Majority
Feb. 24, 2012 09:10AM EST
Energy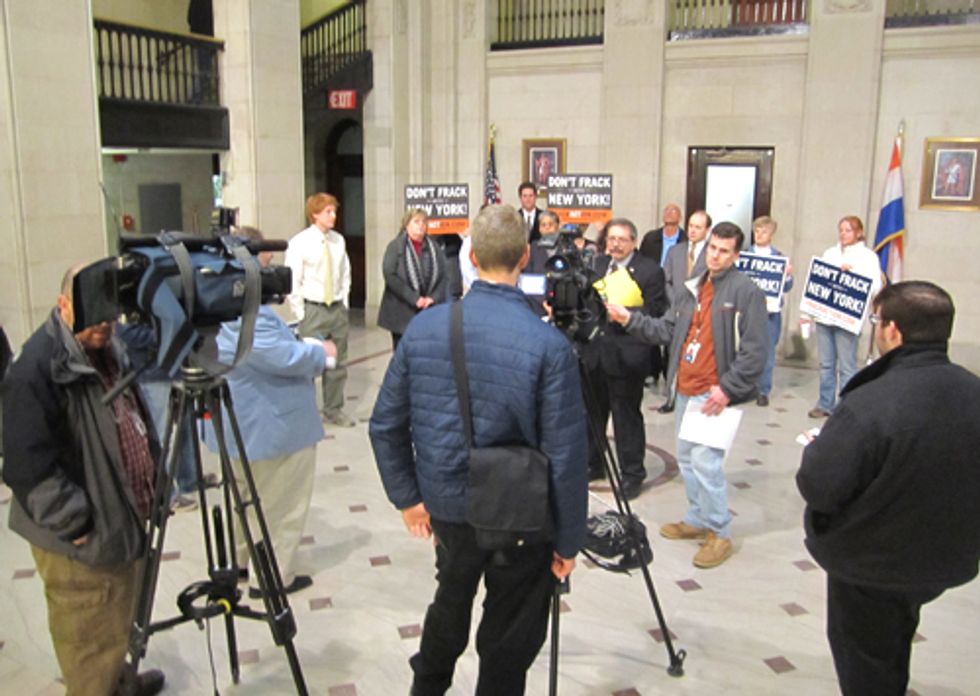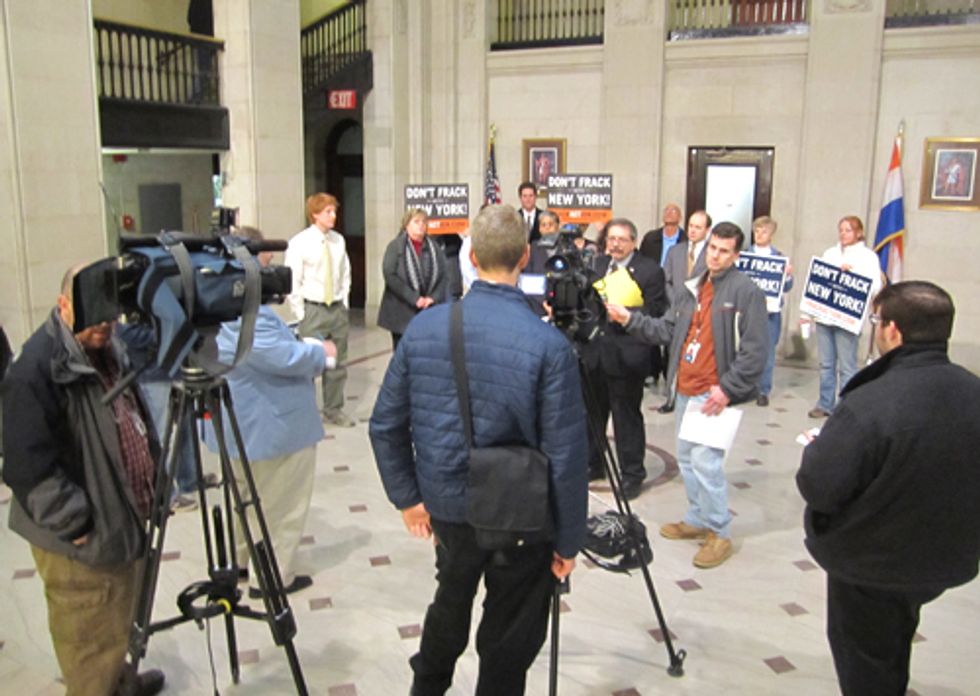 Following New York State Supreme Court Judge Phillip Rumsey's landmark decision in Dryden, NY that re-affirmed local municipalities' right to prohibit natural gas extraction, Albany Common Councilman Dominick Calsolaro announced the re-introduction of the Albany fracking ban bill at a press conference on Feb. 24. The bill passed last year but was vetoed by Mayor Gerald D. Jennings. Calsolaro applauded the court decision and called for local municipalities' rights to remain intact.
 
"Judge Rumsey's decision in the Town of Dryden case regarding the Town's legal right to use zoning to prohibit hydrofracking is a reaffirmation of a municipality's power to regulate land use within its boundaries. This constitutionally-granted power of local governments recognizes that land use decisions affecting residents of a specific municipality should be left to the elected officials of that municipality, and not have land use regulations forced upon them by bureaucrats who do not live in the community. With Judge Rumsey's well-researched and logical ruling, we are hopeful that the NYS Department of Environmental Conservation's yet-to-be-finalized natural gas drilling regulations will respect the land use decisions made by individual local municipal governments."
 
The court decision was influential with the Common Council, now yielding a veto-proof majority of 10 votes for the fracking ban bill. Councilman Jim Sano, who abstained last year over concerns about the then-ongoing Dryden lawsuit, announced his support of the ban.
 
"Given this recent court decision, my reservations of the City of Albany banning hydrofracking have been removed. I abstained from the original vote and stated at that time I was fearful that the City potentially would have to pay damages if the decision in this court case was favorable for the plaintiffs. I further said, my decision on the matter could not be final until this court case was resolved, the case has been resolved, the ban was upheld, therefore any reservations I had in regards to this legislation have been satisfied."
 
With news that the DEC is rushing through more than 61,000 public comments on fracking, Albany is one of many municipalities renewing efforts to ban fracking following the Judge Rumsey's decision. On Wednesday, Feb. 22, Governor Cuomo said that it was up to the courts if municipalities have the right to ban fracking. "I believe it's up to the courts," Cuomo said. "And if the courts say they have that right, they have the right."
 
Councilmembers Anton Konev and Leah Golby also spoke at today's press conference in support of the Albany fracking ban. Councilman Konev stated, "The Courts reaffirmed what I have been saying all along—we have a responsibility to protect health and welfare of citizens within our city and not give up that power to the state in hopes for the best and now court has ruled that localities indeed could ban hydrofracking within their boundaries. This is a major victory and I am glad to hear that now it looks like we have veto-proof majority in the Council supporting this ban."
 
The Albany fracking ban re-introduction follows an announcement earlier this week by El Paso Corp—owner of the country's largest natural gas pipeline system—of their intent to build a new 36-inch diameter natural gas pipeline from northeast Pennsylvania to Albany. The proposed pipeline would open the land along and near it to fracking, including the Utica Shale that lies underneath and surrounding Albany.
 
Dozens of Albany residents and business owners were at the press conference to call on the rest of the Common Council and Mayor Jennings to act on the will and best interests of Albany residents and to support the Albany fracking ban. Last year, an unprecedented number of residents and more than 70 local businesses called on the city of Albany to ban fracking.
 
John Armstrong, an organizer with Frack Action, said, "We applaud Councilman Calsolaro's leadership, Councilman Jim Sano and the rest of the Common Council in supporting the Albany fracking ban. We hope that Albany passes the legislation switfly and joins most other major cities including Buffalo and Syracuse in banning fracking to protect its residents. The gas industry has set in motion plans to build the infrastructure that would open Albany and the surrounding area for drilling in the Utica Shale, threatening Albany residents with water contamination, catastrophic air pollution and disasters like we see every week in Pennsylvania."
 
Daniel Morrissey, an organizer with Capital District Against Fracking, stated, "Capital District Against Fracking implores Mayor Jennings to stand up to the gas industry alongside an overwhelming majority of the Albany Common Council as they revisit legislation to zone fracking and related industrial processes out of Albany."
 
County Legislator Higgins also spoke at the press conference and warned of the dangers of fracking, as well as to push his legislation for a ban on fracking in Albany county. Legislator Higgins said, "Hydrofracking is an unproven and environmentally unsound practice. The county has no business being in the fracking business and hopefully soon we will take action to ensure it never will be when my county ban is passed."
EcoWatch Daily Newsletter
Recent Stories from EcoWatch