This website uses cookies to ensure you get the best experience while browsing it. By clicking 'Got It' you're accepting these terms.
Alaska's Heat Wave Ignites Fires as Glaciers Rapidly Melt
Jun. 19, 2015 08:31AM EST
Climate change has caused Alaska's glaciers to melt so quickly that a one-foot thick layer of water could completely cover the entire state of Alaska every seven years, according to a new study.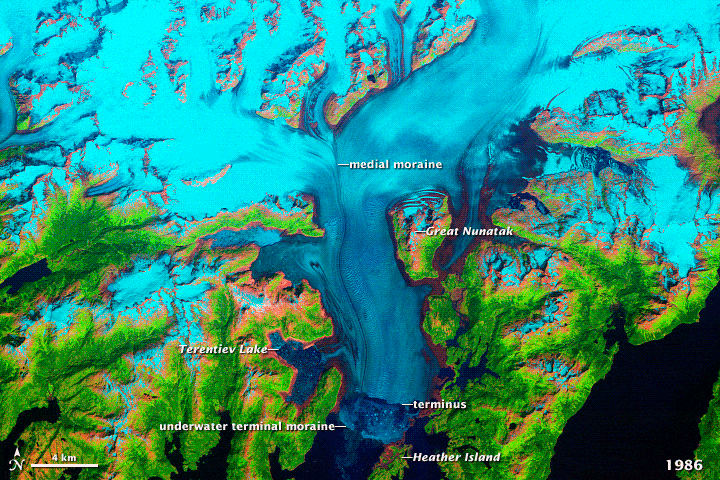 Photo Credit: NASA Earth Observatory
/ GIF via
Discover Magazine
Alaskan glaciers have lost 75 billion metric tons of ice every year from 1994 through 2013, The Washington Post′s Chris Mooney reported from the study, which was recently accepted for publication in the peer-reviewed Geophysical Research Letters, a journal of the American Geophysical Union. Mooney also reported that the Columbia Glacier (see GIF above) alone has been sending 4 billion metric tons of water into the oceans every year.
Alaska's melting glaciers are "punching far above their weight" when it comes to contributing to sea level rise, CBS News's Michael Casey pointed out, referring to how Alaska only holds one percent of the Earth's glacial ice volume, with most of the Earth's ice found in Antarctica and Greenland's ice sheets.
But as the authors of the new study explained, "Despite Greenland's ice covered area being 20 times greater than that of Alaska, losses in Alaska were fully one third of the total loss from the ice sheet during 2005-2010."
For the study, a University of Alaska Fairbanks and U.S. Geological Survey research team analyzed surveys of 116 glaciers in the Alaska region across 19 years to estimate ice loss from melting and iceberg calving, according to a news release.
"Thinking about the future, it means that rates of loss from Alaska are unlikely to decline, since surface melt is the predominant driver, and summer temperatures are expected to continue to increase," said Chris Larsen, a research associate professor with the Geophysical Institute at the University of Alaska Fairbanks and lead author of the study.
"There is a lot of momentum in the system, and Alaska will continue to be a major driver of global sea level change in upcoming decades," he added.
#AGUnews: Alaska glaciers make large contributions to global sea level rise http://t.co/miA5Ubsl19 pic.twitter.com/3QQxpXZeSF

— Am Geophysical Union (@theAGU) June 17, 2015
Not only are Alaska's glaciers melting, the northernmost U.S. state experienced record heat at the end of May where parts of Alaska recorded temperatures higher than in Arizona.
Unseasonably high temperatures, unpredictable winds and low humidity have been the perfect storm for wildfires to break out in the state, which recorded its warmest May ever. Some of the major blazes have threatened hundreds of homes and forced numerous evacuations, the Associated Press reported. As of Thursday morning, a total of 56 fires were actively burning around the state.
What you need to know about the Sockeye Fire: evacuation, pets, travel, how to help http://t.co/kZx6v2G19S pic.twitter.com/3FP74XvKw9

— Alaska Dispatch News (@adndotcom) June 15, 2015
"It's in the 80s right now, and we usually don't get that kind of weather," Casey Cook, the emergency manager for the Matanuska-Susitna Borough, told the news organization. "So all those combine to make it a very heavy fire fuel area."  
#Alaska Drivers on ParksHwy headed towards #SockeyeFire are being asked to turn around: http://t.co/f10kMJFcXB #KTVA pic.twitter.com/RGONW2BWAf — KTVA 11 News (@ktva) June 16, 2015
Area burned by #SockeyeFire is home to many kennels; hundreds of sled dogs are displaced http://t.co/Si7vTZnHyE pic.twitter.com/NzEwZaFMEG

— Alaska Dispatch News (@adndotcom) June 15, 2015
The above average temperatures this spring are a continuation of an incredibly mild winter with record low snowfall forcing the Iditarod dog sled race in Anchorage to move north 300 miles to Fairbanks. Additionally, a ski resort outside of Juneau had to close because of low snowfall and warm temperatures that inhibited snow-making.
YOU MIGHT ALSO LIKE
Pope Francis' Encyclical Urges Swift Action on Climate Change Ahead of Paris Climate Talks
NASA Study: More Than One-Third of Earth's Largest Aquifers Are Being Rapidly Depleted
Is Antarctica Ice Melting or Growing? Watch This NASA Video and See for Yourself
Prince William and British naturalist David Attenborough attend converse during the World Economic Forum annual meeting, on January 22 in Davos, Switzerland. Fabrice Cofferini /AFP / Getty Images
Britain's Prince William interviewed famed broadcaster David Attenborough on Tuesday at the World Economic Forum's annual meeting in Switzerland.
During the sit-down, the 92-year-old naturalist advised the world leaders and business elite gathered in Davos this week that we must respect and protect the natural world, adding that the future of its survival—as well as humanity's survival—is in our hands.
Electric vehicle sales took off in 2018, with a record two million units sold around the world, according to a new Deloitte analysis.
What's more, the accounting firm predicts that another 21 million electric cars will be on the road globally over the next decade due to growing market demand for clean transportation, government subsidies, as well as bans on fossil fuel cars.
Teenager Alex Weber and friends collected nearly 40,000 golf balls hit into the ocean from a handful of California golf courses.
Alex Weber /
CC BY-ND
Southwest Greenland had the most consistent ice loss from 2003 to 2012. Eqalugaarsuit, Ostgronland, Greenland on Aug. 1, 2018.
Rob Oo / CC BY 2.0
Greenland is melting about four times faster than it was in 2003, a new study published Monday in the Proceedings of the National Academy of Sciences found, a discovery with frightening implications for the pace and extent of future sea level rise.
"We're going to see faster and faster sea level rise for the foreseeable future," study lead author and Ohio State University geodynamics professor Dr. Michael Bevis said in a press release. "Once you hit that tipping point, the only question is: How severe does it get?"
Finally, some good news about the otherwise terrible partial government shutdown. A federal judge ruled that the Trump administration cannot issue permits to conduct seismic testing during the government impasse.
The Justice Department sought to delay—or stay—a motion filed by a range of coastal cities, businesses and conservation organizations that are suing the Trump administration over offshore oil drilling, Reuters reported. The department argued that it did not have the resources it needed to work on the case due to the shutdown.
Most people have heard of the Amazon, South America's famed rainforest and hub of biological diversity. Less well known, though no less critical, is the Pantanal, the world's largest tropical wetland.
Like the Amazon, the Pantanal is ecologically important and imperiled. Located primarily in Brazil, it also stretches into neighboring Bolivia and Paraguay. Covering an area larger than England at more than 70,000 square miles, the massive wetland provides irreplaceable ecosystem services that include the regulation of floodwaters, nutrient renewal, river flow for navigability, groundwater recharge and carbon sequestration. The wetland also supports the economies of the four South American states it covers.
Demonstrators participate in a protest march over agricultural policy on Jan. 19 in Berlin, Germany. Carsten Koall / Getty Images Europe
By Andrea Germanos
Organizers said 35,000 people marched through the streets of the German capital on Saturday to say they're "fed up" with industrial agriculture and call for a transformation to a system that instead supports the welfare of the environment, animals and rural farmers.

The fire that erupted after a pipeline explosion in Mexico Friday. FRANCISCO VILLEDA / AFP / Getty Images
By Patrick Rogers
If you have ever considered making the switch to an environmentally friendly electric vehicle, don't drag your feet. Though EV prices are falling, and states are unveiling more and more public charging stations and plug-in-ready parking spots, the federal government is doing everything it can to slam the brakes on our progress away from gas-burning internal combustion engines. President Trump, likely pressured by his allies in the fossil fuel industry, has threatened to end the federal tax credits that have already helped put hundreds of thousands of EVs on the road—a move bound to harm not only our environment but our economy, too. After all, the manufacturing and sale of EVs, hybrids, and plug-in hybrids supported 197,000 jobs in 2017, according to the most recent U.S. Energy and Employment Report.