This website uses cookies to ensure you get the best experience while browsing it. By clicking 'Got It' you're accepting these terms.
Alaska's Heat Wave Ignites Fires as Glaciers Rapidly Melt
Jun. 19, 2015 08:31AM EST
Climate
Climate change has caused Alaska's glaciers to melt so quickly that a one-foot thick layer of water could completely cover the entire state of Alaska every seven years, according to a new study.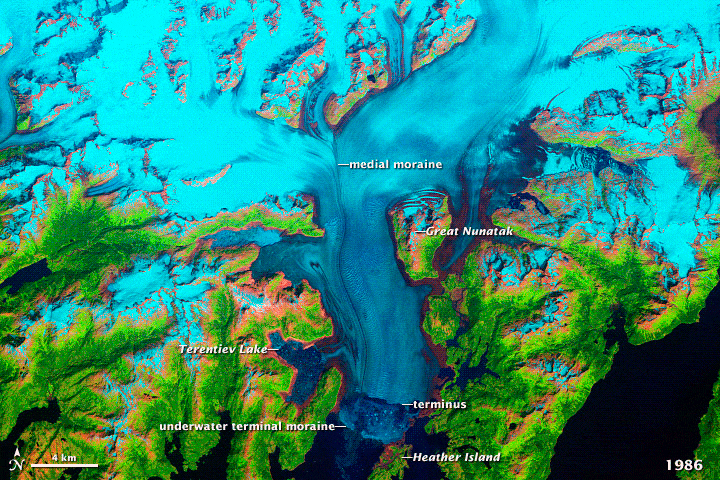 Photo Credit: NASA Earth Observatory
/ GIF via
Discover Magazine
Alaskan glaciers have lost 75 billion metric tons of ice every year from 1994 through 2013, The Washington Post′s Chris Mooney reported from the study, which was recently accepted for publication in the peer-reviewed Geophysical Research Letters, a journal of the American Geophysical Union. Mooney also reported that the Columbia Glacier (see GIF above) alone has been sending 4 billion metric tons of water into the oceans every year.
Alaska's melting glaciers are "punching far above their weight" when it comes to contributing to sea level rise, CBS News's Michael Casey pointed out, referring to how Alaska only holds one percent of the Earth's glacial ice volume, with most of the Earth's ice found in Antarctica and Greenland's ice sheets.
But as the authors of the new study explained, "Despite Greenland's ice covered area being 20 times greater than that of Alaska, losses in Alaska were fully one third of the total loss from the ice sheet during 2005-2010."
For the study, a University of Alaska Fairbanks and U.S. Geological Survey research team analyzed surveys of 116 glaciers in the Alaska region across 19 years to estimate ice loss from melting and iceberg calving, according to a news release.
"Thinking about the future, it means that rates of loss from Alaska are unlikely to decline, since surface melt is the predominant driver, and summer temperatures are expected to continue to increase," said Chris Larsen, a research associate professor with the Geophysical Institute at the University of Alaska Fairbanks and lead author of the study.
"There is a lot of momentum in the system, and Alaska will continue to be a major driver of global sea level change in upcoming decades," he added.
#AGUnews: Alaska glaciers make large contributions to global sea level rise http://t.co/miA5Ubsl19 pic.twitter.com/3QQxpXZeSF

— Am Geophysical Union (@theAGU) June 17, 2015
Not only are Alaska's glaciers melting, the northernmost U.S. state experienced record heat at the end of May where parts of Alaska recorded temperatures higher than in Arizona.
Unseasonably high temperatures, unpredictable winds and low humidity have been the perfect storm for wildfires to break out in the state, which recorded its warmest May ever. Some of the major blazes have threatened hundreds of homes and forced numerous evacuations, the Associated Press reported. As of Thursday morning, a total of 56 fires were actively burning around the state.
What you need to know about the Sockeye Fire: evacuation, pets, travel, how to help http://t.co/kZx6v2G19S pic.twitter.com/3FP74XvKw9

— Alaska Dispatch News (@adndotcom) June 15, 2015
"It's in the 80s right now, and we usually don't get that kind of weather," Casey Cook, the emergency manager for the Matanuska-Susitna Borough, told the news organization. "So all those combine to make it a very heavy fire fuel area."  
#Alaska Drivers on ParksHwy headed towards #SockeyeFire are being asked to turn around: http://t.co/f10kMJFcXB #KTVA pic.twitter.com/RGONW2BWAf — KTVA 11 News (@ktva) June 16, 2015
Area burned by #SockeyeFire is home to many kennels; hundreds of sled dogs are displaced http://t.co/Si7vTZnHyE pic.twitter.com/NzEwZaFMEG

— Alaska Dispatch News (@adndotcom) June 15, 2015
The above average temperatures this spring are a continuation of an incredibly mild winter with record low snowfall forcing the Iditarod dog sled race in Anchorage to move north 300 miles to Fairbanks. Additionally, a ski resort outside of Juneau had to close because of low snowfall and warm temperatures that inhibited snow-making.
YOU MIGHT ALSO LIKE
Pope Francis' Encyclical Urges Swift Action on Climate Change Ahead of Paris Climate Talks
NASA Study: More Than One-Third of Earth's Largest Aquifers Are Being Rapidly Depleted
Is Antarctica Ice Melting or Growing? Watch This NASA Video and See for Yourself
EcoWatch Daily Newsletter
A new study shows that half of all Arctic warming and corresponding sea-loss during the late 20th century was caused by ozone-depleting substances. Here, icebergs discharged from Greenland's Jakobshavn Glacier. Kevin Krajick / Earth Institute /
EurekAlert!
The world awakened to the hole in the ozone layer in 1985, which scientists attributed it to ozone depleting substances. Two years later, in Montreal, the world agreed to ban the halogen compounds causing the massive hole over Antarctica. Research now shows that those chemicals didn't just cut a hole in the ozone layer, they also warmed up the Arctic.
Diane Wilson holds up a bag full of nurdles she collected from one of Formosa's outfall areas on Jan. 15. Julie Dermansky / DeSmogBlog
On the afternoon of Jan. 15, activist Diane Wilson kicked off a San Antonio Estuary Waterkeeper meeting on the side of the road across from a Formosa plastics manufacturing plant in Point Comfort, Texas.
After Wilson and the waterkeeper successfully sued Formosa, the company agreed to no longer release even one of the tiny plastic pellets known as nurdles into the region's waterways. The group of volunteers had assembled that day to check whether the plant was still discharging these raw materials of plastics manufacturing.
Malaysian Environment Minister Yeo Bee Yin (front 2nd L) and officials inspect a container containing plastic waste shipment on Jan. 20, 2020 before sending back to the countries of origin. AFP via Getty Images
The Southeast Asian country Malaysia has sent 150 shipping containers packed with plastic waste back to 13 wealthy countries, putting the world on notice that it will not be the world's garbage dump, as CNN reported. The countries receiving their trash back include the United States, the United Kingdom, France and Canada.
Trump leaves after delivering a speech at the Congress Centre during the World Economic Forum annual meeting in Davos on Jan. 21, 2020. JIM WATSON / AFP via Getty Images