This website uses cookies to ensure you get the best experience while browsing it. By clicking 'Got It' you're accepting these terms.
Alarming Levels of Cancer-Causing Chemicals Found in Columbia River Fish
Oct. 14, 2014 07:39AM EST
The mighty Columbia River rolls down from the Canadian rockies to form the border between Oregon and Washington State. Rolling along in its waters are the fish that have been the backbone of the region's life for countless centuries.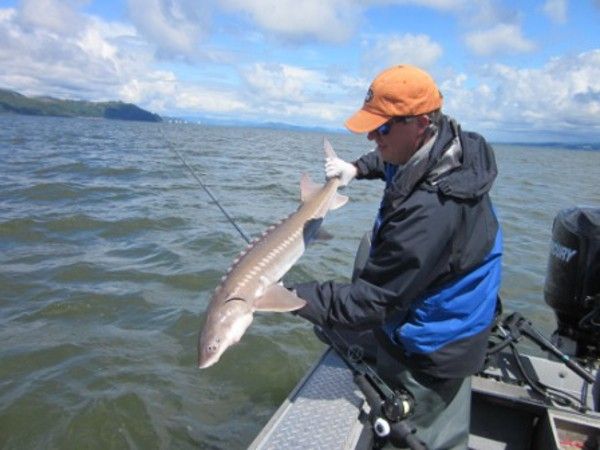 These days the fish are carrying some things the Native tribes of the region didn't have to worry about back then: high levels of cancer-causing PCBs, heavy metals like mercury and arsenic and toxic flame retardants, chemicals that can disrupt the endocrine and reproductive systems. That's according to Columbia Riverkeeper, which recently announced phase 2 of its "Is Your Fish Toxic?" study, measuring toxic pollution in five different fish intended for  human consumption. Obviously the answer is "yes."
"Fish advisories are not enough," said Columbia Riverkeeper's water quality director Lorri Epstein. We need immediate reduction and prevention of toxic pollution entering our river to protect the health of our communities."
Today, immigrant populations, especially low-income ones, have joined the tribal peoples in depending on the largesse of the river for their food. Columbia Riverkeeper's interviews with these populations found that they are especially at risk from unsafe levels of toxic pollution because of their higher fisher consumption and the ways they prepare the fish. They found, for instance that Cambodian-Americans might put the whole fish, including internal organs skin, head and tail into a soup or stew, increasing the level of exposure to unhealthy chemicals. Some cultures use fish as the mainstay of their meals, receiving dose after dose of contaminants.
"The fact that some Columbia River fish are unsafe to feed your family presents a real environmental justice issue," said Epstein. "Posting warning signs is not the answer. Many people are unaware of the warnings or will continue to eat fish due to cultural and economic reasons. The top priority must be cleaning up our rivers. Our data show extremely high levels of toxic contaminants in these fish, and we need to consider the individual stories and families interwoven with the results of this scientific data."
Among other things, Columbia Riverkeeper's study found walleye that contained 175 times the PCB deemed safe for unrestricted consumption by the U.S. Environmental Protection Agency (EPA), shad that contained endocrine-disrupting flame retardants and heavy metals and carp with PCBs 35 times the U.S. EPA limit and mercury 3.5 times the limit as well as flame retardants and other heavy metals. It also found high levels of mercury and flame retardants on steelhead and shad.
The new study from Columbia Riverkeeper confirms previous studies done by the EPA and U.S. Geological Survey that found similar high, unsafe levels of flame retardants, PCBs and mercury, as well as the now-banned pesticide DDT, in widely consumed food fish.
 YOU MIGHT ALSO LIKE
Seafood Mercury Levels Trigger Federal Lawsuit Against FDA
Even the FDA Doesn't Know What Chemicals Are in Your Food
EcoWatch Daily Newsletter
Tuna auctions are a tourist spectacle in Tokyo. Outside the city's most famous fish market, long queues of visitors hoping for a glimpse of the action begin to form at 5 a.m. The attraction is so popular that last October the Tsukiji fish market, in operation since 1935, moved out from the city center to the district of Toyosu to cope with the crowds.

gmnicholas / E+ / Getty Images
Kristan Porter grew up in a fishing family in the fishing community of Cutler, Maine, where he says all roads lead to one career path: fishing. (Porter's father was the family's lone exception. He suffered from terrible seasickness, and so became a carpenter.) The 49-year-old, who has been working on boats since he was a kid and fishing on his own since 1991, says that the recent warming of Maine's cool coastal waters has yielded unprecedented lobster landings.
Nicole Greenfield is a writer at NRDC whose articles on religion, the environment, popular culture and social justice have appeared in many publications.
Aerial view of lava flows from the eruption of volcano Kilauea on Hawaii, May 2018. Frizi / iStock / Getty Images
Hawaii's Kilauea volcano could be gearing up for an eruption after a pond of water was discovered inside its summit crater for the first time in recorded history, according to the AP.
The Eqip Sermia Glacier is seen behind a moraine left exposed by the glacier's retreat during unseasonably warm weather on Aug. 1 at Eqip Sermia, Greenland. Sean Gallup / Getty Images
hadynyah / E+ / Getty Images
By Johnny Wood
The Ganges is a lifeline for the people of India, spiritually and economically. On its journey from the Himalayas to the Bay of Bengal, it supports fishermen, farmers and an abundance of wildlife.
The river and its tributaries touch the lives of roughly 500 million people. But having flowed for millennia, today it is reaching its capacity for human and industrial waste, while simultaneously being drained for agriculture and municipal use.
Here are some of the challenges the river faces.
Protesters gathered outside US Bank and Wells Fargo locations around the U.S. to protest investment in the Dakota Access Pipeline on Dec. 1, 2016. This photo is from a protest outside US Bank in south Minneapolis, Minnesota.
Fibonacci Blue / CC BY 2.0
By Jake Johnson
As a growing number of states move to pass laws that would criminalize pipeline protests and hit demonstrators with years in prison, an audio recording obtained by The Intercept showed a representative of a powerful oil and gas lobbying group bragging about the industry's success in crafting anti-protest legislation behind closed doors.
Reposted with permission from our media associate Common Dreams.

DESIREE MARTIN / AFP / Getty Images
Wildfires raging on Gran Canaria, the second most populous of Spain's Canary Islands, have forced around 9,000 people to evacuate.