Al Roker Tells Larry King: Snowstorms Are Due to Climate Change
Feb. 25, 2015 01:42PM EST
Climate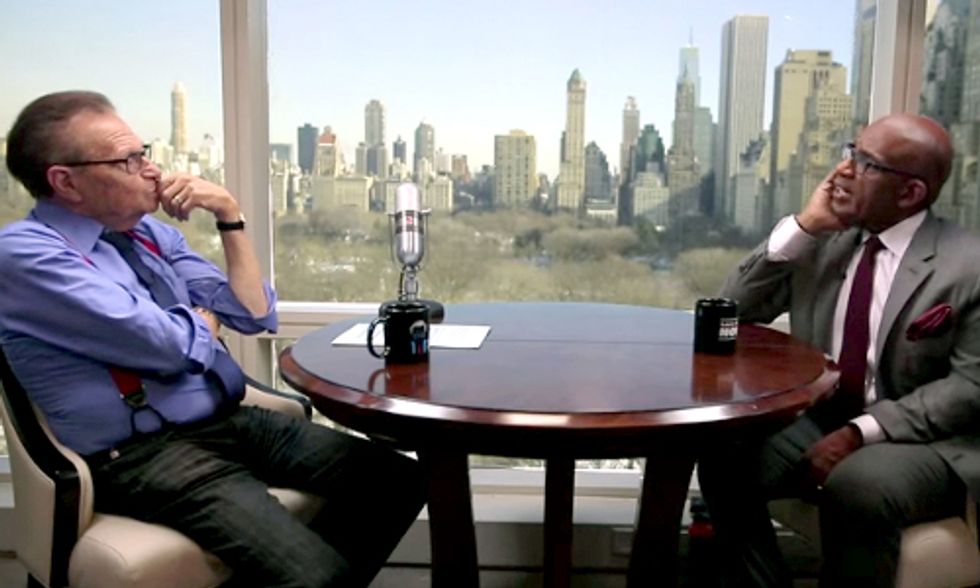 It's almost taboo for TV weather forecasters to connect the extreme weather patterns we've been seeing to climate change. And if they're not ignoring it, it seems that too many of them are openly denying it.
One TV weather anchor who's sticking with the scientific consensus and not the denier community is long-time NBC Today show forecaster Al Roker. Maybe that's why he was one of a small group of meteorologists invited to the White House to meet with President Obama and top U.S. Environmental Protection Agency (EPA) officials in May to discuss the release of the National Climate Assessment report.
He reiterated his beliefs this week in an interview with host Larry King on Larry King Now.
"We've been in a pattern now where five weeks in a row, there's been a storm that comes up and re-forms off the Mid-Atlantic/New England coast and dumps a ton of snow," said Roker. "Boston as of this point is number two snowiest winter."
"Is this all part of climate change?" asked King.
"I think it is," Roker replied.
"You can't point to any one event and say this is climate change," Roker continued. "But what climate change opens the door for and allows for are more extreme swings of weather. So while you've got this ongoing drought out in California, there's been almost no snowpack, no snowfall in the Sierras, it barely has rained, yet you've got monumental forest fires. Here in the East you've got brutal cold. Yet globally January was the warmest month on record. So there's all these swings that are happening. Climate change makes that more possible."
What's behind it, King asked.
"You've got greenhouse gases building up, you've got melt at the polar ice cap," said Roker. "Everything's connected. And when you start changing that balance, nature doesn't like an imbalance."
YOU MIGHT ALSO LIKE
Must-See Video: Jon Stewart Tackles Climate Deniers in Congress
Watch Bill Nye Shred Climate Denying Congresswoman
EcoWatch Daily Newsletter
Related Articles from EcoWatch