Al Gore: We Must 'Put a Price on Carbon' and on Climate 'Denial in Politics'
May. 07, 2015 09:20AM EST
Climate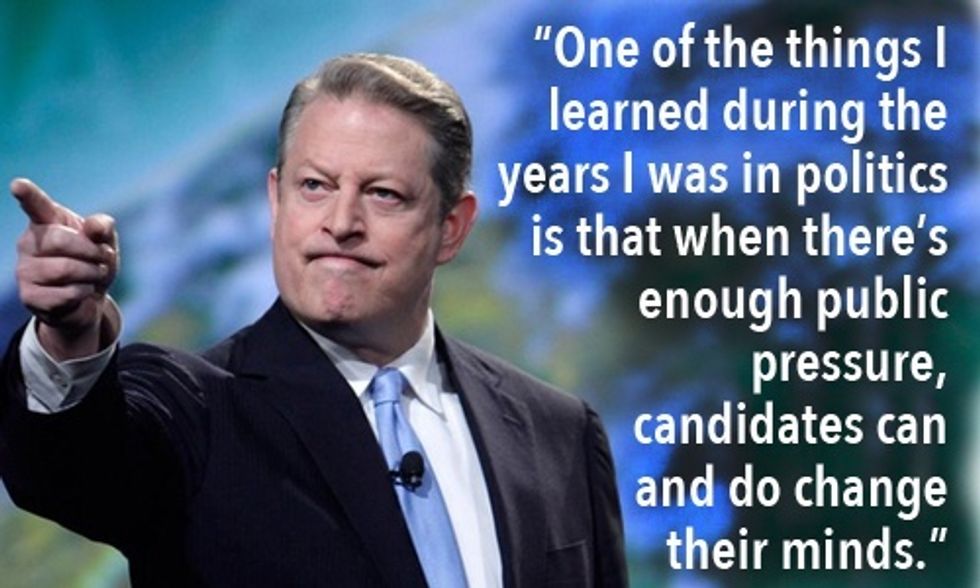 Al Gore pressed Iowans on Tuesday to make climate change a major issue in the next presidential election. Since Iowa holds the first presidential primaries in the country, candidates have campaigned heavily in recent years to win the hearts and minds of the residents of the Hawkeye State.
At stop in Cedar Rapids, @algore says Iowa could shape dialogue on climate change. http://t.co/4jKBfTgcxC

— Des Moines Register (@DMRegister) May 5, 2015
"More and more Iowans care about the climate crisis. Iowa is a leader in renewable energy. And Iowans can exert influence in their conversations with candidates," Gore said at Climate Reality Project′s leadership training event in Cedar Rapids, Iowa. The three-day event from May 5-7 is designed to bring together a global network of activists to train them to be exceptional climate science communicators and political organizers to tell the story of climate change and inspire communities everywhere to take action. "We've got to put a price on carbon in the marketplace and put a price on denial in politics," Gore told the roughly 400 people attending the summit. He listed a number of recent climate-related disasters and presented climate scientists' very bleak projections for the end of the century.
.@AlGore is in Cedar Rapids training @ClimateReality Leaders to #ActOnClimate http://t.co/BNcS5DViFF #CRinIowa pic.twitter.com/1GP0ws2gDP

— Climate Reality (@ClimateReality) May 6, 2015
Gore is optimistic though that a wider understanding of the issue, coupled with the increasing cost effectiveness of renewable energy, "can turn our most serious challenge into our greatest opportunity."
Gore has become known for his advocacy since the 2006 Oscar-winning documentary film, An Inconvenient Truth. He founded the Climate Reality Project to mobilize action on climate change. At SXSW in March, he urged the mostly Millennial audience to harness technology to launch a grassroots movement to tackle climate change and call out climate deniers for rejecting "accepted science."
YOU MIGHT ALSO LIKE
Pope Francis: 'If We Destroy Creation, Creation Will Destroy Us'
Meet 3 More Climate Deniers Who Want to Be Your President
Rev. Yearwood: How We Reach Critical Mass to Stop Climate Chaos
EcoWatch Daily Newsletter
Related Articles from EcoWatch