Al Gore Urges Obama to Reject Keystone XL Pipeline
Dec. 12, 2014 11:18AM EST
Climate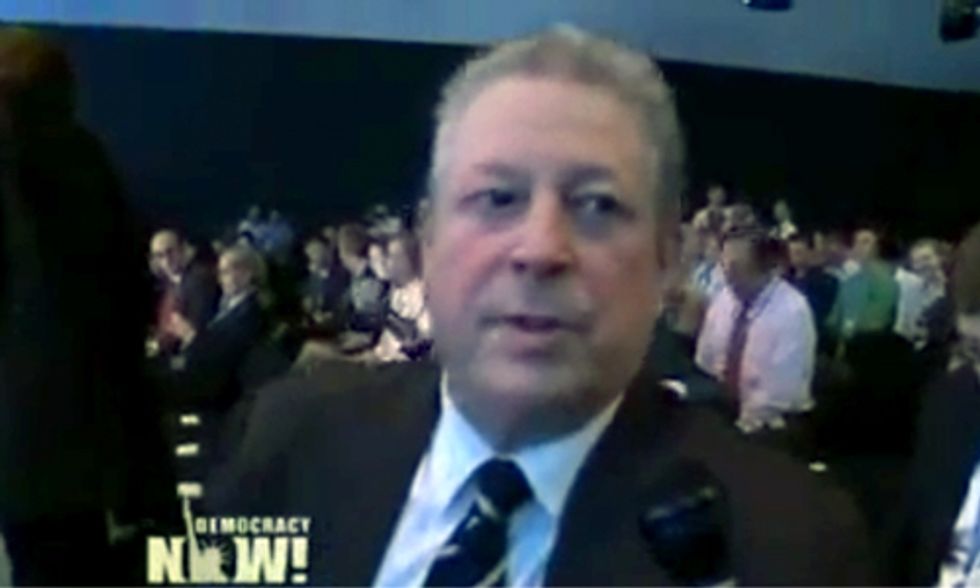 Democracy Now! is broadcasting from the United Nations climate summit in Lima, Peru, where high-level talks have just gotten under way. Here is the coverage from today:
Former VP Al Gore Urges Obama to Reject Keystone XL as Kerry, Top U.S. Negotiator Stay Mum
With an impassioned plea for climate action on Thursday, Secretary of State John Kerry is the highest ranking U.S. official to attend the annual U.N. Climate Change Conference since President Obama took part in the 2009 Copenhagen talks. While Kerry spoke for 30 minutes, he never addressed an issue on the minds of many: the proposed Keystone XL tar sands oil pipeline. Kerry must make a final recommendation to Obama about whether the $8 billion pipeline should be approved. Amy Goodman speaks to former Vice President Al Gore, who attended Kerry's speech, about why he wants Obama to reject the Keystone XL. She then tries to raise the issue with Kerry and top U.S. climate negotiator Todd Stern, but both refuse to answer.
"We Are on a Course Leading to Tragedy": At U.N. Talks, Kerry Delivers Urgent Plea on Climate Change
The United Nations Climate Change Conference in Lima, Peru, has entered its final day of scheduled talks. Deep divisions remain between wealthy and developing nations on emission cuts and over how much the world's largest polluters should help poorer nations address climate change. On Thursday, Secretary of State John Kerry flew into Lima and made an impassioned plea for all nations to work for an ambitious U.N. climate deal next year in Paris. Kerry said time is running out to reverse "a course leading to tragedy."
"We Weren't Allowed to Name the Keystone XL": Civil Society Faces Restrictions at U.N. Climate Talks
We speak with youth activist Alyssa Johnson-Kurts of the group SustainUS about rules at the United Nations Climate Conference that require protesters to submit banners and slogans for approval. She says the regulations bar mention of specific names, officials and projects. "We tried to submit a banner that would have an arrow with Keystone XL in one direction and a liveable future in the other direction and they rejected that proposal," Johnson-Kurts says. Civil society faces increasing separation from what takes place inside the conference. "The irony of course is that very few restrictions are placed on the fossil fuel companies that come here," notes our guest Jamie Henn, co-founder and communications director of the climate group 350.org.
As Fossil Fuel Divestment Movement Grows, U.N. Negotiators Consider a "Zero Emissions" Future
For the first time ever, delegates at the U.N. Climate Change Conference are talking about entirely phasing out fossil fuels by 2050, setting up a showdown with the energy industry that profits from their extraction. We speak to Jamie Henn of 350.org about the state of the U.N. talks, the world's growing divestment movement, and President Obama's comments casting doubt on the Keystone XL this week on the "The Colbert Report."
Pipe Dreams? Labor Researchers Say Keystone XL Project May Kill More Jobs Than It Creates
While the U.S. Chamber of Commerce has claimed that the proposed Keystone XL pipeline would create 250,000 jobs, labor researchers say the jobs figures have been vastly distorted. We speak to Sean Sweeney, director and founder of the Global Labor Institute at Cornell University and Bruce Hamilton, vice president of Amalgamated Transit Union.
Activists: COP20 Has Done Nothing to Prevent Catastrophe for Millions Threatened by Global Warming
We wrap up our week-long coverage from Lima at the United Nations Climate Conference, where negotiators are hours away from the formal end of the talks. "If developed countries don't put down the resources that the poor countries need to prepare for climate change to protect themselves from the real impacts they are facing already, then you are going to leave poor people around the world facing hunger, facing increasing poverty without being able to cope," says Winnie Byanyima, executive director of Oxfam. "Yet they didn't create the crisis of climate change, and they don't have the means of solving the problem of climate change on their own. So it is an issue of justice, an issue of human rights." We also speak with Dipti Bhatnagar, climate justice and energy coordinator at Friends of the Earth International, who helped plan a die-in at COP20 to call attention to those ignored in the global agreement under negotiation.
YOU MIGHT ALSO LIKE
John Kerry: Ignoring Climate Would Be 'Massive Moral Failure of Historic Consequence'
4 Horrible Ways Federal Budget Bill Will Impact Climate
EcoWatch Daily Newsletter