This website uses cookies to ensure you get the best experience while browsing it. By clicking 'Got It' you're accepting these terms.
Al Gore Tells Obama: Cancel Keystone XL
May. 08, 2013 11:18AM EST
Climate
By Andy Rowell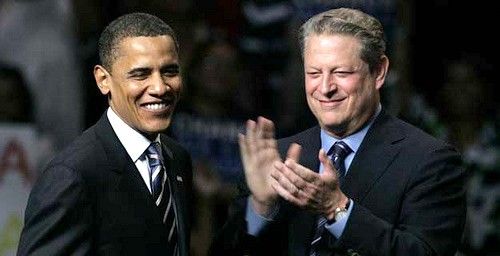 Love him or loath him, you can certainly say one thing about Al Gore: he is winding the Canadians up into a right-old rage.
Yesterday, I blogged how he called the tar sands an "open sewer."
Gore then gave a public interview with The Globe and Mail, saying he wished that President Obama would cancel the controversial Keystone XL pipeline.
He added that he did not know what Obama would do on Keystone XL, but regarding Obama and his climate policies he said, "I still hold out hope that he will be as positively surprising in his policy initiatives this year as he was in his speeches."
He also dismissed the Canadian's long-term public relations campaign to dress up the dirty tar sands as somehow being "ethical oil" compared to oil from the Middle East.
"There's no such thing as ethical oil," he said. "There's only dirty oil and dirtier oil."
And the tar sands is among the dirtiest of them all.
Gore's "open sewer" comments have certainly stirred up a hornets' nest back in Canada. It is worth looking at Gore's comments in context. He was asked:
"Have the oil-sands boom and pipeline debates affected Canadian-U.S. relations?"
To that he replied:
"Yes, and I think that ultimately it hurts Canada. The so-called resource curse is most often understood in the context of small nations whose revenue streams are dominated by the exploitation of a single resource."
Gore continued:
"It's a bit more complex than that with Canada, but the resource curse has multiple dimensions and [including] damage to some extremely beautiful landscapes, not to mention the core issue of adding to the reckless spewing of pollution into the Earth's atmosphere as if it's an open sewer.
"We will come to our senses, but I had hoped that Canada, like Australia, would point us in the right direction and added to the chances for the world as a whole to make a moral and courageous decision sooner rather than later."
Many people would see these sentiments as wholly rational, and a continuation of what Gore has been saying for a while. But not in Canada. A columnist for the Edmonton Journal called Gore's comments both "insulting" and "untrue."
Joe Oliver, Canada's Natural Resources Minister, who is in Europe, has also been widely quoted as complaining about the remarks. He is on yet another lobby tour of Europe, trying to bully the Europeans into submission on their climate legislation, as I blogged about yesterday.
But Al Gore's comments have had a favorable response from some Canadian politicians.
"If it's a choice between Al Gore and Joe Oliver on climate change, I think that we should be listening to Al Gore," the New Democrat leader Thomas Mulcair told reporters. "Al Gore is simply calling it the way everybody else who's looked at the science of climate change is calling it," he added.
Mulcair then called Oliver "an embarrassment to all of us."
Many people in Europe would agree with Mulcair on that one.
Visit EcoWatch's KEYSTONE XL page for more related news on this topic.
——-
EcoWatch Daily Newsletter
Pixabay
Leaked documents show that Jair Bolsonaro's government intends to use the Brazilian president's hate speech to isolate minorities living in the Amazon region. The PowerPoint slides, which democraciaAbierta has seen, also reveal plans to implement predatory projects that could have a devastating environmental impact.
XL CATLIN SEAVIEW SURVEY / THE OCEAN AGENCY
Hope may be on the horizon for the world's depleted coral reefs thanks to scientists who successfully reproduced endangered corals in a laboratory setting for the first time, according to Reuters.
Last week we received positive news on the border wall's imminent construction in an Arizona wildlife refuge. The Trump administration delayed construction of the wall through about 60 miles of federal wildlife preserves.
PhotoAlto / Frederic Cirou / Getty Images
Drinking water treated with fluoride during pregnancy may lead to lower IQs in children, a controversial new study has found.
National Institude of Allergy and Infectious Disease
A Greenpeace rally calls for a presidential campaign climate debate on June 12 in Washington, DC. Sarah Silbiger / Getty Images
Ryan Hagerty / USFWS
It's become a familiar story with the Trump administration: Scientists write a report that shows the administration's policies will cause environmental damage, then the administration buries the report and fires the scientists.
A coalition of some of the largest environmental groups in the country joined forces to file a lawsuit in federal court challenging the Trump administration's maneuver to weaken the Endangered Species Act.