Al Gore: Obama 'Signaled' He Would Reject Keystone XL
Jun. 18, 2014 04:50PM EST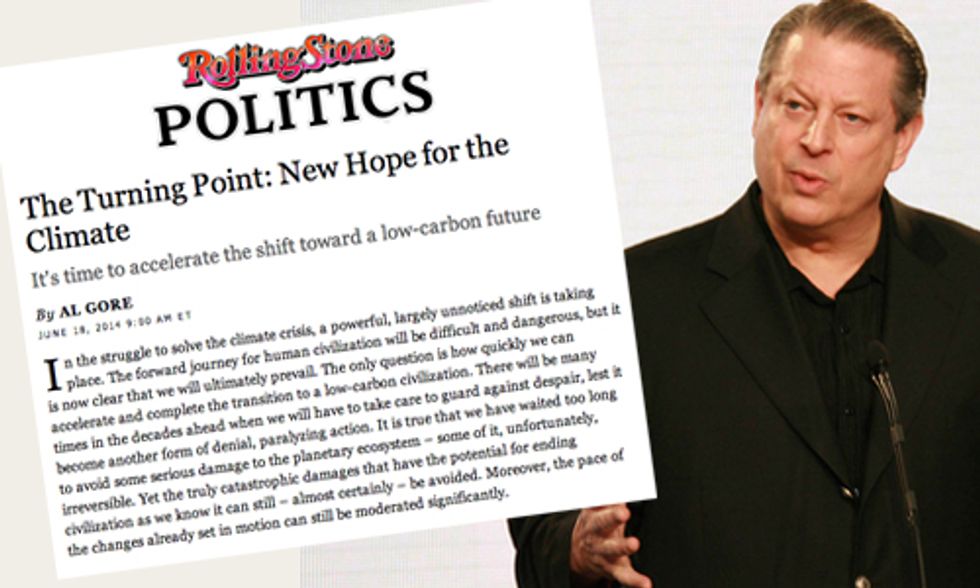 In describing why President Barack Obama will carry crates of credibility with him to climate conferences at the United Nations this year and in Paris late next year, Al Gore might have dropped a bomb.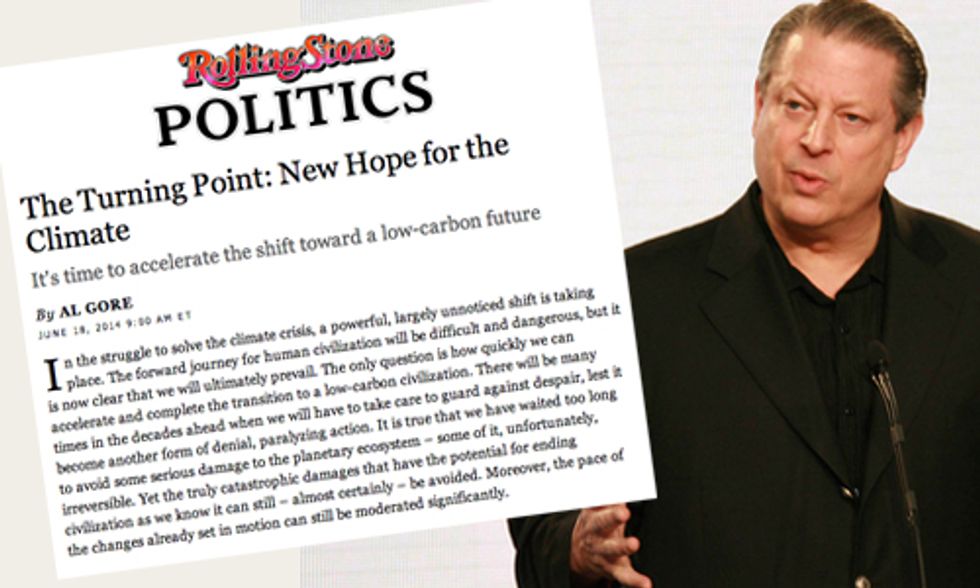 Ever since the U.S. State Department indefinitely delayed a decision on the Keystone XL pipeline, people on both sides of the issue have speculated what the future will hold. However, Gore says Obama has already sent a signal regarding the 1,179-mile pipeline's fate.
"[Obama] has signaled that he is likely to reject the absurdly reckless Keystone XL-pipeline proposal for the transport of oil from carbon-­intensive tar sands to be taken to market through the United States on its way to China, thus effectively limiting their exploitation," Gore wrote in a Rolling Stone article scheduled to hit newsstands Friday. 
It's unclear if Gore meant that Obama had privately signaled a rejection or if he do so through public comments. If Gore meant the latter, it's obvious that many of us missed it. Otherwise, Neil Young, Daryl Hannah, Jane Kleeb of Bold Nebraska and thousands more would have breathed easy in late April instead of staging the huge, five-day "Reject and Protect" protest in the nation's capital.
A Gore spokeswoman declined to elaborate on this portion of the former vice president's six-page article, according to Politico. White House spokesman Jay Carney said he couldn't "shed any light" on Gore's comment.
The site also quoted U.S. Sen. John Hoeven (R-ND), who referenced the Gore article at a hearing. The pipeline supporter agrees Obama has sent signals—in a quiet and obvious fashion.
"Isn't it obvious?" Hoeven said before a vote on a pro-Keystone resolution in the Senate Energy and Natural Resources Committee. "Clearly he's going to turn it down ... his strategy is to defeat with delay and he's doing it pretty well."
Gore's article serves as a bit of a recent timeline on climate, as Gore writes about why Syria has been in the "bullseye of climate change," how carbon dioxide concentrations in the Earth's atmosphere exceeded 400 parts-per-million last year and more. Still, it contains a positive outlook and details on what needs to change beyond fossil-fuel burning.
"While the burning of fossil fuels is the largest cause of the climate crisis, deforestation and factory farming also play an important role," he wrote. "Financial and technological approaches to addressing these challenges are emerging, but we must continue to make progress in converting to sustainable forestry and agriculture."
EcoWatch Daily Newsletter