Al Gore Blasts GOP Climate Deniers, Thom Hartmann Says Throw Them in Jail
Oct. 01, 2015 12:14PM EST
Climate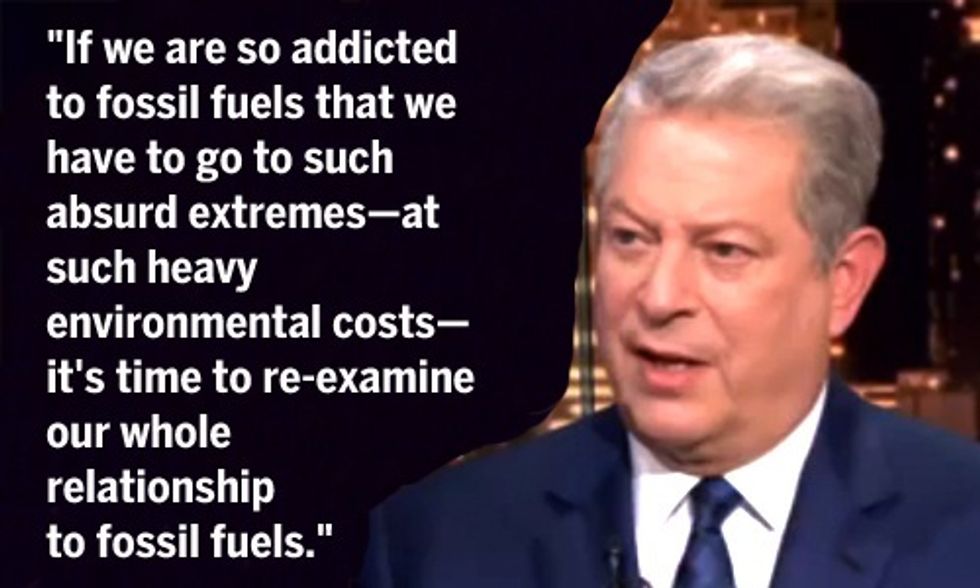 Chris Hayes hosted Al Gore, chairman of the Climate Reality Project, on MSNBC's All In with Chris Hayes on Tuesday. Hayes showed clips of several of the Republican presidential candidates' talking points on climate change, which Gore, of course, took issue with.
He found "at least two big flaws" in their argument. Pointing out that China is stepping up and trying to tackle its greenhouse emissions, Gore wanted to know "since when did the United States abandon its traditional world leadership role?" "This is the most serious global challenge we've ever faced. No other country can play the role that the U.S. can play," said Gore.
Gore also responded to Shell's decision to abandon its Arctic drilling operations, and said he's "glad" all three of the Democratic presidential candidates have come out against the Keystone XL pipeline. He "doubts it will go forward."
"If we are so addicted to fossil fuels that we have to go to such absurd extremes at such heavy environmental costs, it's time to re-examine our whole relationship to fossil fuels," said Gore.
Watch part one here:
Watch part two here:
And Al Gore is not the only one calling out climate deniers. Recently, Thom Hartmann asked climate denier Paul Driessen, senior policy analyst at Committee For A Constructive Tomorrow (CFACT) why he should not be thrown in prison for lying to the American public about climate change.
Check it out:
YOU MIGHT ALSO LIKE
How to Finance the Global Transition from Fossil Fuels to Renewable Energy
Iceland: World's Largest Clean Energy Producer Per Capita
Paul Watson: If the Ocean Dies, We Die!
Stephen Colbert Celebrates China's Commitment to Cleaner Air
EcoWatch Daily Newsletter