This website uses cookies to ensure you get the best experience while browsing it. By clicking 'Got It' you're accepting these terms.
Al Gore at SXSW: We Need to 'Punish Climate-Change Deniers' and 'Put a Price on Carbon'
Mar. 16, 2015 09:37AM EST
The South by Southwest (SXSW) Festival is happening now in Austin, Texas. Running from March 9 to 22, it's a massive film, interactive and music festival that is nearly 20 years old. The festival brings together designers, developers, investors, entrepreneurs and politicians for panels and discussions about technology and innovation.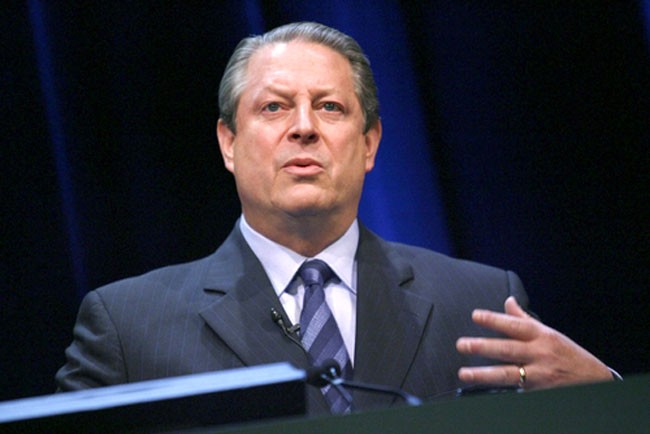 stocklight
/
Shutterstock.com
For the third time in the last few years, Al Gore, founder and chairman of the Climate Reality Project, spoke at the festival on Friday. Naturally, his interactive discussion focused on addressing the climate crisis. The former vice president focused on the need to "punish climate-change deniers, saying politicians should pay a price for rejecting 'accepted science,'" said the Chicago Tribune.
Gore said forward-thinking investors are moving away from companies that invest in fossil fuels and towards companies investing in renewable energy. "We need to put a price on carbon to accelerate these market trends," Gore told the Chicago Tribune, referring to a proposed federal cap-and-trade system that would penalize companies that exceeded their carbon-emission limits. "And in order to do that, we need to put a price on denial in politics."
He called on the tech-minded SXSW crowd, which is dominated by Millenials, to harness technology to launch a grassroots movement to tackle climate change and call out climate deniers. "We have this denial industry cranked up constantly," Gore said. "In addition to 99 percent of the scientists and all the professional scientific organizations, now Mother Nature is weighing in."
Years from now, Gore said the next generation will look back at us and ask: "How did you change?," according to Macworld. "Part of the answer may well be that a group of people came to South by Southwest in Austin, Texas in 2015 and helped to make a revolution," Gore said.
Gore wanted these young, tech-savvy attendees to start a grassroots movement using social media like they did when "net neutrality was threatened or when the Stop Online Piracy Act threatened to blacklist websites that offered so-called illegal content," said Macworld. That means signing petitions to fight climate change, utilizing social media to call out climate deniers in Congress and streaming the Live Earth Road to Paris concert on June 18, an event designed to draw attention to the climate talks in Paris this December.
The former Veep even gave a nod to Pope Francis during his talk, showing a slide of the pontiff and saying "How about this Pope?" Pope Francis celebrated his two-year anniversary as Pope on Friday, riding a wave of popularity "that has reinvigorated the Catholic Church in ways not seen since the days of St. John Paul II," said the Chicago Tribune. Gore said he was looking forward to the Pope's highly anticipated encyclical on the environment which is due to be released in June or July. "I'm not a Catholic," Gore said, "but I could be persuaded to become one."
YOU MIGHT ALSO LIKE
 Julia Roberts is Mother Nature
Pope Francis: Acting on Climate Change Is Essential to Faith
& the Many Health Benefits
zeljkosantrac / E+ / Getty Images
Medically reviewed by Hrefna Palsdottir, MS
Oats are considered to be one of the healthiest grains on earth. Find out why and how to incorporate this breakfast staple into your morning routine.
Youth activists ages 11-18 learn to fight plastic pollution at the inaugural Ocean Heroes Bootcamp. Ocean Heroes Bootcamp
By 2018 Ocean Heroes: Claire MacQueen (13 years old), Sabine Thomas (13) and Ava Inskeep (14)
We despise single-use plastics. We want to keep our oceans and our beaches clean. Early last year I (Claire) lived in India for several months and became curious about plastic waste, as it was much more visible in India than back home in the U.S. Seeing all the plastic waste while I was visiting helped me to understand that much of the trash produced by the U.S. actually ends up in developing countries, like India, which does not have a proper waste management system like we do at home, which causes a ton of trash to end up in waterways and the ocean.
Sen. Bernie Sanders speaks at a Martin Luther King Jr. Day event in South Carolina on Jan. 21. Sean Rayford / Getty Images
Degraded coral reefs at Kahekili Beach Park in west Maui, Hawaii. Peter Swarzenski / Usgs
In a case watched closely both by polluting industries and clean water advocates across the nation, the U.S. Supreme Court agreed to take up an appeal of a Clean Water Act case out of Hawaii concerning treated sewage flowing into the Pacific Ocean from injection wells.
A woman works at a distrubiton station at the 855,000-square-foot Amazon fulfillment center in Staten Island, one of the five boroughs of New York City, on Feb. 5. JOHANNES EISELE / AFP / Getty Images
Amazon will strive to cut carbon emissions from its shipments in half by 2030, the e-commerce giant said Monday. The retailer's plan calls for an increase in the use of electric delivery vehicles and renewable energy as well as pressuring suppliers to use less packaging.