Al Gore at SXSW: We Need to 'Punish Climate-Change Deniers' and 'Put a Price on Carbon'
The South by Southwest (SXSW) Festival is happening now in Austin, Texas. Running from March 9 to 22, it's a massive film, interactive and music festival that is nearly 20 years old. The festival brings together designers, developers, investors, entrepreneurs and politicians for panels and discussions about technology and innovation.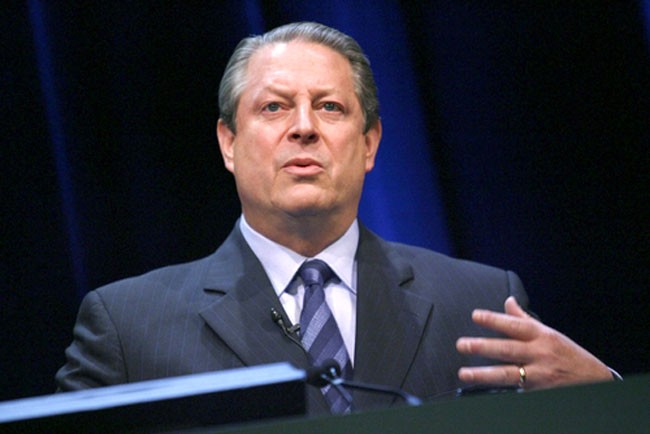 stocklight
/
Shutterstock.com
For the third time in the last few years, Al Gore, founder and chairman of the Climate Reality Project, spoke at the festival on Friday. Naturally, his interactive discussion focused on addressing the climate crisis. The former vice president focused on the need to "punish climate-change deniers, saying politicians should pay a price for rejecting 'accepted science,'" said the Chicago Tribune.
Gore said forward-thinking investors are moving away from companies that invest in fossil fuels and towards companies investing in renewable energy. "We need to put a price on carbon to accelerate these market trends," Gore told the Chicago Tribune, referring to a proposed federal cap-and-trade system that would penalize companies that exceeded their carbon-emission limits. "And in order to do that, we need to put a price on denial in politics."
He called on the tech-minded SXSW crowd, which is dominated by Millenials, to harness technology to launch a grassroots movement to tackle climate change and call out climate deniers. "We have this denial industry cranked up constantly," Gore said. "In addition to 99 percent of the scientists and all the professional scientific organizations, now Mother Nature is weighing in."
Years from now, Gore said the next generation will look back at us and ask: "How did you change?," according to Macworld. "Part of the answer may well be that a group of people came to South by Southwest in Austin, Texas in 2015 and helped to make a revolution," Gore said.
Gore wanted these young, tech-savvy attendees to start a grassroots movement using social media like they did when "net neutrality was threatened or when the Stop Online Piracy Act threatened to blacklist websites that offered so-called illegal content," said Macworld. That means signing petitions to fight climate change, utilizing social media to call out climate deniers in Congress and streaming the Live Earth Road to Paris concert on June 18, an event designed to draw attention to the climate talks in Paris this December.
The former Veep even gave a nod to Pope Francis during his talk, showing a slide of the pontiff and saying "How about this Pope?" Pope Francis celebrated his two-year anniversary as Pope on Friday, riding a wave of popularity "that has reinvigorated the Catholic Church in ways not seen since the days of St. John Paul II," said the Chicago Tribune. Gore said he was looking forward to the Pope's highly anticipated encyclical on the environment which is due to be released in June or July. "I'm not a Catholic," Gore said, "but I could be persuaded to become one."
YOU MIGHT ALSO LIKE
 Julia Roberts is Mother Nature
Pope Francis: Acting on Climate Change Is Essential to Faith
By Andy Rowell
Donald Trump this week is launching an "energy week," pushing the argument that the U.S. will become a net exporter of oil and gas.
The president and his cronies are talking about a new era of "U.S. energy dominance," which could stretch for decades to come. However, no one believes the president anymore.
Keep reading...
Show less
www.elysee.fr
By Andy Rowell
There is a growing feeling within European capitals that a quiet, but deeply positive, revolution is happening under Emmanuel Macron in France.
Macron's opinion poll rating is high, especially boosted in how the young French president has reacted to Donald Trump on the international stage.
Keep reading...
Show less
Jun. 26, 2017 12:32PM EST
www.facebook.com
Keep reading...
Show less
Keep reading...
Show less
www.youtube.com
According to Bloomberg, "SeaWorld Entertainment Inc. received a subpoena earlier this month from regulators investigating disclosures and public statements by executives, including comments about the Blackfish documentary that caused a public backlash against the confinement of orcas.
Keep reading...
Show less
By Mary Mazzoni
In 2013, shoppers were reacquainted with the tragic story of their clothing when a massive factory collapse claimed the lives of more than 1,100 Bangladeshi garment workers.
The nonprofit Fashion Revolution, formed in response to that disaster, continues to track the apparel industry's progress on environmental stewardship and human rights. But four years later, big brands are still not doing enough to disclose their efforts to customers, the organization concluded in a recent report.
Keep reading...
Show less
Jun. 26, 2017 01:18PM EST
Hawaii Renewable Energy Alliance
The latest issue of the U.S. Energy Information's "Electric Power Monthly" (with data through April 30) reveals that—for the first time since the beginning of the nuclear era—renewable energy sources (i.e., biomass, geothermal, hydropower, solar—inc. small-scale PV, wind) are now providing a greater share of the nation's electrical generation than nuclear power.
Keep reading...
Show less
www.youtube.com
Check out this great 360° virtual reality video by NowThis on the world's largest indoor vertical farm, AeroFarms. Located in Newark, New Jersey, AeroFarms grows more than 2 million pounds of greens a year without sunlight, soil or pesticides.
As reported by EcoWatch in July 2105, the $30 million, 70,000-square-foot AeroFarms headquarters dwarfs Japan's (already impressive) 25,000-square-foot vertical indoor farm, which had been the world's largest until now.
www.facebook.com
"There's no such thing as clean coal," according to this ATTN: video.
Watch above as ATTN: explains the many hazards of coal beyond carbon emissions, that no matter what there's no reviving the coal industry and how investment in renewable energy is the best way forward.
Share this video if you think America needs real energy solutions.