This website uses cookies to ensure you get the best experience while browsing it. By clicking 'Got It' you're accepting these terms.
Al Gore: 3 Questions We Have to Answer About Climate Change
Feb. 26, 2016 08:33AM EST
Last week, I had the pleasure of participating in TED Talks 2016 where I discussed many of the challenges presented by the climate crisis. But a powerful shift has been taking place, and it is clear that we will ultimately prevail.
Here's why:
There are now only three questions we have to answer about climate change and our future.
1. MUST we change?
Each day we spew 110 million tons of heat-trapping global warming pollution into the very thin shell of atmosphere surrounding the planet, using it as an open sewer for the gaseous waste of our industrial civilization as it is presently organized. The massive buildup of all that man-made global warming pollution is trapping as much extra heat energy every day as would be released by 400,000 Hiroshima-class atomic bombs exploding every 24 hours. That, in turn, is disrupting the hydrological cycle, evaporating much more water vapor from the oceans, leading to stronger storms, more extreme floods, deeper and longer droughts, among other climate related problems. Fourteen of the 15 hottest years ever measured have been in this young century. The hottest of all was last year. So YES, we must change!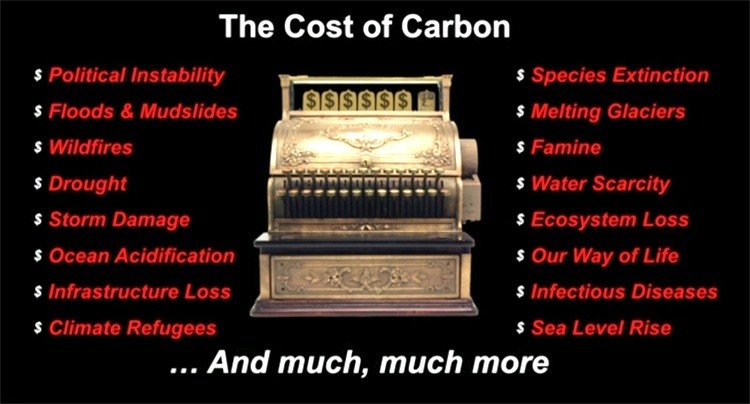 2. CAN we change? And the answer, fortunately, is now YES!
We're seeing a continuing sharp, exponential decline in the cost of renewable energy, energy efficiency, batteries and storage—and the spread of sustainable agriculture and forestry—giving nations around the world a historic opportunity to embrace a sustainable future, based on a low carbon, hyper-efficient economy. Indeed, in many parts of the world, renewable energy is already cheaper than that of fossil fuels— and in many developing regions of the world, renewable energy is leapfrogging fossil fuels altogether— the same way mobile phones leap-frogged land-line phones. And these dramatic cost reductions are continuing.
3. WILL we change?
While the answer to this question is up to all of us, the fact is that we already are beginning to change dramatically.
In December, 195 nations reached a historic agreement in Paris, which exceeded the highest end of the range of expectations. And the Paris Agreement is just the most recent example of our willingness to act. Much more change is needed, of course, but one of the binding provisions of the Paris agreement requires five-year transparent reviews of the action plans put forward by every nation, and the first will begin in less than two years, so now is the time to build the momentum for the actions needed.
Businesses and investors are already moving. And with the continuing cost-down curves for renewable energy, efficiency and energy storage, it will get easier year by year to win this historic struggle.
There are many, many more examples of powerful responses to this moral challenge. They all give me confidence that we are going to win this.
It matters a lot how quickly we win, and some still doubt that we have the will to act on climate, but please remember that the will to act is itself a renewable resource.
I hope you will take the time to watch the 20-minute video embedded above. And I hope that you will personally take action to "become the change we need to see in the world."
YOU MIGHT ALSO LIKE
Robert F. Kennedy, Jr.: Syria, Another Pipeline War
7 NASA Selfies Show Just How Much Our Climate Is Changing
Massive Starfish Die-Off Linked to Warming Oceans
The Russian military is taking measures to protect the residents of a remote Arctic settlement from a mass of polar bears, German press agency DPA reported.
The move comes after regional authorities declared a state of emergency over the weekend after sightings of more than 50 bears in the town of Belushya Guba since December.
This year's letter from Bill and Melinda Gates focused on nine things that surprised them. For the Microsoft-cofounder, one thing he was surprised to learn was the massive amount of new buildings the planet should expect in the coming decades due to urban population growth.
"The number of buildings in the world is going to double by 2060. It's like we're going to build a new New York City every month for the next 40 years," he said.
Over the past few years, it seems vegan cooking has gone from 'brown rice and tofu' to a true art form. These amazing cooks show off the creations on Instagram—and we can't get enough.
The USS Ashland, followed by the USS Green Bay, in the Philippine Sea on Jan. 21. U.S. Department of Defense
By Shana Udvardy
After a dearth of action on climate change and a record year of extreme events in 2017, the inclusion of climate change policies within the annual legislation Congress considers to outline its defense spending priorities (the National Defense Authorization Act) for fiscal year 2018 was welcome progress. House and Senate leaders pushed to include language that mandated that the Department of Defense (DoD) incorporate climate change in their facility planning (see more on what this section of the bill does here and here) as well as issue a report on the impacts of climate change on military installations. Unfortunately, what DoD produced fell far short of what was mandated.
The Paradise Fossil Plant in western Kentucky. CC BY 3.0
Trump is losing his rallying cry to save coal. The Tennessee Valley Authority (TVA) voted on Thursday to retire two coal-fired power plants in the next few years despite a plea from the president to keep one of the plants open.
Earlier this week, the president posted an oddly specific tweet that urged the government-owned utility to save the 49-year-old Paradise 3 plant in Kentucky. It so happens that the facility burns coal supplied by Murray Energy Corporation, whose CEO is Robert Murray, is a major Trump donor.