This website uses cookies to ensure you get the best experience while browsing it. By clicking 'Got It' you're accepting these terms.


The best of EcoWatch, right in your inbox. Sign up for our email newsletter!
After Sailing 3,000 Miles ... It's Official Microplastics Are Everywhere
Aug. 17, 2015 09:25AM EST
Insights + Opinion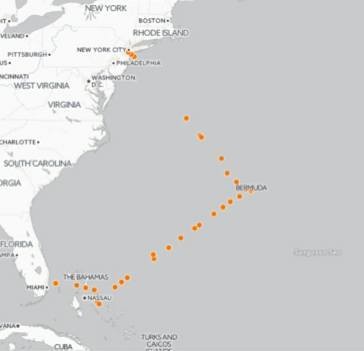 The 5 Gyres Institute sailed 3,000 miles in June—from Miami to the Bahamas to Bermuda and ending in New York City—sampling the sea surface along the entire voyage for plastic pollution. Sadly, our research once again demonstrates how prolific and widespread plastic is in our oceans. We found microplastics, pieces smaller than a grain of rice, dominating each of the 38 samples taken during the three week-expedition through the North Atlantic Subtropical Gyre, a series of clockwise rotating currents between the U.S. and Europe.
What we found in our samples, confirms our understanding that plastics quickly shred in the open sea due to UV sunlight. We have dubbed this abundance of fragments, which are being consumed by sea life as well as slowly settling to the seafloor, as plastic smog. This plastic smog that overwhelmingly pollutes our oceans has gone global, emanating from our densely populated coastlines.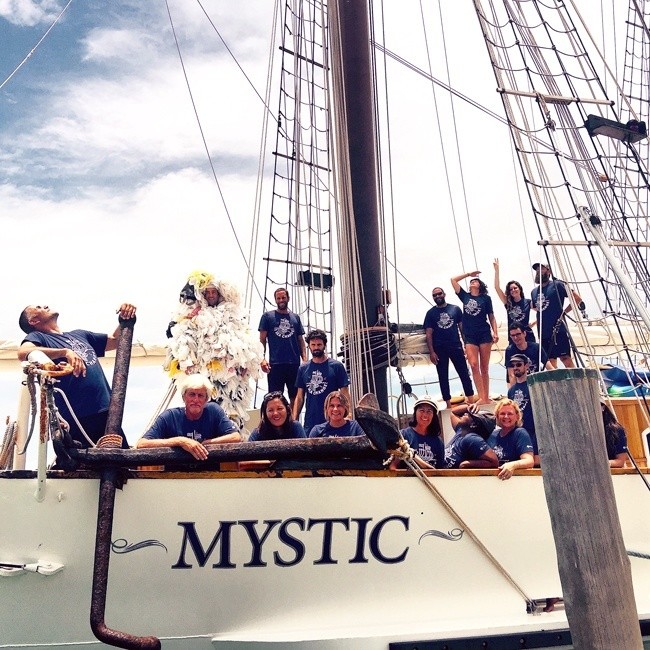 Consider the smog that hovers in the air above our major cities. It is composed of fine particles of carbon swirled by atmospheric currents and sometimes adrift for hundreds of miles before settling to the ground. The plastic smog in our oceans is a particulate of hydrocarbons swirled by ocean currents and drifting for thousands of miles before possibly settling to the seafloor. If you can imagine a plastic smog in our oceans, then you can imagine our cities are the horizontal smokestacks pumping plastic into the ocean.
On June 23, the 5-Gyres' ship the Mystic, a 172 foot three-masted schooner, sailed into the New York Harbor. Our surface nets dragged up and down the Hudson River and the bay, and we were shocked by what we found.
Our last sample collected south of Manhattan was the most polluted of them all, with nearly 500 bits of plastic filling our tiny net in just one hour. New York City is pumping millions of particles of plastic into the Atlantic Ocean every day. The objects found included cigar tips, tampon applicators, condoms, straws, fragments of plastic bags, preproduction plastic pellets and hundreds of unidentifiable plastic fragments. New York City is feeding the plastic smog.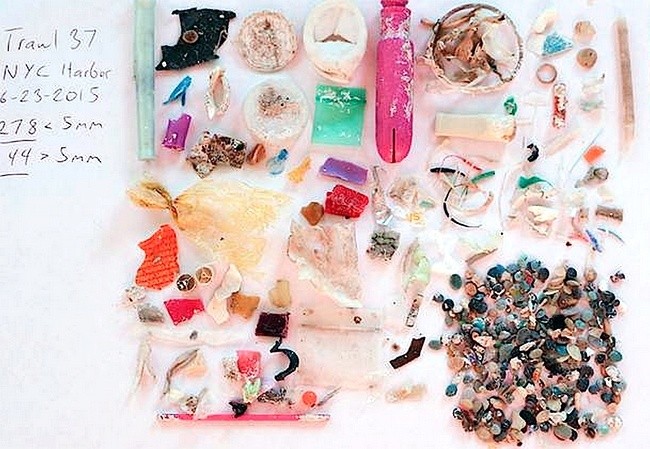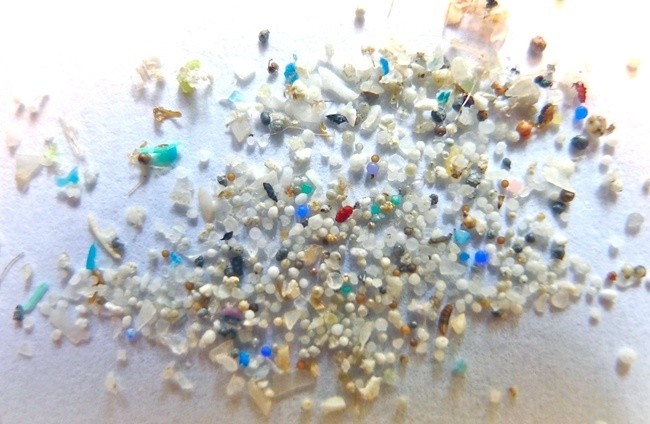 The situation may seem hopeless, but there is tremendous ambition in the resilience of environmental organizations throughout the state of New York that are working to reduce plastic waste entering New York waterways. More than 40 organizations from every corner of the state are working together to stem the tide of plastic into New York's waters.
This coalition worked tirelessly throughout the 2015 New York state legislative session to pass a ban on plastic microbeads in personal care products. Tiny plastic microbeads in products such as facial scrubs and toothpastes (yes, some toothpastes leave plastic particles between your teeth and in our gums) are designed to be washed down the drain, where they often escape sewage treatment and pollute our waters. While the bill passed the Assembly and enjoyed overwhelming support in the Senate, it fell victim to Albany dysfunction, and did not pass into law this year. Fortunately, our neighbors in Connecticut successfully passed a ban on microbeads this year and we are poised to win the fight in New York next year.
Therefore, it is essential that residents of New York remain vigilant and aware of our plastic consumption. The reduction of plastic bags, foamed polystyrene and microbeads in personal care products will collectively have a meaningful and positive effect on the quality of the waters surrounding New York and beyond. Individual, voluntary efforts are a great start. However, legislation is undeniably needed to solve our plastic problem once and for all. All of us, including the industries that make plastic products, are responsible for the problem, and through smart and fair legislation we can be the solution.
Signed,
Marcus Eriksen, Ph.D. director of research at The 5 Gyres Institute; Sandra Meola, communications and outreach at NY/NJ Baykeeper; Brian Smith, associate executive director at Citizens Campaign for the Environment; Sherri A. Mason, Ph.D. professor of chemistry. at SUNY Fredonia; Reece Paecheo at Surfrider, New York City; and David T. Conover, education director at Hudson River Sloop Clearwater, Inc.
YOU MIGHT ALSO LIKE
The Film Donald Trump Does Not Want You to See
Pro Surfer Kelly Slater Launches Clothing Line Made From Ocean Trash
EcoWatch Daily Newsletter
PhotoAlto / Laurence Mouton / Getty Images
By Ana Reisdorf, MS, RD
You've probably heard the buzz around collagen supplements and your skin by now. But is the hype really that promising? After all, research has pointed to both the benefits and downsides of collagen supplements — and for many beauty-conscious folk, collagen isn't vegan.
Pixabay
By Marlene Cimons
Neil Pederson's introduction to tree rings came from a "sweet and kindly" college instructor, who nevertheless was "one of the most boring professors I'd ever experienced," Pederson said. "I swore tree rings off then and there." But they kept coming back to haunt him.
Aerial view of the explosion site of a chemical factory on March 22 in Yancheng, Jiangsu Province of China. Caixin Media / VCG / Getty Images)
At least 47 people have died in an explosion at a plant in Yancheng, China Thursday run by a chemical company with a history of environmental violations, Sky News reported.
A fishmonger in Elmina, a fishing port in the Central Region of Ghana. Environmental Justice Foundation
By Daisy Brickhill
Each morning, men living in fishing communities along Ghana's coastline push off in search of the day's catch. But when the boats come back to shore, it's the women who take over.
Pexels
By Sam Nickerson
Links between excess sugar in your diet and disease have been well-documented, but new research by Harvard's School of Public Health might make you even more wary of that next soda: it could increase your risk of an early death.
The study, published this week in the American Heart Association's journal Circulation, found that drinking one or two sugar-sweetened beverages (SSBs) each day — like sodas or sports drinks — increases risk of an early death by 14 percent.
Tyson Foods is recalling approximately 69,093 pounds of frozen chicken strips because they may have been contaminated with pieces of metal, the U.S. Department of Agriculture (USDA) Food Safety and Inspection Service (FSIS) announced Thursday.
The affected products were fully-cooked "Buffalo Style" and "Crispy" chicken strips with a "use by" date of Nov. 30, 2019 and an establishment number of "P-7221" on the back of the package.
"FSIS is concerned that some product may be in consumers' freezers," the recall notice said. "Consumers who have purchased these products are urged not to consume them. These products should be thrown away or returned to the place of purchase."
Environmental exposure to pesticides, both before birth and during the first year of life, has been linked to an increased risk of developing autism spectrum disorder, according to the largest epidemiological study to date on the connection.
The study, published Wednesday in BMJ, found that pregnant women who lived within 2,000 meters (approximately 1.2 miles) of a highly-sprayed agricultural area in California had children who were 10 to 16 percent more likely to develop autism and 30 percent more likely to develop severe autism that impacted their intellectual ability. If the children were exposed to pesticides during their first year of life, the risk they would develop autism went up to 50 percent.