After Four Decades of Protection, Marine Mammals at Risk from Federal Budget Cuts
Dec. 28, 2012 11:00AM EST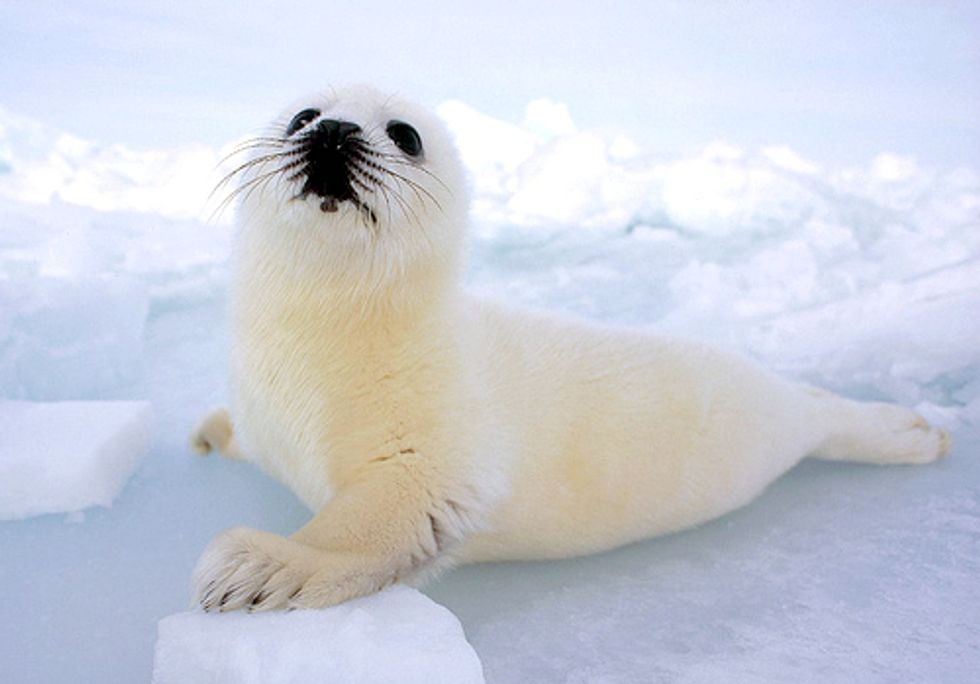 The year 2012 might be remembered for many things–the re-election of President Barak Obama, the legalization of marijuana, or the downfall of Lance Armstrong. But it also was the year that some of our landmark environmental laws turned 40. Here's my end-of-year birthday homage to one of them. It's called—Middle Aged Aquarius: The Marine Mammal Protection Act Turns 40.

Laura Lyell carves through the filmy sack surrounding the heart and cuts the aorta to release it from the cavity. The heart of a harp seal is unusually large she says–much bigger than it would be in a person of this size, or even other seals. "Here's the right atrium, the right ventricle, the left atrium and the left ventricle," she explains, pointing out the four chambers of the heart, textbook obvious in the large specimen in her hand. Then she dives even deeper. Slicing into the left ventricle, she pulls at a collection of thin strands that look almost like the strings of a musical instrument. "And here," she says, "are the heart strings." 
A former operating room nurse, Lyell spent 20 years bending over operating room tables in Florida trying to saving lives. Now she bends over a stainless steel dissecting table in Bar Harbor, Maine trying to understand death: namely, what killed this young seal. 
Lyell is a volunteer with Allied Whale, part of the Northeast Region Marine Mammal Stranding Network, a collection of nonprofit organizations authorized under the Marine Mammal Protection Act to respond to animals in distress. This year is the law's 40th anniversary, marking four decades of protections for seals, sea lions, walruses, whales, dolphins, polar bears, sea otters and manatees. Back in 1972 the Marine Mammal Protection Act was a groundbreaking conservation bill that passed Congress in record time and was signed by Republican President Richard Nixon. But the national outcry that drove these protections into law has dissipated over the decades, and funding cuts may weaken its impact. Lyell, for example, worries about the future of the Stranding Network—one small part of the Act but a key resource for rehabilitating injured animals. The Obama Administration's budget for 2013 eliminated federal matching grants for facilities and staff that support the program. Congress reinstated the funds in a short-term spending bill that will carry the program for several months. But its fiscal future remains uncertain.  
"The circumstances in which the Act was born are so different from the way things operate today," said Frank Potter in a recent telephone interview. As Counsel for the House Subcommittee on Fisheries, Wildlife and the Environment, Potter drafted the bill that ultimately became law. "There was enormous pressure brought by the people concerned about the Canadian harvesting of the harp seals," he said, and concerned about dolphins drowning in tuna boat nets. 
Environmentalism was coming of age at the time. The first Earth Day had just occurred in 1970 with 20 million Americans participating in events around the country. But even in such a fertile climate marine mammal conservation had an unusual pedigree: it emerged from a strange convergence of 1950s Cold War research and 1960s New Age hippie mysticism. By the early '70s, this unlikely marriage had spawned a movement that considered highly intelligent and social marine mammals to be a lot like people–only better. For many people, the survival of marine mammals became more than an ethical issue. It became synonymous with human survival.
The central matchmaker in this union was John Lilly, an M.D. and neuroscientist who started his research career at the National Institutes of Mental Health during the Cold War. Using electrodes and other devices implanted in the brains of live monkeys, Lilly mapped brain activity by stimulating different areas of the brain and measuring the animals' responses. His findings potentially could be used for human brainwashing and manipulation–a key national interest in the fight against Communism. After a colleague told Lilly that bottlenose dolphins have unusually large brains he shifted his focus, plugging electrodes into dolphin brains instead of monkeys' and measuring their responses. In a life-changing moment for Lilly, a particularly vocal dolphin in his lab made a strange human-like sound during an experiment. With little actual evidence, Lilly concluded that the dolphin was mimicking the humans around it and trying to communicate. Despite his limited data, he shared his revelation with skeptical colleagues at the annual meeting of the American Psychiatric Association in 1958, introducing the idea that dolphins were exceptionally intelligent animals potentially capable of sophisticated communication with people. Newspapers across the country picked up his story and Lilly became a minor celebrity. The dolphin—after excessive electrical stimulation in the lab—died.
Lilly theorized that dolphins and other large-brained cetaceans, such as sperm whales, could think and communicate in complex ways completely alien to people. He speculated that their large brains, combined with sophisticated acoustic abilities and a carefree life in water, frees up mental space in dolphins and whales for "transcendental" experiences that people can only imagine–brain space that in people is devoted to the challenges of finding food, advancing technologies and navigating cultural conventions. Lilly quit his government job, moved to the Caribbean and started his own research facility, the Communications Research Institute, to figure out how to "think the way that dolphins do."1 First relying on his own funds, and later supported by federal research grants (this time from the National Science Foundation, the Office of Naval Research and NASA) he began his new career as the scientist who talks with dolphins.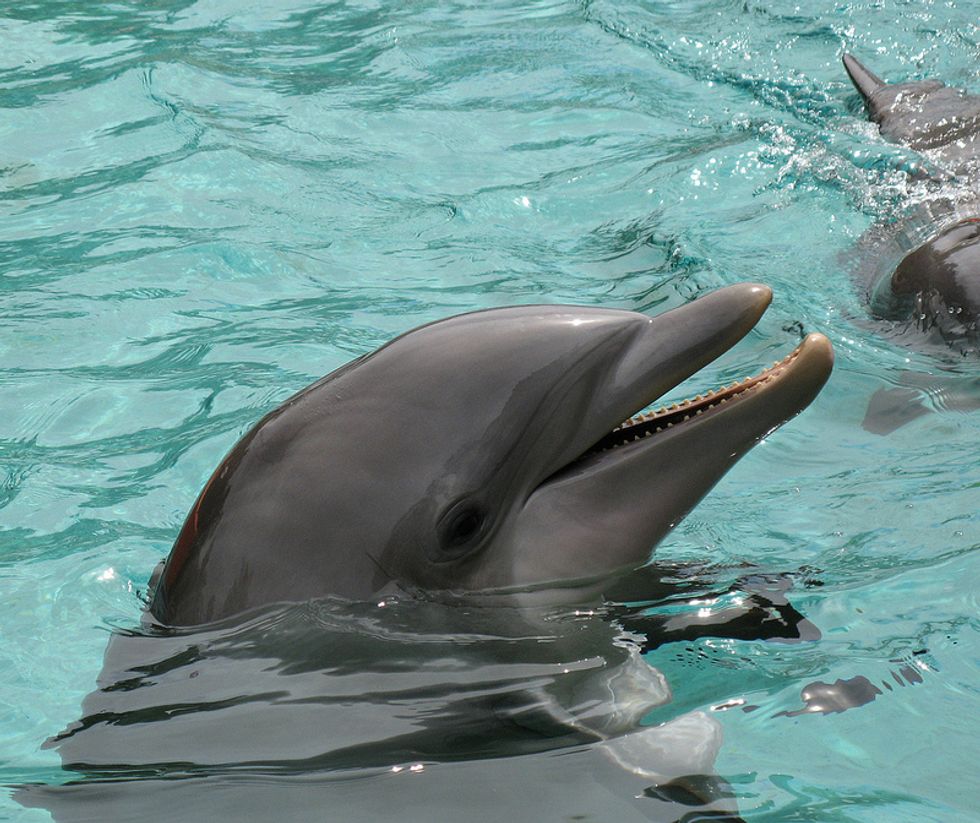 Photo by gygoebel from Creative Commons
Lilly's impact and celebrity grew in the 1960s. He published his popular book, Man and Dolphin; appeared on The Jack Paar Show, and was featured in Life Magazine. His work influenced physicist Leo Sziland, author of the futuristic novel The Voice of the Dolphin (in which dolphins save the world from thermonuclear war), and inspired filmmaker Ivor Tors, creator of the 1963 movie Flipper. Lilly's second book, The Mind of the Dolphin, hit book stores in 1967. In it, he reveals the unorthodox research taking place at his lab, including the experience of a young research associate who lived with a young male dolphin in a half-submerged apartment for two and a half months trying to teach it English. Years later, Lilly discussed how he used flotation tanks and LSD as other tools to help free his mind and relate to the dolphin experience.
Lilly believed that by communicating with dolphins, humans could learn to communicate with each other better and become prepared to communicate with extraterrestrials in the future. He characterized dolphins as polite and selfless creatures, compared to man and our capacity for selfishness, self-destruction and violence. And he struck a nerve by proposing that dolphins and whales be treated with the same principles of compassion and humanity that humans ostensibly afford each other.
Others soon picked up the thread. In A Whale for the Killing author Farley Mowat wrote of a fin whale trapped in a Newfoundland cove, and how deeply her plight moved him:
"So long as I live I shall hear the echoes of that haunting cry. And they will remind me that life itself–not human life–is the ultimate miracle upon this earth. I will hear those echoes even if the day should come when none of her nation is left alive in the desecrated seas, and the voices of the great whales have been silenced forever."2
Astrophysicist Carl Sagan joined Lilly and other scientists to form the Order of the Dolphin and explore how to detect extraterrestrial life. Sagan later wrote:
"It is at this point that the ultimate significance of dolphins in the search for extraterrestrial intelligence emerges. It is not a question of whether we are emotionally prepared in the long run to confront a message from the stars. It is whether we can develop a sense that beings with quite different evolutionary histories, beings who may look far different from us, even 'monstrous,' may, nevertheless, be worthy of friendship and reverence, brotherhood and trust."3
Amid fears of thermonuclear war and the accompanying desire for peace, love and harmony in the universe, some saw salvation in cetaceans.
The Navy saw salvation of a different kind. In 1963 it opened a marine mammal research institute at Point Mugu, California. There, it studied whale communication, dolphin sonar, sea lion health and more, and explored using these animals for military purposes. Although many of Lilly's claims remain unproven, the Navy's work, and that of other scientists, backed Lilly's assertion that marine mammals are highly intelligent animals with sophisticated communication. In 1971 scientists Roger Payne of Rockefeller University and Scott McVay of Princeton reported in the prestigious journal Science that they had recorded vocalizations of humpback whales that were actually songs, describing them as "a series of notes … uttered in succession and so related as to form a recognizable sequence or pattern in time."4 Capitol Records released an album using Payne's whale recordings in 1970, called Songs of the Humpback Whale. And shortly thereafter recording giants such as Judy Collins and Paul Winter incorporated the whale's haunting, otherworldly songs into their music.
The idea that whales and dolphins were somehow portals to a better world resonated with people, particularly with the growing counterculture of the 1960s and '70s. With their complex communication, apparent intelligence and social nature, whales and dolphins seemed to have achieved a free-spirited harmony that eluded human society. Conservation groups capitalized on this convergence of science and spirit. Defenders of Wildlife and other national conservation groups publicized the slaughter of whales, their possible extinction and the continued importation of whale products into the U.S. News stories sympathized with Flipper-like dolphins that struggled to escape the huge nets deployed by tuna fleets and drowned in the process.
But photos of Canadian hunters clubbing baby harp seals may have been the most compelling tool for mobilizing the public. The big black eyes and impossibly white fur of helpless baby seals pulled on people's heart strings and moved them to action. America was riveted, and the letters poured into Congress.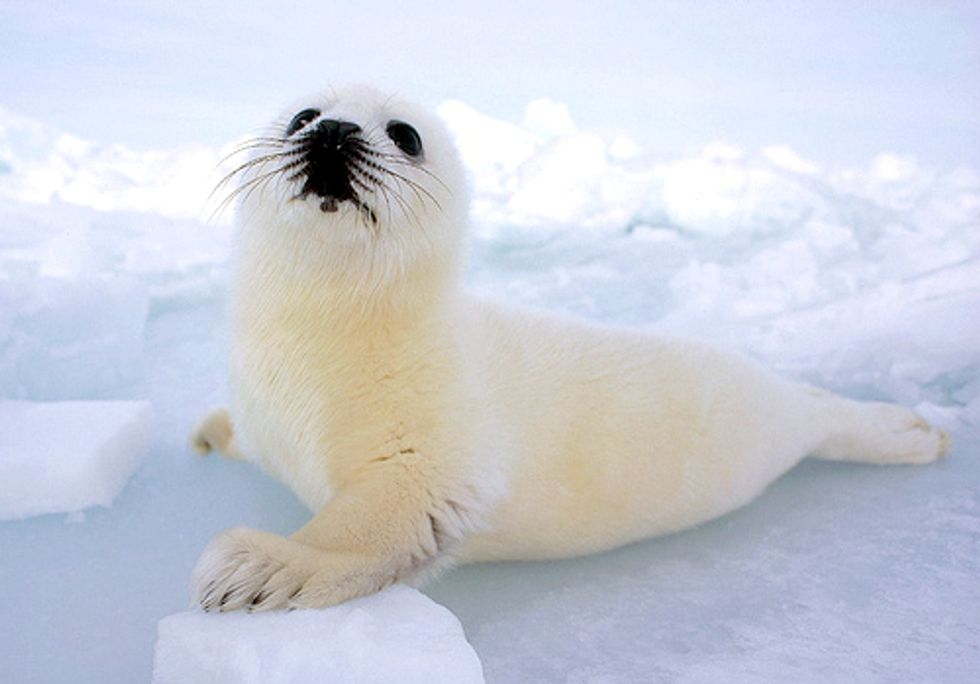 Photo by Luke Bryant. Obtained through Creative Commons
All of that angst and awe landed on Frank Potter's desk in 1971. It was Potter's job to give Chairman John Dingell (D-MI) what he wanted: a bill that would respond to the public outcry and protect marine mammals. Other bills had been introduced–most of them seeking an outright ban on all marine mammal killing. But Dingell wasn't interested in a total ban, considering it a simplistic solution to a complex problem. So Potter sought technical advice and expertise from biologist G. Carleton Ray at the Smithsonian Institution.
Ray argued for species management that allowed flexibility to reduce populations, if necessary, based on ecosystem health–a new concept at the time. Under this approach, marine mammals could be taken by permit after extensive public input if the governing agency determined that doing so wouldn't harm the population or its ecosystem. In four days of hearings in September 1971, the subcommittee heard testimony from scientists and conservation groups such as the National Wildlife Federation and Izaak Walton League supporting the management approach, and from animal welfare groups such as the Fund for Animals and the Friends of Animals supporting a complete ban instead. Some of these so-called "protectionists" called killing any marine mammal immoral, citing Lilly's work and Payne's recordings as evidence. But the question was never if marine mammals should be protected. The only question was how. Given public sentiment, doing nothing was not an option.
In the end, the management approach made more sense to a plurality of House members. By writing a bill that focused on management and not outright bans, the committee was able to produce sweeping legislation that flew through the House and Senate and was signed by President Nixon on Oct. 21, 1972. The bill moved quickly out of subcommittee and through the House, passing in March 1972. A similar Senate bill soon followed. On Oct. 21, 1972, President Nixon signed the bill into law, little more than a year after the first congressional hearings. "It was a remarkably rapid development," said Potter. "Congressional action doesn't usually happen that fast."    
The harp seal on Lyell's dissecting table this past summer in Bar Harbor, Maine wasn't bludgeoned as a baby by hunters on Arctic ice. It was found dead on a pier in Ellsworth, Maine by local residents who called Allied Whale, part of the Stranding Network, to come investigate. "I have people calling me because they can't sleep at night" worried about a seal they see on an ice floe, said Stranding Coordinator Rosemary Seton. Even when an animal is okay, people worry that it's not. 
Lyell understands that passion–it's what keeps her committed to Allied Whale. When she first started volunteering she went out on assessments: responding to stranding calls and determining whether the animal was hurt and needed care, or whether it simply had hauled out on the beach, as seals often do. Over time, she ended up playing a leading role in dissecting dead animals to help determine the cause of death. The dissections—called necropsies—were a natural fit with her nursing background. "We're mammals," she said a few days after the seal necropsy. "The anatomy is very similar." In the winter, she vacations at a whale preserve in the Dominican Republic where she can swim with humpback whales and their calves "on their terms," as she puts it. But doing so remains controversial among conservationists. Under the Marine Mammal Protection Act swimming with whales is illegal in U.S. waters. Regulations require that people keep their distance so that their presence won't disrupt normal whale behavior. Because of this, Lyell kept this part of her life secret from her colleagues for a while. But each year she's drawn back. "They look at you," she says with a long pause. "It's something that I can't really put into words."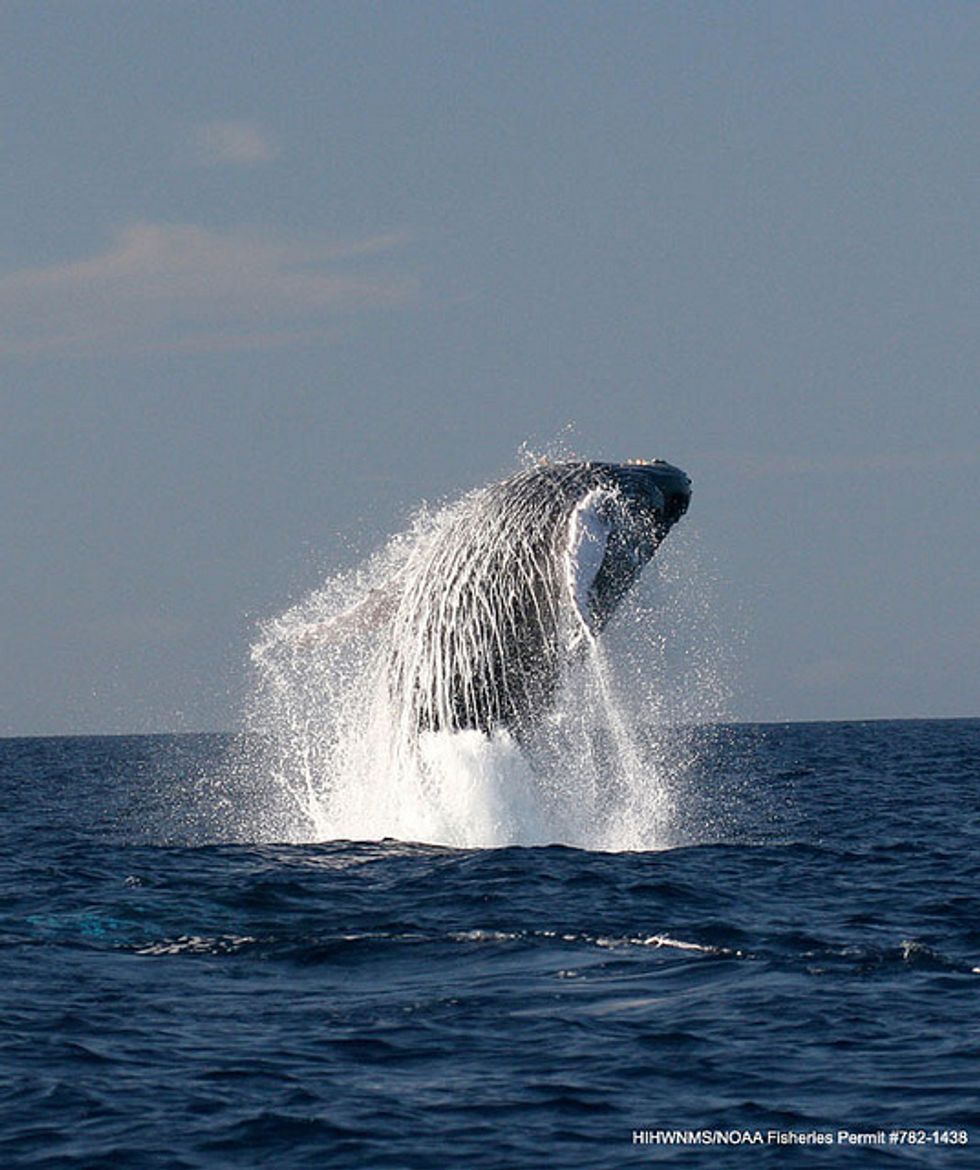 Photo by Luke Bryant. Obtained through Creative Commons
Lyell and her colleagues never figured out what killed that young harp seal. Its heart looked healthy and strong, as did everything else.  But they forwarded the data they collected to the National Oceanic and Atmospheric Administration anyway, to join the larger national database piecing together how marine mammals live and die.
Without continued federal funding, the stranding program at Allied Whale will lose most of its support, much of its capacity to help injured animals and the ability to detect emerging lethal threats. Their struggle offers a glimpse into the broader ongoing effort to protect marine mammals. Much of that effort focuses on reducing marine mammal deaths from fishing gear, ship strikes and motorboats–some of the greatest threats today. Fewer dolphins are killed by tuna fleets than in 1972, but reducing this catch further remains a contentious issue. Harp seal skins cannot be imported into the U.S., but hunting remains legal in Canada. Other marine mammal populations remain below optimum levels mandated under the Act and some, such as the North Atlantic right whale, are critically endangered. Despite 40 years of protection, the right whale population remains at less than 400 individuals, threatened by ship strikes and entanglement in fishing gear. At those levels, each animal matters.
Visit EcoWatch's BIODIVERSITY pages for more related news on this topic.
--------
Amy Mathews Amos is a freelance environmental consultant and writer, and a board member of Marine Conservation Institute.
1Lilly, John C. The Mind of the Dolphin. Doubleday & Company, Inc. Garden City, New York. 1967. p. 126.
2As quoted in Mowat, Farley. "The Trapped Whale" in Mind in the Water. Joan McIntyre (ed.) Charles Scribner's Sons New York, Sierra Club Books San Francisco. 1974. p. 26.
3As quoted in McIntyre, Joan. Mind in the Water. Joan McIntyre (ed.) Charles Scribner's Sons New York, Sierra Club Books San Francisco. 1974. p. 74
4As quoted in Payne and McVay "Songs of Humpback Whales." Science. August 13, 1971. Vol. 173 (3997): 585-597. P. 590.
The Gowanus Canal in Brooklyn, New York, a polluted nearly 2 mile-long waterway that is an EPA Superfund site. Jonathan Macagba / Moment / Getty Images
Thousands of Superfund sites exist around the U.S., with toxic substances left open, mismanaged and dumped. Despite the high levels of toxicity at these sites, nearly 21 million people live within a mile of one of them, according to the U.S. Environmental Protection Agency (EPA).
EcoWatch Daily Newsletter
The National Weather Service station in Chatham, Massachusetts, near the edge of a cliff at the Monomoy National Wildlife Refuge. Bryce Williams / National Weather Service in Boston / Norton
A weather research station on a bluff overlooking the sea is closing down because of the climate crisis.
The National Weather Service (NWS) station in Chatham, Massachusetts was evacuated March 31 over concerns the entire operation would topple into the ocean.
"We had to say goodbye to the site because of where we are located at the Monomoy Wildlife Refuge, we're adjacent to a bluff that overlooks the ocean," Boston NWS meteorologist Andy Nash told WHDH at the time. "We had to close and cease operations there because that bluff has significantly eroded."
Chatham is located on the elbow of Cape Cod, a land mass extending out into the Atlantic Ocean that has been reshaped and eroded by waves and tides over tens of thousands of years, The Guardian explained. However, sea level rise and extreme weather caused by the climate crisis have sped that change along.
"It's an extremely dynamic environment, which is obviously a problem if you are building permanent infrastructure here," Andrew Ashton, an associate scientist at Cape-Cod based Woods Hole Oceanographic Institution, told The Guardian. "We are putting our foot on the accelerator to make the environment even more dynamic."
This was the case with the Chatham weather station. It used to be protected from the drop into the ocean by about 100 feet of land. However, storm action in 2020 alone washed away as much as six feet of land a day.
"We'd know[n] for a long time there was erosion but the pace of it caught everyone by surprise," Nash told The Guardian. "We felt we had maybe another 10 years but then we started losing a foot of a bluff a week and realized we didn't have years, we had just a few months. We were a couple of storms from a very big problem."
The Chatham station was part of a network of 92 NWS stations that monitor temperature, pressure, humidity, wind speed and direction and other data in the upper atmosphere, The Cape Cod Chronicle explained. The stations send up radiosondes attached to weather balloons twice a day to help with weather research and prediction. The Chatham station, which had been observing this ritual for the past half a century, sent up its last balloon the morning of March 31.
"We're going to miss the observations," Nash told The Cape Cod Chronicle. "It gives us a snapshot, a profile of the atmosphere when the balloons go up."
The station was officially decommissioned April 1, and the two buildings on the site will be demolished sometime this month. The NWS is looking for a new location in southeastern New England. In the meantime, forecasters will rely on data from stations in New York and Maine.
Nash said the leavetaking was bittersweet, but inevitable.
"[M]other nature is evicting us," he told The Cape Cod Chronicle.
Amsterdam is one of the Netherlands' cities which already has "milieuzones," where some types of vehicles are banned. Unsplash / jennieramida
By Douglas Broom
If online deliveries continue with fossil-fuel trucks, emissions will increase by a third.
So cities in the Netherlands will allow only emission-free delivery vehicles after 2025.
The government is giving delivery firms cash help to buy or lease electric vehicles.
The bans will save 1 megaton of CO2 every year by 2030.
Cities in the Netherlands want to make their air cleaner by banning fossil fuel delivery vehicles from urban areas from 2025.
"Now that we are spending more time at home, we are noticing the large number of delivery vans and lorries driving through cities," said Netherlands environment minister Stientje van Veldhoven, announcing plans to ban all but zero-emission deliveries in 14 cities.
"The agreements we are setting down will ensure that it will be a matter of course that within a few years, supermarket shelves will be stocked, waste will be collected, and packages will arrive on time, yet without any exhaust fumes and CO2 emissions," she added.
Protestors stage a demonstration against fracking in California on May 30, 2013 in San Francisco, California. Justin Sullivan / Getty Images
The bill, SB467, would have prohibited fracking and other controversial forms of oil extraction. It would also have banned oil and gas production within 2,500 feet of a home, school, hospital or other residential facility. The bill originally set the fracking ban for 2027, but amended it to 2035, The AP reported.
"Obviously I'm very disappointed," State Sen. Scott Wiener (D-San Francisco), one of the bill's two introducers, told the Los Angeles Times. "California really has not done what it needs to do in terms of addressing the oil problem. We have communities that are suffering right now, and the Legislature has repeatedly failed to act."
The bill was introduced after California Gov. Gavin Newsom said he would sign a fracking ban if it passed the legislature, though his administration has continued to issue permits in the meantime, Forbes reported. Newsom has also spoken in favor of a buffer zone between oil and gas extraction and places where people live and learn, according to the Los Angeles Times. The latter is a major environmental justice issue, as fossil fuel production is more likely to be located near Black and Latinx communities.
Urban lawmakers who want California to lead on the climate crisis supported the bill, while inland lawmakers in oil-rich areas concerned about jobs opposed it. The oil and gas industry and trade unions also opposed the bill.
This opposition meant the bill failed to get the five votes it needed to move beyond the Senate's Natural Resources and Water Committee. Only four senators approved it, while Democrat Sen. Susan Eggman of Stockton joined two Republicans to oppose it, and two other Democrats abstained.
Eggman argued that the bill would have forced California to rely on oil extracted in other states.
"We're still going to use it, but we're going to use it from places that produce it less safely," Eggman told The AP. She also said that she supported the transition away from fossil fuels, but thought the bill jumped the gun. "I don't think we're quite there yet, and this bill assumes that we are," she added.
Historically, California has been a major U.S. oil producer. Its output peaked in 1986 at 1.1 million barrels a day, just below Texas and Alaska, according to Forbes. However, production has declined since then making it the seventh-most oil-producing state.
Still, California's fossil fuel industry is at odds with state attempts to position itself as a climate leader.

"There is a large stain on California's climate record, and that is oil," Wiener said Tuesday, according to The AP.
Wiener and Democrat co-introducer Sen. Monique Limón from Santa Barbara vowed to keep fighting.
"While we saw this effort defeated today, this issue isn't going away," they wrote in a joint statement. "We'll continue to fight for aggressive climate action, against harmful drilling, and for the health of our communities."
From Your Site Articles
Related Articles Around the Web
EXTREME-PHOTOGRAPHER / E+ / Getty Images
By Brett Wilkins
As world leaders prepare for this November's United Nations Climate Conference in Scotland, a new report from the Cambridge Sustainability Commission reveals that the world's wealthiest 5% were responsible for well over a third of all global emissions growth between 1990 and 2015.
The report, Changing Our Ways: Behavior Change and the Climate Crisis, found that nearly half the growth in absolute global emissions was caused by the world's richest 10%, with the most affluent 5% alone contributing 37%.
"In the year when the UK hosts COP26, and while the government continues to reward some of Britain's biggest polluters through tax credits, the commission report shows why this is precisely the wrong way to meet the UK's climate targets," the report's introduction states.
The authors of the report urge United Kingdom policymakers to focus on this so-called "polluter elite" in an effort to persuade wealthy people to adopt more sustainable behavior, while providing "affordable, available low-carbon alternatives to poorer households."
The report found that the "polluter elite" must make "dramatic" lifestyle changes in order to meet the UK's goal — based on the Paris climate agreement's preferential objective — of limiting global heating to 1.5°C, compared with pre-industrial levels.
In addition to highlighting previous recommendations — including reducing meat consumption, reducing food waste, and switching to electric vehicles and solar power — the report recommends that policymakers take the following steps:
Implement frequent flyer levies;
Enact bans on selling and promoting SUVs and other high polluting vehicles;
Reverse the UK's recent move to cut green grants for homes and electric cars; and
Build just transitions by supporting electric public transport and community energy schemes.
"We have got to cut over-consumption and the best place to start is over-consumption among the polluting elites who contribute by far more than their share of carbon emissions," Peter Newell, a Sussex University professor and lead author of the report, told the BBC.
"These are people who fly most, drive the biggest cars most, and live in the biggest homes which they can easily afford to heat, so they tend not to worry if they're well insulated or not," said Newell. "They're also the sort of people who could really afford good insulation and solar panels if they wanted to."
Newell said that wealthy people "simply must fly less and drive less. Even if they own an electric SUV, that's still a drain on the energy system and all the emissions created making the vehicle in the first place."
"Rich people who fly a lot may think they can offset their emissions by tree-planting schemes or projects to capture carbon from the air," Newell added. "But these schemes are highly contentious and they're not proven over time."
The report concludes that "we are all on a journey and the final destination is as yet unclear. There are many contradictory road maps about where we might want to get to and how, based on different theories of value and premised on diverse values."
"Promisingly, we have brought about positive change before, and there are at least some positive signs that there is an appetite to do what is necessary to live differently but well on the planet we call home," it states.
The new report follows a September 2020 Oxfam International study that revealed the wealthiest 1% of the world's population is responsible for emitting more than twice as much carbon dioxide as the poorest 50% of humanity combined.
Reposted with permission from Common Dreams.

From Your Site Articles
Related Articles Around the Web