Aerial Video of Alabama Oil Spill Exposes Inadequate Cleanup
Dec. 02, 2013 11:41AM EST
Energy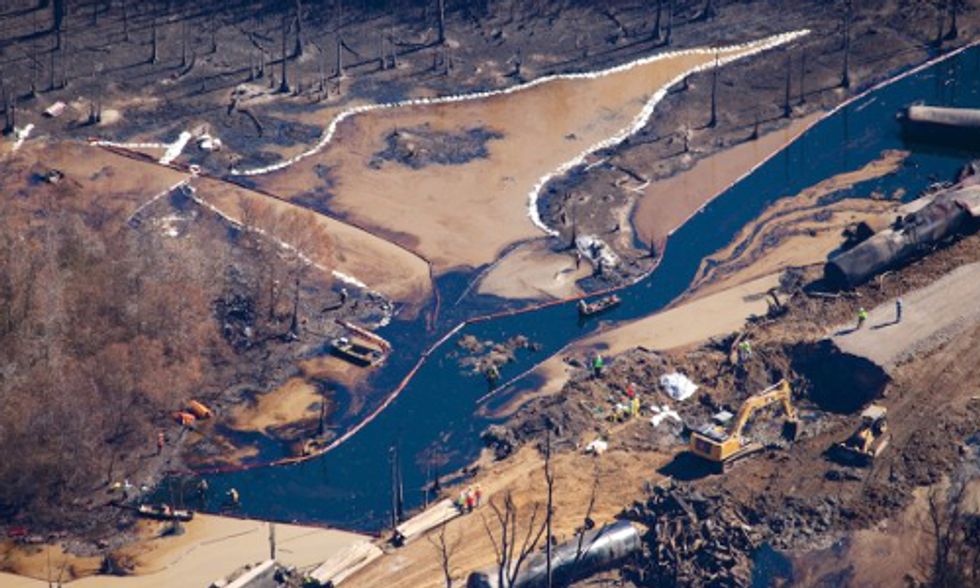 Every year, we hear about the latest oil spills, pipeline explosions and pollution…but we rarely see how people and environment are impacted over time. Public Herald is embarking on a new series "American Albatross" to investigate the environmental legacy of fossil fuel in America and solutions for cleaning it up. We begin in Aliceville, Alabama.
Efforts to clean up an Alabama oil spill are under scrutiny after a train carrying 2.7 million gallons of North Dakota Bakken crude oil exploded last month, spilling into wetlands just outside the town of Aliceville. Photojournalist John Wathen captured video of cleanup efforts one week after the Nov. 7 derailment, and the footage prompts questions about the efficacy of methods being used.
Wathen wasn't the only citizen responder in Aliceville, AL. He was joined by Scott Smith, who's visited major oil spills across the globe to deploy his biodegradable technology, OPFLEX, that can absorb oil and other toxins from polluted water. Wathen and Smith tried to reach the wetland to assess the damage and help stop the oil from moving downstream. But they were turned away by railroad personnel and threatened with the FBI. Genesee & Wyoming railroad spokesperson Michael Williams wouldn't confirm or deny the FBI's involvement and redirected Public Herald to the Bureau.
The footage captured by Wathen shows clean up workers spraying what appears to be water into the oil spill.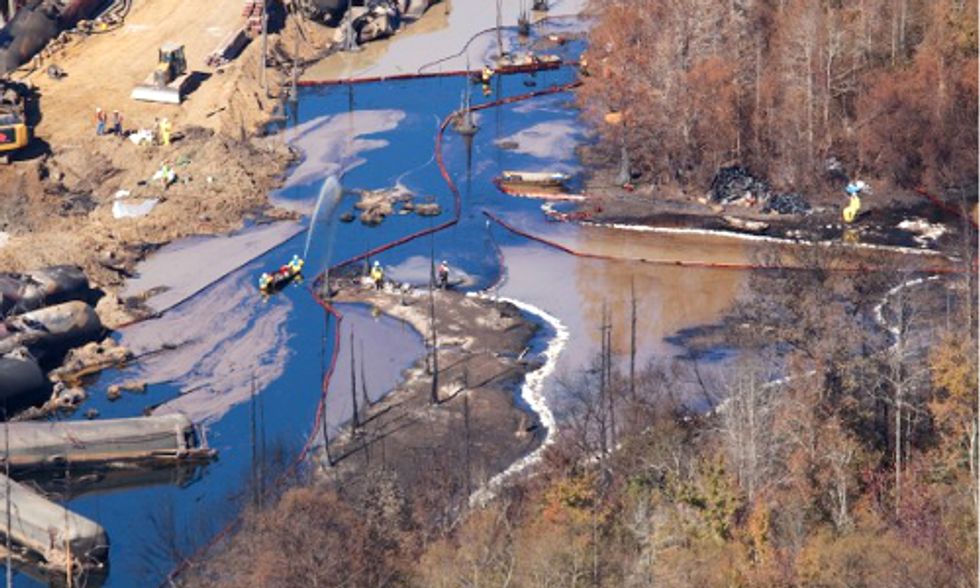 After seeing Wathen's footage, Smith wrote to the railroad company, Genesee & Wyoming, to express his concerns about the methods being used to clean up the spill:
It appears from the photos sent to me that water is being used to spray down the oil in the wetlands surrounding Aliceville, AL. There are much better options to remove the oil and help prevent further damage to the wetlands. If it rains anytime soon, there is little doubt that the oil in the water will spread downstream and things can be done now to prevent this.
Smith believes his own technology may be a better way. After the 2010 Deepwater Horizon disaster in the Gulf of Mexico, Smith sold BP more than 2 million square feet of OPFLEX for cleanup. OPFLEX is an open-celled, sponge-like material modeled after the human lung and sometimes takes the shape of eelgrass to absorb oil and other toxins from polluted water, both on and below the surface.
According to Williams, the spray method revealed in Wathen's footage is "a process used to corral the oil within the containment booms prior to skimming." However, workers appear to be spraying away from booms in some instances and towards unprotected shorelines. Smith believes the workers are actually using an outdated, defunct "dilution is the solution to pollution" method.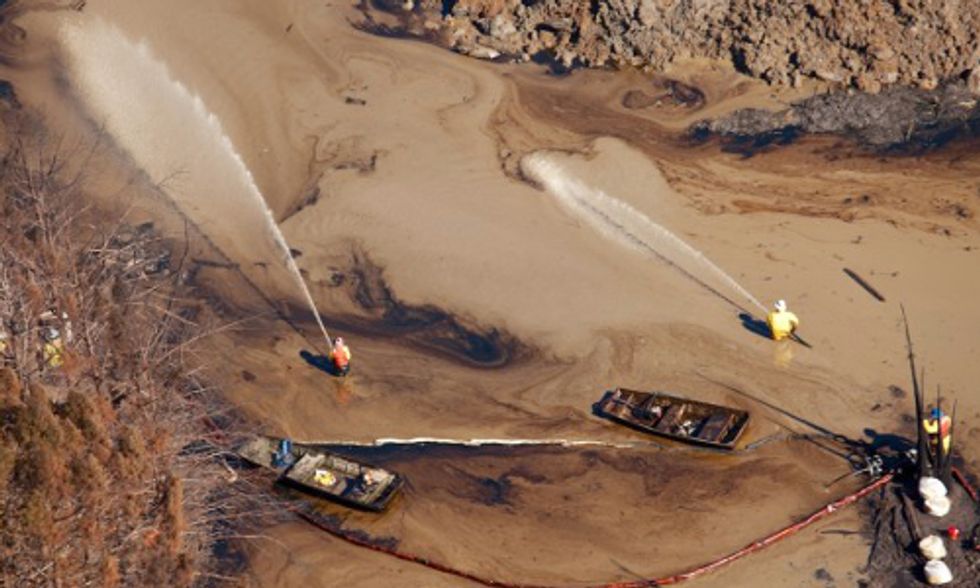 U.S. Environmental Protection Agency (EPA) Region IV, who responded to the spill, was not available for initial comment about the spraying.
According to Smith, when water is sprayed onto a shale oil spill, some toxins mixed with the oil dissolve below the surface of the water. Some of these toxins are naturally-occurring and some are byproducts of the drilling process used to extract Bakken crude, called fracking, which involves hundreds of chemicals that return to the surface with recovered oil.
How Are Oil Spills Cleaned Up?
In nearly all oil spills, containment booms are used as floating buffers to try and corral oil resting on the surface of water for skimming. Preventing oil from reaching shore is a major concern, given that oil is virtually impossible to remove from soil. The EPA and industry alike also use absorbent padding at waters edge in order to try and keep the oil off the shore.
When asked about the railroad's cleanup efforts, Williams wrote to Public Herald that "air and water monitoring began on the morning of the derailment, and the site will be remediated."
The railroad has a top oil-cleanup contractor on site who is experienced with crude oil responses for pipelines, exploration companies, railroads and shipping companies and has an established working relationship with EPA Region IV and the State of Alabama. The railroad is working closely with the EPA who are on site daily.
Williams later added their "top oil-cleanup contractor" is U.S. Environmental Services (USES), the same company involved in cleanup efforts of the 2010 BP Deepwater Horizon oil disaster in the Gulf of Mexico and others.
Of course, part of remediation involves knowing precisely how and what's been spilled. Though the cleanup and investigation of how the train derailed and exploded in Alabama is ongoing, Williams informed Public Herald that the railway was up and running ten days after the incident and trains carrying Bakken crude are being diverted around Aliceville.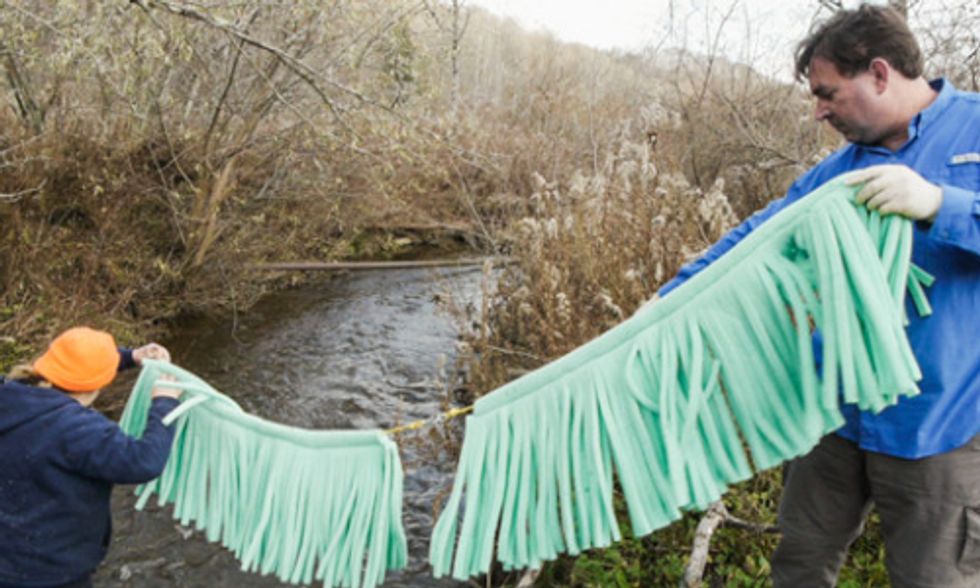 Series of Spills Reveals Crude Trend
Four months before the Alabama spill, Smith visited another oil train disaster in Lac-Mégantic, Quebec, where railcars—also carrying Bakken crude oil—derailed and exploded killing more than 40 people and decimating half the town.
CBC News Montreal reported in August that the "U.S. Department of Transportation…authorities were worried prior to the Lac-Mégantic disaster about the transport of oil from North Dakota on trains." Another CBC News report states that Lac-Megantic investigators found it "unusual for crude oil to burn so fiercely."
Smith has sampled and tested Bakken crude. According to him, not only is Bakken crude lighter and more volatile than other oils, but no one is testing or "fingerprinting" each shipment before placing it in railcars or pipelines for transport. "The objective is to pump it and load it," Smith told CBC News Montreal.
Smith offered his test results to help with Genesee & Wyoming's ongoing investigation. "I have done baseline fingerprinting of Bakken crude oil in its 'pure form'…This data might help Genesee & Wyoming assess exactly what was in the tankers that exploded."
CBC News also reported tests of Bakken crude by one oil company which showed ten times the amount of benzene in Bakken oil as compared with others, as well as hydrogen sulfide, leading some experts to wonder about the crude's propensity to easily ignite.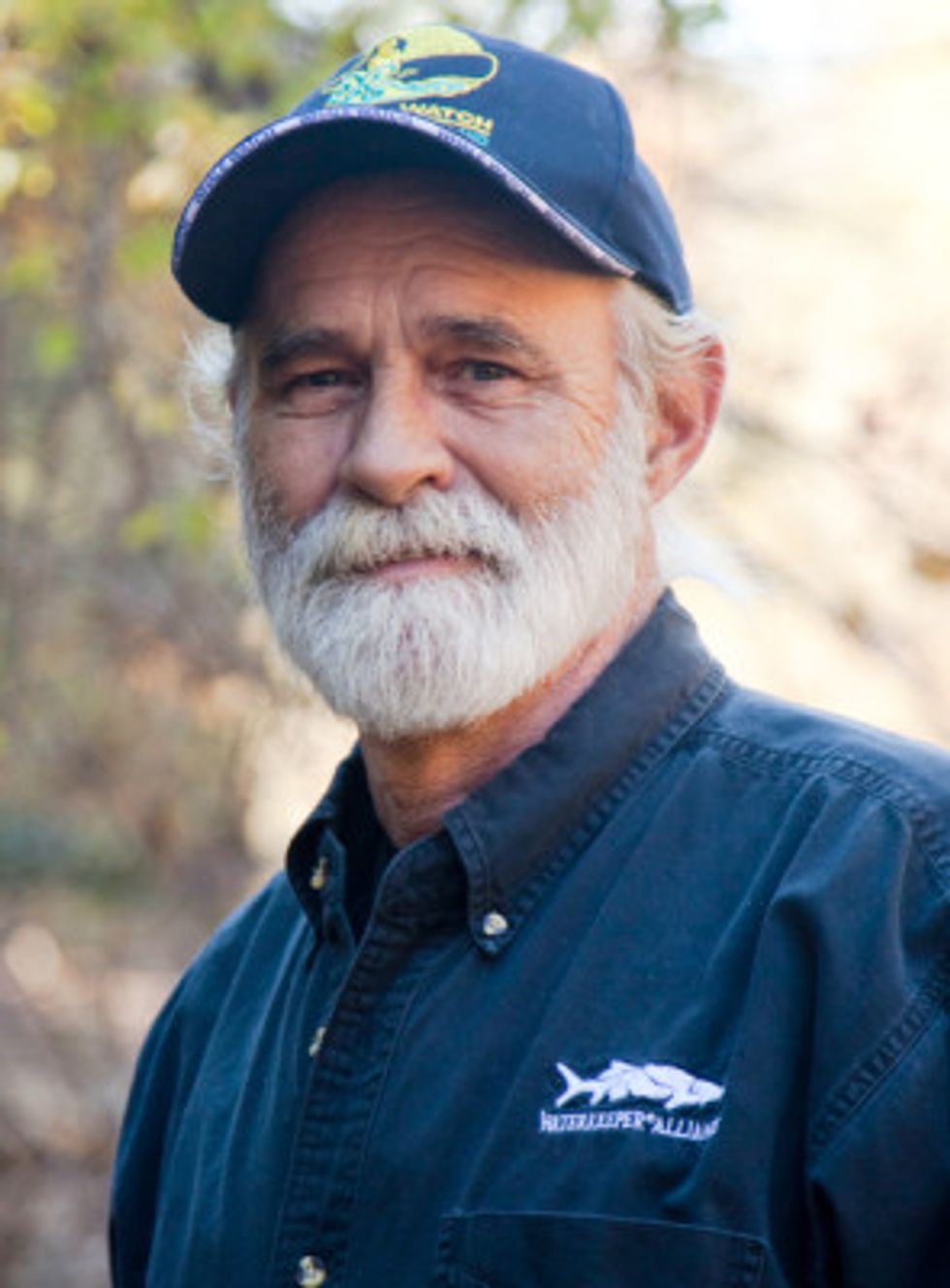 Like Smith, John Wathen has responded to many environmental disasters. As Hurricane Creekkeeper of the international Waterkeeper Alliance, Wathen responded to the 2008 Kingston coal ash disaster in Tennessee and the BP Gulf of Mexico spill in 2010, which won him the honor of being named 2012 River Hero. His documentation of these incidents gives a close-up look at how spills are handled.
Aliceville is just the latest in a series of spill disasters in North America, topping a growing list of incidents related to fossil fuel's production, transport, distribution, and waste disposal. Setting aside natural gas facility explosions and coal ash spills, here's a list of some of the oil spill disasters in the U.S., or involving U.S. companies, in just the last three years:
Jan. 11, 2010 – Aleutian Islands, AK – Adak Petroleum tank spill
Jan. 23, 2010 – Port Arthur, TX – ExxonMobil tanker ship hit by barge, spill
April 7, 2010 – Delta National Wildlife Refuge, LA – ExxonMobil pipeline contractor spill
April 20, 2010 – Gulf of Mexico, U.S. – BP Deepwater Horizon explosion, spill
May 1, 2010 – Niger Delta, Nigeria – ExxonMobil spill
May 25, 2010 – Anchorage, AK – BP Trans-Alaska pipeline spill
June 11, 2010 – Salt Lake City, UT – Chevron Red Butte Creek oil spill
July 26, 2010 – Kalamazoo, MI – Enbridge pipeline rupture into Kalamazoo River
July 27, 2010 – Barataria Bay, LA -Boat struck a Cedyco Corp. abandoned wellhead,  five day spill
Dec. 1, 2010 – Salt Lake City, UT – Chevron Red Butte Creek oil spill, part II
March 18, 2011 – Gulf coast, LA – Oil spill, unknown origin
July 1, 2011 – Billings, MT - ExxonMobil Yellowstone River oil spill
July 13, 2011 – Prudhoe Bay, AK – BP pipeline leak, spill
Nov. 8, 2011 – Campos Basin, Brazil – Chevron offshore rig oil spill
Dec. 21, 2011 – Niger Delta, Nigeria – Shell offshore oil spill
April 28, 2012 – Torbert, LA – Exxon Mobile pipeline spill
Oct. 29, 2012 – Sewaren, NJ – Arthur Kill oil spill after Hurricane Sandy
Dec. 21, 2012 – McKenzie County, ND – Newfield well blowout, spill
March 9, 2013 – Magnolia, AR – Lion Oil refinery leak
March 26, 2013 – Willard Bay, UT – Chevron pipeline rupture, spill, groundwater contamination
March 30, 2013 – Mayflower, AR – ExxonMobil Pegasus pipeline rupture, spill
May 7, 2013 – Milner, ND – TransCanada pipeline leak, spill
May 9, 2013 – Indianapolis, IN – Marathon Oil pipeline leak, spill
May 18, 2013 – Cushing, OK – Enbridge storage terminal leak, spill
Sept. 25, 2013 – Tioga, ND – Tesaro Logistics pipeline rupture, spill
Nov. 7, 2013 – Aliceville, AL – Genesee & Wyoming crude train explosion, spill
This is not a comprehensive list. According to an analysis by EnergyWire, more than 17,000 spills were reported between 2010-2012 in the U.S.
"Best" Method of Transporting Oil
Due to a surge in American fossil fuel production in recent years, oil-by-rail has become an alternative for many companies at a time when pipelines are taboo, crowned in controversy by the Keystone XL. The L.A. Times reported in September that railroads are carrying 25 times more crude oil than they were five years ago.
Genesee & Wyoming's Michael Williams wrote to Public Herald, "Rail is the safest means of ground-freight transportation…As a common carrier, the railroad has a legal obligation to transport these materials."
Both railways and pipelines can be "common carriers" which are legally required to carry all freight, if space allows and fees are paid, and may not refuse unless reasonable grounds exist. Under international law, a common carrier is liable for damage to freight as well, with four exceptions:  "An act of nature, an act of the public enemies, fault or fraud by the shipper, [or] an inherent defect in the goods."
Whether pipelines or railways are "safer" for transport of hazardous materials like crude oil is debatable, but writer Russ Blinch gives an interesting analogy:
Looking at pipelines versus rail tankers is really like asking, "Should I drive the car with bad brakes or the one with bad tires?
For those living along routes for transporting hazardous materials, whether by pipe or by rail, it's unlikely anyone's taken time to ask which methods or cleanup technology communities prefer industry use.
 Visit EcoWatch's FRACKING page for more related news on this topic.

Winegrowers check vines during the burning of anti-frost candles in the Luneau-Papin wine vineyard in Le Landreau, near Nantes, western France, on April 12, 2021. SEBASTIEN SALOM-GOMIS / AFP via Getty Images
French winemakers are facing devastating grape loss from the worst frost in decades, preceded by unusually warm temperatures, highlighting the dangers to the sector posed by climate change.
"An important share of the harvest has been lost. It's too early to give a percentage estimate, but in any case it's a tragedy for the winegrowers who have been hit," said Christophe Chateau, director of communications at the Bordeaux Wine Council, told CNN.
Climate change, caused by the extraction and combustion of fossil fuels, has pushed winegrowing seasons earlier, putting crops at higher risk of cold — and wildfires supercharged by climate change also threaten American vignerons and farmworkers as well.
"I think it's good for people to understand that this is nature, climate change is real, and to be conscious of the effort that goes into making wine and the heartbreak that is the loss of a crop," Jeremy Seysses of Domaine Dujac in Burgundy's Côte de Nuits told Wine Enthusiast.
As reported by Wine Enthusiast:
Last week, images of candlelit French vineyards flooded social media. Across the country, winemakers installed bougies, or large wax-filled metal pots, among the vines to prevent cold air from settling in during an especially late frost.

With temperatures in early April as low as 22°F, and following an unseasonably warm March, this year's frost damage may be the worst in history for French winegrowers. Every corner of France reports considerable losses, from Champagne to Provence, and Côtes de Gascogne to Alsace. As a result, there will likely be very little French wine from the 2021 vintage reaching U.S. shores.
For a deeper dive:

CNN, Wine Enthusiast, France24, Eater
For more climate change and clean energy news, you can follow Climate Nexus on Twitter and Facebook, sign up for daily Hot News, and visit their news site, Nexus Media News.
From Your Site Articles
Related Articles Around the Web
EcoWatch Daily Newsletter
A recent study focused on regions in Ethiopia, Africa's largest coffee-producing nation. Edwin Remsberg / Getty Images
Climate change could make it harder to find a good cup of coffee, new research finds. A changing climate might shrink suitable areas for specialty coffee production without adaptation, making coffee taste blander and impacting the livelihoods of small farms in the Global South.
In "Weather," Jenny Offill tells the story of a librarian named Lizzie who prepares for a climate apocalypse. Andrew Merry / Getty Images
By Suzanne Cords
One day Lizzie, the first-person narrator of the novel, receives an old book as a gift, with a dedication wishing the reader to be among the survivors. Like the preppers who build bunkers and stockpile supplies in remote areas to be ready for the end of the world, Lizzie is convinced that the end of the world is definitely near in times of a threatening climate disaster.
Lizzie, who lives in New York with her husband and son, is a university campus librarian. She worries about almost everything: her brother, an ex-junkie, or her dental insurance and the future in the face of the apocalypse. She is obsessed with reading reference books and articles about climate change.
She also devours words of wisdom, including about Buddhist spirituality: "A visitor once asked the old monks on Mount Athos what they did all day, and was told: We have died and we are in love with everything." But nothing can lift her spirits.
'Lizzie Is Just Like Us'
Lizzie observes rich New Yorkers plan their move to regions that are less threatened by climate change, something she simply cannot afford. Sometimes she watches disaster movies, which lead her to worry even more.
Above all, she is a gifted observer of her fellow human beings. "Young person worry: What if nothing I do matters? Old person worry: What if everything I do, does?"
Lizzie, the U.S. author told DW, is a bit like the rest of us — well aware of the climate crisis, but because she cares and worries about so many other things, that awareness falls by the wayside. That's how she felt herself, Jenny Offill said, but the more she looked into the issue, the more she saw a need for action on her part, too.

"I also was trying to see if there was a way to make it funny, because, you know, so much of the world of prepping and imagining disaster is actually sort of strangely funny."
The novel was shortlisted for the 2020 UK's Women's Prize for Fiction and has now been released in German translation.
Climate Activist With a Vision
But then, there is also this serious, scientifically based concern about what climate change means. In the past, says Offill, artists were the ones who would predict disasters; today it's the experts, as well as the students she teaches. In the end, their fears and their justified anger motivated her to take a closer look at the issue. Today, she is a climate activist herself, and is involved in initiatives along with many other artists.
Lizzie, the heroine of Weather, hasn't gotten that far. But she voices her fears, and that's a start. "Of course, the world continues to end," says Sylvia, a mentor of Lizzie's, at one point — and commences to water her garden. There is hope after all.
Reposted with permission from Deutsche Welle.
A Shell oil drilling rig off the coast of Alaska in the Chukchi Sea on May 21, 2015. Orjan F. Ellingvag / Corbis via Getty Images
By Jake Johnson
A federal appeals court on Tuesday dealt the final blow to former President Donald Trump's attempt to open nearly 130 million acres of territory in the Arctic and Atlantic Oceans to oil and gas drilling.
Electric vehicles are the cars of the future. sl-f / Getty Images
By 2035, every new car and truck sold in the U.S. could be an EV, a new report says.
Accelerations in technology and especially battery affordability, paired with new policy, mean the dramatic transition would save American drivers $2.7 trillion by 2050, an average savings of $1,000 per household per year.
The ramp up in EV production would also create 2 million new jobs by 2035. Battery prices have fallen 74% since 2014, and their unexpectedly rapid fall is a key driver of the cost savings.
EVs are far simpler mechanically, and more efficient, than internal combustion engine (ICE) vehicles, which translates to reduced climate pollution and lower costs for consumers.
Strengthened vehicle efficiency standards and investment in fast charging infrastructure are needed to accelerate the transition, which would prevent 150,000 premature deaths and save $1.3 trillion in health environmental costs by 2050.
For a deeper dive:

The Guardian, Fast Company, E&E, Morning Consult, Canary Media

For more climate change and clean energy news, you can follow Climate Nexus on Twitter and Facebook, sign up for daily Hot News, and visit their news site, Nexus Media News.