This website uses cookies to ensure you get the best experience while browsing it. By clicking 'Got It' you're accepting these terms.
Advocacy Group Demands Monsanto Retract Ridiculous Comments on WHO Glyphosate Report
Apr. 06, 2015 09:53AM EST
Food
In response to the World Health Organization's decision to classify the weed-killer glyphosate as a "probably carcinogenic to humans," Monsanto's top executive pulled out the rhetorical machine guns, launching an all-out attack against the prestigious international health agency and its scientists.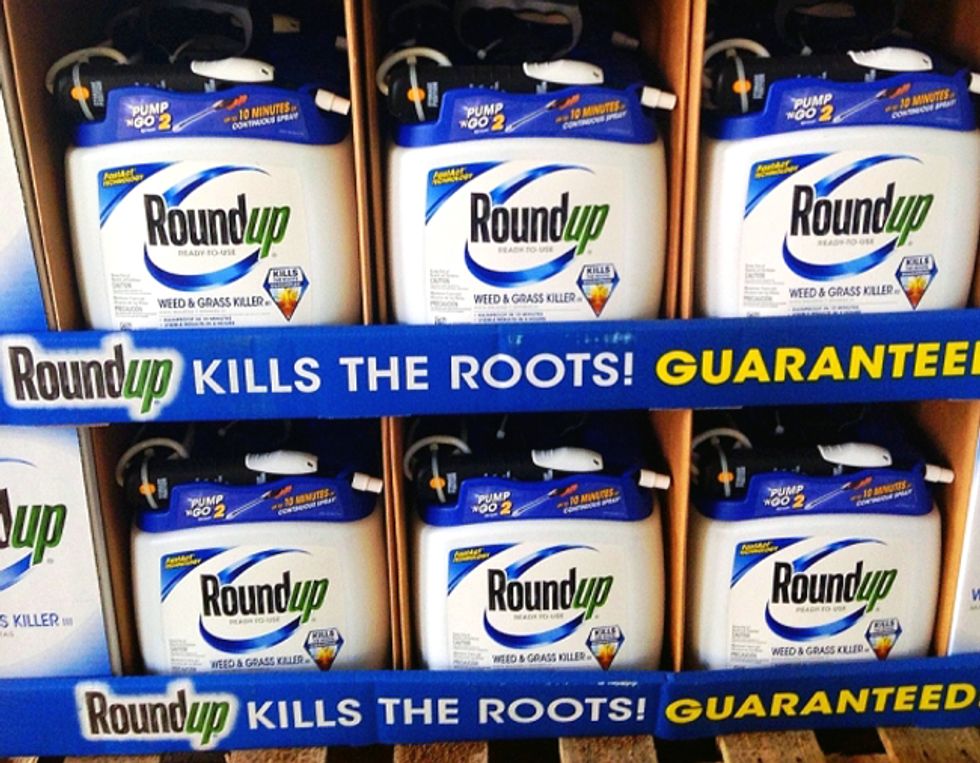 "It's unfortunate that junk science and this kind of mischief can create so much confusion for consumers," said Hugh Grant, Monsanto's chairman and CEO, during a call with investors.
Grant was referring to the unanimous conclusion reached by 17 of the world's leading cancer experts who reviewed hundreds of government and independent studies of the potential health risks from exposure to glyphosate—the main ingredient in Monsanto's top-selling herbicide, marketed as RoundUp.
Jennifer Sass, a senior scientist at the Natural Resources Defense Council and herself a nationally-recognized expert on pesticides and human health, described in great detail the process the scientists went through in deciding to elevate the cancer assessment of the crop chemical to "probably carcinogenic to humans."
"Mr. Grant and Monsanto should immediately retract these ridiculous comments and instead turn their attention to the potential risks their product poses to customers, farm workers and the millions of others who are exposed to glyphosate," said Ken Cook, president and co-founder of Environmental Working Group. "A good start would be to fund an independent testing program for glyphosate in air in the Midwest—including towns and cities—during the Roundup saturation-spray season. We'd be happy to help the company design and execute a plan to expand on the U.S. Geological Survey work that found its weed-killer everywhere—air, water, even rainfall—in the areas where it is heavily used."
Cook added, "Mr. Grant and his investors may need a refresher into Monsanto's history of mischief and misdeeds that have caused immeasurable harm to people and the environment. Does Anniston, Alabama ring a bell? Monsanto is in the pantheon of chemical companies with a long rap sheet of environmental and public health harm and deception."
In the May 2008 edition of Vanity Fair, journalists Donald Bartlett and James Steele documented a multitude of transgressions by the seed and pesticide giant in a blistering investigative report. They wrote:
The Monsanto Company has never been one of America's friendliest corporate citizens. Given Monsanto's current dominance in the field of bioengineering, it's worth looking at the company's own DNA. The future of the company may lie in seeds, but the seeds of the company lie in chemicals. Communities around the world are still reaping the environmental consequences of Monsanto's origins.
These are just a few more highlights of Monsanto's history of bad behavior:
Monsanto Co. routinely discharged toxic waste into a west Anniston creek and dumped millions of pounds of PCBs into oozing open-pit landfills. And thousands of pages of Monsanto documents—many emblazoned with warnings such as "CONFIDENTIAL: Read and Destroy"—show that for decades, the corporate giant concealed what it did and what it knew.
In 1966, Monsanto managers discovered that fish submerged in that creek turned belly-up within 10 seconds, spurting blood and shedding skin as if dunked into boiling water. They told no one. In 1969, they found fish in another creek with 7,500 times the legal PCB levels. They decided "there is little object in going to expensive extremes in limiting discharges."
YOU MIGHT ALSO LIKE
EPA Approves GMO Weed Killer Enlist Duo in Nine More States
Monsanto Demands World Health Organization Retract Report That Says Roundup Is Linked to Cancer
EcoWatch Daily Newsletter
The Opera House is seen with smoke haze which enveloped Sydney Harbor on Dec. 10 in Sydney, Australia. Smoke haze hangs over the city as the New South Wales fire danger risk is raised from 'very high' to 'severe'. James D. Morgan / Getty Images
The brushfires raging through New South Wales have shrouded Australia's largest city in a blanket of smoke that pushed the air quality index 12 times worse than the hazardous threshold, according to the Australia Broadcast Corporation (ABC).
People walk across the bridge near Little Raven Court in downtown Denver. Younger Americans increasingly prefer to live in walkable neighborhoods. Helen H. Richardson / The Denver Post via Getty Images
By David B. Goldstein
Energy efficiency is the cornerstone of any country's plan to fight the climate crisis. It is the cheapest option available, and one that as often as not comes along with other benefits, such as job creation, comfort and compatibility with other key solutions such as renewable energy. This has been recognized by the International Energy Agency (IEA) for at least a decade.
Activists from Extinction Rebellion New York City engaged in nonviolent direct action to confront climate change outside City Hall on April 17, 2019. Erik McGregor / Pacific Press / LightRocket via Getty Images
By Andrea Germanos

Over 500 groups on Monday rolled out an an action plan for the next president's first days of office to address the climate emergency and set the nation on a transformative path towards zero emissions and a just transition in their first days in office.

The Ladakh region of India, pictured above, is a part of the Himalayan mountain region of the upper Indus Valley which is the most vulnerable water tower, according to researchers. Suttipong Sutiratanachai / Moment / Getty Images
Jet stream triggered heat waves could threaten food production in several important breadbaskets, including central North America.
Carl Wycoff /
CC BY 2.0
Researchers have pinpointed a previously underexamined threat to global food production, and they warn it will only get worse as the climate crisis intensifies.