This website uses cookies to ensure you get the best experience while browsing it. By clicking 'Got It' you're accepting these terms.
Advocacy Group Demands Monsanto Retract Ridiculous Comments on WHO Glyphosate Report
Apr. 06, 2015 09:53AM EST
In response to the World Health Organization's decision to classify the weed-killer glyphosate as a "probably carcinogenic to humans," Monsanto's top executive pulled out the rhetorical machine guns, launching an all-out attack against the prestigious international health agency and its scientists.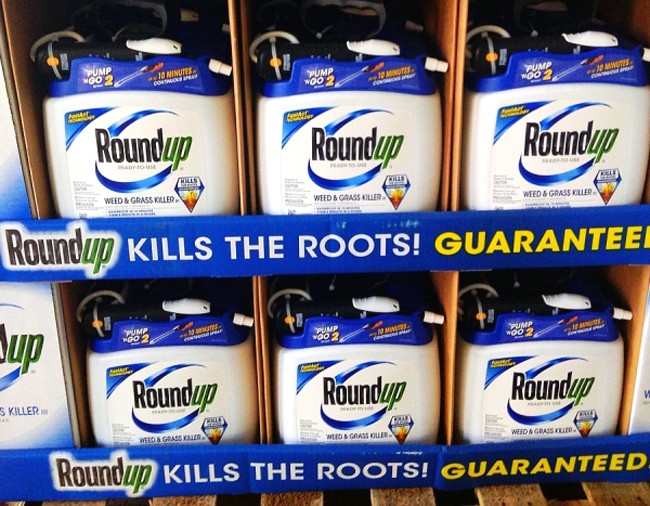 "It's unfortunate that junk science and this kind of mischief can create so much confusion for consumers," said Hugh Grant, Monsanto's chairman and CEO, during a call with investors.
Grant was referring to the unanimous conclusion reached by 17 of the world's leading cancer experts who reviewed hundreds of government and independent studies of the potential health risks from exposure to glyphosate—the main ingredient in Monsanto's top-selling herbicide, marketed as RoundUp.
Jennifer Sass, a senior scientist at the Natural Resources Defense Council and herself a nationally-recognized expert on pesticides and human health, described in great detail the process the scientists went through in deciding to elevate the cancer assessment of the crop chemical to "probably carcinogenic to humans."
"Mr. Grant and Monsanto should immediately retract these ridiculous comments and instead turn their attention to the potential risks their product poses to customers, farm workers and the millions of others who are exposed to glyphosate," said Ken Cook, president and co-founder of Environmental Working Group. "A good start would be to fund an independent testing program for glyphosate in air in the Midwest—including towns and cities—during the Roundup saturation-spray season. We'd be happy to help the company design and execute a plan to expand on the U.S. Geological Survey work that found its weed-killer everywhere—air, water, even rainfall—in the areas where it is heavily used."
Cook added, "Mr. Grant and his investors may need a refresher into Monsanto's history of mischief and misdeeds that have caused immeasurable harm to people and the environment. Does Anniston, Alabama ring a bell? Monsanto is in the pantheon of chemical companies with a long rap sheet of environmental and public health harm and deception."
In the May 2008 edition of Vanity Fair, journalists Donald Bartlett and James Steele documented a multitude of transgressions by the seed and pesticide giant in a blistering investigative report. They wrote:
The Monsanto Company has never been one of America's friendliest corporate citizens. Given Monsanto's current dominance in the field of bioengineering, it's worth looking at the company's own DNA. The future of the company may lie in seeds, but the seeds of the company lie in chemicals. Communities around the world are still reaping the environmental consequences of Monsanto's origins.
These are just a few more highlights of Monsanto's history of bad behavior:
Monsanto Co. routinely discharged toxic waste into a west Anniston creek and dumped millions of pounds of PCBs into oozing open-pit landfills. And thousands of pages of Monsanto documents—many emblazoned with warnings such as "CONFIDENTIAL: Read and Destroy"—show that for decades, the corporate giant concealed what it did and what it knew.
In 1966, Monsanto managers discovered that fish submerged in that creek turned belly-up within 10 seconds, spurting blood and shedding skin as if dunked into boiling water. They told no one. In 1969, they found fish in another creek with 7,500 times the legal PCB levels. They decided "there is little object in going to expensive extremes in limiting discharges."
YOU MIGHT ALSO LIKE
EPA Approves GMO Weed Killer Enlist Duo in Nine More States
Monsanto Demands World Health Organization Retract Report That Says Roundup Is Linked to Cancer
EcoWatch Daily Newsletter
Mizina / iStock / Getty Images
Oats are widely regarded as one of the healthiest grains you can eat, as they're packed with many important vitamins, minerals, and fiber.
JPMorgan Chase building in New York City. Ben Sutherland / CC BY 2.0
By Sharon Kelly
A report published Wednesday names the banks that have played the biggest recent role in funding fossil fuel projects, finding that since 2016, immediately following the Paris agreement's adoption, 33 global banks have poured $1.9 trillion into financing climate-changing projects worldwide.
Sriram Madhusoodanan of Corporate Accountability speaking on conflict of interest demand of the People's Demands at a defining action launching the Demands at COP24. Corporate Accountability
By Patti Lynn
2018 was a groundbreaking year in the public conversation about climate change. Last February, The New York Times reported that a record percentage of Americans now believe that climate change is caused by humans, and there was a 20 percentage point rise in "the number of Americans who say they worry 'a great deal' about climate change."
The head of England's Environment Agency has urged people to stop watering their lawns as a climate-induced water shortage looms. Pexels
England faces an "existential threat" if it does not change how it manages its water, the head of the country's Environment Agency warned Tuesday.
Pexels
By Jessica Corbett
A new analysis revealed Tuesday that over the past two decades heat records across the U.S. have been broken twice as often as cold ones—underscoring experts' warnings about the increasingly dangerous consequences of failing to dramatically curb planet-warming emissions.
A flock of parrots in Telegraph Hill, San Francisco.
~dgies / Flickr
By Madison Dapcevich
Ask any resident of San Francisco about the waterfront parrots, and they will surely tell you a story of red-faced conures squawking or dive-bombing between building peaks. Ask a team of researchers from the University of Georgia, however, and they will tell you of a mysterious string of neurological poisonings impacting the naturalized flock for decades.
Fire burns in the North Santiam State Recreational Area on March 19. Oregon Department of Forestry
An early-season wildfire near Lyons, Oregon burned 60 acres and forced dozens of homes to evacuate Tuesday evening, the Oregon Department of Forestry (ODF) said, as KTVZ reported.
The initial cause of the fire was not yet known, but it has been driven by the strong wind and jumped the North Santiam River, The Salem Statesman Journal reported. As of Tuesday night, it threatened around 35 homes and 30 buildings, and was 20 percent contained.
Edwin Hardeman is the plaintiff in the first U.S. federal trial claiming that Roundup causes cancer. NOAH BERGER / AFP / Getty Images
A second U.S. jury has ruled that Roundup causes cancer.
The unanimous verdict was announced Tuesday in San Francisco in the first federal case to be brought against Monsanto, now owned by Bayer, alleging that repeated use of the company's glyphosate-containing weedkiller caused the plaintiff's cancer. Seventy-year-old Edwin Hardeman of Santa Rosa, California said he used Roundup for almost 30 years on his properties before developing non-Hodgkin's lymphoma.
The decision comes less than a year after a jury awarded $289 million to Bay-area groundskeeper Dewayne Johnson over similar claims. The amount was later reduced to $78 million.
"Today's verdict reinforces what another jury found last year, and what scientists with the state of California and the World Health Organization have concluded: Glyphosate causes cancer in people," Environmental Working Group President Ken Cook said in a statement. "As similar lawsuits mount, the evidence will grow that Roundup is not safe, and that the company has tried to cover it up."
Judge Vince Chhabria has split Hardeman's trial into two phases. The first, decided Tuesday, focused exclusively on whether or not Roundup use caused the plaintiff's cancer. The second, to begin Wednesday, will assess if Bayer is liable for damages.

"We are disappointed with the jury's initial decision, but we continue to believe firmly that the science confirms glyphosate-based herbicides do not cause cancer," Bayer spokesman Dan Childs said in a statement reported by The Guardian. "We are confident the evidence in phase two will show that Monsanto's conduct has been appropriate and the company should not be liable for Mr. Hardeman's cancer."
Some legal experts said that Chhabria's decision to split the trial was beneficial to Bayer, Reuters reported. The company had complained that the jury in Johnson's case had been distracted by the lawyers' claims that Monsanto had sought to mislead scientists and the public about Roundup's safety.

However, a remark made by Chhabria during the trial and reported by The Guardian was blatantly critical of the company.
"Although the evidence that Roundup causes cancer is quite equivocal, there is strong evidence from which a jury could conclude that Monsanto does not particularly care whether its product is in fact giving people cancer, focusing instead on manipulating public opinion and undermining anyone who raises genuine and legitimate concerns about the issue," he said.
Many regulatory bodies, including the U.S. Environmental Protection Agency, have ruled that glyphosate is safe for humans, but the World Health Organization's International Agency for Research on Cancer found it was "probably carcinogenic to humans" in 2015. A university study earlier this year found that glyphosate use increased cancer risk by as much as 41 percent.
Hardeman's lawyers Jennifer Moore and Aimee Wagstaff said they would now reveal Monsanto's efforts to mislead the public about the safety of its product.
"Now we can focus on the evidence that Monsanto has not taken a responsible, objective approach to the safety of Roundup," they wrote in a statement reported by The Guardian.
Hardeman's case is considered a "bellwether" trial for the more than 760 glyphosate cases Chhabria is hearing. In total, there are around 11,200 such lawsuits pending in the U.S., according to Reuters.
University of Richmond law professor Carl Tobias told Reuters that Tuesday's decision showed that the verdict in Johnson's case was not "an aberration," and could possibly predict how future juries in the thousands of pending cases would respond.