Adidas Wants to Turn Ocean Plastic Into Sportswear
Would you buy shoes or clothes made from trash that is recovered from the ocean?
Adidas has partnered with Parley for the Oceans to develop materials made from ocean plastic waste to use in its products starting in 2016. The sportswear giant will also phase out plastic bags in its 2,900 retail stores around the world. Parley for the Oceans is a team of artists, musicians, actors, directors, fashion designers, journalists, architects, product inventors and scientists that addresses major threats to the world's oceans.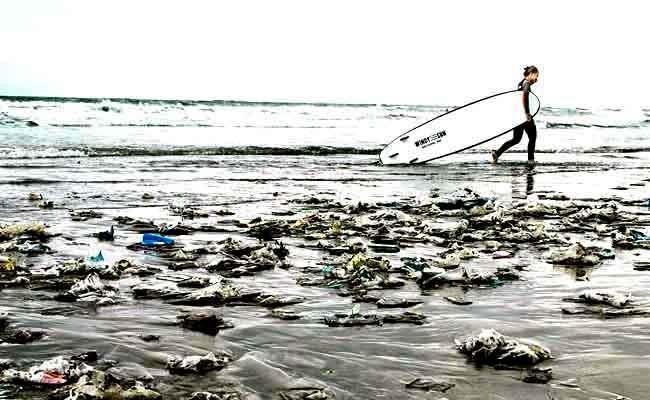 "The conservation of the oceans is a cause that is close to my heart and those of many employees at the Adidas Group," said Eric Liedtke, Adidas Group executive board member responsible for global brands. "By partnering with Parley for the Oceans we are contributing to a great environmental cause. We co-create fabrics made from ocean plastic waste which we will integrate into our product."
As we previously mentioned, plastic—from plastic bags and bottles to tiny microbeads of plastic broken down from larger sources—is a major threat to marine life and marine ecosystems. The staggering 8 million tons of plastic tossed into the oceans every year also causes about $13 billion in damages annually.
"Our oceans are about to collapse and there is not much time left to turn it around. Nobody can solve this alone. Everyone has to be part of the solution. And collaboration is the magic formula," said Cyrill Gutsch, founder of Parley for the Oceans. "We are extremely excited about this partnership. There is no other brand that carries the culture of collaboration in the DNA like Adidas. Together, we will not only focus on creating the next generation of design concepts, technologies, materials and products. We will also engage consumers, athletes, artists, designers, actors, musicians, scientists and environmentalists to raise their voice and contribute their skills for the ocean cause."
Besides Adidas, many other major clothing companies are ramping up their sustainability practices. Outdoor clothing company Patagonia is making efforts to get rid of toxic chemicals in their materials. Additionally, fast fashion retailer H&M is the world's largest purchaser of organic cotton and has set up an in-store recycling program, which has brought in around 13,000 tons of clothing.
The announcement from Adidas coincides with the publication of their 15th annual sustainability report, which highlighted the company's efforts to green up their gear. According to the report, the iconic sportswear brand has used more sustainable cotton than ever before, with 30 percent of all its cotton coming from sustainable sources, exceeding the originally planned 25 percent target. The company has committed to 100 percent sustainable cotton by 2018 and has also increased quantities of recycled polyester into their product line.
Adidas, along with Nike and Puma, made a major commitment to eliminating all discharges of hazardous chemicals throughout their supply chain and across the entire life cycle of their products by 2020. However, environmental groups such as Greenpeace criticized the sportswear brands last May for failing to take the critical steps needed to meet its target.
But now, in its most recent Detox Catwalk report, Greenpeace praised the clothing brand for its latest environmental initiatives. "Adidas is now back on track as a Detox leader. Two years after it crossed the line as one of the original Detox pioneers, Adidas began failing to meet its commitment. That was until global pressure from the Detox movement helped it get back on side in June 2014," Greenpeace said. "Adidas has delivered on its commitment to ensure that 99 percent of its wet processing supply chain facilities in China publicly report data via the credible Institute for Environmental Affairs platform. It also publishes its list of suppliers and encourages facilities to divulge their respective customers when reporting data."
YOU MIGHT ALSO LIKE
3 Companies Specializing in Organic Clothing for Kids
Look Out Cotton, These 3 Fruits Are Shaking Up the Textile Industry
22 Facts About Plastic Pollution (And 10 Things We Can Do About It)
iStock
By Robert Coleman
The Environmental Working Group's (EWG) just-released Tap Water Database shows that a startling number of cancer-causing chemicals contaminate the nation's drinking water. Of 250 different contaminants detected in tests by local utilities, 93 are linked to an increased risk of developing cancer.
Keep reading...
Show less
Aaron Teasdale
By Aaron Teasdale
"How much moon do we have tonight?" I yelled to my friend Greg, trying to make myself heard over the sounds of wind and surging water. The sun was sinking toward the mountains all too quickly and our float-in campsite lay somewhere down the river's bends in darkening forest.
Greg shrugged. He had no clue of the moon's cycle either, which showed just how tragically pasty and over-civilized we'd turned. Our days had become filled with computer screens, not forest scenes; our nights capped with ceilings, not stars. All of which made this journey on standup paddleboards so sweet—or at least we hoped it would be sweet, if the pesky headwind would let up before we had to risk disfiguring ourselves while navigating boulder-strewn waters by headlamp and whatever light the moon might spare.
Keep reading...
Show less
By Rebekah Wilce
The world of independent chemical testing has a shiny veneer. The public is reassured that chemicals they're exposed to on a daily basis are certified by technicians in spotless white lab coats who carefully conduct scientific studies, including on animals in neat rows of cages.
But a federal grand jury investigation that ended with convictions in the early 1980s discovered that Industrial Bio-Test Laboratories (IBT), the largest such lab in the U.S., conducted trials with mice that regularly drowned in their feeding troughs. The dead animals would decompose so quickly that "their bodies oozed through wire cage bottoms and lay in purple puddles on the dropping trays." IBT even invented an acronym "TBD/TDA" for its raw safety data, later discovered to mean "too badly decomposed."
Keep reading...
Show less
iStock
Roman officials are considering shutting off the water supply to one-third of the city's residents for eight hours per day as early as this weekend, according to reports.
Keep reading...
Show less
Ararat Rock Solar farm in Mount Airy, North Carolina. NARENCO
North Carolina Gov. Roy Cooper signed a bill into law Thursday that will boost solar production but curb wind energy in the state.
House Bill 589, the result of months of arduous negotiations between utilities and the solar industry, is intended to encourage the continued growth of solar in the state, but it includes a moratorium on new wind projects for the next 18 months.
Keep reading...
Show less
Algal blooms in Lake St. Clair and in western Lake Erie in 2015. NASA Earth Observatory
Heavier rainfall linked to rising temperatures could substantially increase the volume of agricultural runoff flowing into waterways, triggering toxic algal blooms, according to new research.
A study published Thursday in the journal Science finds that heavier rainfall could increase nitrogen runoff in U.S. lakes, rivers and streams by 19 percent by the end of this century.
Keep reading...
Show less
iStock
By Jen Sawada
Sharks have been around for 400 million years, before the time of the dinosaurs, but there's much more to them than big teeth and summer blockbusters. Consider these facts, which will change what you think about sharks.
Keep reading...
Show less
Felix Kramer / Wikimedia
By Jason Mathers
The high level of confidence that automotive industry leaders have in the future of electric vehicles (EVs) has been on full display recently.
Keep reading...
Show less


Get EcoWatch in your inbox