This website uses cookies to ensure you get the best experience while browsing it. By clicking 'Got It' you're accepting these terms.
Add Wind Power to Grid to Save Billions and Reduce Climate Chaos
May. 10, 2013 12:06PM EST
Renewable Energy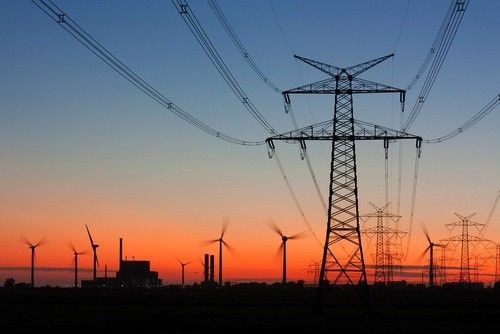 Adding more wind power to the grid in the PJM region—Mid-Atlantic power pool consisting of 13 states and Washington, DC—can lower gas and coal consumption and reduce regional wholesale energy market prices, saving nearly $7 billion per year by the mid-2020s, according to a new study conducted by Synapse Energy Economics on behalf of Americans for a Clean Energy Grid (ACEG).
The report found that doubling the wind generation already planned in the region would lower fuel costs and drive down prices by $1.74 per megawatt hour (MWh) in the largest wholesale competitive energy market in the world. The savings also extend into the regions interconnected with PJM.
Consumer Benefits
The study analyzed two scenarios relative to a baseline. In the first, additional wind power came from within the PJM region. In the second, some additional wind power is tapped within PJM, and some is imported from the windier Midwest region adjacent to PJM known as the Midwest ISO (MISO).
In both cases, the cost of the incremental transmission capacity necessary for doubling the amount of wind power on the grid is small compared with the net benefits that would be provided. Both showed net savings of close to $7 billion in 2026, resulting from the fact wind power replaces dirty and inefficient fossil fuel plants and drives down electricity prices. Once wind turbines are in place, the cost of generation is reduced and stable.
Consumers would reap net savings throughout the study period, which focused on 2021-2026. Achieving twice as much wind power on the region's grid would require little additional investment beyond what is currently planned between now and 2020, as the region is already set to build new infrastructure and increase wind generation over the next 7 years. Between 2021 and 2026, savings begin to accrue immediately with roughly $1 billion saved in the first year, due to a nearly 2:1 ratio of savings to investment.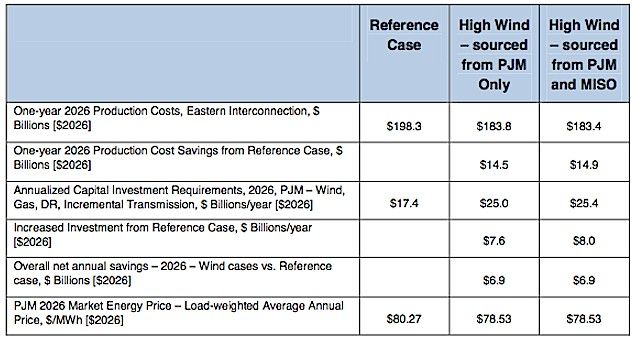 "Consumers save when more wind is installed on the grid because wind costs and performance have improved significantly over the last decade; displacing more expensive fossil-generated electricity is both an emissions and an economic winner," said report author Bob Fagan, Synapse Energy Economics.
Environmental and Broader Economic Benefits
A significant boon for Mid-Atlantic consumers, adding more renewable energy to the grid would also reduce CO2 emissions by 14 percent; NOx emissions by 10 percent and SO2 emissions by six percent from the baseline. While not quantified in the Synapse study, tapping more wind power would create new jobs in the manufacturing and installation sectors that make up the renewable energy supply chain.
"This study also shows that large scale wind integration into the PJM grid will be a low cost approach of helping Mid-Atlantic States meet their renewable energy portfolio standards," said Bruce Burcat, executive director of the Mid-Atlantic Renewable Energy Coalition and former executive director of the Delaware Public Service Commission.
"These standards are the policies of most of the states in the PJM region seeking to diversify their energy portfolios with clean energy resources and boost economic development by attracting substantial investment in new clean generating resources."
National Impact
The PJM study builds on the growing body of literature pointing to the fact that more renewable energy generation means savings for regional economies. Synapse authored a similar report last year looking at the impact of adding more wind to the grid in the MISO region, which includes much of the Midwest.
The case is clear: higher rates of wind generation means lower electricity bills. With environmental savings on top of massive benefits for ratepayers that have been demonstrated in multiple regions across the nation, creating a clean energy future also means creating a less expensive one—in terms of dollars and environmental costs.
"This report shows what we have seen in other markets – large scale wind penetration into wholesale markets lowers prices and improves system flexibility," said Joseph Kelliher, executive vice president, Federal Regulatory Affairs for NextEra Energy, Inc. and a former chairman of the Federal Energy Regulatory Commission.
Synapse Study and the PJM Power Market
The study, The Net Benefit of Increased Wind Power in PJM, evaluated various generation and transmission build-outs in the PJM region. PJM is the largest wholesale electricity market in the world, comprising some or all of 13 states (Delaware, Illinois, Indiana, Kentucky, Maryland, Michigan, New Jersey, North Carolina, Ohio, Pennsylvania, Tennessee, Virginia and West Virginia) and Washington, DC. The size and electricity consumption within the region further compounds the impact of the study.
The analysis indicates that the impact of introducing higher levels of wind onto the grid would cut fossil fuel consumption significantly and depress the average annual market price, relative to the baseline case of no additional wind generation beyond what is required by current renewable portfolio standards passed by states in PJM. The grid and wind build out that is expected as a result of these standards leads the study to show no difference in cost or savings in the high wind scenario through 2020—that is to say, in order to double wind power relative to the baseline by 2026, no additional investment in wind needs to be made until 2021.
Grid investments are already being made in the PJM region to accommodate retirements of fossil fuel generation facilities. This reality benefits projected higher wind scenario in two ways: first, it lessens the amount of transmission investment needed to accommodate more wind, and secondly it creates additional capacity on the grid for renewable energy.
"Transmission is a key piece of the scenarios studied in this report," said Jim Hoecker, counsel and advisor to WIRES and a former chairman of the Federal Energy Regulatory Commission. "Without even considering the multiple other benefits of strengthening the grid, the report makes a persuasive case that major increases in wind energy and the transmission needed to bring it to market is a highly economic proposition that regional planners should not ignore."
As with most energy studies projecting results more than a decade out, the Synapse analysis assumes a price on carbon would be in place in 2026, in this case a conservative $30 per ton. However, the fundamental results of the study are not changed by this assumption: regional customers would still reap $2.6 billion in annual savings in 2026 even if no carbon policy is adopted between now and then. The savings remain because of the fossil fuel displacement and market price effects that low cost wind power brings to a competitive energy market.
Visit EcoWatch's RENEWABLES page for more related news on this topic.
——–
Click here to tell Congress to Expedite Renewable Energy.

EcoWatch Daily Newsletter
Tuna auctions are a tourist spectacle in Tokyo. Outside the city's most famous fish market, long queues of visitors hoping for a glimpse of the action begin to form at 5 a.m. The attraction is so popular that last October the Tsukiji fish market, in operation since 1935, moved out from the city center to the district of Toyosu to cope with the crowds.

gmnicholas / E+ / Getty Images
Kristan Porter grew up in a fishing family in the fishing community of Cutler, Maine, where he says all roads lead to one career path: fishing. (Porter's father was the family's lone exception. He suffered from terrible seasickness, and so became a carpenter.) The 49-year-old, who has been working on boats since he was a kid and fishing on his own since 1991, says that the recent warming of Maine's cool coastal waters has yielded unprecedented lobster landings.
Aerial view of lava flows from the eruption of volcano Kilauea on Hawaii, May 2018. Frizi / iStock / Getty Images
Hawaii's Kilauea volcano could be gearing up for an eruption after a pond of water was discovered inside its summit crater for the first time in recorded history, according to the AP.
The Eqip Sermia Glacier is seen behind a moraine left exposed by the glacier's retreat during unseasonably warm weather on Aug. 1 at Eqip Sermia, Greenland. Sean Gallup / Getty Images
hadynyah / E+ / Getty Images
By Johnny Wood
The Ganges is a lifeline for the people of India, spiritually and economically. On its journey from the Himalayas to the Bay of Bengal, it supports fishermen, farmers and an abundance of wildlife.
The river and its tributaries touch the lives of roughly 500 million people. But having flowed for millennia, today it is reaching its capacity for human and industrial waste, while simultaneously being drained for agriculture and municipal use.
Here are some of the challenges the river faces.
By Jake Johnson
As a growing number of states move to pass laws that would criminalize pipeline protests and hit demonstrators with years in prison, an audio recording obtained by The Intercept showed a representative of a powerful oil and gas lobbying group bragging about the industry's success in crafting anti-protest legislation behind closed doors.
Reposted with permission from our media associate Common Dreams.

DESIREE MARTIN / AFP / Getty Images
Wildfires raging on Gran Canaria, the second most populous of Spain's Canary Islands, have forced around 9,000 people to evacuate.