Actress Q'orianka Kilcher Joins Seven-Day Amazon Action
May. 22, 2012 06:00AM EST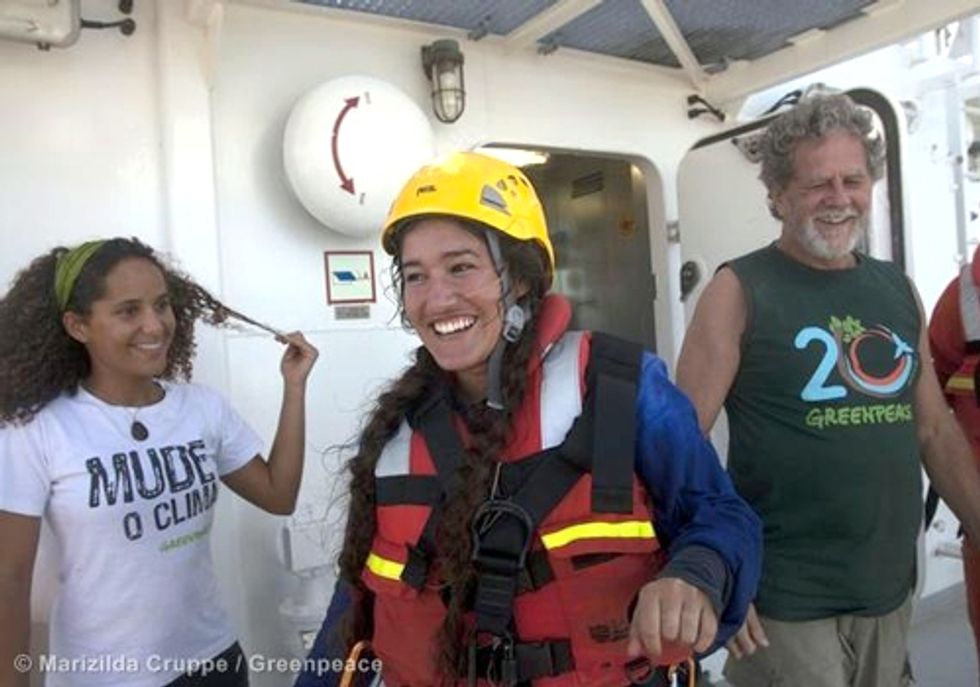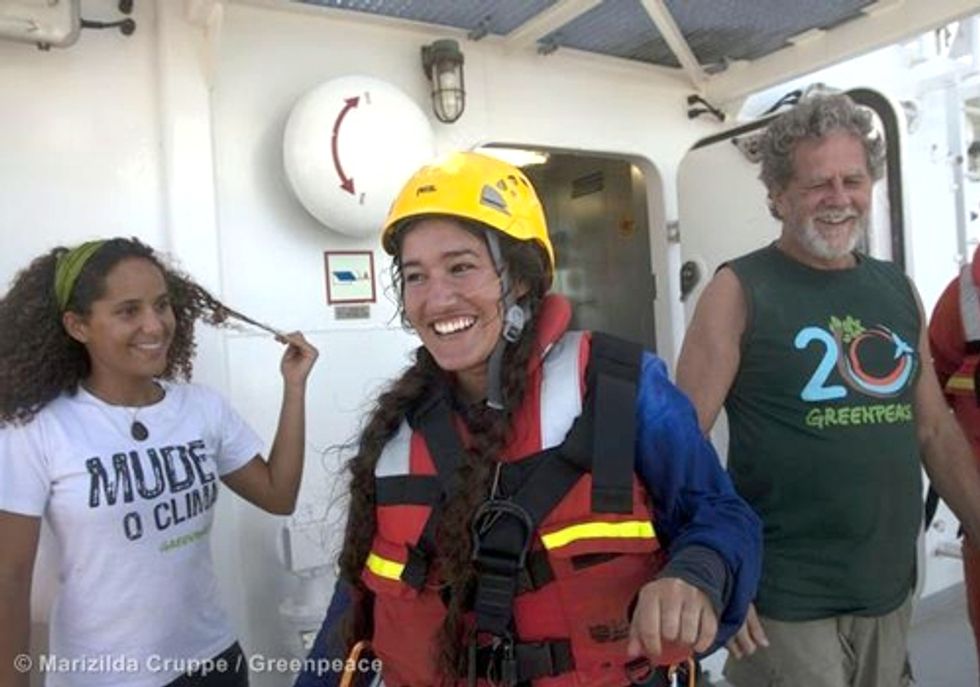 Actress and human rights activist Q'orianka Kilcher has climbed the anchor chain of a cargo ship in Brazil to protest the invasion of indigenous tribal land and illegal logging in the Amazon rainforest. She sat 20 feet above the water on a makeshift platform.
The 22 year-old is known for her role as Pocahontas in Terence Malik's 2006 Oscar-nominated The New World, in which she co-starred with Colin Farrell. She also recently appeared alongside Cuba Gooding, Jr. in ABC's "Firelight." Farrell recently contacted Kilcher to send his support for her work in the Amazon.
Q'orianka is currently stopping the "Clipper Hope" from entering port and loading 31,000 tonnes of pig iron, a key ingredient in the steel making process. New Greenpeace research shows how pig iron is helping to destroy the Amazon rainforest and even contributing to slave labor in the region. The resulting steel is bought by global car companies for use in U.S. factories.
Speaking from the anchor chain, Kilcher said:
"Things like slavery and illegal logging belong in the history books, but sadly they're still a problem for people in modern Brazil. I'm sitting on this anchor chain with my fellow activist Leonor because young people like us around the world will inherit the problems that the older generation has left behind.
"People living in the forest are having their home destroyed just to shave a few cents off the price of a new car. It's time for companies like Ford and GM to get a grip on this problem, and for the Brazilian President to show that she is committed to protecting the Amazon," she said.
Brazilian President Dilma Rousseff is currently considering whether to veto changes to the country's 'forest code', which scientists and environmentalists say would lead to an upsurge in deforestation in the Amazon. She has until this Friday to make a decision. Greenpeace and many other groups are urging her to veto the entire new text.
Pig iron is produced by heating iron ore in giant blast furnaces, which require huge amounts of wood charcoal to operate. A new Greenpeace report called "Driving Destruction in the Amazon" shows how this charcoal is often sourced from rainforest trees and is produced using slave labor. Uncontacted tribes such as the Awa are also under serious threat from the trade.
The pig iron is then exported in ships like the Clipper Hope to the U.S., where it is eventually converted into steel and bought by some of the biggest carmakers in the world including Ford, GM, Mercedes and BMW.
Q'orianka climbed the anchor chain with 27 year-old Brazilian activist Leonor Cristina Silva Souza after visiting the crew of the Greenpeace ship "Rainbow Warrior," which is stationed nearby. She donned a blue all-weather suit before climbing a small unsupported ladder up to the heavy anchor chain. Greenpeace activists have now occupied the chain for seven consecutive days.
From the Rainbow Warrior ship nearby Greenpeace Campaign Director Paulo Adario said:
"We are honored that Q'orianka has joined us in this blockade. She is helping Greenpeace Brazil to show that despite the positive image that this country has built over the years, much still needs to be done. The first step is for President Dilma to veto the disastrous new forest code this week."
For more information, click here.
EcoWatch Daily Newsletter
Related Articles from EcoWatch