Activists Take a Stand at Asheville Power Station
Feb. 13, 2012 11:05AM EST
Climate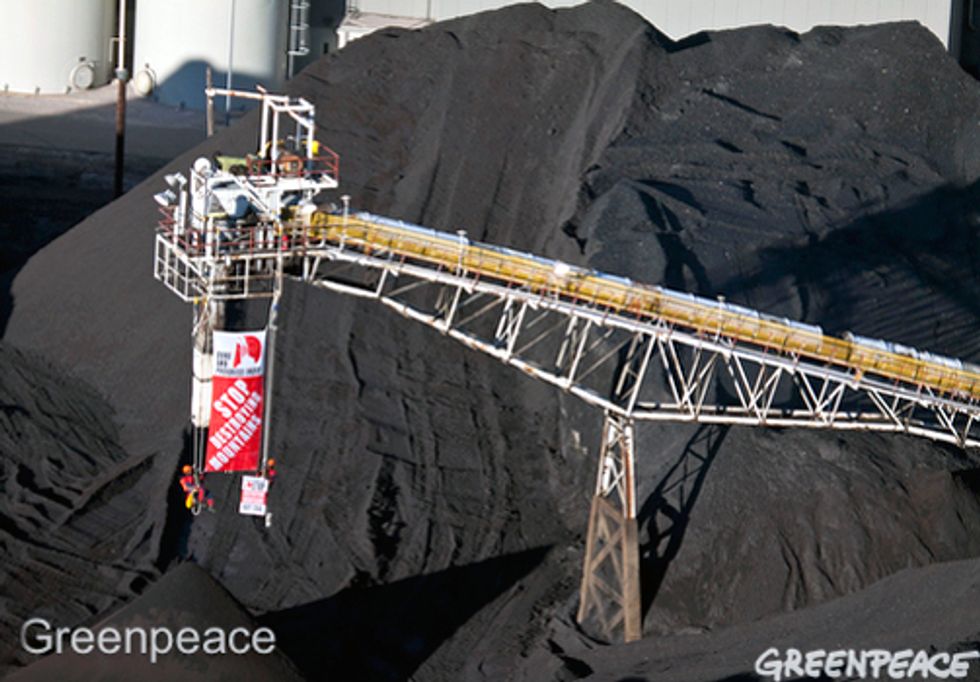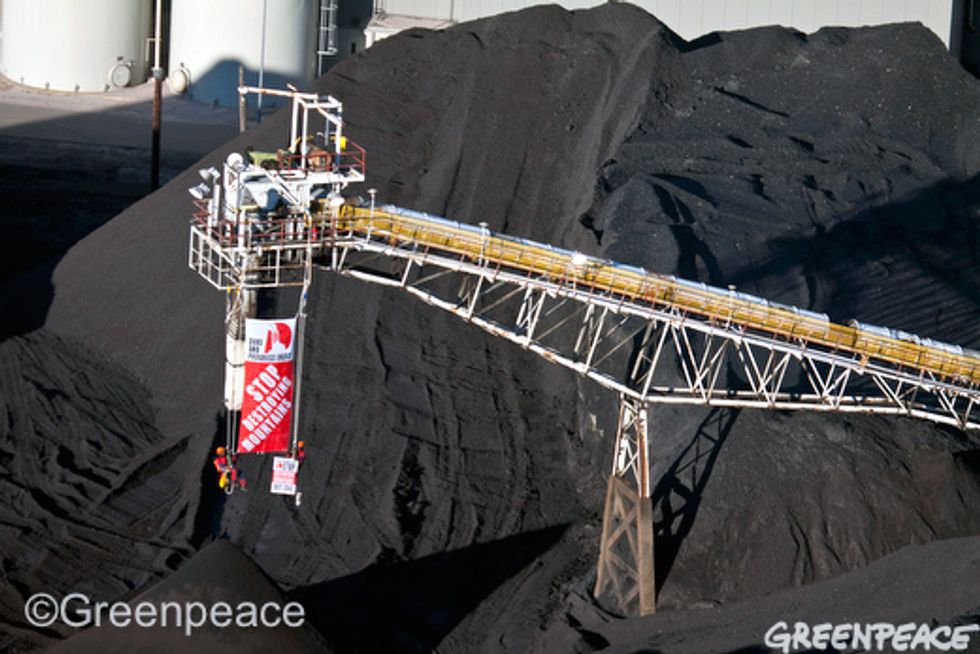 Greenpeace activists are protesting the destruction and pollution caused by coal at the Progress Asheville Power Station this morning. Activists have secured themselves to the coal loader and conveyers, which will prevent coal from entering the facility. They are scaling the 400 foot smoke stack to send a message to both Progress Energy and Duke Energy that communities and the climate can't wait for a renewable energy revolution. Coal plants like the Asheville Power Station damage communities and the climate at every stage of their lifecycle. The destructive mining practices, the burning and the storage of toxic coal ash. Progress Energy is currently in a merger bid with Charlotte based Duke Energy, which would create the largest utility in the U.S.
"This plant runs on destroyed mountains, it spews out air pollution, it causes climate change and it poisons the water and the earth. If Duke merges with Progress, the new owners have a responsibility to the people of North Carolina to move to clean energy," said Greenpeace climate campaigner and activist Robert Gardner.
The Progress Energy owned Asheville Power Station uses the most destructive form of coal mining, mountain top removal, which is flattening mountains across Appalachia. The plant produces 1,994 pounds of sulfur dioxide, 788 pounds of nitrogen oxides and 2,629,243 tons of carbon dioxide. Its coal ash ponds are designated 'high hazard' by the U.S. Environmental Protection Agency, meaning they are likely to kill people if they spill. Like other coal plants across the country, the plant causes death and illness in the community.
"Duke Energy could be playing a leadership role in the energy sector, and CEO Jim Rogers talks a good game on the environment, but the reality is vastly different. With more than $5 billion dollars worth of new coal investment on the books, Duke is clearly committed to dirty fossil fuels that poison our communities and destroy the climate," Mr Gardner said. "If Duke Energy wants to be considered a leader in the industry, they're going to have to get serious about phasing out polluting plants like this one, and make some real investments in renewable energy that will protect America's future.
For more information, click here.
EcoWatch Daily Newsletter
Related Articles from EcoWatch
Recent Stories from EcoWatch