This website uses cookies to ensure you get the best experience while browsing it. By clicking 'Got It' you're accepting these terms.
Activists Stage Citizens' Arrest of Cargill Inc.
Jan. 23, 2012 08:30AM EST
GMO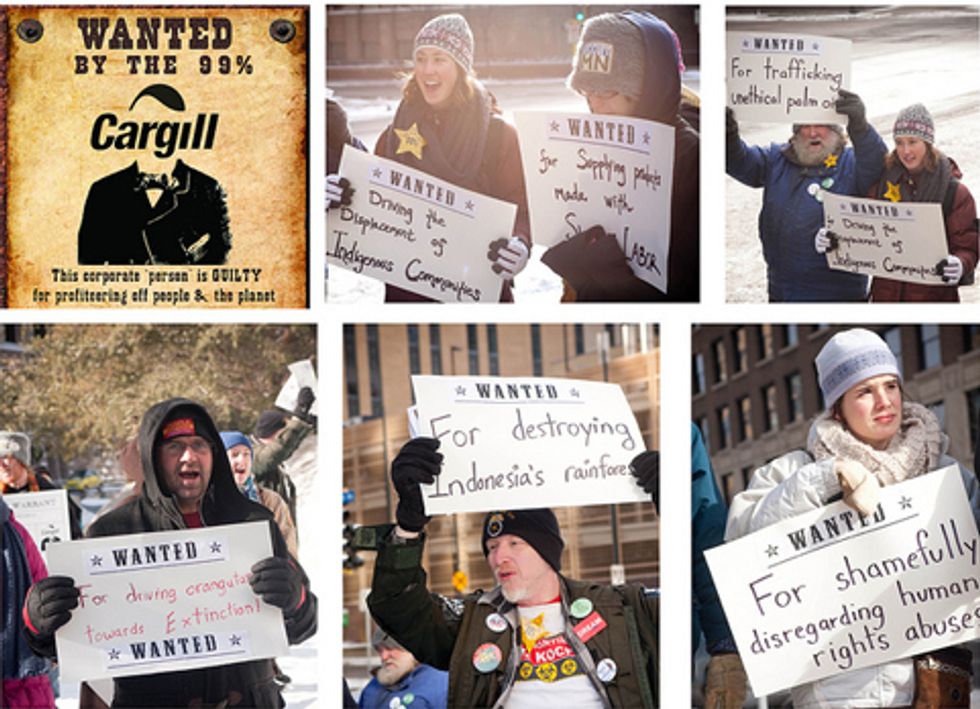 As part of a nationwide day of action protesting the legal doctrine of 'corporate personhood' enshrined by the controversial Citizens United vs. FEC Supreme Court ruling two years ago, a diverse crowd of more than forty Occupy activists and allies staged a rally and march with the Rainforest Action Network (RAN) through downtown Minneapolis on Saturday, Jan. 21. The demonstration began with a rally at the site of the former Occupy Minneapolis encampment, then marched to the Minneapolis Grain Exchange, where Cargill has an office, to post a mock "Citizen's Arrest Warrant" for Cargill Inc.
The colorful group, led by a large banner that read, "WANTED: Cargill Inc., For Profiteering Off People and Planet," then took to the streets waving placards that outlined their grievances with the agribusiness giant. The crowd included environmentalists upset that Cargill, the largest U.S. importer of palm oil, is connected to the destruction of Indonesian rainforests, as well as food justice advocates who say Cargill's support of free trade policies comes at a high price for farmers and food security. Occupy activists pointed out that the family that controls Cargill is the wealthiest in America and uses Cargill's corporate status as a 'person' to exercise political influence in Washington, D.C., where the company spent $1.3 million on lobbying last year alone.
Rainforest Action Network's Agribusiness Campaigner Ashley Schaeffer was among the protesters. She said, "Cargill is an enormously powerful agricultural company that has a dangerous stranglehold on our food supply. This is unhealthy to both people and the planet because Cargill continues to operate with the profits-above-all business mentality of a cutthroat trader." Schaeffer continued, "Cargill has known for many years that its practices are contributing to abuses that include slave labor and rainforest destruction but the company stubbornly continues to operate without basic safeguards that could prevent these violations."
Mark Muller, director of the Food and Justice Program at the Institute for Agriculture and Trade Policy (IATP), said, "We at the Institute for Agriculture and Trade Policy are thrilled by the local food movement. And yet we also recognize that we can only go so far given how far our political and legal system tilts in favor of corporations. Reclaiming our democracy from corporate control is crucial, and we salute all the activists that are working for a better food system and a better democracy."
Hillary Lehr, also with Rainforest Action Network, commented, "Corporations aren't people, everyone knows that. But the infamous Jan. 21, 2010 ruling on the Citizens United vs. FEC Supreme Court case allows corporations unlimited political spending during elections, under a constitutional right equating money with free speech. If corporations have rights like people, shouldn't that mean they can be arrested for their crimes like people, too?"
Cargill is the largest privately held company in the world and is owned by the richest family in America. Cargill's annual revenue ($119 billion) is bigger than 70 percent of the world's countries. Cargill is responsible for 25 percent of all U.S. grain exports, handles 25 percent of global palm oil trade (the world's most used vegetable oil) and supplies about 22 percent of the U.S. domestic meat market.
Paul Sobocinski, a Land Stewardship Project organizer and family farm livestock producer from Wabasso, Minn. said, "Cargill wants to control the livestock industry, they'd like to turn family farmers into modern day serfs who do their bidding while Cargill walks away with the lion's share of the profits. Cargill is fully integrated and one of the largest meatpackers and factory farm hog producers in the country. It's time to hold them accountable. It's time to take back our food and farming system from corporate agribusiness."
The event in Minneapolis was part of a week of coordinated protests nationwide that included Occupy Congress in Washington, D.C., Occupy the Courts and mass demonstrations across the country on Jan. 20.
For more information on Cargill, see RAN's Cargill fact sheet by clicking here.
For more information, click here.
—————
Rainforest Action Network runs hard-hitting campaigns to break North America's fossil fuels addiction, protect endangered forests and Indigenous rights, and stop destructive investments around the world through education, grassroots organizing, and non-violent direct action. For more information, visit www.ran.org.
EcoWatch Daily Newsletter
The CDC has emphasized that washing hands with soap and water is one of the most effective ways to prevent the spread of COVID-19. Guido Mieth / Moment / Getty Images
The Centers for Disease Control has emphasized that washing hands with soap and water is one of the most effective measures we can take in preventing the spread of COVID-19. However, millions of Americans in some of the most vulnerable communities face the prospect of having their water shut off during the lockdowns, according to The Guardian.
A California newt (Taricha torosa) from Napa County, California, USA. Connor Long /
CC BY-SA 3.0
Aerial photos of the Sierra Nevada — the long mountain range stretching down the spine of California — showed rust-colored swathes following the state's record-breaking five-year drought that ended in 2016. The 100 million dead trees were one of the most visible examples of the ecological toll the drought had wrought.
Now, a few years later, we're starting to learn about how smaller, less noticeable species were affected.
Disinfectants and cleaners claiming to sanitize against the novel coronavirus have started to flood the market.
Natthawat / Moment / Getty Images
Disinfectants and cleaners claiming to sanitize against the novel coronavirus have started to flood the market, raising concerns for the U.S. Environmental Protection Agency (EPA), which threatened legal recourse against retailers selling unregistered products, according to The New York Times.
A customer packs groceries in reusable bags at a NYC supermarket on March 1, 2020. Eduardo Munoz Alvarez/Getty Images
The global coronavirus pandemic has thrown our daily routine into disarray. Billions are housebound, social contact is off-limits and an invisible virus makes up look at the outside world with suspicion. No surprise, then, that sustainability and the climate movement aren't exactly a priority for many these days.
Ingredients are displayed for the Old School Pinto Beans from the Decolonize Your Diet cookbook by Luz Calvo and Catriona Rueda Esquibel. Melissa Renwick / Toronto Star via Getty Images
By Molly Matthews Multedo
Livestock farming contributes to global warming, so eating less meat can be better for the climate.