This website uses cookies to ensure you get the best experience while browsing it. By clicking 'Got It' you're accepting these terms.
Activists Spotlight Apple's Dirty Energy in New York and San Francisco
Apr. 24, 2012 03:34PM EST
Energy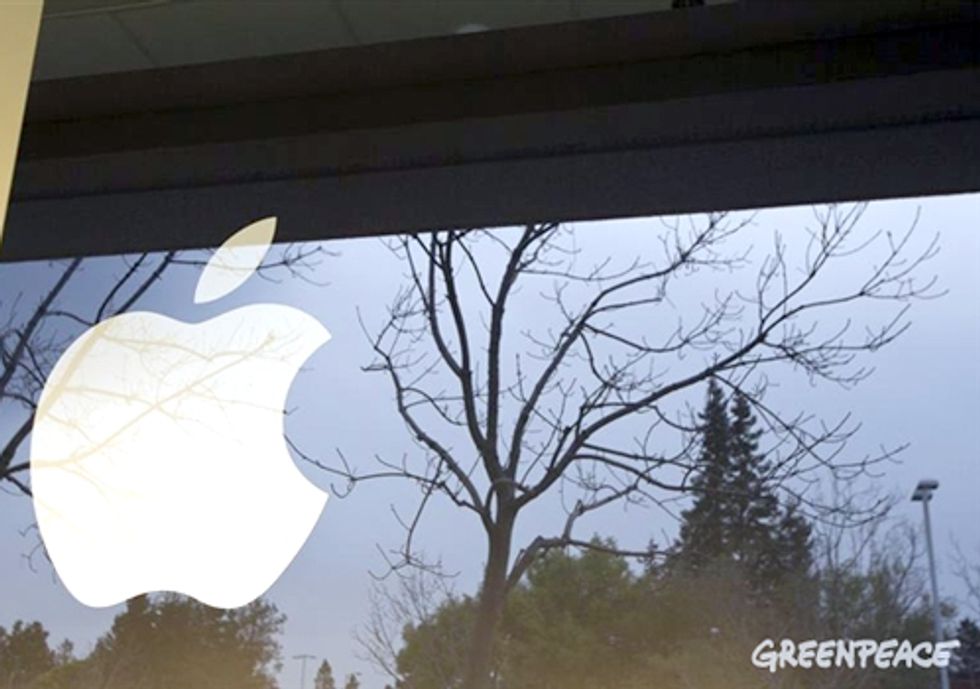 Today Greenpeace activists are demonstrating at Apple stores in San Francisco, New York and Toronto asking Apple to "Clean our Cloud" as part of a campaign to get the company to power its massive data centers with renewable energy instead of coal.
"People around the world want to use their iPhones and iPads with the knowledge that our cloud is being powered by clean energy, not dirty pollution pumped out of coal-fired smokestacks," said Kumi Naidoo, Greenpeace International executive director.
At stores on Fifth Ave. in New York and on Stockton St. in San Francisco, Greenpeace activists released hundreds of black balloons in the stores with cartoon clouds printed on them to represent the dirty cloud.  A "cloud cleaning crew" in uniform is miming cleaning up the store using white squeegees and other cleaning materials, and other activists are changing the home screens of the computers to cleanourcloud.com. In San Francisco, activists are passing out business cards that say "We can't really clean the cloud with a squeegee or a mop. But Apple can clean our cloud. Join Greenpeace and urge Apple to power our cloud with renewable energy. Find out how at www.cleanourcloud.com.
"Of all the IT companies we've examined in our recent report 'How Clean is Your Cloud?' Apple has the greatest potential to lead the sector in renewable energy and innovation," said Gary Cook, Greenpeace International senior policy analyst. "Their history of out-of-the-box thinking and huge cash reserves positions them as the best IT company to transform the sector."
"How Clean is Your Cloud?" evaluated 14 IT companies based on key elements needed to build a clean cloud, including the electricity supply chain of more than 80 data centers associated with major brands. The report found that Google and Yahoo are showing commitment to clean energy while Apple, Amazon and Microsoft rely heavily on outdated coal and nuclear energy to deliver their clouds.
Apple has made an investment in solar energy to provide a part of the current power for its growing data center in North Carolina, but they can do much more to clean up their rapidly growing iCloud. Despite their claims, they haven't disclosed enough information about how they will provide power for their data centre in Prineville to prove that it will be powered with renewables. Apple should commit to greater transparency, follow the lead of Facebook, who has committed to power its data centers with renewable energy, and set a policy to build future data centers in locations that have access to renewable energy.  Apple can also use their market power to encourage utilities like Duke Energy, which will partly power their North Carolina data center, to provide clean energy options and stop the use of mountaintop removal coal.
Companies like Google, Facebook and Yahoo are beginning to lead the sector down a clean energy pathway through innovations in energy efficiency, prioritizing access to renewable energy in siting their data centers, and demanding better energy options from utilities and government decision-makers. Greenpeace is calling on all IT companies with cloud services, including Apple, to:
Be more transparent about their energy usage and carbon footprint, and to share innovative solutions so that the sector as a whole can improve.
Commit to powering the cloud with renewable energy, and make access to renewable energy a key factor in deciding where to build future datacenters.
Invest in or directly purchase renewable energy.
Demand that governments and electric utilities increase the amount of renewable electricity available on the grid.
EcoWatch Daily Newsletter
No longer will the options when we die be a choice between just burial or cremation. Soon it will be possible to compost your remains and leave your loved ones with rich soil, thanks to a new funeral service opening in Seattle in 2021 that will convert humans into soil in just 30 days, as The Independent reported.
You can reduce the footprint of a medium-sized live tree by donating it to elephants at a local zoo, like this African elephant pictured above. eans / iStock / Getty Images
The holiday season is supposed to be about giving and sharing, but often it is actually about throwing away. The U.S. generates 25 percent more garbage between Thanksgiving and New Year's than it does during the rest of the year. That's around one million extra tons per week, according to National Environmental Education Foundation (NEEF) figures reported by The Associated Press.
The Opera House is seen with smoke haze which enveloped Sydney Harbor on Dec. 10 in Sydney, Australia. Smoke haze hangs over the city as the New South Wales fire danger risk is raised from 'very high' to 'severe'. James D. Morgan / Getty Images
The brushfires raging through New South Wales have shrouded Australia's largest city in a blanket of smoke that pushed the air quality index 12 times worse than the hazardous threshold, according to the Australia Broadcast Corporation (ABC).
People walk across the bridge near Little Raven Court in downtown Denver. Younger Americans increasingly prefer to live in walkable neighborhoods. Helen H. Richardson / The Denver Post via Getty Images
By David B. Goldstein
Energy efficiency is the cornerstone of any country's plan to fight the climate crisis. It is the cheapest option available, and one that as often as not comes along with other benefits, such as job creation, comfort and compatibility with other key solutions such as renewable energy. This has been recognized by the International Energy Agency (IEA) for at least a decade.
Activists from Extinction Rebellion New York City engaged in nonviolent direct action to confront climate change outside City Hall on April 17, 2019. Erik McGregor / Pacific Press / LightRocket via Getty Images
By Andrea Germanos

Over 500 groups on Monday rolled out an an action plan for the next president's first days of office to address the climate emergency and set the nation on a transformative path towards zero emissions and a just transition in their first days in office.