Activists Released on Bail After Protesting BP's Fracking Lease Event
Apr. 16, 2012 09:19PM EST
Energy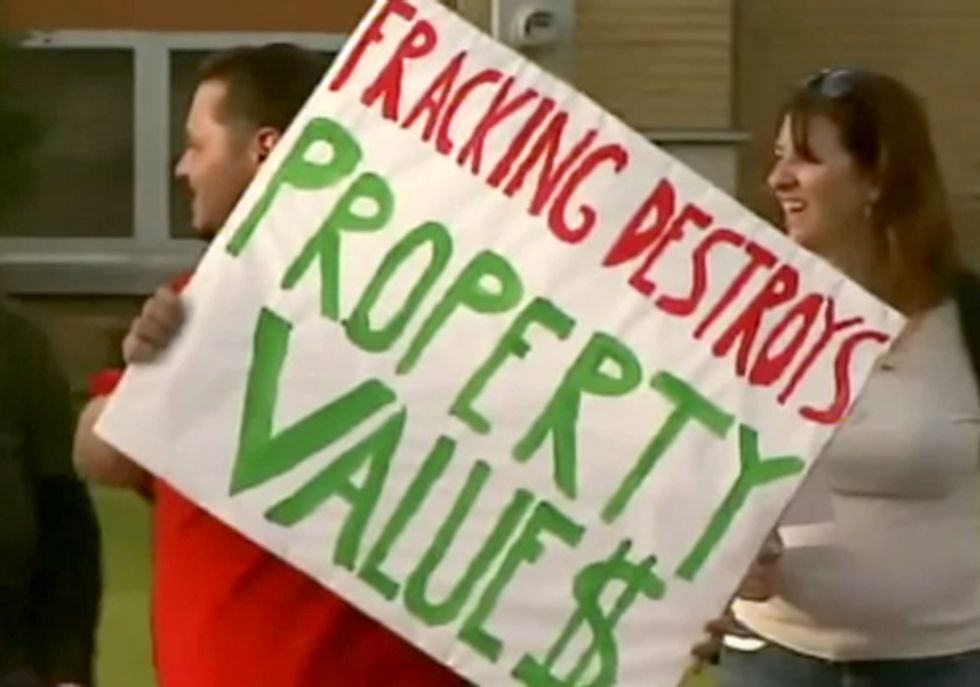 Bail for two of the three protesters arrested for sounding the alarm on the BP land grab in Trumbull County was raised by supporters today. Jonathan Sidney, Annie Lukins and Jeremy Bingham shut down a lease-signing event yesterday, April 15. They were backed by two-dozen residents who wanted to alert landowners of the risks of leasing their land to a company with a proven track record of water contamination and willful safety violations, and the dangers of hydrofracking.
Lukins was released the morning of April 16, and Bingham and Sidney are expected to be released on bond later Monday evening. The three activists are set to appear in court this Thursday in Mahoning County.
Lukins, a Cleveland resident, held a press conference on the steps of the Mahoning County Jail, and then she rejoined protesters outside the leasing event at the former South Range Middle School in Greenford, Ohio.
"We're showing that arresting us won't make the problem go away. We won't stop and we won't allow the real criminals like BP to destroy Ohio like they did the Gulf coast. Safe fracking is a myth," Lukins said.
Lukins and Bingham are committed to stopping hydrofracking in Ohio, a process known to cause surface and groundwater contamination, that is rapidly spreading throughout the state. According to the Ohio Department of Natural Resources (ODNR), currently, there are 47 horizontal wells drilled in Ohio; the ODNR estimates that by the end of 2012, we will have approximately 250 horizontal wells drilled; by the end of 2013, approximately 750 horizontal wells will be drilled; by the end of 2014, approximately 1,500 horizontal wells will be drilled, and by the end of 2015, approximately 2,250 horizontal wells will be drilled.
Last fall the two blockaded an injection well in Youngstown where toxic wastewater, a byproduct of fracking, was being injected into the ground which was found to have caused the 12 earthquakes that hit the region last year. These wells were later shut down by the ODNR after a 4.0 magnitude earthquake struck Ohio's Northeast region on New Years Eve. Anti-fracking activists believe their actions impacted the states decision to put a moratorium on five of the suspected injection wells.
Many Northeast Ohio residents believe that the situation of fracking will only get worse if more land and companies with a track record as poor as BP's buy up land in Ohio.
"Just two years ago BP caused the largest oil spill in U.S. history, and destroyed a huge section of the Gulf Coast. Now they intend to frack 84,000 acres of land in Trumbull County without holding a single public hearing, and with absolutely no opportunity for residents to object," said Mary-Claire Erskine of Lorain County. "We cannot let Ohio become the next Gulf Coast. We want BP and other fracking companies to know that we will not give up until Ohio is safe from hydrofracking."
To read yesterday's article concerning the protest and three arrests, click here.
Here's a news report from WKBN-27:
EcoWatch Daily Newsletter
Related Articles from EcoWatch
Recent Stories from EcoWatch