Activists Rally to Stop Repeal of Virginia Clean Energy Law
Jan. 17, 2013 02:06PM EST
Energy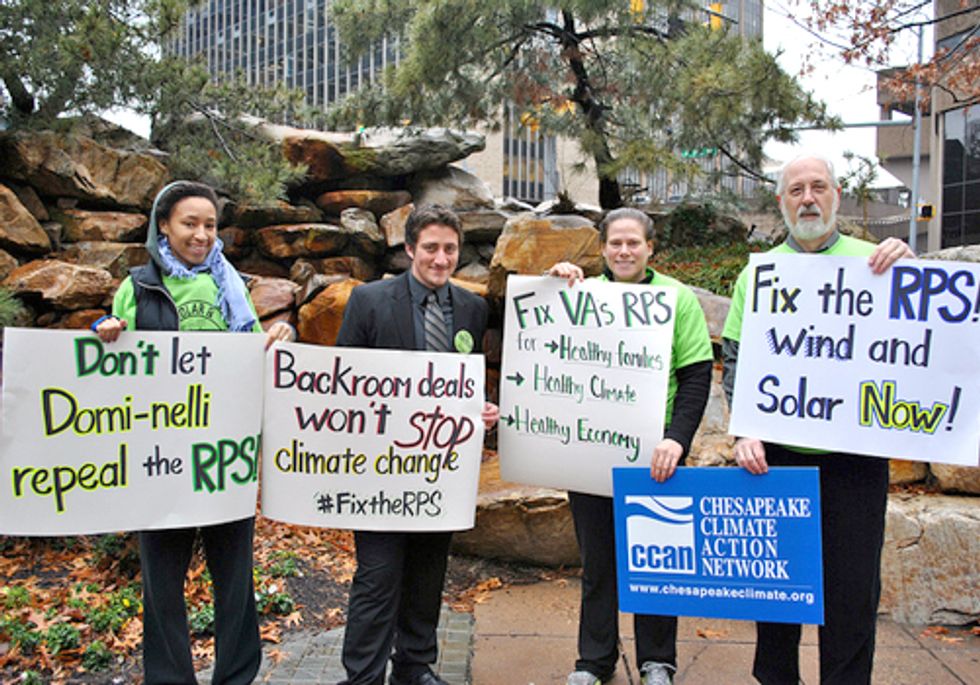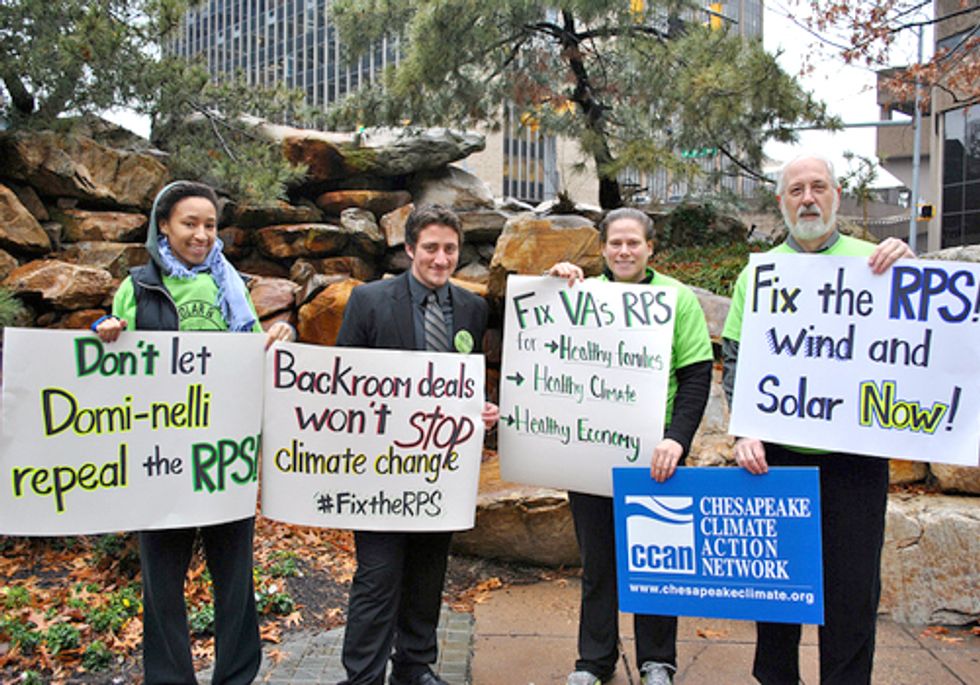 Dozens of activists from across Virginia converged on the capitol in Richmond today for a rally and day-long action to protest legislation proposed earlier this week by Attorney General Ken Cuccinelli that would effectively repeal Virginia's top clean energy law. The activists joined environmental and health leaders to call on state lawmakers to oppose the repeal and instead strengthen the Renewable Portfolio Standard (RPS) law so that it fulfills its original intent to spur the development of solar and wind power.
"I'm committed to strengthening our clean energy laws," said Delegate Alfonso Lopez, who spoke at the press conference. "More wind and solar power in Virginia would mean cleaner air and fewer children suffering through asthma attacks. It would mean more jobs to boost our economy. Now is the time to move forward, not backwards, on clean energy in Virginia."
The activists described the legislation as a radical attack on clean energy on the part of Cuccinelli, known nationally as a leader among climate change-deniers, and Dominion Virginia Power, the state's biggest climate polluter and a company already under fire for taking $77 million from ratepayers without investing in a single wind or solar farm in Virginia to earn it. The Cuccinelli-Dominion legislation would render the RPS law essentially useless by repealing the performance incentives that serve as its only mechanism to hold utilities accountable to meeting their voluntary renewable energy goals.
"Two things are clear today: Cuccinelli's legislation would effectively kill our clean energy law, and people across Virginia are having none of it," said Dawone Robinson, Virginia Policy Coordinator at the Chesapeake Climate Action Network. "We need to fix the RPS law, not repeal it, and citizens carried that message forcefully to Richmond today."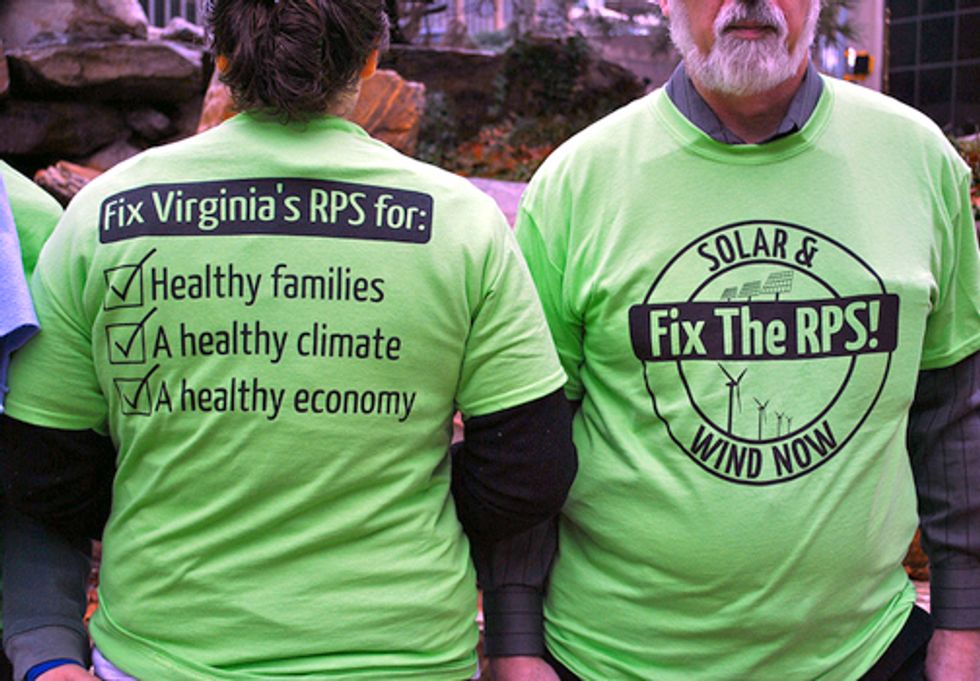 With large "fix it, don't nix it" signs and bright green t-shirts that read, "Fix the RPS—Solar and Wind Now!," the activists who turned out today rallied in the General Assembly building and then lined the pathway to greet legislators as they headed to the start of the day's session. Groups of protesters also carried their visible message into the House gallery and into the meeting of the House Commerce and Labor Committee, which will consider the RPS repeal legislation.
"Today we declared 'game on' in our fight for clean energy," said Glen Besa, Director of the Sierra Club Virginia Chapter. "Virginians know that the impacts of climate change will only get worse the further we fall behind in developing our state's abundant wind and solar power resources. Legislators can count on today's protest as the first of many if they do nothing to encourage clean energy and address climate change."
For months, thousands of Virginians have called on members of the General Assembly to instead strengthen the renewable energy law's standards so that it requires utilities to invest in wind and solar power in Virginia to qualify for the performance incentives. This solution, advocates said, would ensure customers receive the intended benefits of cleaner air, a safer climate and much-needed new jobs that legislators envisioned when they passed the RPS in 2007.
"If Cuccinelli succeeds in repealing our clean energy law, Dominion will get a free ride to continue spewing pollution, while Virginians will get more dirty air and more superstorms like Sandy," said Nathan Jenkins, Virginia Campaign Coordinator at Appalachian Voices. "Every effort should be focused on raising the bar for clean energy in Virginia, not dismantling it completely."
Activists are mobilizing to demand stronger clean energy laws in Virginia as scientists almost daily report new records for extreme heat, drought, sea-level rise and storms connected to worsening climate change, which is triggered by the burning of fossil fuels like coal, oil and natural gas. Virginia is particularly vulnerable to the impacts of sea-level rise caused by climate change, yet the state lags far behind its neighbors in developing clean energy.
Instead of making serious investments in clean energy, Dominion Power, the state's largest utility, reiterated its committed to combusting coal and gas as the overwhelming core of it energy generation in its most recent 15-year plan. The company stated an astonishingly small 3.9 percent as its expected generation from clean, renewable energy sources by 2027.
Read FAQs on the RPS, how it should be strengthened and what the Cuccinelli-Dominion plan would do.
Visit EcoWatch's RENEWABLES and ENERGY pages for more related news on this topic.
——–
Click here to tell Congress to Expedite Renewable Energy.

EcoWatch Daily Newsletter