This website uses cookies to ensure you get the best experience while browsing it. By clicking 'Got It' you're accepting these terms.
Activists Rally to Stop Repeal of Virginia Clean Energy Law
Jan. 17, 2013 01:06PM EST
Energy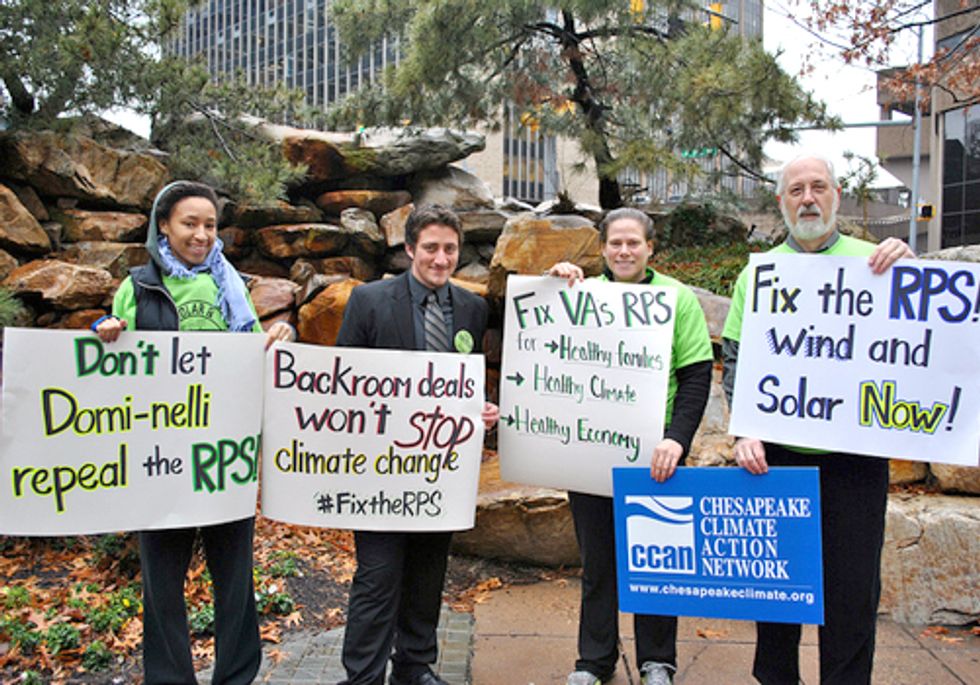 Dozens of activists from across Virginia converged on the capitol in Richmond today for a rally and day-long action to protest legislation proposed earlier this week by Attorney General Ken Cuccinelli that would effectively repeal Virginia's top clean energy law. The activists joined environmental and health leaders to call on state lawmakers to oppose the repeal and instead strengthen the Renewable Portfolio Standard (RPS) law so that it fulfills its original intent to spur the development of solar and wind power.
"I'm committed to strengthening our clean energy laws," said Delegate Alfonso Lopez, who spoke at the press conference. "More wind and solar power in Virginia would mean cleaner air and fewer children suffering through asthma attacks. It would mean more jobs to boost our economy. Now is the time to move forward, not backwards, on clean energy in Virginia."
The activists described the legislation as a radical attack on clean energy on the part of Cuccinelli, known nationally as a leader among climate change-deniers, and Dominion Virginia Power, the state's biggest climate polluter and a company already under fire for taking $77 million from ratepayers without investing in a single wind or solar farm in Virginia to earn it. The Cuccinelli-Dominion legislation would render the RPS law essentially useless by repealing the performance incentives that serve as its only mechanism to hold utilities accountable to meeting their voluntary renewable energy goals.
"Two things are clear today: Cuccinelli's legislation would effectively kill our clean energy law, and people across Virginia are having none of it," said Dawone Robinson, Virginia Policy Coordinator at the Chesapeake Climate Action Network. "We need to fix the RPS law, not repeal it, and citizens carried that message forcefully to Richmond today."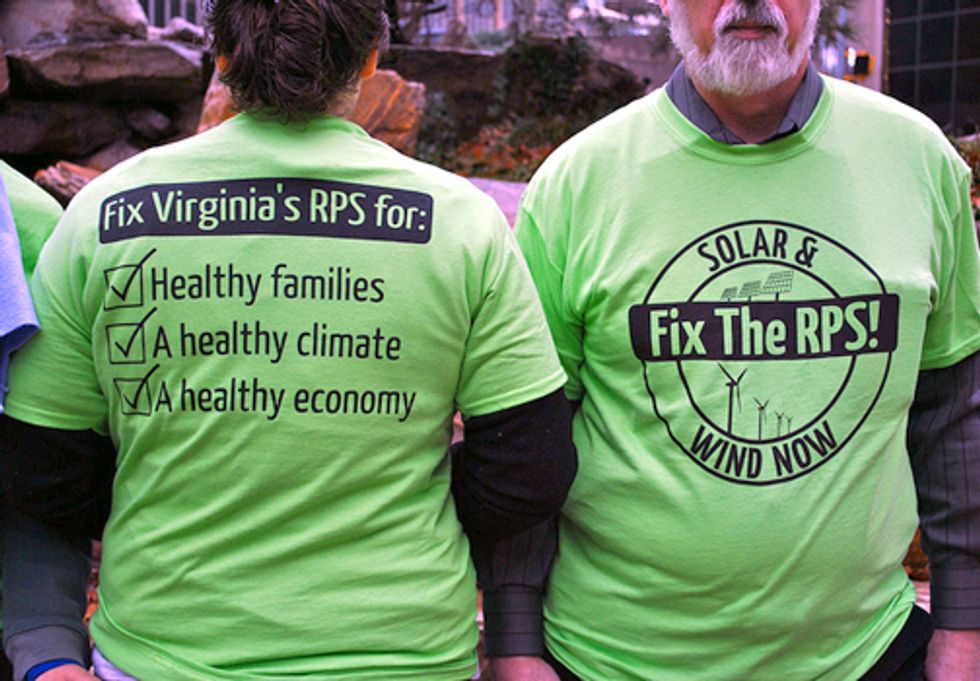 With large "fix it, don't nix it" signs and bright green t-shirts that read, "Fix the RPS—Solar and Wind Now!," the activists who turned out today rallied in the General Assembly building and then lined the pathway to greet legislators as they headed to the start of the day's session. Groups of protesters also carried their visible message into the House gallery and into the meeting of the House Commerce and Labor Committee, which will consider the RPS repeal legislation.
"Today we declared 'game on' in our fight for clean energy," said Glen Besa, Director of the Sierra Club Virginia Chapter. "Virginians know that the impacts of climate change will only get worse the further we fall behind in developing our state's abundant wind and solar power resources. Legislators can count on today's protest as the first of many if they do nothing to encourage clean energy and address climate change."
For months, thousands of Virginians have called on members of the General Assembly to instead strengthen the renewable energy law's standards so that it requires utilities to invest in wind and solar power in Virginia to qualify for the performance incentives. This solution, advocates said, would ensure customers receive the intended benefits of cleaner air, a safer climate and much-needed new jobs that legislators envisioned when they passed the RPS in 2007.
"If Cuccinelli succeeds in repealing our clean energy law, Dominion will get a free ride to continue spewing pollution, while Virginians will get more dirty air and more superstorms like Sandy," said Nathan Jenkins, Virginia Campaign Coordinator at Appalachian Voices. "Every effort should be focused on raising the bar for clean energy in Virginia, not dismantling it completely."
Activists are mobilizing to demand stronger clean energy laws in Virginia as scientists almost daily report new records for extreme heat, drought, sea-level rise and storms connected to worsening climate change, which is triggered by the burning of fossil fuels like coal, oil and natural gas. Virginia is particularly vulnerable to the impacts of sea-level rise caused by climate change, yet the state lags far behind its neighbors in developing clean energy.
Instead of making serious investments in clean energy, Dominion Power, the state's largest utility, reiterated its committed to combusting coal and gas as the overwhelming core of it energy generation in its most recent 15-year plan. The company stated an astonishingly small 3.9 percent as its expected generation from clean, renewable energy sources by 2027.
Read FAQs on the RPS, how it should be strengthened and what the Cuccinelli-Dominion plan would do.
Visit EcoWatch's RENEWABLES and ENERGY pages for more related news on this topic.
——–
Click here to tell Congress to Expedite Renewable Energy.

EcoWatch Daily Newsletter
The Visible Infrared Imaging Radiometer Suite on the Suomi NPP satellite acquired this image of forest fire smoke hovering over North America on Aug. 15, 2018. NASA Earth Observatory
New York City isn't known for having the cleanest air, but researchers traced recent air pollution spikes there to two surprising sources — fires hundreds of miles away in Canada and the southeastern U.S.
If temperatures continue to rise, the world is at risk from global
sea-level rise
, which will flood many coastal cities as seen above in Bangladesh. NurPhoto / Contributor / Getty Images
The mounting climate emergency may spur the next global financial crisis and the world's central banks are woefully ill equipped to handle the consequences, according to a new book-length report by the Bank for International Settlements (BIS), as S&P Global reported. Located in Basel, Switzerland, the BIS is an umbrella organization for the world's central banks.
Two ice fishers with a truck cut a hole in the ice near an ice fishing hut on frozen Lake Winnebago.
Richard Hamilton Smith / Corbis NX / Getty Images
By Susan Cosier
Come February in Wisconsin, almost everything will be covered in ice and snow. In little shanties on frozen Lake Winnebago, a 30-by-13-mile lake in the eastern part of the state, fishers will keep watch over rectangular holes cut into the ice with a chainsaw. When they spot a fin passing below, they'll jab their spears down deep. The lucky ones will earn themselves a lake sturgeon, a species that has prowled the earth's waters for more than 150 million years.
Fresno, California, seen above, is receiving $66 million for walking trails, sidewalks, bike lanes, and more. DenisTangneyJr / iStock / Getty Images
Grecia Elenes grew up in Fresno, California. She says some parts of the city have been neglected for decades. When she moved back after college she realized nothing has changed.
People are seen embracing at Numeralla Rural Fire Brigade near the scene of a water tanker plane crash on Jan. 23 in Cooma, Australia. Three American firefighters have have died after their C-130 water tanker plane crashed while battling a bushfire near Cooma in southern NSW this afternoon. Jenny Evans / Getty Images
Three U.S. firefighters gave their lives battling Australia's historic wildfires Thursday when their airborne water tanker crashed.