This website uses cookies to ensure you get the best experience while browsing it. By clicking 'Got It' you're accepting these terms.
Activists Climb Reactor to Highlight Demise of Nuclear Energy
Jul. 16, 2013 03:10PM EST
Energy
By Arin de Hoog
In France, Greenpeace activists skirted security and climbed the nuclear reactor structures at the Tricastin power plant yesterday. They unfurled a banner that read: TRICASTIN ACCIDENT NUCLÉAIRE: PRÉSIDENT DE LA CATASTROPHE? (Tricastin Nuclear Accident: President of the Disaster?).
Earlier yesterday morning, other activists projected an image of a giant spreading crack onto the side of the plant to illustrate that French President Hollande, needs to shut down 20 nuclear reactors in the country by 2020 to keep his promise to cut nuclear power by 2025.
The projection of the crack is not false foreshadowing. Cracks have been found in the reactor vessels of several plants in France, and throughout the world.
In South Korea, Greenpeace has been hard at work drawing attention to the dangers of nuclear energy. Last Wednesday saw several climbers suspended from the Gwangan Bridge in Busan demonstrated that the Gori power plant poses a grave risk to the people living in its proximity.
Yesterday, the Rainbow Warrior could be seen from the same nuclear plant—the oldest facility in the country—with a very simple message printed on a banner stretched between her masts: CHERNOBYL, FUKUSHIMA, BUSAN? The simple message makes a strong statement: nuclear energy is neither safe, secure or even practical.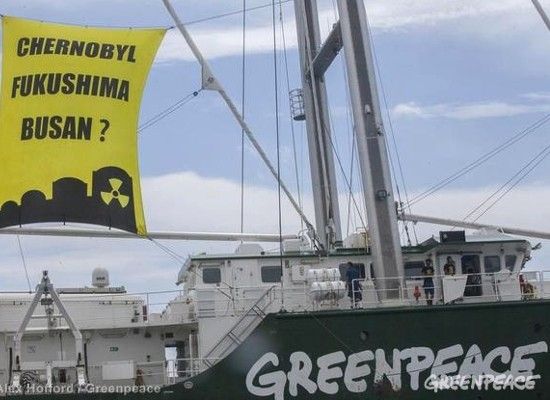 A report released last Thursday spells out not only the health risks associated with nuclear energy, but the economic impracticality of this kind of energy production as a whole. The report finds that facilities peaked a decade ago and have been in decline ever since. It begs the question, what's the point of nuclear energy if demands can be met in a sustainable way?
Although the movement against nuclear power plants in France and South Korea happen to be focused on specific locations, the call to stop generating nuclear energy needs to be heard by everyone. Tricastin is representative of five others' which are decrepit, riddled with cracks and are at high risk of serious accidents.
The Gori plant in Busan, another ticking time bomb, is indicative of a whole other set of problems besides the safety of the plants themselves. It represents the lack of transparency by the nuclear energy industry as it deftly clucks a narrative of efficiency and sustainability while stroking the backs of any policy-makers within reach. In the past few years the nuclear industry in South Korea has been riddled with corruption involving skirting regulation, faking certificates and forging warranties.
The collusion between state officials and nuclear energy mavens is seen as one of the causes of the Fukushima disaster. As former U.S. Nuclear Regulatory Commissioner, Peter Bradford, wrote, "For various reasons in many nations, the nuclear industry cannot tell the truth about its progress, its promise or its perils. Its backers in government and in academia do no better."
There is something else that draws people out of their homes and onto the streets to protest against nuclear power, as they did in Guandong province, China, last week. As long as nuclear power wedges itself into the turnstile though which energy expenditure passes, we won't be able to seriously talk about clean, safe and renewable power. The 37-billion Chinese yuan that would have gone to a uranium processing facility in the Longwan Industrial Park can be put towards a sustainable way to generate energy.
"The gap between nuclear rhetoric and nuclear reality has been a fundamental impediment to wise energy policy decisions for half a century now," wrote Bradford.
Turning the last half-century around to wiser energy policy decisions shouldn't be left to policy-makers, industry leaders or even the small group of French or South Koreans who shine a light on an increasingly dangerous industry. It is up to all of us to push nuclear energy off the table, for the health of ourselves and of our planet.
Visit EcoWatch's ENERGY and NUCLEAR pages for more related news on this topic.
——–
EcoWatch Daily Newsletter
Artist's conception of solar islands in the open ocean. PNAS
Millions of solar panels clustered together to form an island could convert carbon dioxide in seawater into methanol, which can fuel airplanes and trucks, according to new research from Norway and Switzerland and published in the Proceedings of the National Academy of Sciences journal, PNAS, as NBC News reported. The floating islands could drastically reduce greenhouse gas emissions and dependence on fossil fuels.
Marcos Alves / Moment Open / Getty Images
More than 40 percent of insects could go extinct globally in the next few decades. So why did the U.S. Environmental Protection Agency (EPA) last week OK the 'emergency' use of the bee-killing pesticide sulfoxaflor on 13.9 million acres?
EcoWatch teamed up with Center for Biological Diversity via EcoWatch Live on Facebook to find out why. Environmental Health Director and Senior Attorney Lori Ann Burd explained how there is a loophole in the The Federal Insecticide, Fungicide, and Rodenticide Act under section 18, "that allows for entities and states to request emergency exemptions to spraying pesticides where they otherwise wouldn't be allowed to spray."
Simple swaps that cut down on kitchen trash.
Sponsored
By Kayla Robbins
Along with the bathroom, the kitchen is one of the most daunting areas to try and make zero waste.
View of downtown Miami, Florida from Hobie Island on Feb. 2, 2019.
Michael Muraz / Flickr
The Democratic candidates for president descended upon Miami for a two-night debate on Wednesday and Thursday. Any candidate hoping to carry the state will have to make the climate crisis central to their campaign, as The New York Times reported.
By Sharon Kelly
On Monday, the Wall Street Journal featured a profile of Scott Sheffield, CEO of Pioneer Natural Resources, whose company is known among investors for its emphasis on drawing oil and gas from the Permian basin in Texas using horizontal drilling and hydraulic fracturing, or fracking.
Pexels
By Craig K. Chandler
The federal government has available to it, should it choose to use them, a wide range of potential climate change management tools, going well beyond the traditional pollution control regulatory options. And, in some cases (not all), without new legislative authorization.
Denis Poroy / Getty Images
By Dan Gray
Processed foods, in their many delicious forms, are an American favorite.
But new research shows that despite increasing evidence on just how unhealthy processed foods are, Americans have continued to eat the products at the same rate.
By Sarah Steffen
With a profound understanding of their environmental surroundings, indigenous communities around the world are often cited as being pivotal to tackling climate change.