This website uses cookies to ensure you get the best experience while browsing it. By clicking 'Got It' you're accepting these terms.
Activists Block Duke Coal Shipment and Link Mountaintop Removal to iCloud
May. 03, 2012 04:20PM EST
Energy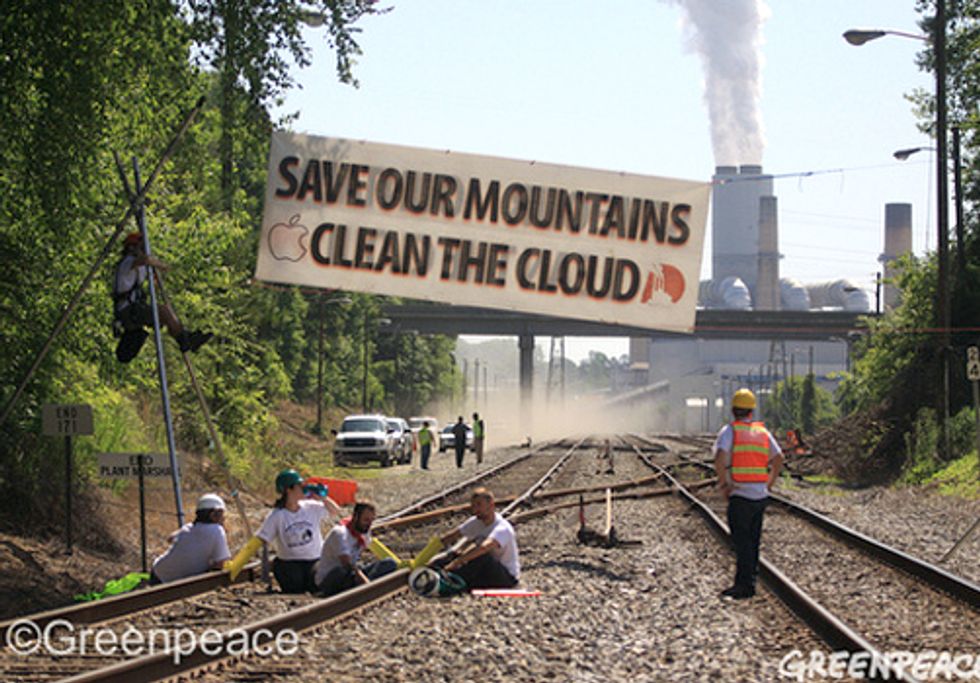 This morning, activists from Greenpeace, RAMPS (Radical Action for Mountain People's Survival), Katuah Earth First! and Keepers of the Mountains Foundation blocked a coal train en route to the Marshall Steam Station, a Duke Energy coal-fired power plant, and branded the cars with the iconic Apple logo.
Four activists, including leaders from the anti-mountaintop removal movement, locked themselves to the rail tracks preventing the train from passing. Other activists branded the train with Apple's logo to show that Apple's growing iCloud will be powered by more coal as its Maiden, N.C., data center expands.
"Duke is using datacenter expansion in North Carolina, like Apple's, to justify reinvesting in old coal-fired power plants and even worse, as an excuse to build new coal and nuclear plants. But if Apple demands renewable energy from Duke Energy to power its iCloud it could help transform both the IT sector's and North Carolina's energy economy," said Gabe Wisnieweski, Greenpeace USA coal campaign director. "Unfortunately, today Apple's iCloud uses whatever power Duke offers, and this dirty mix currently includes electricity from burning mountaintop removal coal. The climate and communities throughout Appalachia and North Carolina are paying the price for Apple and Duke's short-sighted decisions."
The Marshall plant burns coal from mountaintop removal, a destructive practice whereby the tops of mountains are blown off to retrieve coal with the debris scraped into adjacent valleys. Air pollution from the Marshall plant causes more than one hundred deaths a year and thousands of asthma attacks. The Marshall Plant is part of the Duke Energy fleet which powers Apple's iCloud data center in Maiden, North Carolina.
Greenpeace's recent report, How Clean is Your Cloud? evaluated 14 IT companies based on key elements needed to build a clean cloud, including the electricity supply chain of more than 80 datacenters.2 The report found that Google and Yahoo are showing commitment to clean energy while Apple, Amazon and Microsoft rely on outdated coal and nuclear energy to deliver their clouds.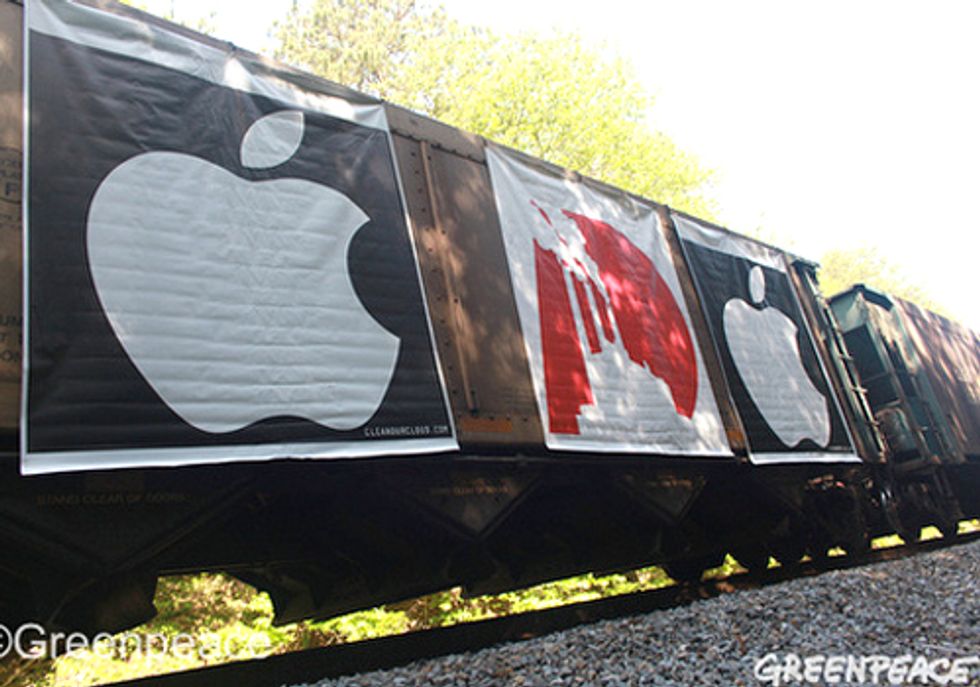 Apple has made a limited investment in renewable energy to provide a part of the current power for its data center in North Carolina, but as the facility expands and outgrows this supply, more and more electricity will be provided by Duke's coal-fired power plants. Apple has sought to downplay the amount of electricity it will buy from Duke by saying that its intended capacity for the Maiden data center is only 20 megawatts (MW). However, today Greenpeace uncovered new information that shows that Apple applied for and was granted permits for backup diesel generators that indicate Apple is equipped for a current power demand of 41 MW of electricity for Phase 1 of its Maiden data center.
"Apple should be more transparent about its coal problem, and take steps to start solving it, as other tech companies have," said Casey Harrell, Greenpeace International IT analyst. "Apple should follow the lead of its Silicon Valley and North Carolina neighbor, Facebook, which has committed to set a policy to build future data centers in locations that have access to renewable energy and to lobby the utilities that provide it power, such as Duke, for more access to renewable energy."4
"Corporations must understand that the use and demand for coal from bombing mountains in Appalachia is not only destroying one of the oldest most bio-diverse mountain ranges in the United States, but it is also—by releasing carcinogenic heavy metals into our streams—killing Appalachians, and contributing to the sickness and death of countless others outside the area who depend on these headwaters for their water source," said activist Mickey McCoy, whose community in Kentucky has suffered the ravages of mountaintop removal.
Take action to help Apple clean up their act by clicking here.
For more information, click here.
EcoWatch Daily Newsletter
General view of the empty Alma bridge, in front of the Eiffel tower, while the city imposes emergency measures to combat the Coronavirus COVID-19 outbreak, on March 17, 2020 in Paris, France. Edward Berthelot / Getty Images
Half the world is on lockdown. So, the constant hum of cars, trucks, trains and heavy machinery has stopped, drastically reducing the intensity of the vibrations rippling through the Earth's crust. Seismologists, who use highly sensitive equipment, have noticed a difference in the hum caused by human activity, according to Fast Company.
The current rate of CO2 emissions is a major event in the recorded history of Earth. EPA
At several points in the history of our planet, increasing amounts of carbon dioxide in the atmosphere have caused extreme global warming, prompting the majority of species on Earth to die out.
The "Earthrise" photograph that inspired the first Earth Day. NASA / Bill Anders
For EcoWatchers, April usually means one thing: Earth Day. But how do you celebrate the environment while staying home to prevent the spread of the new coronavirus?
Animal rights activists try to save dogs at a free market ahead of the Yulin Dog Eating Festival in Yulin city, south China's Guangxi Zhuang Autonomous Region on June 21, 2014. Jie Zhao / Corbis via Getty Images
The Great Barrier Reef, where record-high sea temperatures in February caused its most widespread coral bleaching event. JAYNE JENKINS / CORAL REEF IMAGE BANK
Tropical coral reefs are at a critical tipping point, and we've pushed them there, scientists say. Climate change may now cause previously rare, devastating coral bleaching events to occur in tropical coral reefs around the globe on a 'near-annual' basis, reported The Guardian.