Activist Tom Steyer Challenges Koch Brothers to Climate Debate
Apr. 28, 2014 09:28AM EST
Climate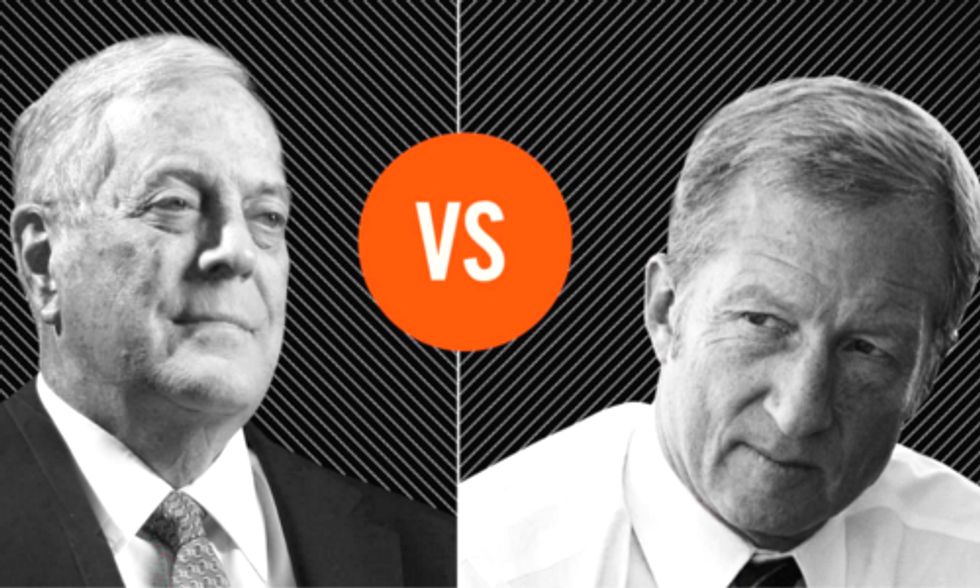 If brothers Charles and David Koch were to debate billionaire activist and NextGen Climate founder Tom Steyer about climate change, they would obviously outnumber him, but that would be their only advantage.
"I have the advantage of the facts, they have the advantage of the numbers," Steyer told the laughing studio audience of Real Time With Bill Maher.
Steyer had just challenged the duo to a debate, following an editorial by Charles Koch in the Wall Street Journal that called for more "free and open debate" about climate. Steyer used a nine-minute segment on the HBO program to discuss President Barack Obama's postpone decision on the Keystone XL pipeline, how he differs from the Kochs and more.
"They seem to be denying basic science," Steyer said.
Maher offered to host the debate, but neither side seems to be holding their breath for that. Steyer alluded to the Kochs' habit of "acting from the shadows and anonymously" as a reason why. 
Steyer and his super political action committee benefitted from the Shaun McCutcheon v. the Federal Election Commission decision just like the dark money billionaires did, however he plans to support politicians who aren't trying to limit the fight against climate change. Steyer has said that NextGen Climate Action would donate $100 million to Democrats who support legislation to help fight climate change, including at least $50 million of his own.
"You seem to get it, that what's more important than money is breathing," Maher said, producing even more laughter out of both Steyer and the audience.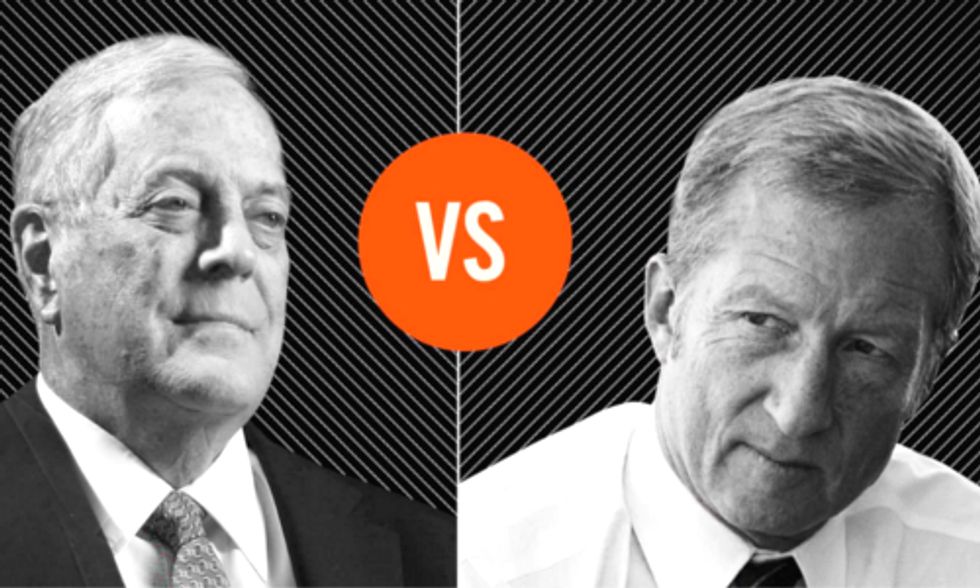 NextGen Climate has already began the push for a public debate with the Kochs, inviting web visitors to sign a petition.
——–
YOU ALSO MIGHT LIKE
State Department Indefinitely Delays Keystone XL Pipeline Decision
Carbon Tracker Reports Keystone XL Will 'Significantly Exacerbate' Climate
Supreme Court Chooses Dark Money Billionaires Over Environment in Historic McCutcheon v. FEC Ruling
——– 
EcoWatch Daily Newsletter
Related Articles from EcoWatch