Activist Climbs Flagpole Outside Refinery Office, Hangs Banner Denouncing Investment in Keystone XL
Mar. 27, 2013 12:20PM EST
Energy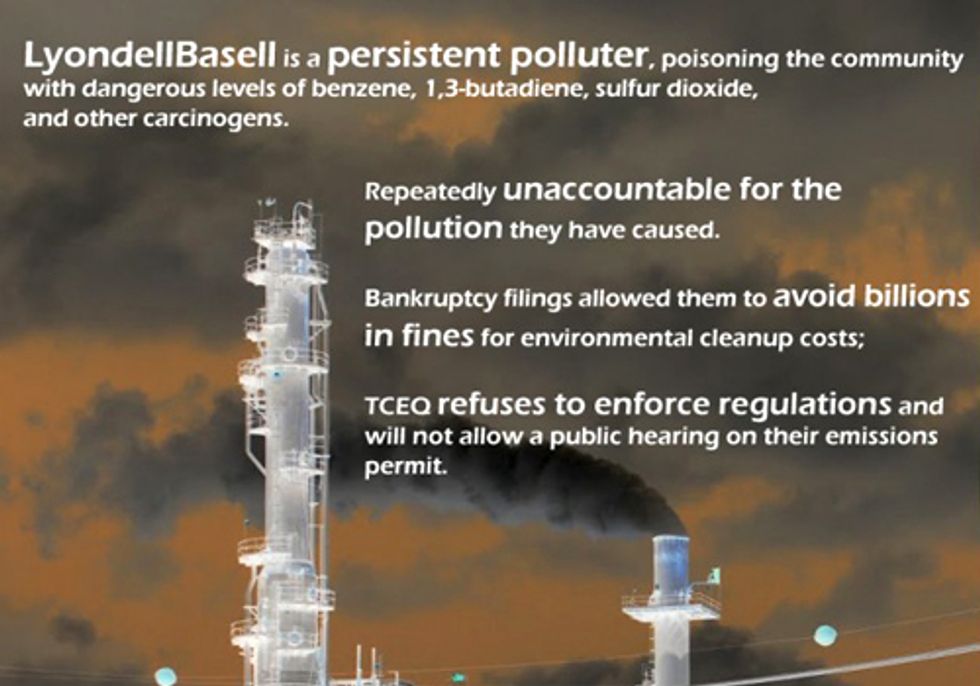 An activist with Tar Sands Blockade climbed a 50 foot flagpole in front of LyondellBasell's downtown Houston, Texas, office this morning and hung a banner denouncing the corporation's plans to nearly triple its tar sands processing capacity at its Houston Refining facility in the Hispanic neighborhood of Manchester. The banner reads: "LyondellBasell, Stay Out of Tar Sands. No KXL."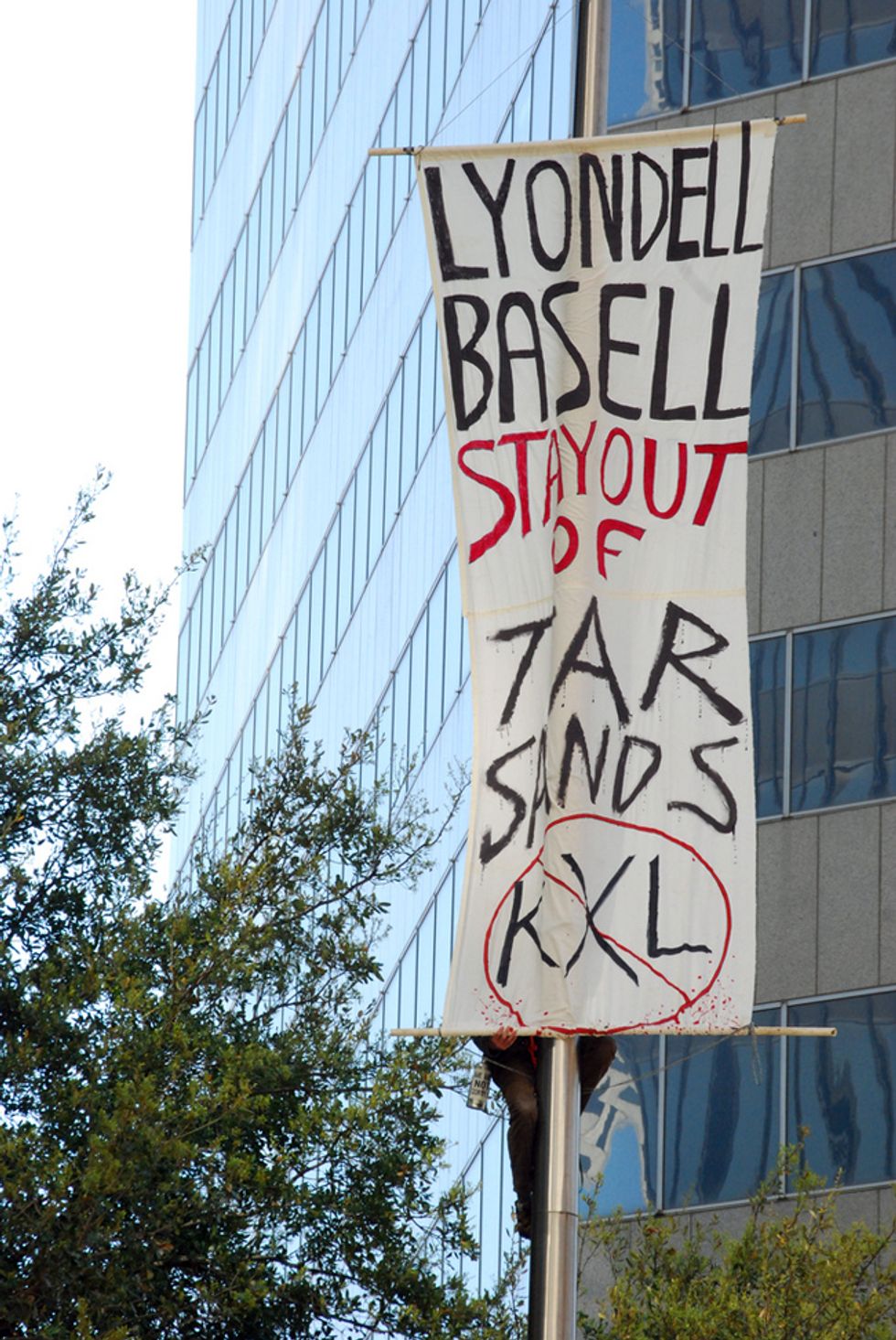 Today's protest, from activist Perry Graham, is in response to a recent announcement by LyondellBasell's CEO Jim Gallogly that they were "just finishing up" a $50 million upgrade to increase the Houston Refining facility's capacity to process tar sands. The planned upgrade to the largest refinery in the City of Houston would process 175,000 barrels of tar sands per day, or nearly one-quarter of the capacity of TransCanada's Keystone XL pipeline. If built, the pipeline would carry toxic tar sands from Alberta, Canada to Houston and other Gulf Coast refineries before being primarily exported overseas.
"I'm taking action today to expose LyondellBasell's unjust practices of environmental racism, from the poisoning of the Athabascan Chipewyan people due to tar sands extraction, to the ongoing refinery pollution affecting communities of color in Houston's toxic East End," said Graham. "After last week's 55 actions across the continent to stop tar sands profiteers, corporations like LyondellBasell that process tar sands should expect active resistance."
LyondellBasell has a history of dodging accountability for their pollution. In 2009, LyondellBasell filed for bankruptcy, allowing the corporation to avoid nearly $5 billion in environmental cleanup costs at 11 contaminated sites across the country. Last year, LyondellBasell was sued by Harris County for four incidents at their Channelview, Texas, refinery that resulted in the release of five tons of pollutants, including benzene, octane, ethylene, propylene and 1,3-butadiene.
To make matters worse, the Texas Commission on Environmental Quality (TCEQ) refused to allow a public hearing to review LyondellBasell's benzene emissions in Houston in 2010. This lack of oversight leaves affected communities like Manchester, located less than two miles from the LyondellBasell refinery, to suffer toxic pollutants and cancer-related deaths without recourse.
"The fence-line community of Manchester already deals with the effects of the pollution from surrounding industry," said Manchester resident and Tar Sands Blockade spokesperson Yudith Nieto. "Now LyondellBasell wants to almost triple dirty tar sands refining in our communities without regard for the safety and well being of the people. Where are the state environmental agencies who have a duty to protect us from this unjust and destructive industry?"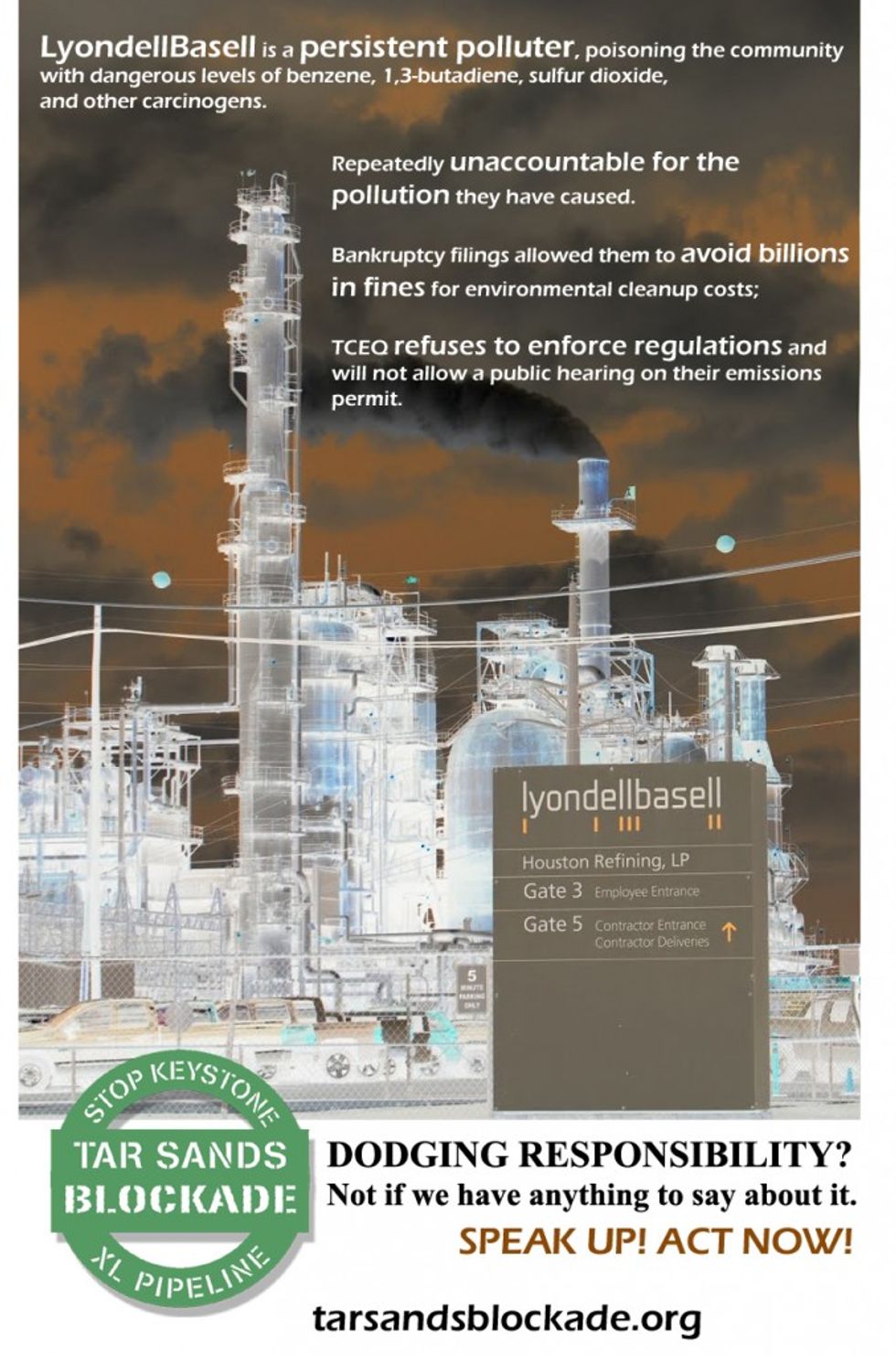 Visit EcoWatch's KEYSTONE XL page for more related news on this topic.
——-
EcoWatch Daily Newsletter