This website uses cookies to ensure you get the best experience while browsing it. By clicking 'Got It' you're accepting these terms.
Action4Climate Video Contest Inspires 5 Day Filmmaking Journey
Apr. 09, 2014 04:09AM EST
Climate
[Editor's note: This video was submitted to the Action4Climate Video Competition. Vote for your favorite video today.]
In just five short days, my Montgomery College sociology classmates and I made a video to promote awareness about climate change. Our inspirational professor, Dr. Leszek Sibilski, embedded this question in us: "How are you going to shape society?"
Unable to understand at the time what he meant by this, I ignored it. Now, looking back on what my classmates and I accomplished in the span of just two weeks, I understand what he meant. "You have the power to change the world" he told us, and I now believe him. So, as a class of about 30 students, we ventured out of our comfort zones to unite and do something meaningful.
I, like most of my classmates, was unprepared for the first day of filming. The extracurricular journey we were about to embark on was right in front of us, yet most of us didn't do anything to get ready for it. I thought, "It won't be hard. We just have to point a camera and talk, right?" I was wrong. After several people blurted out "Shit!" and "Wait, can I redo that?" while filming, I knew we were in for a long ride.
There was uproarious laughter that took over the room each time someone stuttered or didn't make sense, which came about every two minutes. We definitely had a lot of work to do.
During the second day of filming, we were fortunate enough to have a field trip to the World Bank. One by one, each student arrived in business attire. After going through security, we heard a wonderful presentation by Angelica Silvero, head of the World Bank speakers bureau, about how the World Bank is fighting to end poverty. She also enlightened us about some of the issues associated with climate change. It was something that really resonated with me. After we finished touring and eating lunch, we planned to go outside and take a few shots for our video, and then call it day. Unfortunately, weather was not on our side and a downpour kept us inside.
Feeling optimistic, the majority of our class stayed to take footage outside anyways. We were so dedicated to the project that we even went to the White House to get a shot that we needed for our video. Being in D.C. ended up being a major perk for our project, despite the rain.
Having finally gotten more serious, we started off the third day of filming by redoing almost everything we had tried to do the first day. Everyone gave one or two personal statements to the camera about how climate change is or would affect them. Amazingly, mostly everyone completed the task without mistakes. Instead of laughing and goofing off after someone would finish, we'd clap for them and moved on.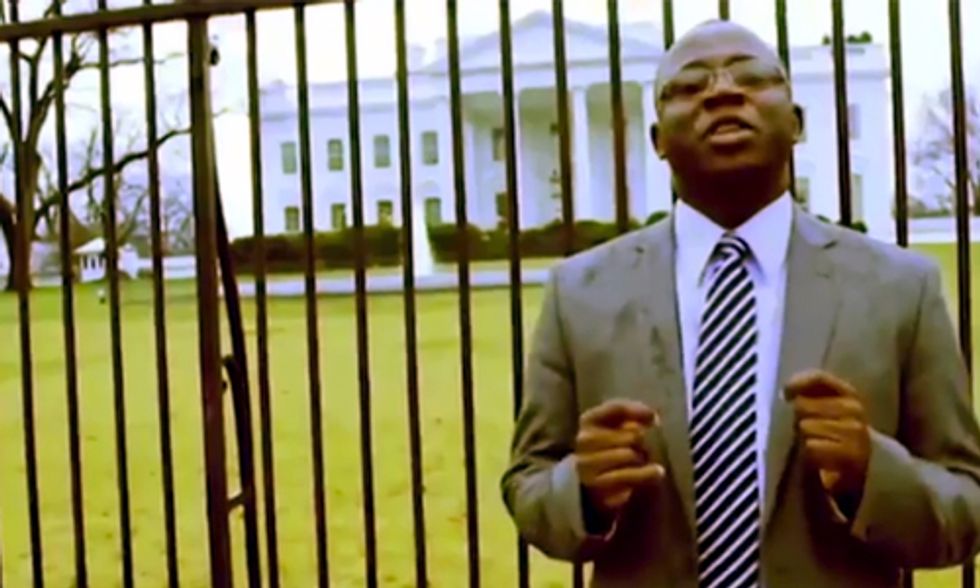 We got the majority of our footage from this filming session and our trip to the World Bank. But then it started to sink in that we only had two days left to get everything finished.
The fourth day came. Getting used to being filmed was still an adjustment for us. The pressure was on. One girl was so stressed by her fear of speaking that she started to cry. We had to go over things again and again.
Professor Sibilski ended up asking us fake questions like "What's your favorite meal?" and "Do you like the color red?" just to make people feel more comfortable raising their hand and talking in front of the camera, which surprisingly worked.
On the fifth and final day, we were at the bittersweet end. My classmate who was upset just the day before, felt empowered after completing her line. The whole class cheered her on. After that, we didn't have much to film so we went and took a group picture by the Montgomery College sign outside. We left the classroom knowing we had not only done something together, but we did something to try and better this world.
Although some people weren't taking the project as seriously as we needed to in the beginning, we have come to realize just how much of a negative impact climate change is having. It affects everyone, all of the time, and is only getting worse.
So, to answer Dr. Sibilski's initial question, we all hope we have impacted our community in a positive way by working together to raise awareness about climate change. We are the future, but we must remember, we wouldn't be anything without the world we live in.
——–
YOU ALSO MIGHT LIKE
Climate Change Will Make it Harder to Grow These 5 Foods
13 Useful Tips for Climate Action From the IPCC Report
Hundreds of Students Participate in Walkout, Call for Gov. Patrick to Act on Climate Change
——–
EcoWatch Daily Newsletter
A man wearing a protective mask sits on the lawn in front of the Australian Parliament house in Canberra, Australia on Jan. 1, 2020. The level of air pollution in Canberra is the highest in the world on some days. Daniiielc / iStock / Getty Images Plus
Researchers now say there is "no safe level" of air pollution exposure after a large-scale study found a correlation between exposure to fine particle matter, known as PM2.5, and cardiac arrests, according to the The Sydney Morning Herald.
The British Medical Journal announced a fossil fuel divestment campaign. Andrew Matthews / PA Images via Getty Images
By Andrea Germanos
Respected medical journal The BMJ drew praise online from climate activists and medical professionals for its newly-announced fossil fuel divestment campaign.

New Jersey will be the first state in the U.S. to require builders to take the climate crisis into consideration before seeking permission for a project.
Workers selectively harvest slightly under-ripe Syrah grapes to make a Blanc de Noir wine for the Israeli winery Zaza on Aug. 6, 2019 in central Israel. Israeli vintners are harvesting their grapes earlier than they did a decade ago due to shorter winters and more intense summers. David Silverman / Getty Images

An aerial view of a neighborhood destroyed by the Camp Fire on Nov. 15, 2018 in Paradise, Calif. Justin Sullivan / Getty Images
Respecting scientists has never been a priority for the Trump Administration. Now, a new investigation from The Guardian revealed that Department of the Interior political appointees sought to play up carbon emissions from California's wildfires while hiding emissions from fossil fuels as a way to encourage more logging in the national forests controlled by the Interior department.