ACTION: Why Is a Monsanto Lobbyist Serving as the FDA's Food Safety Czar?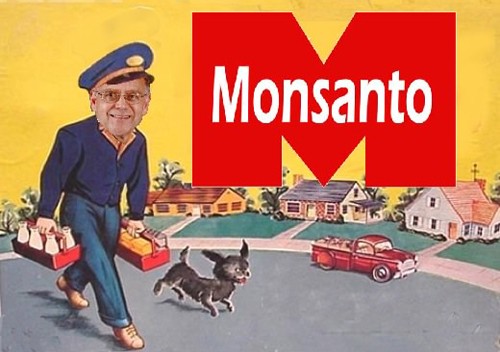 Why is a former Monsanto lobbyist currently serving as the U.S. Food and Drug Administration's (FDA) food safety czar waging war on small dairy farms that produce fresh milk?
While factory farm operators are getting away with serious food safety violations, raw milk dairy farmers and distributors across the country have been subjected to armed raids and hauled away in handcuffs.
The FDA is running sting operations followed by "guns-drawn raids usually reserved for terrorists and drug lords" as part of a crackdown on unpasteurized milk.1 Meanwhile, the FDA is letting the highly consolidated industrial meat and factory farm industry off the hook despite growing problems.
Not surprisingly, the person responsible for prioritizing armed raids on small dairies over holding agribusiness accountable is a former Monsanto attorney and chief super lobbyist. Monsanto's Michael Taylor is the second highest-ranking official at the FDA, and as food safety czar is responsible for implementing the day-to-day policies that govern the food safety laws for the U.S. 2
Tell President Obama to fire Monsanto's Michael Taylor from his job as food czar at the FDA.
Whether or not you think unpasteurized milk is a good idea, it's clear that the FDA under Michael Taylor has its priorities wrong. When industrial agribusiness sickens thousands of people, it's absurd for the FDA to target Amish farmers producing fresh milk, much less to engage in "guns drawn" enforcement raids.
CREDO is joining our allies at Food Democracy Now! in calling on the president to fire Monsanto's Michael Taylor from the FDA. Midwestern farmers will play an important symbolic role in President Obama's reelection campaign. We need to let the president know that we stand with small farmers and not Monsanto.
Michael Taylor seems focused on entirely the wrong aspects of food safety enforcement. Rather than making sure that food safety inspections are done properly at our nation's largest factory farms, where antibiotic resistance has run amuck, Taylor has been leading a departmental crusade against small raw milk dairy producers. So far several dairy farmers have been subject to a year-long undercover sting operation from the East Coast to California.
Incredibly, Michael Taylor and FDA inspectors have not arrested or fined the Iowa agribusinessman—Jack DeCoster—who was wholly responsible for the more than 500 million eggs that were recalled in 2010 salmonella-tainted egg recall.3 Though this industrial agribusinessman endangered the health of millions, Michael Taylor thinks Amish farmers producing fresh milk are more deserving targets of his FDA enforcement raids with guns drawn.
While CREDO recognizes the inherent risks that are involved in food production, it's time that the U.S. government start responsibly looking into the real origins of our nation's largest food safety recalls and stop harassing family farmers trying to survive in the excessively consolidated food and agricultural sectors.
Thanks for standing up for small farmers and taking our government back from Monsanto.
For more information, click here.
—————
1. Food Safety Chief Defends Raw Milk Raids, San Francisco Chronicle, June 7, 2011
2. Monsanto's Man Taylor Returns to FDA in Food-Czar Role, Grist, July 8, 2009.
3. DeCoster Gets Warning, Hillandale Sales OK'd, Food Safety News, October 19, 2010.
A coalition of conservation groups and others announced Thursday that a historic number of comments and petitions of support have been submitted to the U.S. Department of the Interior in support of Bears Ears National Monument. Despite the entirely inadequate 15-day comment period ending on May 26, more than 685,000 comments in support of Bears Ears National Monument have been collected.
Keep reading...
Show less
Rink Glacier in western Greenland, with a meltwater lake visible center. NASA/OIB
Scientists have had their eyes on Greenland as its iconic glaciers have begun disappearing due to a warming climate. But, what they didn't expect to see was a whole new type of melting.
Keep reading...
Show less
Mountain View Fire
By Lena Moffitt
An oil tanker in Mead, Colorado exploded, killing one and injuring three on Thursday. Authorities are continuing to investigate the cause of the explosion.
Keep reading...
Show less
Banner created by Alliance for Climate Education
Keep reading...
Show less
Twenty-two GOP senators sent a letter Thursday urging Donald Trump to pull out of the Paris agreement. They argued remaining in the deal could "upend" the administration's ability "to fulfill its goal of rescinding the Clean Power Plan."
Keep reading...
Show less
By Cheryl Johncox
The Federal Energy Regulatory Commission (FERC) rejected on Thursday Energy Transfer Partners' request to resume horizontal directional drilling at two sites for its Rover fracked gas pipeline. This rejection comes after numerous leaks into Ohio's wetlands, and Clean Air and Clean Water act violations. FERC has halted the process at only eight locations of the 32 where drilling is taking place under Ohio's wetlands and streams.
Keep reading...
Show less
By Nadia Prupis
A majority of people in eight countries say they are ready to change their lifestyles if it would prevent climate catastrophe, a survey on global threats released Wednesday found.
Keep reading...
Show less
May. 25, 2017 01:55PM EST
Bill Maher is sick of billionaires' obsession with Mars, more like "Mars-a-Lago," he said.
In a new animation produced by ATTN:, the popular talk show host of Real Time, discusses the perils of our planet, including how "climate change is killing us."
Keep reading...
Show less