This website uses cookies to ensure you get the best experience while browsing it. By clicking 'Got It' you're accepting these terms.
ACTION: Why Is a Monsanto Lobbyist Serving as the FDA's Food Safety Czar?
Jan. 30, 2012 03:02PM EST
GMO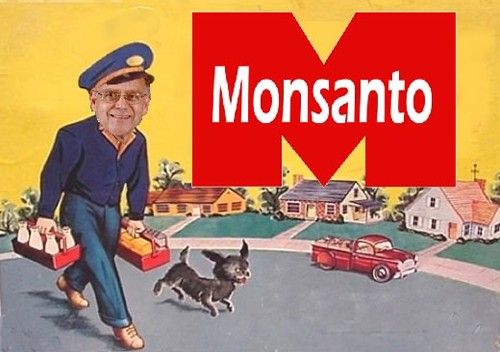 Why is a former Monsanto lobbyist currently serving as the U.S. Food and Drug Administration's (FDA) food safety czar waging war on small dairy farms that produce fresh milk?
While factory farm operators are getting away with serious food safety violations, raw milk dairy farmers and distributors across the country have been subjected to armed raids and hauled away in handcuffs.
The FDA is running sting operations followed by "guns-drawn raids usually reserved for terrorists and drug lords" as part of a crackdown on unpasteurized milk.1 Meanwhile, the FDA is letting the highly consolidated industrial meat and factory farm industry off the hook despite growing problems.
Not surprisingly, the person responsible for prioritizing armed raids on small dairies over holding agribusiness accountable is a former Monsanto attorney and chief super lobbyist. Monsanto's Michael Taylor is the second highest-ranking official at the FDA, and as food safety czar is responsible for implementing the day-to-day policies that govern the food safety laws for the U.S. 2
Tell President Obama to fire Monsanto's Michael Taylor from his job as food czar at the FDA.
Whether or not you think unpasteurized milk is a good idea, it's clear that the FDA under Michael Taylor has its priorities wrong. When industrial agribusiness sickens thousands of people, it's absurd for the FDA to target Amish farmers producing fresh milk, much less to engage in "guns drawn" enforcement raids.
CREDO is joining our allies at Food Democracy Now! in calling on the president to fire Monsanto's Michael Taylor from the FDA. Midwestern farmers will play an important symbolic role in President Obama's reelection campaign. We need to let the president know that we stand with small farmers and not Monsanto.
Michael Taylor seems focused on entirely the wrong aspects of food safety enforcement. Rather than making sure that food safety inspections are done properly at our nation's largest factory farms, where antibiotic resistance has run amuck, Taylor has been leading a departmental crusade against small raw milk dairy producers. So far several dairy farmers have been subject to a year-long undercover sting operation from the East Coast to California.
Incredibly, Michael Taylor and FDA inspectors have not arrested or fined the Iowa agribusinessman—Jack DeCoster—who was wholly responsible for the more than 500 million eggs that were recalled in 2010 salmonella-tainted egg recall.3 Though this industrial agribusinessman endangered the health of millions, Michael Taylor thinks Amish farmers producing fresh milk are more deserving targets of his FDA enforcement raids with guns drawn.
While CREDO recognizes the inherent risks that are involved in food production, it's time that the U.S. government start responsibly looking into the real origins of our nation's largest food safety recalls and stop harassing family farmers trying to survive in the excessively consolidated food and agricultural sectors.
Thanks for standing up for small farmers and taking our government back from Monsanto.
For more information, click here.
—————
1. Food Safety Chief Defends Raw Milk Raids, San Francisco Chronicle, June 7, 2011
2. Monsanto's Man Taylor Returns to FDA in Food-Czar Role, Grist, July 8, 2009.
3. DeCoster Gets Warning, Hillandale Sales OK'd, Food Safety News, October 19, 2010.
EcoWatch Daily Newsletter
Fred Stone holds his brown swiss cow Lida Rose at his Arundel dairy farm on March 18 after a press conference where he spoke about PFAS chemical contamination in his fields. Gregory Rec / Portland Portland Press Herald via Getty Images
By Susan Cosier
First there was Fred Stone, the third-generation dairy farmer in Maine who discovered that the milk from his cows contained harmful chemicals. Then came Art Schaap, a second-generation dairy farmer in New Mexico, who had to dump 15,000 gallons of contaminated milk a day.
Protesters attend the 32nd Annual Fur-Free Friday demonstration on Nov. 23, 2018 in Beverly Hills, California. Ella DeGea / Getty Images
California Governor Gavin Newsom signed into law a bill that that bans the sale and manufacture of fur products in the state. The fur ban, which he signed into law on Saturday, prohibits Californians from selling or making clothing, shoes or handbags with fur starting in 2023, according to the AP.
By Simon Evans
During the three months of July, August and September, renewables generated an estimated total of 29.5 terawatt hours (TWh), compared with just 29.1TWh from fossil fuels, the analysis shows.
A demonstrator waves an Ecuadorian flag during protests against the end of subsidies to gasoline and diesel on Oct. 9 in Quito, Ecuador. Jorge Ivan Castaneira Jaramillo / Getty Images
Protesters block the road outside Mansion House in London during an XR climate change protest. Gareth Fuller / PA Images via Getty Images
Protestors marched outside the Prudential Center in Newark, New Jersey on Monday, August 26, during the MTV Video and Music Awards to bring attention to the water crisis currently gripping the city. Karla Ann Cote / NurPhoto / Getty Images
By Will Sarni
It is far too easy to view scarcity and poor quality of water as issues solely affecting emerging economies. While the images of women and children fetching water in Africa and a lack of access to water in India are deeply disturbing, this is not the complete picture.
Pexels
Mice exposed to nicotine-containing e-cigarette vapor developed lung cancer within a year.
More research is needed to know what this means for people who vape.
Other research has shown that vaping can cause damage to lung tissue.
A new study found that long-term exposure to nicotine-containing e-cigarette vapor increases the risk of cancer in mice.
Demonstrators with The Animal Welfare Institute hold a rally to save the vaquita, the world's smallest and most endangered porpoise, outside the Mexican Embassy in DC on July 5, 2018. SAUL LOEB / AFP / Getty Images
Six months: That's how much time Mexico now has to report on its progress to save the critically endangered vaquita porpoise (Phocoena sinus) from extinction.