This website uses cookies to ensure you get the best experience while browsing it. By clicking 'Got It' you're accepting these terms.
ACTION: Tell USDA to Stop Buying 'Pink Slime' for School Lunches
Mar. 12, 2012 08:30AM EST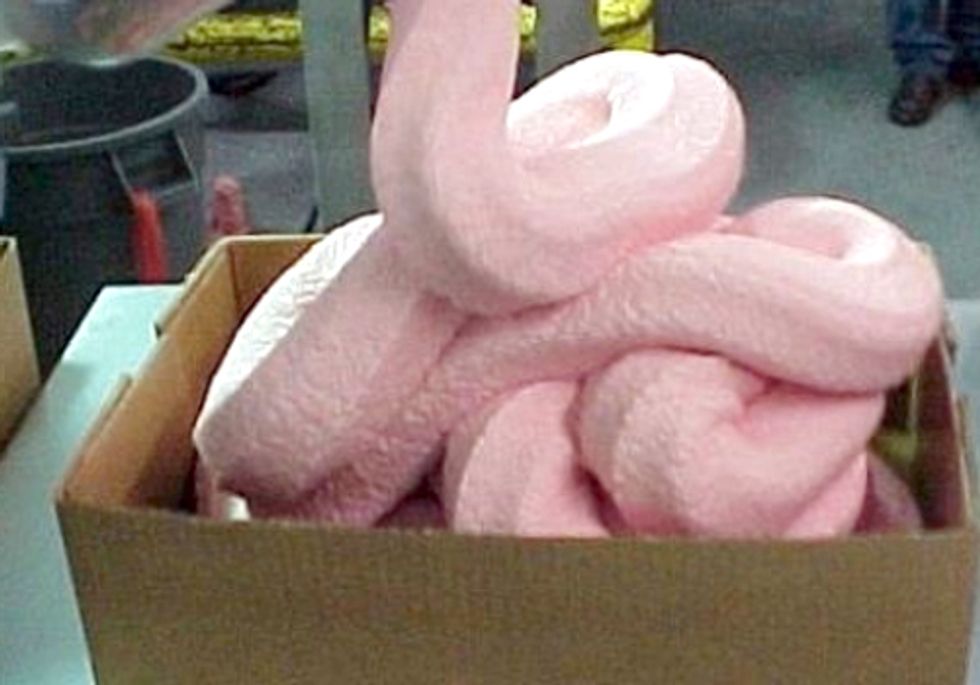 So-called pink slime is a beef-like product created by grinding together connective tissue and beef scraps normally used in dog food, and treated with ammonia hydroxide to kill salmonella and E. coli.
It is "not meat" according to a 35-year veteran U.S. Department of Agriculture (USDA) microbiologist,1 and was recently rejected by the likes of McDonalds, Taco Bell and Burger King.2 So it's pretty disturbing that the USDA continues feeding this stuff to kids, and plans to buy seven million pounds of it for school lunches.
In an all too familiar story, despite concerns raised by USDA inspectors and minimal safety inspections, the USDA approval of Beef Products Incorporated's "Lean Beef Trimmings" was pushed through by USDA undersecretary JoAnne Smith, a George H.W. Bush appointee and former president of the National Cattleman's Association.
The USDA allows beef products like hamburgers to contain up to 15 percent of the Ammonia-treated, meat-ish stuff, but inadequate labeling requirements prevent parents from knowing if it's included in the meat being served at their kids' school.
Aside from the lack of nutritional value, pink slime raises a number of health and safety concerns. The New York Times exposed in 2009 that despite being treated with ammonia, three E. coli contaminations and four dozen salmonella contaminations occurred between 2005 and 2009, during which time school lunch officials temporarily banned hamburger makers from using pink slime from one facility in Kansas three times.3
Ammonium hydroxide is harmful to eat by itself, and can potentially turn into ammonium nitrate, a common ingredient in home made explosives.
Kids need nutritious food to be able to learn in school, and many of the tens of millions of kids who rely on school lunches come from low income families where they are less likely to get a healthy diet. While pink slime is a nutritionally inferior and potentially risky product, the school lunch program saves only three cents per pound of ground beef by continuing to put this filler in kids hamburgers.4
Over the past few months, numerous fast-food chains have rejected the product and say they no longer use it. School lunch officials should clearly follow suit.
Sign our petition to keep 'pink slime' out of school cafeterias today by clicking here.
—————
1. Partners in 'slime': Feds keep buying ammonia-treated ground beef for school lunches, The Daily, 3/5/12
2. Pink Slime For School Lunch: Government Buying 7 Million Pounds Of Ammonia-Treated Meat For Meals, Huffington Post, 3/5/12
3. Safety of Beef Processing Method Is Questioned, New York Times, 12/30/09
4. Pink Slime, Ammonium Hydroxide Fast Food Ground Beef Additive, Dropped By McDonald's Et Al., Huffington Post, 1/27/12
EcoWatch Daily Newsletter
The Ernest N. Morial Convention Center in New Orleans, Louisiana has been converted to a 1,000-bed field hospital for coronavirus patients to alleviate stress on local hospitals. Chris Graythen / Getty Images
An area in Louisiana whose predominantly black and brown residents are hard-hit by health problems from industry overdevelopment is experiencing one of the highest death rates from coronavirus of any county in the United States.
A woman lies in bed with the flu. marka/Universal Images Group via Getty Images
A central player in the fight against the novel coronavirus is our immune system. It protects us against the invader and can even be helpful for its therapy. But sometimes it can turn against us.
Several flower species, including the orchid, can recover quickly from severe injury, scientists have found. cunfek / iStock / Getty Images Plus
Calling someone a delicate flower may not sting like it used to, according to new research. Scientists have found that many delicate flowers are actually remarkably hearty and able to bounce back from severe injury.
A Boeing 727 flies over approach lights with a trail of black-smoke from the engines on April 9, 2018. aviation-images.com / Universal Images Group via Getty Images
With global air travel at a near standstill, the airline industry is looking to rewrite the rules it agreed to tackle global emissions. The Guardian reports that the airline is billing it as a matter of survival, while environmental activists are accusing the industry of trying to dodge their obligations.
A National Guard member works on election day at a polling location on April 7, 2020 in Madison, Wisconsin. Andy Manis / Getty Images.
ByJulia Baumel
The outbreak of COVID-19 across the U.S. has touched every facet of our society, and our democracy has been no exception.