This website uses cookies to ensure you get the best experience while browsing it. By clicking 'Got It' you're accepting these terms.
ACTION—Stop TransCanada's Keystone XL Land Grab
Feb. 24, 2012 11:30AM EST
Climate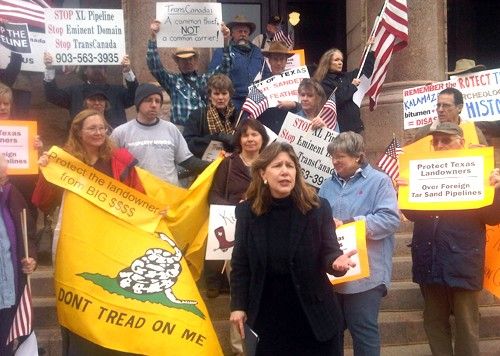 The arrogance of TransCanada is shocking, even for an oil company.
The company is threatening to seize the property of American landowners and start construction of its Keystone XL pipeline—even though President Obama last month rejected the permit to build.
The pipeline path includes the 600 acre working farm that Julia Trigg Crawford's grandfather bought in 1948, on the Texas Oklahoma border, where the Red River meets Bois d'Arc Creek, which waters the farm.
Fearing for the safety of her farm and it's water source, Julia Trigg rejected TransCanada's offer to buy an easement on her land.
TransCanada announced it was seizing her land under eminent domain and would begin digging, but Julia won a temporary restraining order,1 at least until Feb. 24, when the court will hear the case challenging Transcanada's status as a "common carrier" under Texas law.
It's bad enough that TransCanada expect landowners like Julia Trigg to accept permanent damage to their land and possible oil spills. But it's beyond arrogant for this foreign oil company to trample on private property rights and start construction on a project whose permit has just been denied.
Under eminent domain, the government can force landowners to accept monetary payment for the use of their land for certain public-good projects like highways and railroads.
Of course, TransCanada's massive fuse to the carbon bomb of the tar sands shouldn't qualify as one of these projects—it does great harm and only helps the profits of a foreign corporation. But regardless, the company doesn't even have the permit to build it, because the White House just rejected their application. But that hasn't stopped TransCanada.
According to The New York Times, the company has at least 34 eminent domain actions against landowners in Texas, and 22 in South Dakota.2 And their threats to landowners in Nebraska3 helped spark massive public opposition and a special legislative session that were key in the decision to consider a different route.
Many of these landowners are being sued by the company, and told that if they don't take the small monetary offering—sometimes less than $10,000 in exchange for the permanent damage to their land, and huge risk of spills—their land will be condemned and TransCanada will seize the easement.
Julia Trigg and others are fighting back and doing everything they can to oppose TransCanada's land grab.
Everyone from environmentalists to Tea Partiers in Texas are showing their support for Americans' property rights.4 As these court challenges unfold, we need to build pressure against TransCanada and spread the word about their reprehensible tactics.
Tell TransCanada—Stop using eminent domain to confiscate private property for the rejected Keystone XL Pipeline.
Click here to automatically sign the petition.
For more information, click here.
—————
1. "Keystone XL Pipeline: Texas Farmer Wins Temporary Restraining Order Against TransCanada," Huffington Post, Feb. 14, 2012
2. "Eminent Domain Fight Has a Canadian Twist," New York Times, Oct. 17, 2011
3. "TransCanada Keystone XL Eminent Domain Threat Letter ," Dirty Oil Sands
4. "Texans rally against Keystone XL oil pipeline easement," LA Times, Feb. 17, 2012
EcoWatch Daily Newsletter
The Centers for Disease Control (CDC) released new numbers that show vaping-related lung illnesses are continuing to grow across the country, as the number of fatalities has climbed to 33 and hospitalizations have reached 1,479 cases, according to a CDC update.
During the summer, the Arctic tundra is usually a thriving habitat for mammals such as the Arctic fox. Education Images / Universal Images Group via Getty Images
Reports of extreme snowfall in the Arctic might seem encouraging, given that the region is rapidly warming due to human-driven climate change. According to a new study, however, the snow could actually pose a major threat to the normal reproductive cycles of Arctic wildlife.
Vegan rice and garbanzo beans meals.
Ella Olsson /
Pexels
One common concern about vegan diets is whether they provide your body with all the vitamins and minerals it needs.
Many claim that a whole-food, plant-based diet easily meets all the daily nutrient requirements.
A fracking well looms over a residential area of Liberty, Colorado on Aug. 19.
WildEarth Guardians / Flickr
Pope Francis flanked by representatives of the Amazon Rainforest's ethnic groups and catholic prelates march in procession during the opening of the Special Assembly of the Synod of Bishops for the Pan-Amazon Region at The Vatican on Oct. 07 in Vatican City, Vatican. Alessandra Benedetti / Corbis News / Getty Images
The Catholic Church "hears the cry" of the Amazon and its peoples. That's the message Pope Francis hopes to send at the Synod of the Amazon, a three-week meeting at the Vatican that ends Oct. 27.
The crowd appears to attack a protestor in a video shared on Twitter by ITV journalist Mahatir Pasha.
VOA News /
Youtube screenshot
Some London commuters had a violent reaction Thursday morning when Extinction Rebellion protestors attempted to disrupt train service during rush hour.