This website uses cookies to ensure you get the best experience while browsing it. By clicking 'Got It' you're accepting these terms.
ACTION—Stop TransCanada's Keystone XL Land Grab
Feb. 24, 2012 11:30AM EST
Climate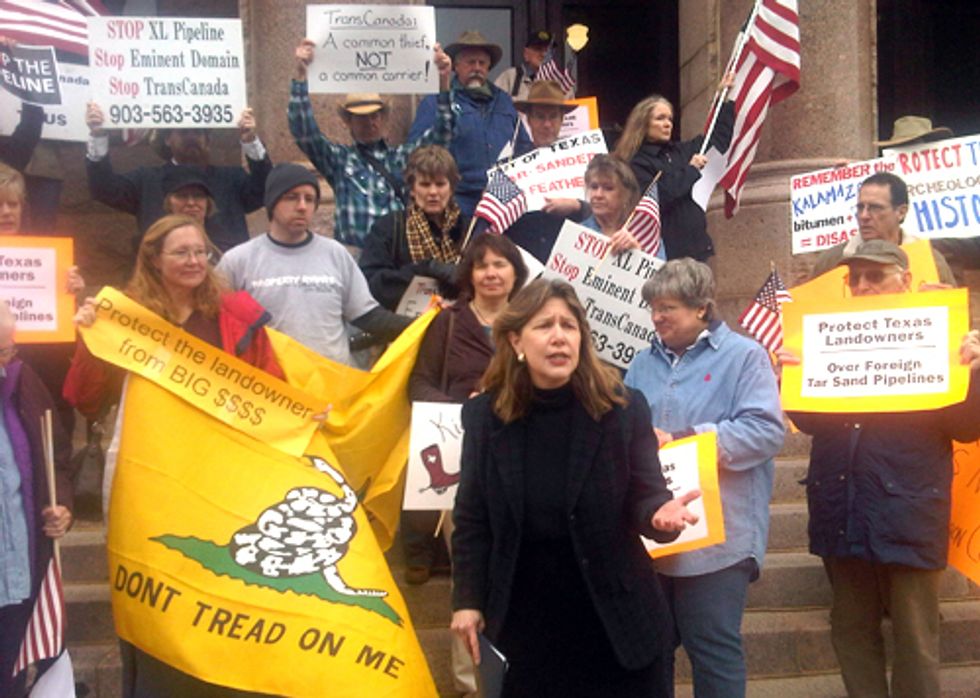 The arrogance of TransCanada is shocking, even for an oil company.
The company is threatening to seize the property of American landowners and start construction of its Keystone XL pipeline—even though President Obama last month rejected the permit to build.
The pipeline path includes the 600 acre working farm that Julia Trigg Crawford's grandfather bought in 1948, on the Texas Oklahoma border, where the Red River meets Bois d'Arc Creek, which waters the farm.
Fearing for the safety of her farm and it's water source, Julia Trigg rejected TransCanada's offer to buy an easement on her land.
TransCanada announced it was seizing her land under eminent domain and would begin digging, but Julia won a temporary restraining order,1 at least until Feb. 24, when the court will hear the case challenging Transcanada's status as a "common carrier" under Texas law.
It's bad enough that TransCanada expect landowners like Julia Trigg to accept permanent damage to their land and possible oil spills. But it's beyond arrogant for this foreign oil company to trample on private property rights and start construction on a project whose permit has just been denied.
Under eminent domain, the government can force landowners to accept monetary payment for the use of their land for certain public-good projects like highways and railroads.
Of course, TransCanada's massive fuse to the carbon bomb of the tar sands shouldn't qualify as one of these projects—it does great harm and only helps the profits of a foreign corporation. But regardless, the company doesn't even have the permit to build it, because the White House just rejected their application. But that hasn't stopped TransCanada.
According to The New York Times, the company has at least 34 eminent domain actions against landowners in Texas, and 22 in South Dakota.2 And their threats to landowners in Nebraska3 helped spark massive public opposition and a special legislative session that were key in the decision to consider a different route.
Many of these landowners are being sued by the company, and told that if they don't take the small monetary offering—sometimes less than $10,000 in exchange for the permanent damage to their land, and huge risk of spills—their land will be condemned and TransCanada will seize the easement.
Julia Trigg and others are fighting back and doing everything they can to oppose TransCanada's land grab.
Everyone from environmentalists to Tea Partiers in Texas are showing their support for Americans' property rights.4 As these court challenges unfold, we need to build pressure against TransCanada and spread the word about their reprehensible tactics.
Tell TransCanada—Stop using eminent domain to confiscate private property for the rejected Keystone XL Pipeline.
Click here to automatically sign the petition.
For more information, click here.
—————
1. "Keystone XL Pipeline: Texas Farmer Wins Temporary Restraining Order Against TransCanada," Huffington Post, Feb. 14, 2012
2. "Eminent Domain Fight Has a Canadian Twist," New York Times, Oct. 17, 2011
3. "TransCanada Keystone XL Eminent Domain Threat Letter ," Dirty Oil Sands
4. "Texans rally against Keystone XL oil pipeline easement," LA Times, Feb. 17, 2012
EcoWatch Daily Newsletter
The Ernest N. Morial Convention Center in New Orleans, Louisiana has been converted to a 1,000-bed field hospital for coronavirus patients to alleviate stress on local hospitals. Chris Graythen / Getty Images
An area in Louisiana whose predominantly black and brown residents are hard-hit by health problems from industry overdevelopment is experiencing one of the highest death rates from coronavirus of any county in the United States.
A woman lies in bed with the flu. marka/Universal Images Group via Getty Images
A central player in the fight against the novel coronavirus is our immune system. It protects us against the invader and can even be helpful for its therapy. But sometimes it can turn against us.
Several flower species, including the orchid, can recover quickly from severe injury, scientists have found. cunfek / iStock / Getty Images Plus
Calling someone a delicate flower may not sting like it used to, according to new research. Scientists have found that many delicate flowers are actually remarkably hearty and able to bounce back from severe injury.
A Boeing 727 flies over approach lights with a trail of black-smoke from the engines on April 9, 2018. aviation-images.com / Universal Images Group via Getty Images
With global air travel at a near standstill, the airline industry is looking to rewrite the rules it agreed to tackle global emissions. The Guardian reports that the airline is billing it as a matter of survival, while environmental activists are accusing the industry of trying to dodge their obligations.
A National Guard member works on election day at a polling location on April 7, 2020 in Madison, Wisconsin. Andy Manis / Getty Images.
ByJulia Baumel
The outbreak of COVID-19 across the U.S. has touched every facet of our society, and our democracy has been no exception.