This website uses cookies to ensure you get the best experience while browsing it. By clicking 'Got It' you're accepting these terms.
ACTION: Save the West from an Oil Shale Land Grab
Apr. 25, 2012 08:10AM EST
Energy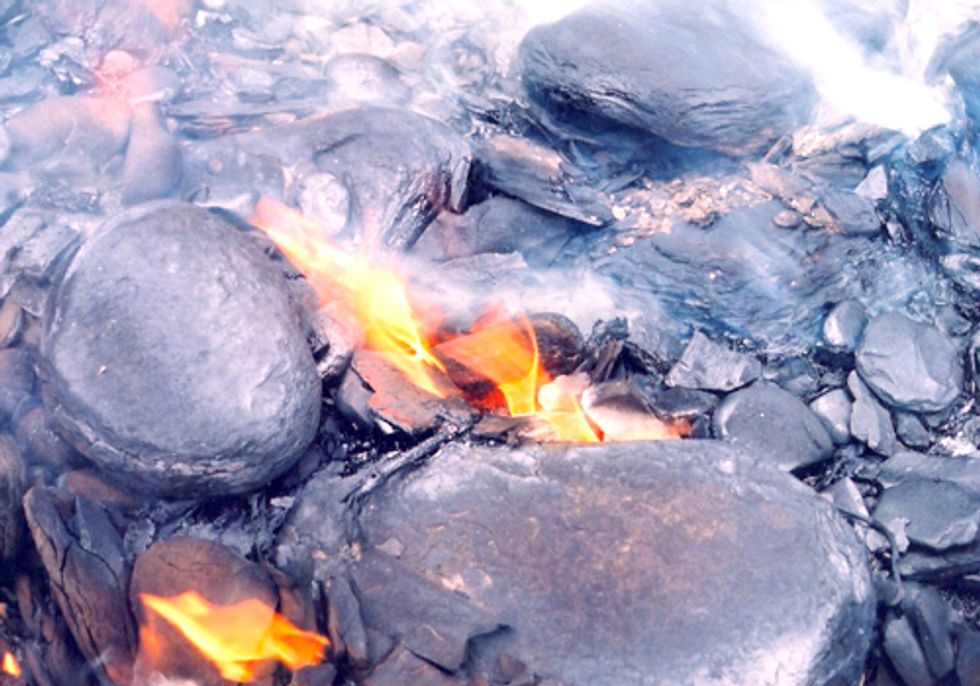 As environmentalists, we are all used to confronting industry propaganda surrounding dirty fossil fuels, but oil shale backers are in a league of their own.
Despite a century of effort, no barrels of oil have ever been produced on a commercial scale from this fuel source in the U.S. Yet the oil industry is singing oil shale's praises and lobbying the government to hand over pristine public land in the West for private speculation.
Contact the Bureau of Land Management (BLM) and stop this oil industry land grab.
Oil shale development—which to date has involved baking rocks at hundreds of degrees for months to produce something only vaguely resembling oil—would likely consume massive quantities of water, cause significant air pollution, destroy thousands of acres of wildlife habitat and promote boom-and-bust cycles for local economies. And they want millions of acres to do it, without any proof that they can commercially produce this fuel.
The oil shale industry's jobs claims are suspicious at best, but we do know how much Western economies depend on a healthy environment. Oil shale production could deplete:
Water, an indispensable resource in this arid region. Farming and ranching communities depend on a steady water supply.
Wildlife, which contribute to vibrant tourism and recreational industries. These generate $3 billion annually in economic activity in Colorado alone.
Clean air, a fundamental requirement of life that keeps our communities healthy and productive. Additionally, oil shale production will generate greenhouse gases that drive climate change.
The oil shale industry already has access to thousands of acres of public lands, as well as more than 250,000 acres of private land. The only thing holding back the oil shale industry is the rock itself.
Unproven technology should not be used to justify a controversial land grab that pits communities against each other. Tell the BLM not to hand over public land to a dirty industry that cannot promise any job gains.
To sign the petition, click here.
EcoWatch Daily Newsletter
No longer will the options when we die be a choice between just burial or cremation. Soon it will be possible to compost your remains and leave your loved ones with rich soil, thanks to a new funeral service opening in Seattle in 2021 that will convert humans into soil in just 30 days, as The Independent reported.
You can reduce the footprint of a medium-sized live tree by donating it to elephants at a local zoo, like this African elephant pictured above. eans / iStock / Getty Images
The holiday season is supposed to be about giving and sharing, but often it is actually about throwing away. The U.S. generates 25 percent more garbage between Thanksgiving and New Year's than it does during the rest of the year. That's around one million extra tons per week, according to National Environmental Education Foundation (NEEF) figures reported by The Associated Press.
The Opera House is seen with smoke haze which enveloped Sydney Harbor on Dec. 10 in Sydney, Australia. Smoke haze hangs over the city as the New South Wales fire danger risk is raised from 'very high' to 'severe'. James D. Morgan / Getty Images
The brushfires raging through New South Wales have shrouded Australia's largest city in a blanket of smoke that pushed the air quality index 12 times worse than the hazardous threshold, according to the Australia Broadcast Corporation (ABC).
People walk across the bridge near Little Raven Court in downtown Denver. Younger Americans increasingly prefer to live in walkable neighborhoods. Helen H. Richardson / The Denver Post via Getty Images
By David B. Goldstein
Energy efficiency is the cornerstone of any country's plan to fight the climate crisis. It is the cheapest option available, and one that as often as not comes along with other benefits, such as job creation, comfort and compatibility with other key solutions such as renewable energy. This has been recognized by the International Energy Agency (IEA) for at least a decade.
Activists from Extinction Rebellion New York City engaged in nonviolent direct action to confront climate change outside City Hall on April 17, 2019. Erik McGregor / Pacific Press / LightRocket via Getty Images
By Andrea Germanos

Over 500 groups on Monday rolled out an an action plan for the next president's first days of office to address the climate emergency and set the nation on a transformative path towards zero emissions and a just transition in their first days in office.