This website uses cookies to ensure you get the best experience while browsing it. By clicking 'Got It' you're accepting these terms.
A Year in the Life of Greenpeace
Dec. 29, 2013 11:15AM EST
Climate
With your help, Greenpeace has not only reached around the globe to push policy and take direct action, but we have engaged the imagination of a world which is not happy with business as usual and demands a sustainable future.
Below is a gallery of a mere few of those moments in the last year:
Jan. 25—Belgium: With the aim of informing and warning people living in the Western region of Belgium about the danger of nuclear energy a Greenpeace airship flew near the Doel nuclear power station bearing the message "Nuclear energy, never safe."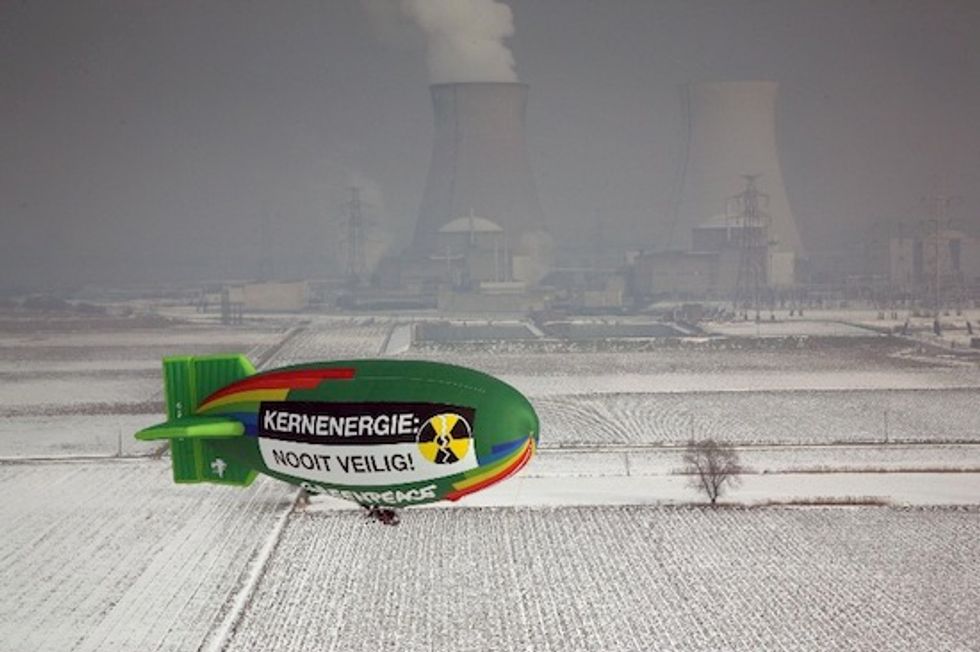 March 10—Japan: Greenpeace activists joined tens of thousands of people who marched on the Japanese parliament in remembrance of the 2011 triple disaster in Fukushima. They demanded the Japanese government abandon its dangerous nuclear program.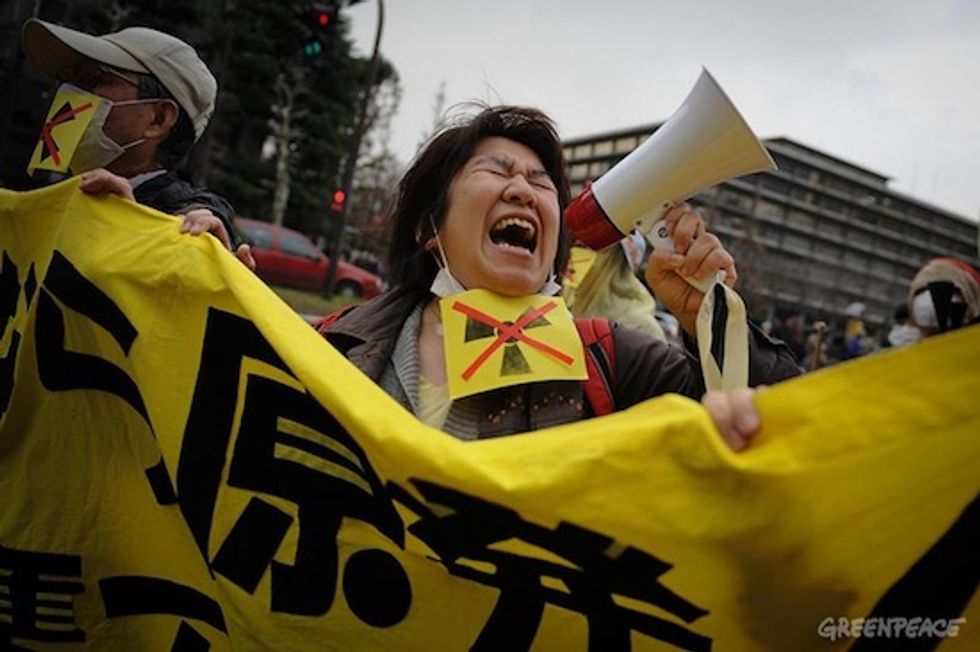 March 28—South Korea: Samcheok villagers, 192km from Seoul, participated in a demonstration to oppose the planned construction of a nuclear power plant in their community.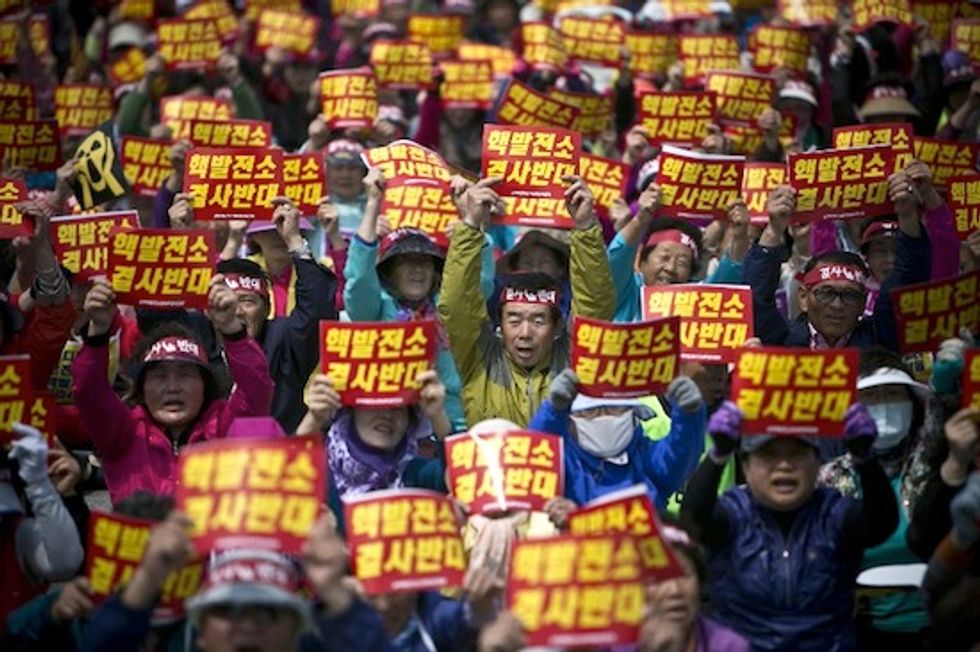 July 9—South Korea: Greenpeace activists set up a hanging nuclear emergency camp between suspension cables on Busan's iconic Gwangandaegyo bridge (also called Gwangan Daero), calling for the Korean government to widen the official nuclear evacuation zone to a 30 kilometer radius.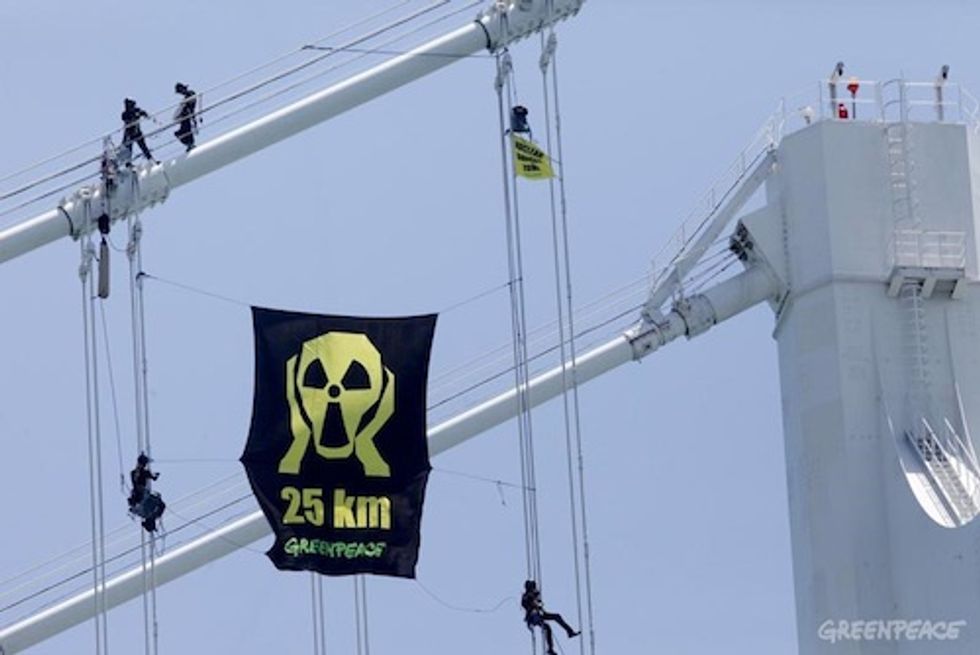 Feb. 13—U.S.: The new chief executive of Duke Energy Corp., Lynn Good, received an aerial greeting on her first day on the job. In April, Google pressured Duke Energy, the nation's largest utility company, to offer renewable energy options in North Carolina, home of several data centers, including Google's data centers. A week after Google's news, Facebook would announce its newest data center will be in Iowa, one of the biggest producers of wind energy in the U.S.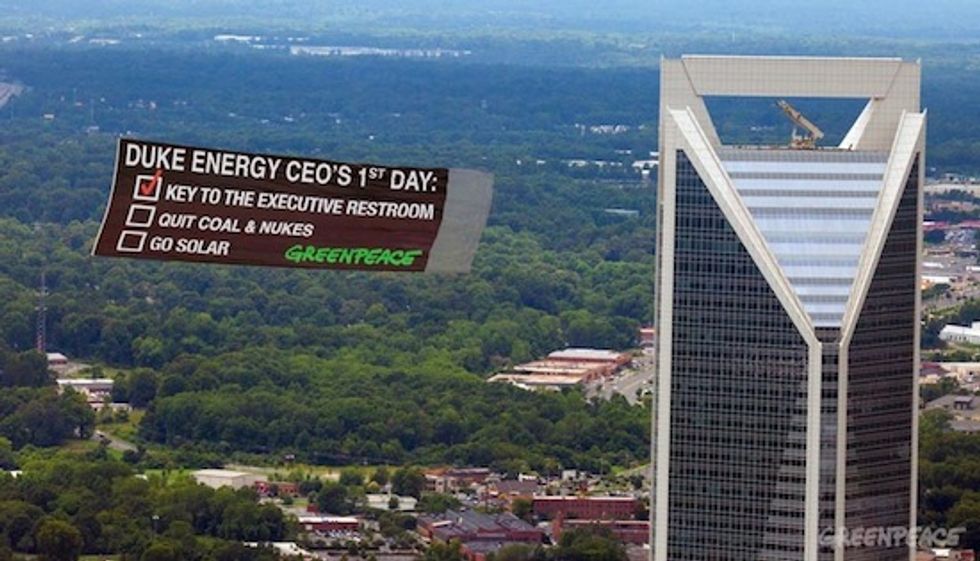 Feb. 5—Indonesia: Following years of campaigning by a wide a range of NGOs, against Asia Pulp & Paper (APP)'s involvement in deforestation, the company released its new Forest Conservation Policy, which included an immediate end to the clearance of rainforests throughout its supply chain in Indonesia.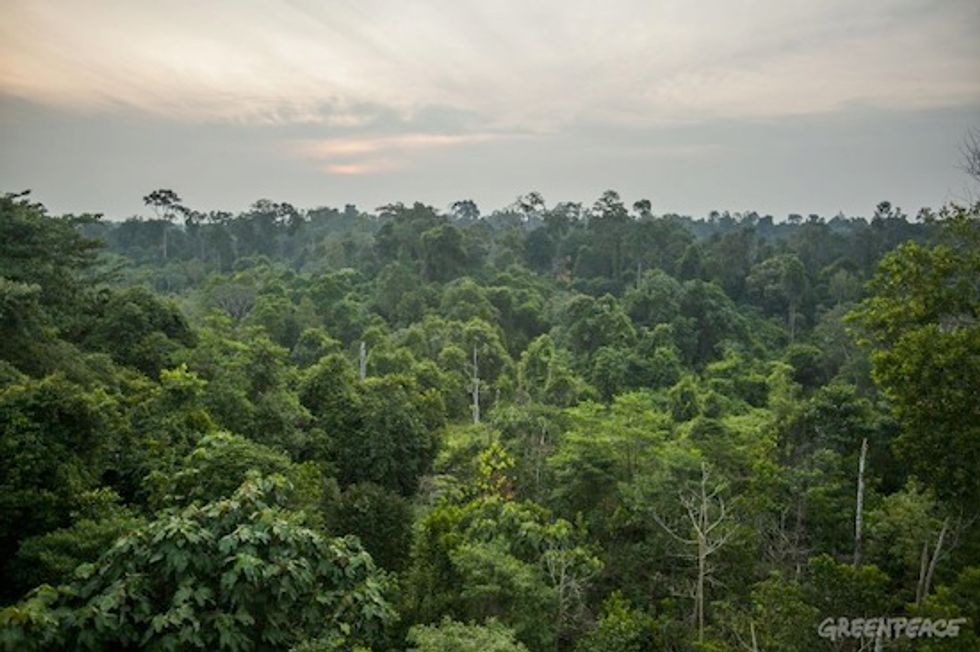 Aug. 8—Cameroon: A study by Dschang University, in collaboration with the University of Göttingen and supported by Greenpeace International, SAVE Wildlife and World Wildlife Fund Germany found a Herakles proposed deforestation zone to be a severe misrepresentation. The forests in the zone is still largely intact and is located in between four protected areas, including the iconic Korup National Park, and therefore acts as a vital corridor for the local wildlife. Herakles Farms has previously claimed its project in the South West Region of the country would convert an area of little conservation value. An aerial image of the oil palm nursery managed by Herakles Farms.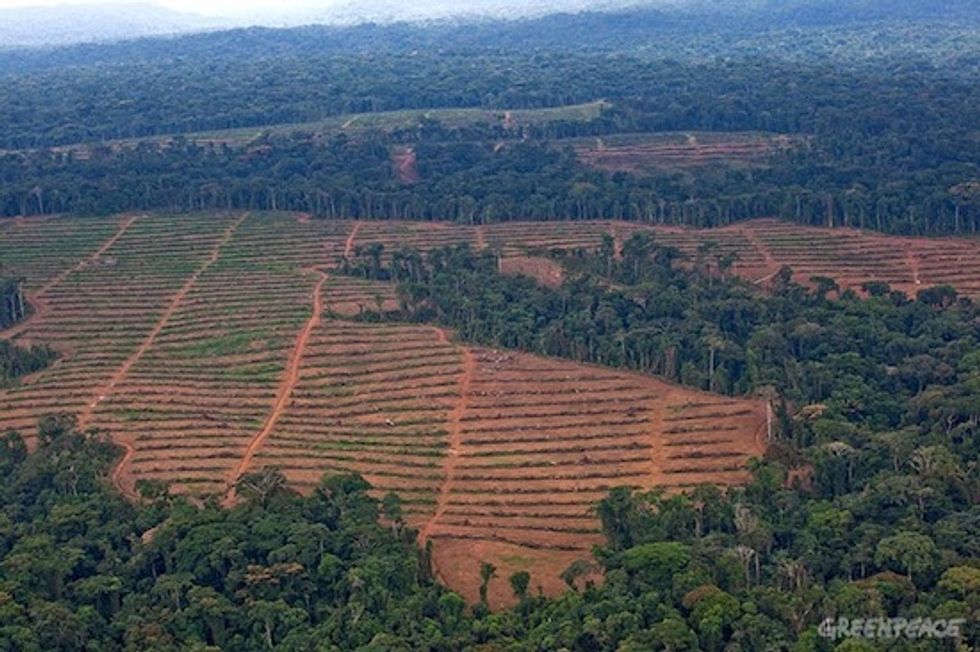 Dec. 6—Indonesia: Later in the year, Wilmar International, the world's largest palm oil trader would announce a No Deforestation Policy in response to pressure from Greenpeace, NGOs and consumers around the world. The policy has the potential to be a landmark win for the world's forests and the people that depend on them for their livelihoods.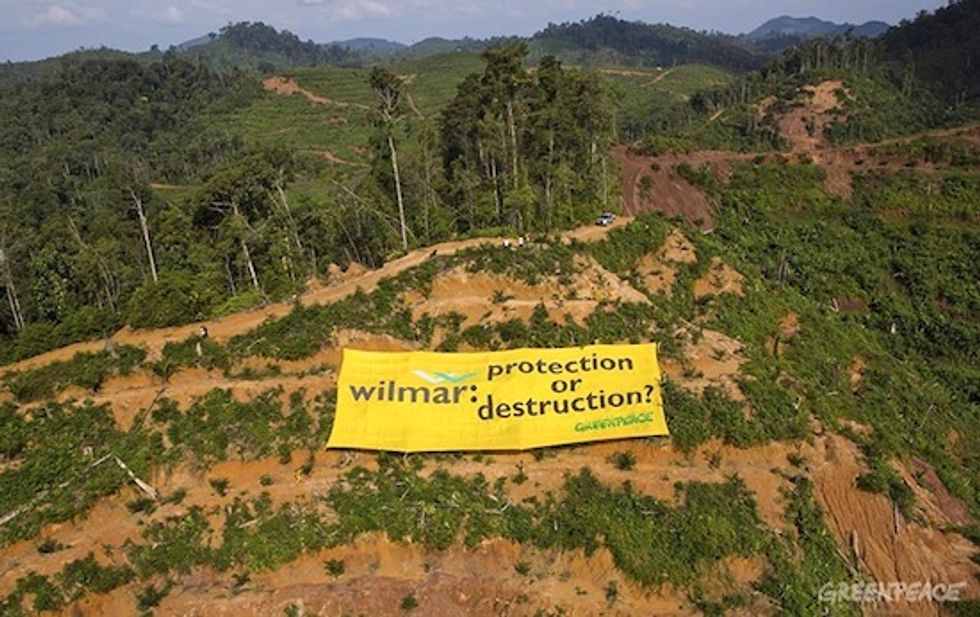 June 7—Indonesia: Greenpeace International Executive Director, Kumi Naidoo met Indonesian President, Susilo Bambang Yudhoyono on board the Greenpeace ship Rainbow Warrior in Jakarta to express support for the President's legacy of protecting the nation's biodiversity.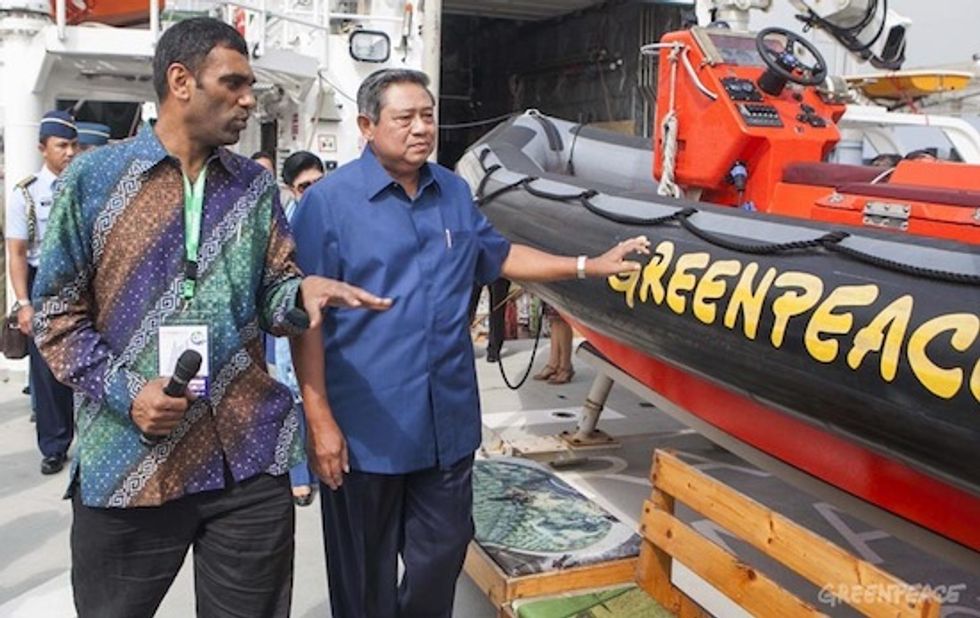 June 24—China: Greenpeace tested 65 traditional Chinese herbal products and exposed a toxic cocktail of pesticide residues—some of which are illegal in China—highlighting the need to end the use of industrial agricultural chemicals.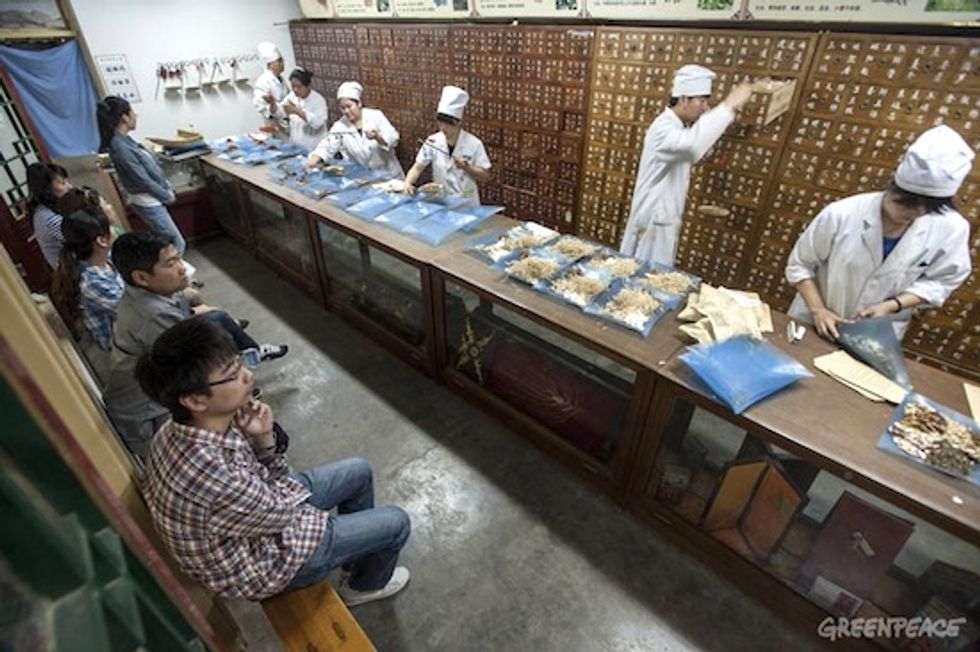 June 22—Germany: Activists protested during a Greenpeace group action day in 50 German cities at three big hardware store chains (Obi, Praktiker and Toom) against the sale of bee-harming insecticides. In May the European Union took a significant step as a majority of EU member states voted for a partial ban of three bee-killing pesticides.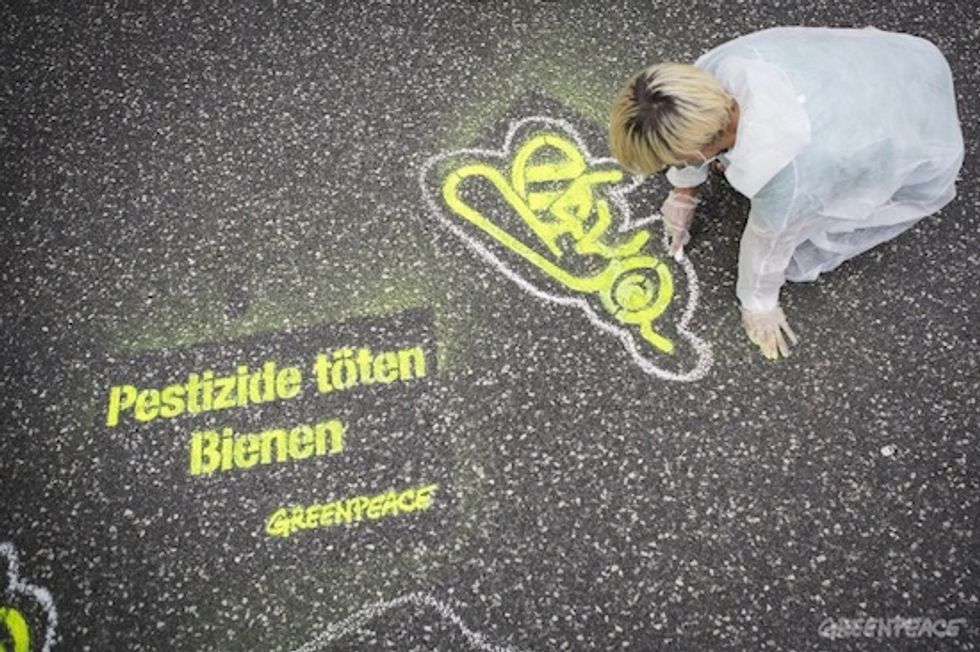 Feb. 25—UK: Greenpeace joined Hugh's Fish Fight to tell British parliament that more marine reserve zones are needed around the Isles. A group of delegates from local Greenpeace groups formed a massive shoal and crossed Westminster Bridge to lend support to this vital campaign.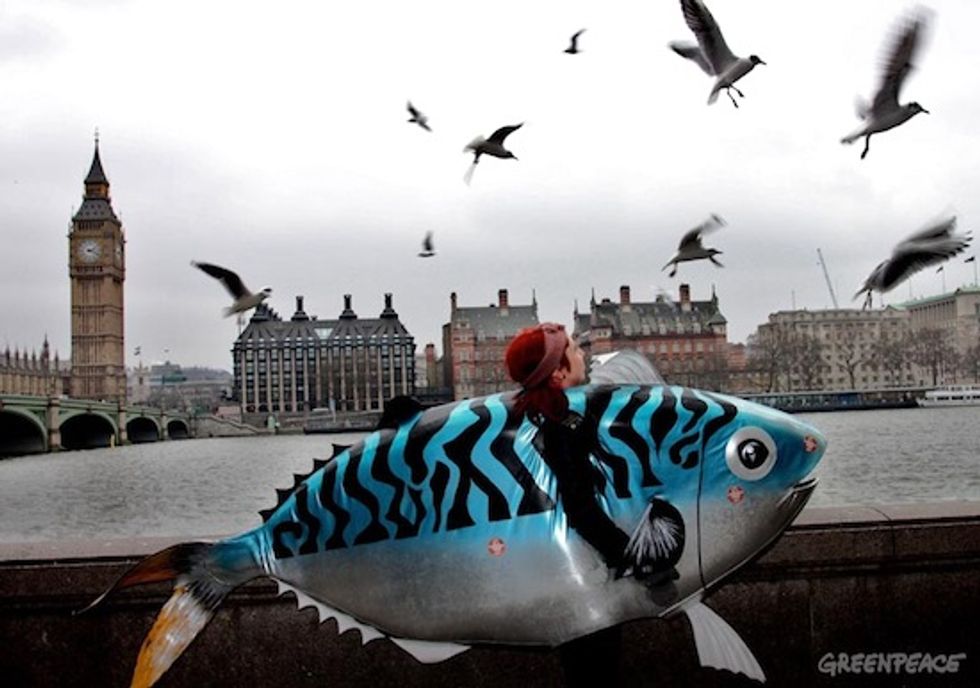 April 10—Indian Ocean: The Greenpeace ship Esperanza patrolled the Comoros Islands in the Mozambique Channel documenting fishing activities in the Indian Ocean where a fish aggregating device was floating nearby.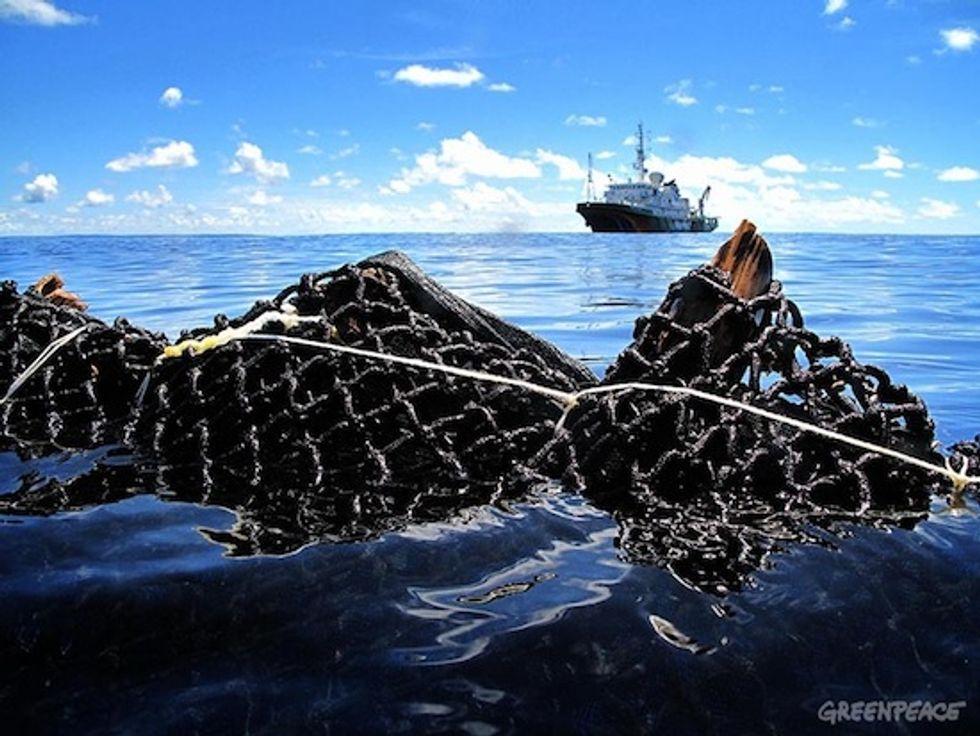 July 10—Germany: Activists protested close to the Eilbek cargo ship at the Tollerort-Terminal in Hamburg. The ship was about to transport whale meat to Rotterdam. Four activists tied themselves to the ship's mooring lines holding banners that read: "Stop Whaling." At the same time, ten other activists installed a banner on the vessel's hull, reading: "Stop Trading In Whale Meat." The cargo ship and whale meat would would eventually to return to Iceland without delivering its contents.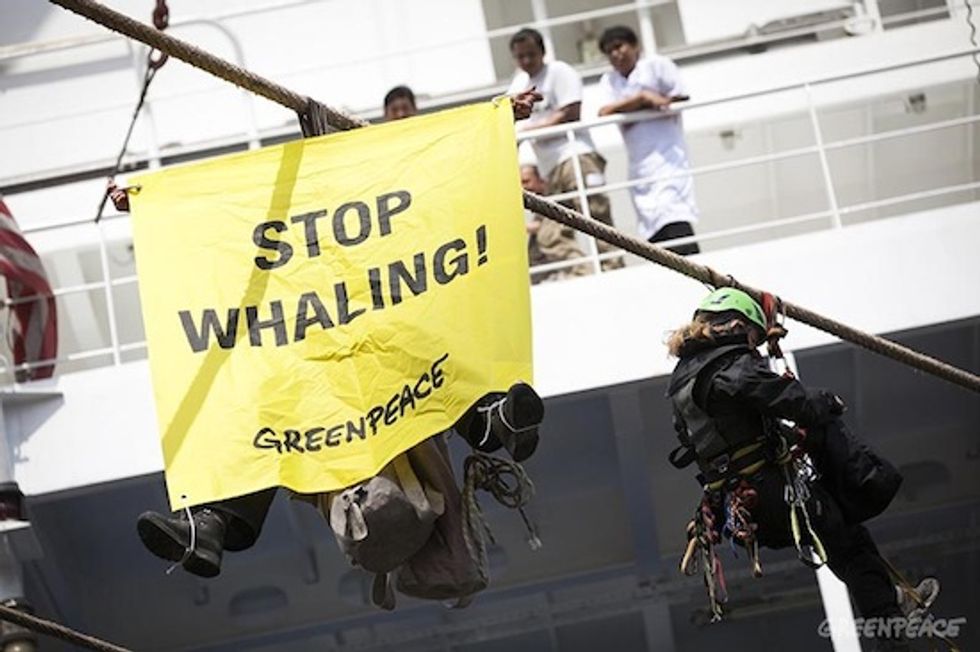 Feb. 20—Italy: The "green gauntlet" was thrown for 15 luxury fashion brands as part of Greenpeace Italy's "Fashion Duel." Greenpeace is demanding brands engage in the smartest trend: beautiful clothes untainted by forest destruction and toxic pollution of our water's resources. During Milan Fashion Week, a Greenpeace activist walked along a vertical catwalk on the façade of the splendid Sforzesco Castle. The action greeted participants and journalists as the show opened its doors.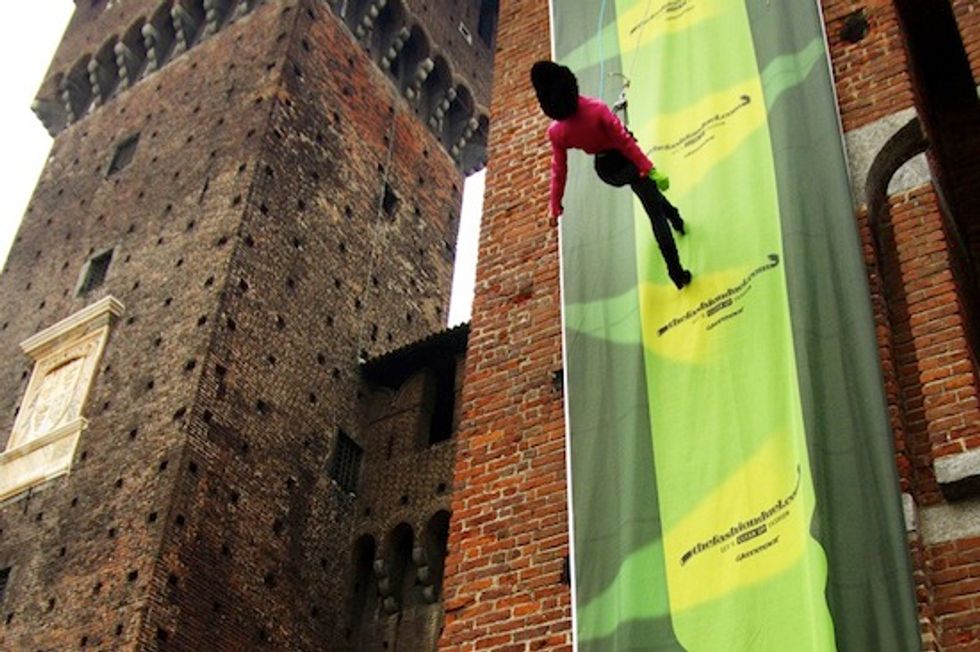 March 10—Indonesia: Greenpeace International investigations revealed the dumping of industrial wastewater containing a cocktail of toxic and hazardous chemicals, and caustic water, directly into the Citarum River in West Java.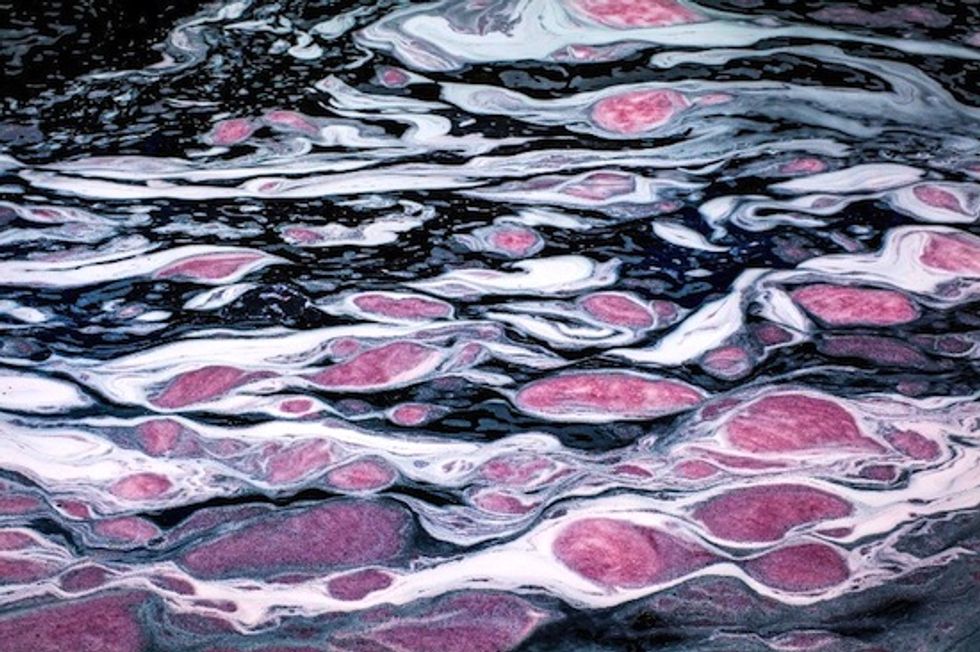 April 8—Arctic: A Greenpeace team, including The Perks of being a Wallflower star, Ezra Miller trekked to the North Pole carrying with them a time capsule containing the 2.7 million names of supporters who wish to protect the Arctic. They lowered the capsule and a "flag for the future" on to the seabed beneath the North Pole.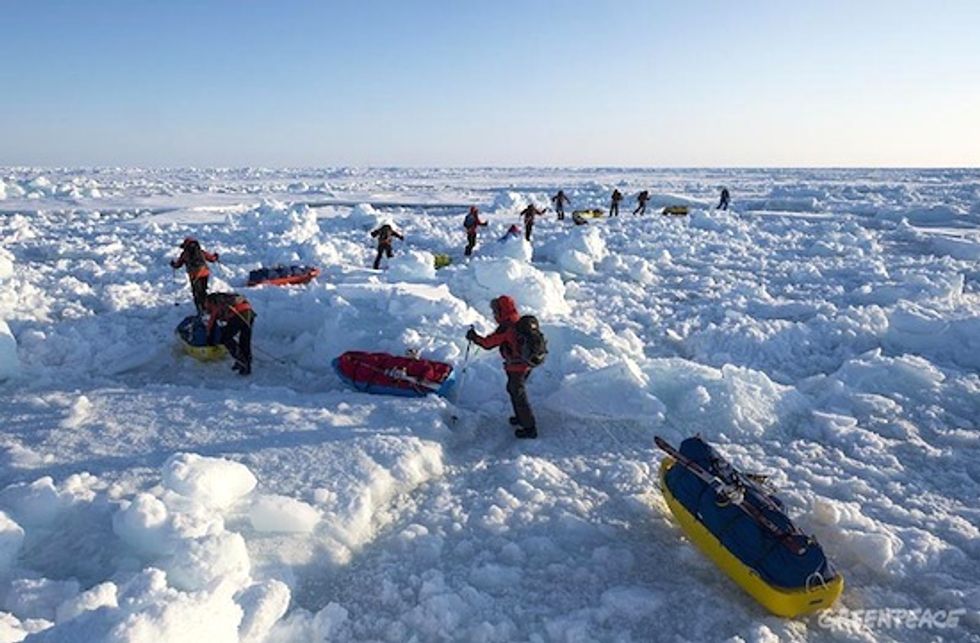 April 20—Brazil: Volunteers formed an "I Love Arctic" human banner at Botafogo beach, Rio de Janeiro. More than 17,000 volunteers in more than 200 cities across the globe formed human images which spelled out "I Love Arctic." Greenpeace is demanding that political leaders protect the pristine Arctic environment.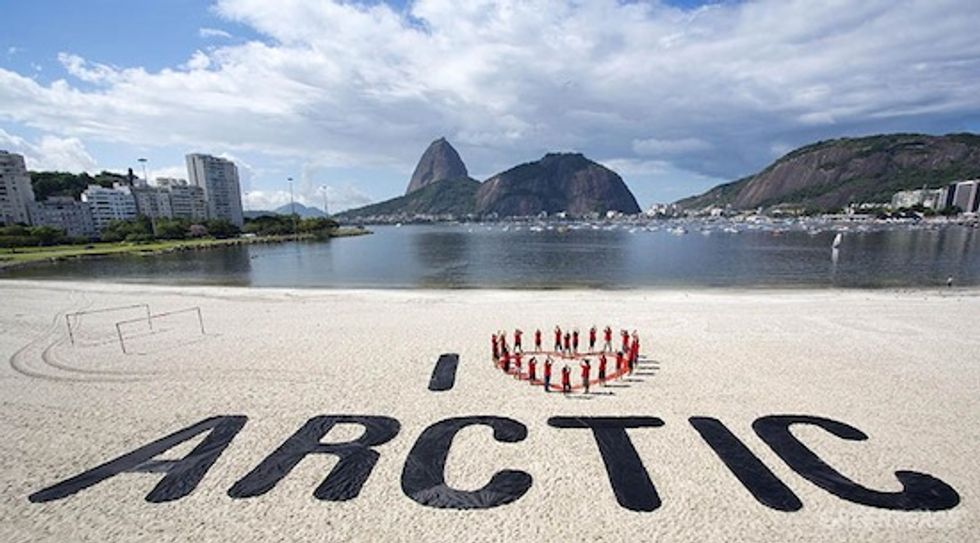 July 11—UK: The team who climbed the Shard, London's tallest building, for the Save the Arctic campaign. The six women climbers are Sabine Huyghe (Belgium), Sandra Lamborn (Sweden), Victoria Henry (Canada), Ali Garrigan (UK), Wiola Smul (Poland) and Liesbeth Deddens (Netherlands). They chose to climb the Shard because it towers over Shell's three London offices. Shell is leading the oil companies' drive into the Arctic. Greenpeace is campaigning for the area around the North Pole to be made a global sanctuary, off-limits to industrialization.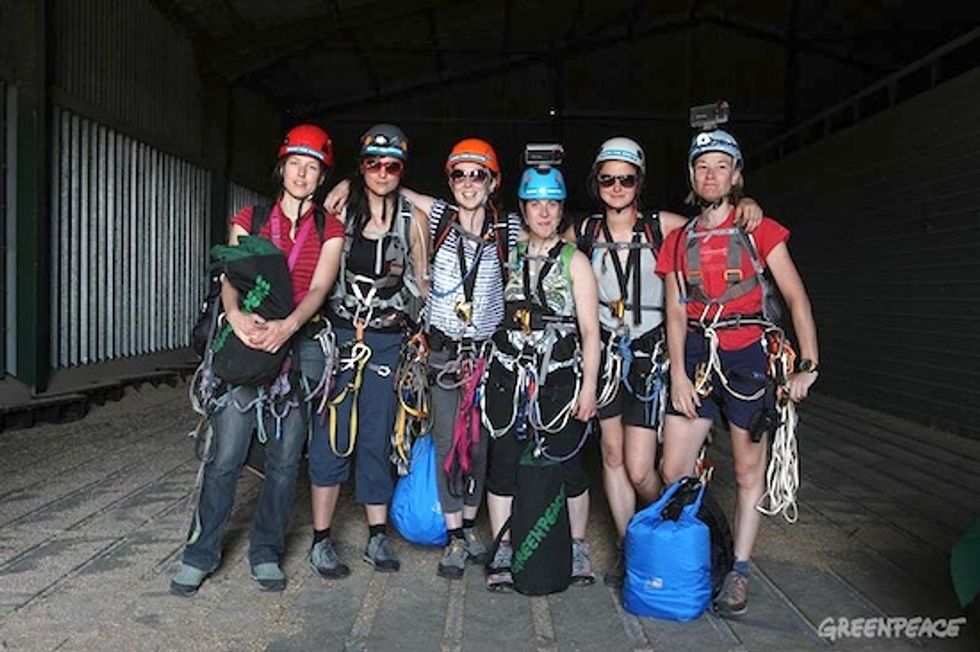 Aug. 24—Russia: The Greenpeace ship Arctic Sunrise entered the Northern Sea Route off Russia's coastline to protest against Arctic oil drilling, in defiance of Russian authorities who refused the ship permission to enter the area.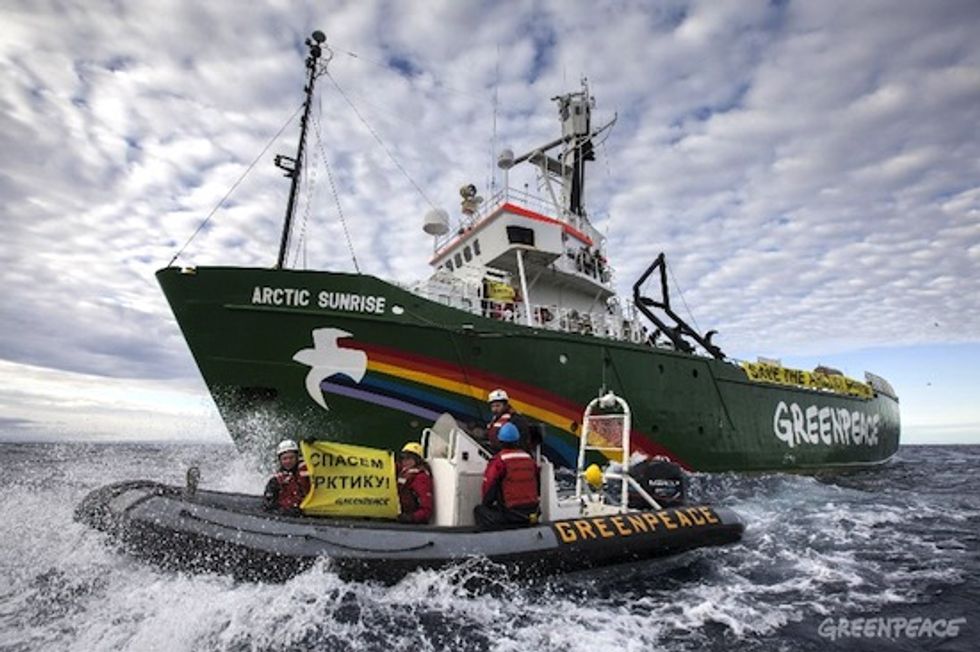 Aug. 25—Belgium: A remote-controlled banner (which was secretly installed several weeks before) was unfurled in front of the winner's podium at the Formula 1 Shell Belgian Grand Prix. The banner reads "SaveTheArctic.org" with a subverted Shell logo. Shell is the main sponsor of the Belgian Grand Prix, paying millions to have its logo visible around the track. Shell is leading the oil companies' drive into the Arctic, investing billions in its Alaskan and Russian drilling programs. A worldwide movement of millions has sprung up to stop them.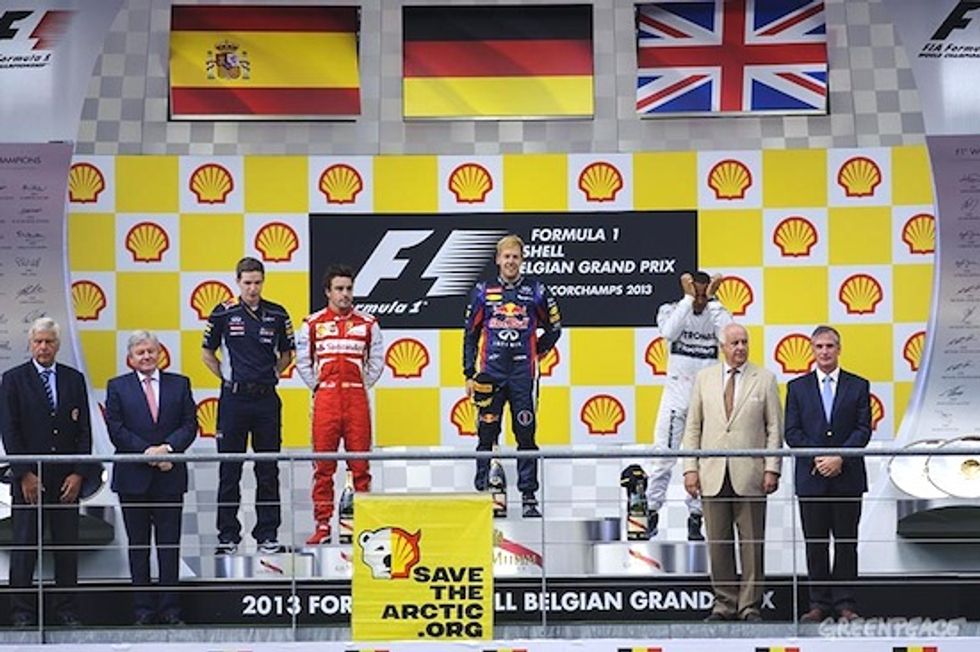 Sept. 18—Russia: Greenpeace International activists were threatened with weapons during an attempt to climb the Prirazlomnaya, an oil platform operated by Russian state-owned energy giant Gazprom in Russia's Pechora Sea. This is one example of the disproportionate use of force by the Russian authorities during a peaceful protest. The activists were there to stop the platform from becoming the first to produce oil from the ice-filled waters of the Arctic.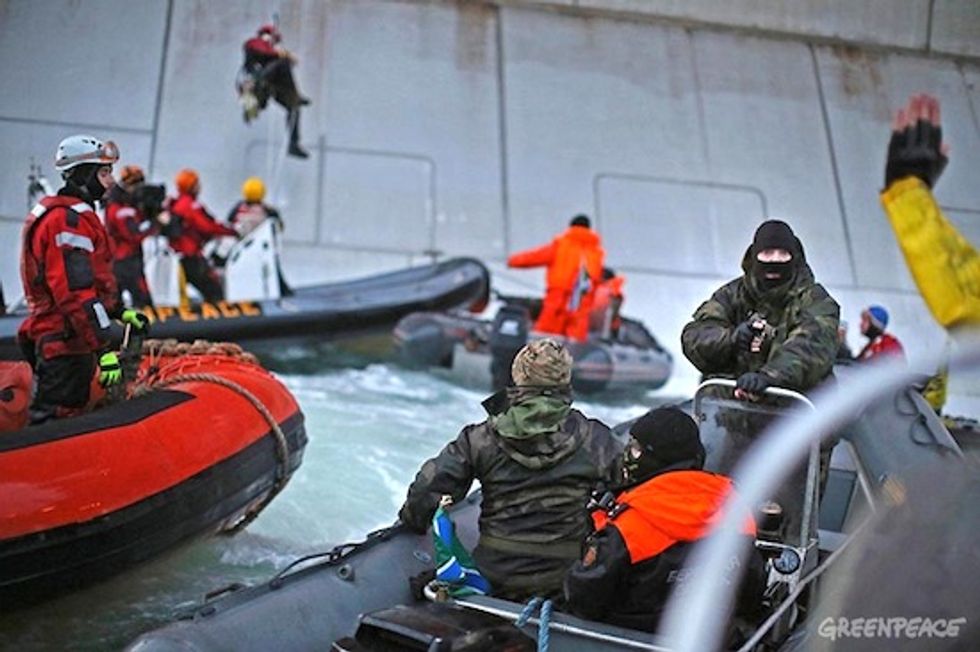 Oct. 5—Australia: Volunteers protested on Sydney's Bondi Beach. This protest was part of an emergency Global Day of Solidarity for the Arctic 30. Tens of thousands of people participated in activities held in over 160 locations in 46 countries throughout the world.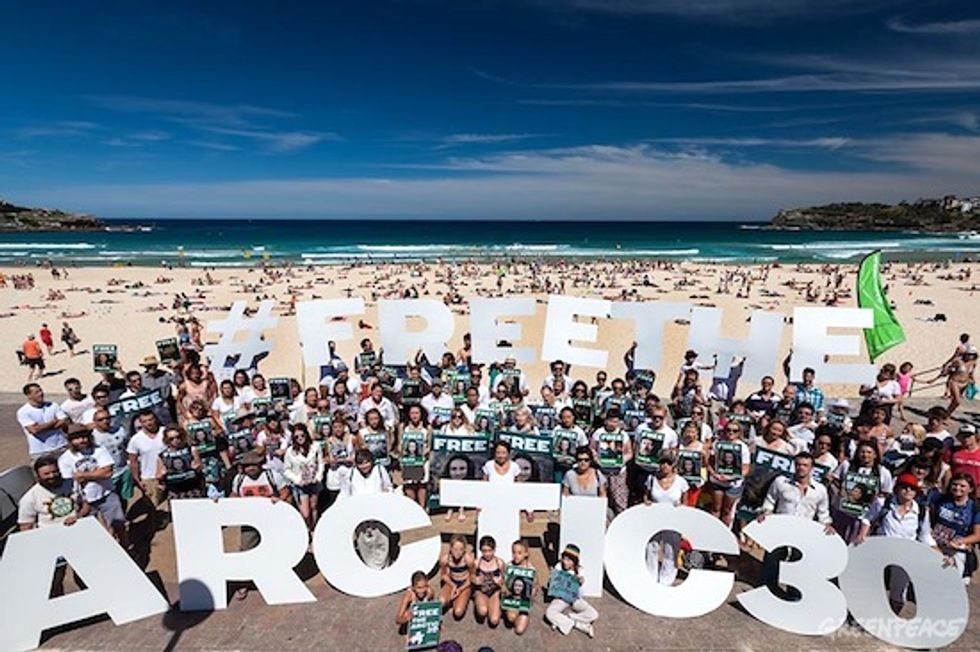 Dec. 9—Spain: Greenpeace showed Gazprom the red card to keep the company out of the Arctic and the European soccer arenas. At a press meeting in Copenhagen, before the Champions League match between FC Copenhagen and Real Madrid, a banner unrolled with a direct message to stop the company's environmental destruction: "Save The Arctic—Show Gazprom the Red Card." Gazprom would soon begin the first oil production ever in the icy waters of the Arctic. The Russian oil and gas company is among the major partners of the European Champions League tournament and has recently signed a deal to become sponsor of the world's soccer federation, FIFA, as well.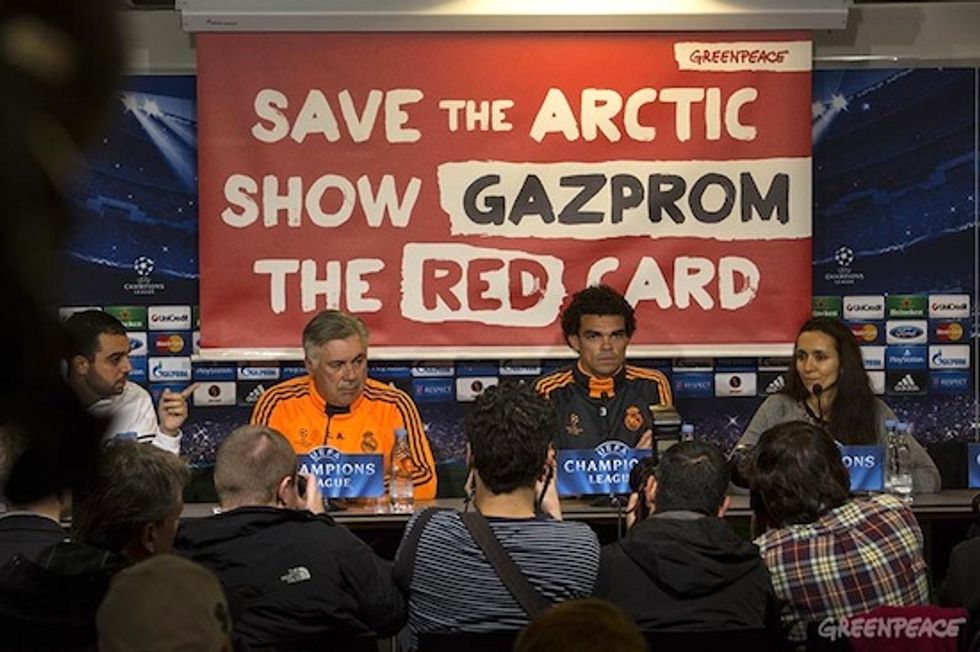 Dec. 18—Russia: Greenpeace International activists Phil Ball (left) and Camila Speziale showed their relief following a decision by the Russian Parliament adopting an amnesty ending legal proceedings against the Arctic 30. The Duma had officially adopted an amendment that extends an amnesty decree to defendants who have been charged with hooliganism. It therefore includes the Arctic 30 who were arrested, following a peaceful protest at a Gazprom-operated Arctic oil platform. The legal proceedings against the Arctic 30 will now come to an end and the 26 non-Russians will be free to return home to their families as soon as they are given exit visas by the Russian authorities.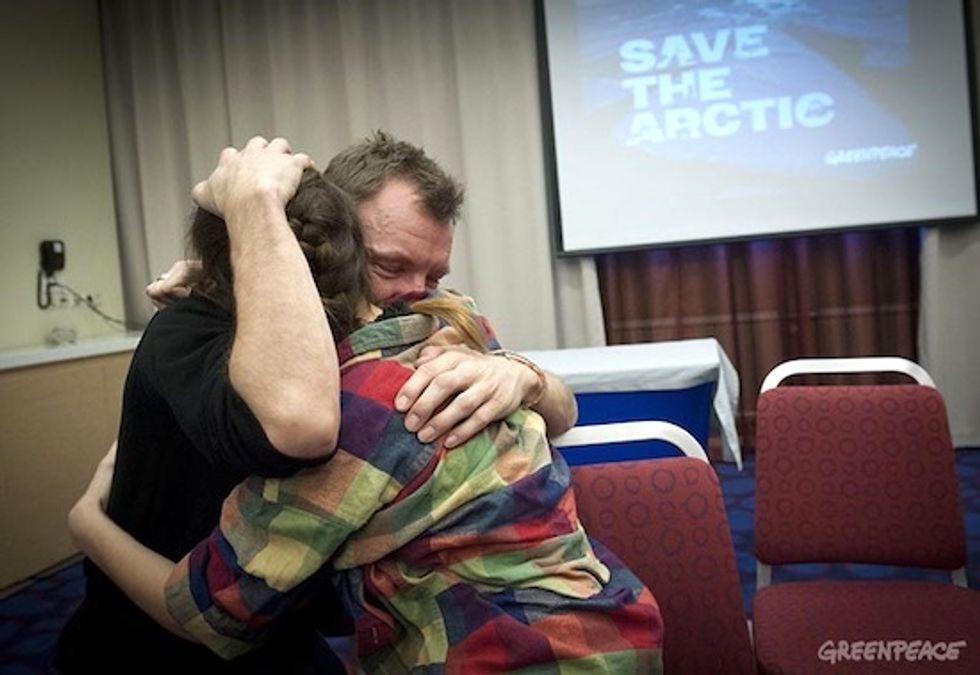 Throughout all of our successes and challenges we give you our deepest gratitude for your support along the way. As a result of your amazing contributions towards our battle to protect the environment these pictures are for you, of you and about you. Because without you, none of this would have been possible.
We look forward to working together in the new year as we continue our cooperation towards reclaiming our planet from those who seek to exploit it.
Visit EcoWatch's CLIMATE CHANGE page for more related news on this topic.

EcoWatch Daily Newsletter
California Gov. Gavin Newsom speaking with attendees at the 2019 California Democratic Party State Convention at the George R. Moscone Convention Center in San Francisco.
Gage Skidmore
/ Flickr /
CC BY-SA 2.0
California Gov. Gavin Newsom imposed new restrictions on oil exploration in his state yesterday by putting a moratorium on hundreds hydraulic fracturing permits until the projects are reviewed by independent scientists, as the AP reported.
The endangered Houston toad. Courtesy of U.S. Fish and Wildlife Service
While the planet continues to heat up, almost every single one of the 459 species listed as endangered in the U.S. will struggle as the climate crisis intensifies, according to new research published in the journal Nature Climate Change.
"This singular scientific achievement was accomplished at Heliogen's commercial facility in Lancaster, California."
Heliogen
A startup backed by Bill Gates unveiled a breakthrough solar technology Tuesday that could free heavy industry from fossil fuels.
Rhodiola rosea is an adaptogenic herb that can help with chronic fatigue and stress-related burnout. Tero Laakso / Flickr
By Gavin Van De Walle, MS, RD
While everyone has specific life stressors, factors related to job pressure, money, health, and relationships tend to be the most common.
Stress can be acute or chronic and lead to fatigue, headaches, upset stomach, nervousness, and irritability or anger.
A video shows a woman rescuing a koala from Australia's wildfires.
VOA News / YouTube screenshot
More than 350 koalas may have died in the wildfires raging near the Australian town of Port Macquarie in New South Wales, but one got a chance at survival after a woman risked her life to carry him to safety.